---
Crew
Director – Zack Snyder, Screenplay – Chris Terrio, Story – Will Beall, Zack Snyder & Chris Terrio, Producers – Charles Roven & Deborah Snyder, Photography – Fabian Wagner, Music – Tom Holkenborg, Visual Effects Supervisor – John "DJ" desJardin, Additional Visual Effects Supervisor – Brad Mimmich, Visual Effects – Crafty Apes LLC, DNeg (Supervisors – Alexander Seaman & Mike Stillwell), Method Studios, MPC Film, Pixomondo, Rodeo FX, Scanline VFX (Supervisors – Bryan Hirota & Julius Lechner), Shade VFX, LLC, Teamworks Digital, Vitality Visual Effects & Weta Digital Limited (Supervisor – Kevin Andrew Smith, Animation Supervisor – Simeon Dumcombe), Special Effects Supervisor – Mark Holt, Production Design – Patrick Tatopoulos. Production Company – Atlas Entertainment/Stone Quarry.
Cast
Ben Affleck (Batman/Bruce Wayne), Gal Gadot (Wonder Woman/Diana Prince), Jason Momoa (Aquaman/Arthur Curry), Ezra Miller (The Flash/Barry Allen), Ray Fisher (Cyborg/Victor Stone), Henry Cavill (Superman/Clark Kent), Amy Adams (Lois Lane), Jeremy Irons (Alfred Pennyworth), Ciaran Hinds (Voice of Steppenwolf), Joe Morton (Silas Stone), Diane Lane (Martha Kent), Connie Nielsen (Queen Hippolyta), Amber Heard (Mera), J.K. Simmons (Commissioner James Gordon), Willem Dafoe (Vurko), Jesse Eisenberg (Lex Luthor), [uncredited] Billy Crudup (Henry Allen), Ryan Zheng (Stan Choi), Ray Porter (Voice of Darkseid), Peter Guinness (Voice of Desaad), Jared Leto (The Joker), Lisa Loven Kongsli (Menalippe), Joe Manganiello (Deathstroke/Wade Wilson), Kiersey Clemons (Iris West), Harry Lennix (Martian Manhunter)
---
Plot
In the aftermath of the death of Superman, Batman and Wonder Woman both agree about the necessity to recruit other super-beings to combat the coming invasion. Bruce travels to Iceland in search of the legendary king of the sea known as Aquaman, although Aquaman proves to be a recluse and declines to join the league. Bruce also tracks down Barry Allen who has the ability to travel at super-speeds and operates as The Flash. Wonder Woman tracks down and is contacted by Victor Stone who has become Cyborg with the ability to manifest machinery from his body and access technological systems. They also realise that the death of Superman has brought the arrival of Steppenwolf, who serves Darkseid, an intergalactic warlord who searches for the anti-life equation that will allow him to control all life in the multiverse. Steppenwolf seeks the three parts of the Mother Box that were broken up into three following an attempted invasion of Earth thousands of years ago. Steppenwolf snatches two of the boxes that are guarded by the Atlanteans and Amazons. The third box was in US government custody where it was being experimented on by Victor's father, which allowed him to transform Victor into Cyborg following an accident. Steppenwolf sets out to unite the three parts of Mother Box, which will allow Darkseid to raze all life on Earth. Batman and Wonder Woman bring the others together but realise this may not be enough and what they need is to resurrect Superman.
---
Justice League (2017) was the third of Zack Snyder's trilogy of DC Comics adaptations. It was preceded by Man of Steel (2013) and Batman V Superman: Dawn of Justice (2016). It was originally planned that Justice League would have been a two-part film and would have led into a whole series of interconnected DC films. Directly emerging from this we had the other DC adaptations Wonder Woman (2017), Aquaman (2018) and The Flash (2023), while there was a planned standalone film for Cyborg that never came to pass.
Justice League should have been DC's equivalent of the MCU's The Avengers (2012), which brought the in-references and cameos in various Marvel Comics films up to that point together into a shared universe to have the heroes fighting a common enemy. Alas, Justice League suffered an ill-fate. During post-production, Zack Snyder's daughter Autumn committed suicide and he made the decision to step away from the film and take some personal time. Warner Brothers brought in Joss Whedon, the creator of Buffy the Vampire Slayer (1997-2002) and director of The Avengers and its sequel Avengers: Age of Ultron (2015), to oversee post-production and direct two months of reshoots. Whedon received a co-writing credit, although the director's credit went to Snyder.
Almost immediately after Justice League premiered in November 2017, fans began pushing for what has been referred to as the Snyder Cut under the Twitter hashtag #ReleaseTheSnyderCut. The fan campaign became fairly vocal, taking out ads and forcing Warner Brothers executives to remove their social media accounts over claims of online harassment. A 2022 article in Rolling Stone magazine Fake Accounts Fueled the 'Snyder Cut' Online Army unveiled that there was an extensive Twitter campaign by bots (possibly masterminded by Zack Snyder) to harass Warner brothers executive and drive up a demand to see the film before the studio eventually caved in
In 2019, Snyder announced he would release his cut of the film. This was given a $70 million budget, although Snyder declined to take any payment for doing so, citing a loyalty to the fans. Snyder shot scenes with various of the actors reprising their roles, including filming a scene with Jared Leto over Zoom during Covid lockdown where he is digitally inserted alongside Ben Affleck. The full cut premiered on HBO Max. All of Joss Whedon's footage has been removed and he receives no credit on the finished film. The end credits dedicate the film to Snyder's daughter Autumn.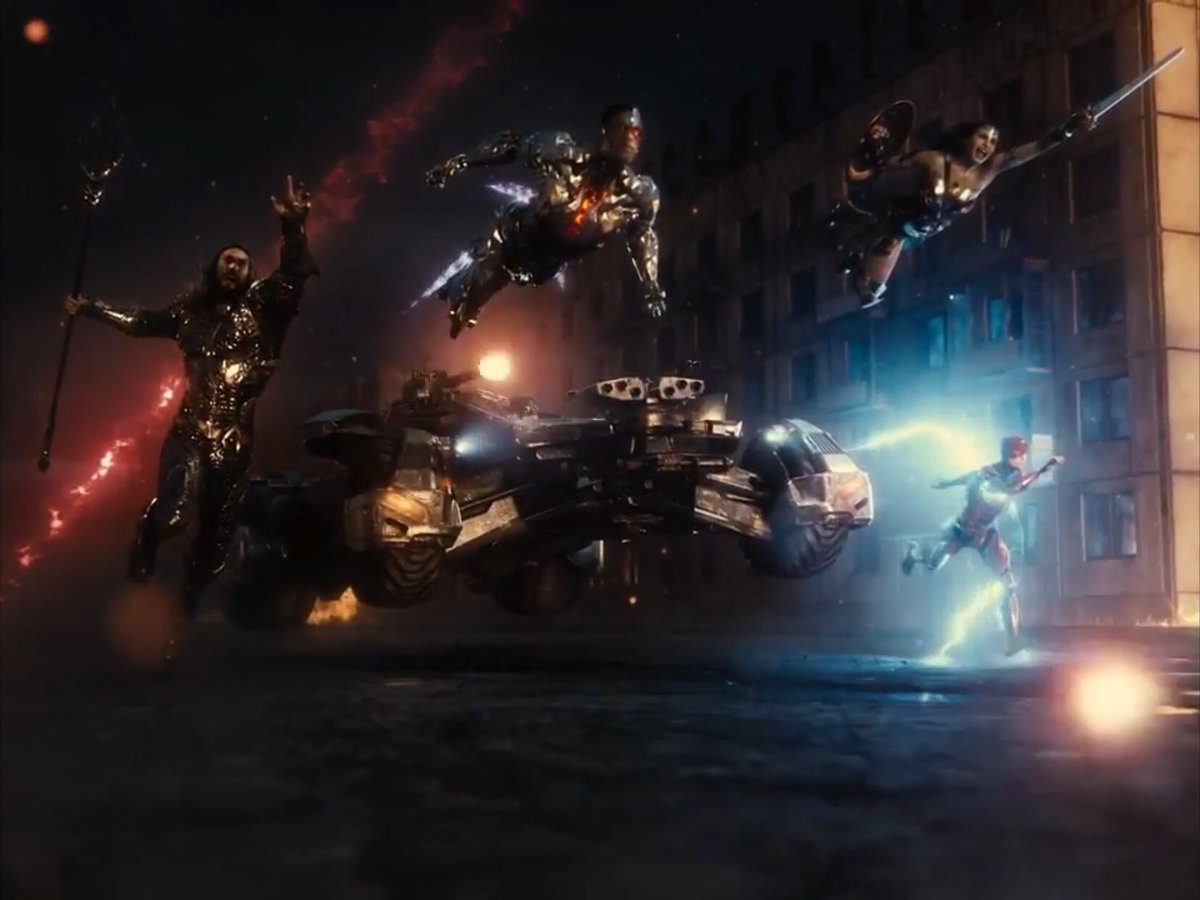 I was surprised by the degree of online anticipation for Zack Snyder's Justice League before it premiered, even an online petition for Warner Brothers to restore the other films of the Snyderverse with there being serious talk about reviving the Cyborg and Flash movies. Does nobody remember that about the time of the release of the original Justice League there was an online petition to have Snyder removed from DC Comics films? How the wheels have turned. Not to mention that just before the Snyder Cut appeared, Joss Whedon became another victim of Cancel Culture for reportedly being an abusive asshole and for something, nobody is quite clear what, that was said to Ray Fisher during the reshooting of his scenes for Justice League.
The restored Zack Snyder's Justice League finally comes in a butt-numbing four hour two minute release. I am glad I was able to watch it on streaming services that allowed me to pause and get up and walk around. Even Snyder agrees that streaming was the best destination for the film. I am not quite as anti the Snyderverse as a lot of other people were. Man of Steel drowned in glutinous effects carnage, while I found aspects to complement about Batman V Superman. This stays with the dark grim take on DC Comics that Snyder prefers but the desaturated colour tones of the film have been lightened somewhat. (Snyder does also love the image of Superman amok and has at least three scenes here with a discombobulated Superman incinerating people with his heat vision and on the attack).
All of that said, Zack Snyder's Justice League arrives on screen in astonishing ways. It is the apotheosis of what Snyder had been trying to do through his previous two Snyderverse films. The Snyder Cut brings the complement of characters together with each getting their own screentime, which we never saw in the Whedon Cut. Aquaman's story is more or less the same but both The Flash and Cyborg get greatly expanded storylines that open them up as characters – there is a fantastic scene with Ezra Miller going into action to save what we understand will be Iris West from a car accident, while Ray Fisher's Cyborg emerges with much more of a well-rounded character as we learn his origin story. Characters like Lois Lane, Martha Kent, Lex Luthor and Silas Stone get restored screen time (including Silas Stone's death), while entire characters that disappeared in the Whedon Cut like Silas Stone's assistant Ryan Choi (who becomes The Atom in recent DC Comics continuity), Darkseid, Desaad, Willem Dafoe's Vukor and Robin Wright's Antiope are restored.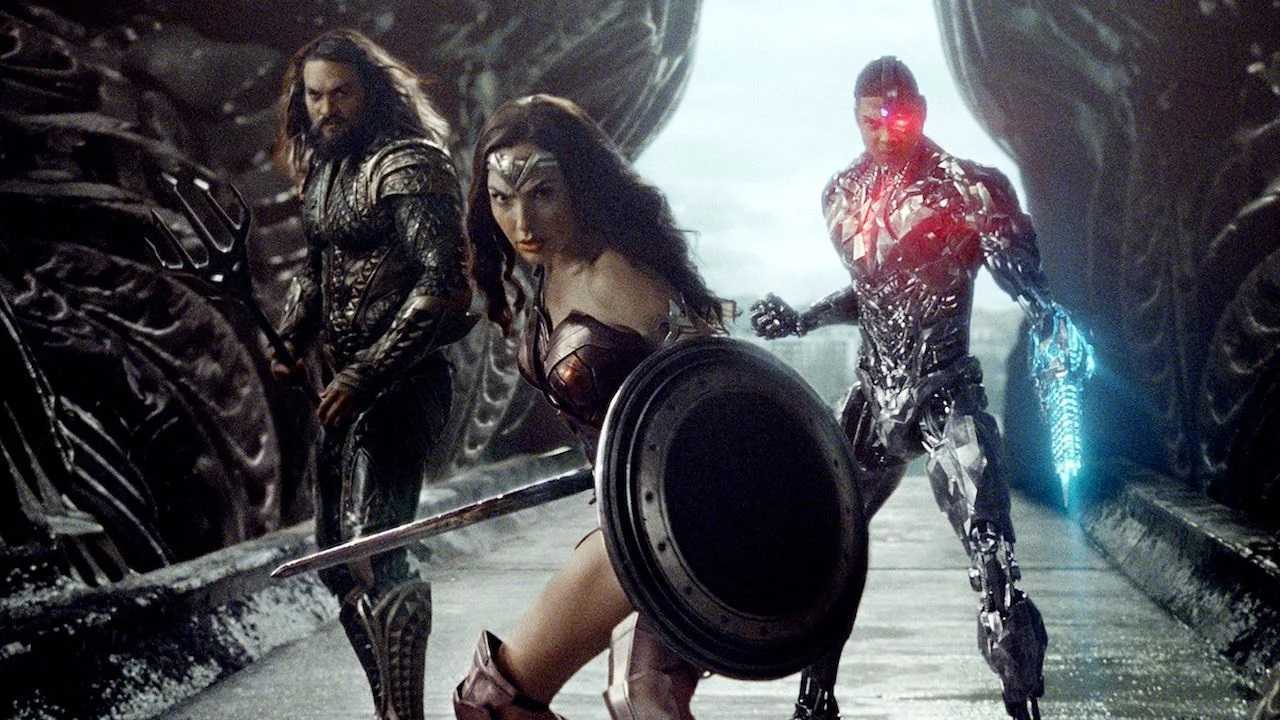 There is a much more satisfying structure to the story – a building through the gathering of the League through the decision to resurrect Superman to the showdown and battle with Steppenwolf. That was all there in the Whedon Cut but here there is the satisfying sense of watching it come together as a story that has been given its natural length to be told.
The battle are immensely exciting and staged far better than anything in the Whedon Cut. Many of the scenes – notably Steppenwolf's battle on Themyscira with the Amazons tackling Steppenwolf and hordes of parademons – have been expanded. Most notable is Snyder removing the fiery orange tint that was added to the scenes from the Whedon Cut where the team head to attack Steppenwolf's base in Russia and giving a dark urgency to the scenes, as well as the removal of the Russian family fleeing the scene. Also restored here are The Flash's attempts to travel back in time and giving a much edgier cut to the killing of Steppenwolf, including Wonder Woman cutting off his head. Gone is all the jocular humour that Whedon added during his reshoots, although Bruce's lines about "I bought the bank" and "I'm rich" remain. We also get the elimination of Whedon's reshoot scenes with Henry Cavill's much ridiculed digitally-reedited mustache and the restoration of Snyder's original opening.
There is a great deal of shifting around of the story. Bruce's trip to Iceland in search of Aquaman and Wonder Woman's foiling of the bank robbery remains in the same place at the start. Gone is an early scene where Batman foils a burglar played by Holt McCallany (now Batman does not appear until nearly an hour into the film). Restored are scenes that make sense of elements from Batman V Superman where The Flash travels back in time to warn Bruce Wayne and where Bruce dreams of being in a future that has been devastated by parademon attack.
The character that emerges the best is Steppenwolf who was barely present in the Whedon Cut. In the Whedon Cut, he was an anonymous character, little more than a regular human with a horned helmet, whereas here the visual effects team render him as a magnificent figure all in silver metal and with a head like a hammerhead shark. Most satisfyingly, we get a full Darkseid and his torturer Desaad, even a scene where we get to see Darkseid emit his trademark Omega Beams.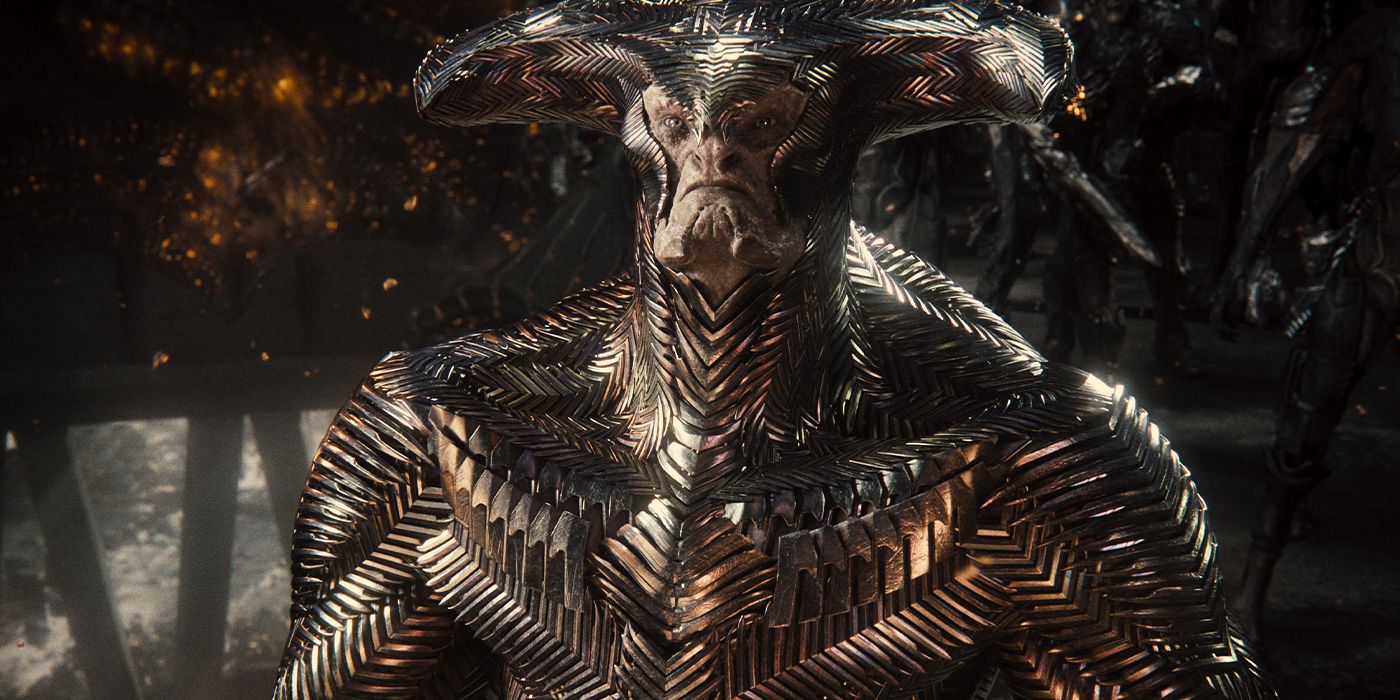 Snyder also connects up to DC Comics continuity. We see more of the Green Lantern who was aiding the Atlanteans and Amazons in the original battle (and was reduced to no more than a background cameo in the Whedon Cut). There is also the appearance of Harry Lennix's Martian Manhunter, as well as the end that contains an appearance by Jared Leto's Joker who has notedly been resdesigned from the horrible heroin chic look in Suicide Squad (2016) and made more to resemble Heath Ledger in The Dark Knight (2008). Not to mention Superman's reappearance in a black Superman suit as per the resurrected Superman in The Death of Superman (1992-3).
I still do have issues with Snyder's treatment of Jack Kirby, the creator of the Fourth World saga that gave birth to Darkseid, Desaad and Apokolips and New Genesis. In Kirby's conception, Mother Box was a device slightly little larger than a cellphone that communicated with its owner (to whom they were bonded), providing information, opening Boom Tubes, had transformational abilities and crucially died when their owner did. Here the Mother Boxes gain size to about a cubic metre and go from the equivalent of artificially intelligent smartphones to effectively become doomsday weapons. Queen Hippolyta at one point has a line in reference to a Mother Box "Evil doesn't sleep," which is surely a representation of Mother Box that would have Jack Kirby turning in his grave. Certainly, this is countered later in the film during a discussion among the group that the Mother Boxes have transformational capacity. I also had an issue with a scene where we see Darkseid wounded by a sword, which weakens such a powerful being, especially given that it takes someone as mighty as Superman to defeat his lieutenant Steppenwolf.
The odd quibble aside, I enjoyed this a great deal for Snyder's immensely exciting staging of the superheroic action sequences and giving time over to the characters. I would far rather watch the Snyder Cut again than any of the last two entries in the MCU, Avengers: Infinity War (2018) and Avengers: Endgame (2019), both of which felt that they had shuffled character interactions aside to an irrelevancy in favour of a tedious blur of superheroic action scenes.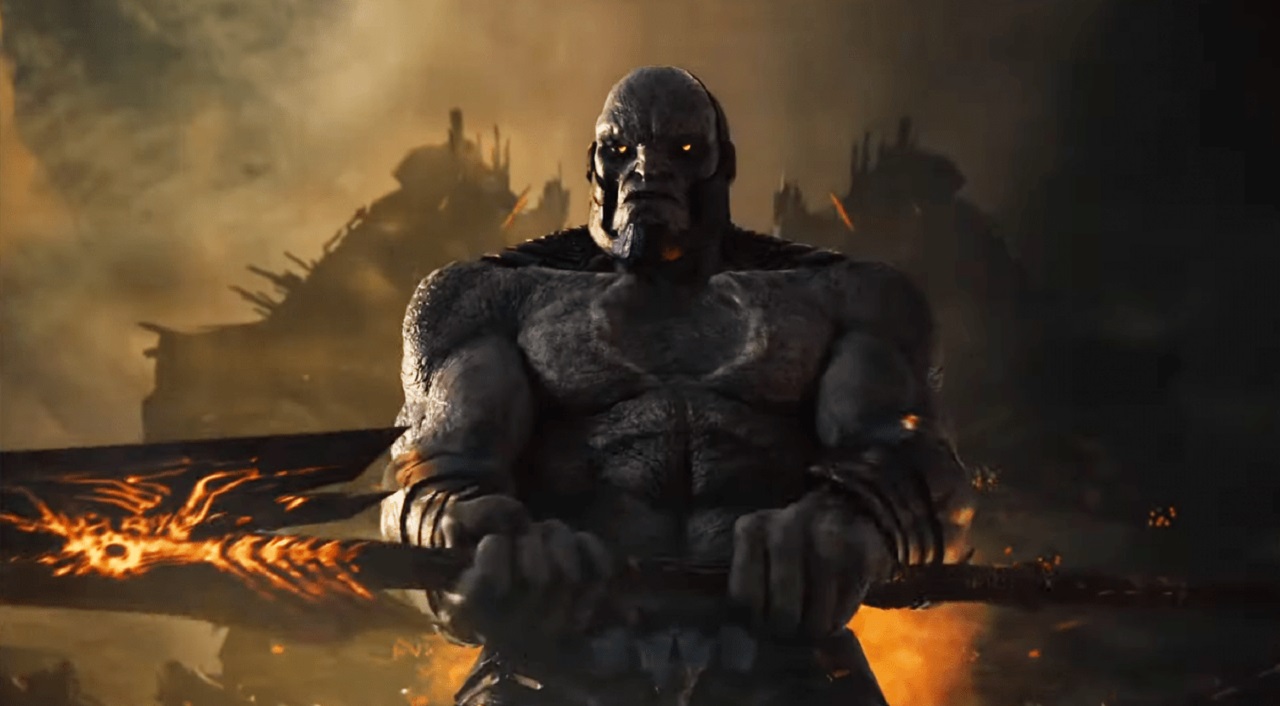 Perhaps Snyder's oddest choice was to release the film in 4:3 aspect ratio. While watching it on the home entertainment system, this has the effect of making you think you are watching a widescreen film that has been cropped in a Pan and Scan print that films would be regularly butchered for tv/VHS viewing back in the 80s/90s. It seems an odd way to watch a film that has been clearly designed for the widescreen and almost demands the action be seen on a 70-foot screen. Apparently the reason for this is because the film was originally shot in 1:33:1 ratio, which makes it easier to project on the IMAX screen – although it does seem odd that the entire vision of a film has been shaped to what would only be specialty screenings in some cities and will now never be seen that way.
Zack Snyder's other films include:- the remake of Dawn of the Dead (2004); 300 (2007) based on Frank Miller's graphic novel about the Greek wars; the adaptation of Alan Moore's classic superhero graphic novel Watchmen (2009); the animated owl fantasy Legend of the Guardians: The Owls of Ga'Hoole (2010), Sucker Punch (2011) about a young girl's imagined alternate reality and the zombie film Army of the Dead (2021). Snyder also wrote/produced 300: Rise of an Empire (2014) and produced Suicide Squad (2016), Wonder Woman (2017), Aquaman (2018), Wonder Woman 1984/WW84 (2020), Army of Thieves (2021) and The Suicide Squad (2021).
The Justice League first appeared on screen in the painfully bad tv pilot Justice League of America (1997) that never went to series. They was far more successfully incarnated as the animated tv series Justice League/Justice League Unlimited (2001-6) from producer Bruce W. Timm who had a number of noted successes adapting DC superhero properties to the small screen throughout the 1990s and 00s. Following this, the Justice League were spun off in a series of animated films with Justice League: The New Frontier (2008), Justice League: Crisis on Two Earths (2010), Justice League: Doom (2012), Justice League: The Flashpoint Paradox (2013), Justice League: War (2014), Justice League: Throne of Atlantis (2015), Justice League: Gods and Monsters (2015), Justice League vs Teen Titans (2016), Justice League Dark (2017), Justice League vs The Fatal Five (2019) and Justice League Dark: Apokolips War (2020).
(Winner in this site's Top 10 Films of 2021 list).
---
Actors:
Ben Affleck, Gal Gadot, Henry Cavill, Jason Momoa, Ezra Miller, Ray Fisher, Amy Adams, Jeremy Irons, Ciaran Hinds, Joe Morton, Diane Lane, Connie Nielsen, Amber Heard, J.K. Simmons, Willem Dafoe, Jesse Eisenberg, Billy Crudup, Ryan Zheng, Ray Porter, Peter Guinness, Jared Leto, Lisa Loven Kongsli, Joe Manganiello, Kiersey Clemons, Harry Lennix