---
Crew
Director – Jon Watts, Screenplay – Chris McKenna & Erik Sommers, Producers – Kevin Feige & Amy Pascal, Photography – Mauro Fiore, Music – Michael Giacchino, Visual Effects Supervisor – Kelly Port, Visual Effects – Cinesite (Supervisor – Laurent Gillet), Clear Angle Studios, Crafty Apes Visual Effects (Supervisors – John Brubaker & Tim LeDoux), Digital Domain 3.0 (Supervisor – Scott Edelstein), Folks VFX (Supervisor – Mihaela Orzea), Framestore (Supervisors – Adrian Saint Girons & Christian Kaestner), Luma (Supervisors – Alex Cancado & Brendan Seals), Monsters Aliens Robots Zombies (Supervisor – Ryan Freer), Mr. X (Supervisor – Malte Sarnes), Perception, Secret Lab, Sony Pictures Imageworks (Supervisor – Chris Wagener) & SSVFX (Supervisor – Ed Bruce), Special Effects Supervisor – Dan Sudick, Production Design – Darren Gilford. Production Company – Pascal Pictures/Marvel Studios.
Cast
Tom Holland (Peter Parker/Spider-Man), Zendaya (Michelle 'MJ' Jones-Watson), Benedict Cumberbatch (Dr Stephen Strange), Jacob Batalon (Ned Leeds), Marisa Tomei (Aunt May Parker), Jon Favreau (Happy Hogan), Willem Dafoe (Norman Osborn/Green Goblin), Alfred Molina (Dr Otto Octavius/Doc Ock), Jamie Foxx (Matt Dillon/Electro), Andrew Garfield (Peter Parker/Spider-Man), Tobey Maguire (Peter Parker/Spider-Man), J.K. Simmons (J. Jonah Jameson), Tony Revolori (Flash Thompson), Benedict Wong (Wong), Rhys Ifans (Dr Curt Connors/Lizard), Thomas Haden Church (Flint Marko/Sandman), Adrien Moyaed (Agent Cleary), Charlie Cox (Matt Murdock), Angourie Rice (Betty Brant), Paula Newsome (MIT Assistant Vice Chancellor), [uncredited] Tom Hardy (Eddie Brock/Venom)
---
Plot
Peter Parker reels in the aftermath of Mysterio having revealed his secret identity to the world. He, MJ, Aunt May and Ned are interrogated by the FBI and hounded by the press at every angle. Peter then goes to Dr Strange and asks him to cast a spell that will take away everybody's memories of the revelation. As Dr Strange begins casting the spell, Peter starts asking for exceptions, causing things to go wrong. When Peter emerges to find the city under attack by Doc Ock, Dr Strange realises that the spell has brought in characters that know other Peters from the multiverse. In no time, Peter is facing Electro, The Green Goblin, Sandman and Lizard. Dr Strange gives Peter a bracelet to imprison them so they can be sent back. However, when he realises that he will be sending them back to their deaths, Peter attempts to stop this and imprisons Dr Strange. He sets out to find a cure for the villains' respective conditions. When Green Goblin gets free, it is up to Peter, joined by two Spider-Man counterparts from the multiverse, to stop the villains as they rampage forth trying to prevent being sent back.
---
Spider-Man: No Way Home was the third in the Sony Pictures Spider-Man films starring Tom Holland, following Spider-Man: Homecoming (2017) and Spider-Man: Far From Home (2019). Spider-Man is one of the Marvel superheroes that is outside the copyright hold of Marvel Studios and Disney. In fact, Sony was in good part responsible for launching the popularity of Marvel superheroes on screen with the original film series under Sam Raimi starring Tobey Maguire, which consisted of Spider-Man (2002), Spider-Man 2 (2004) and Spider-Man 3 (2007). They were surpassed as the MCU took off in 2008 and responded by rebooting the series with The Amazing Spider-Man (2012) and The Amazing Spider-Man 2 (2014) starring Andrew Garfield.
The Garfield Spider-Man films met with mixed reception so Sony responded by again rebooting Spider-Man starring Tom Holland. This time they actively sought to integrate Spider-Man with the MCU, beginning with Captain America: Civil War (2016), which appeared even before Holland's first solo outing with Homecoming. Holland subsequently appeared as a member of The Avengers in the MCU's Avengers: Infinity War (2018) and Avengers: Endgame (2019). Since then, Sony have been like a David heroically standing against the Disney-backed might of Marvel's Goliath, constantly finding creative ways to ride the Marvel bandwagon by rebooting the central character, by integrating him with the MCU, and other spinoffs of the Spider-Man copyright, including the animated Spider-Man: Into the Spider-Verse (2018) and films based around Spider-Man villains with Venom (2018) and Venom: Let There Be Carnage (2021), and Morbius (2022).
Spider-Man: No Way Home is a surprise. Part of the surprise is that it almost didn't happen – in 2019, Marvel walked away from making any deal with Sony over profit sharing revenue and any further integration between Spider-Man and the MCU appeared to be dead in the water. However, this resulted in a massive fan backlash. Tom Holland apparently even went to personally speak to Disney CEO Bob Iger and persuaded him to back the project.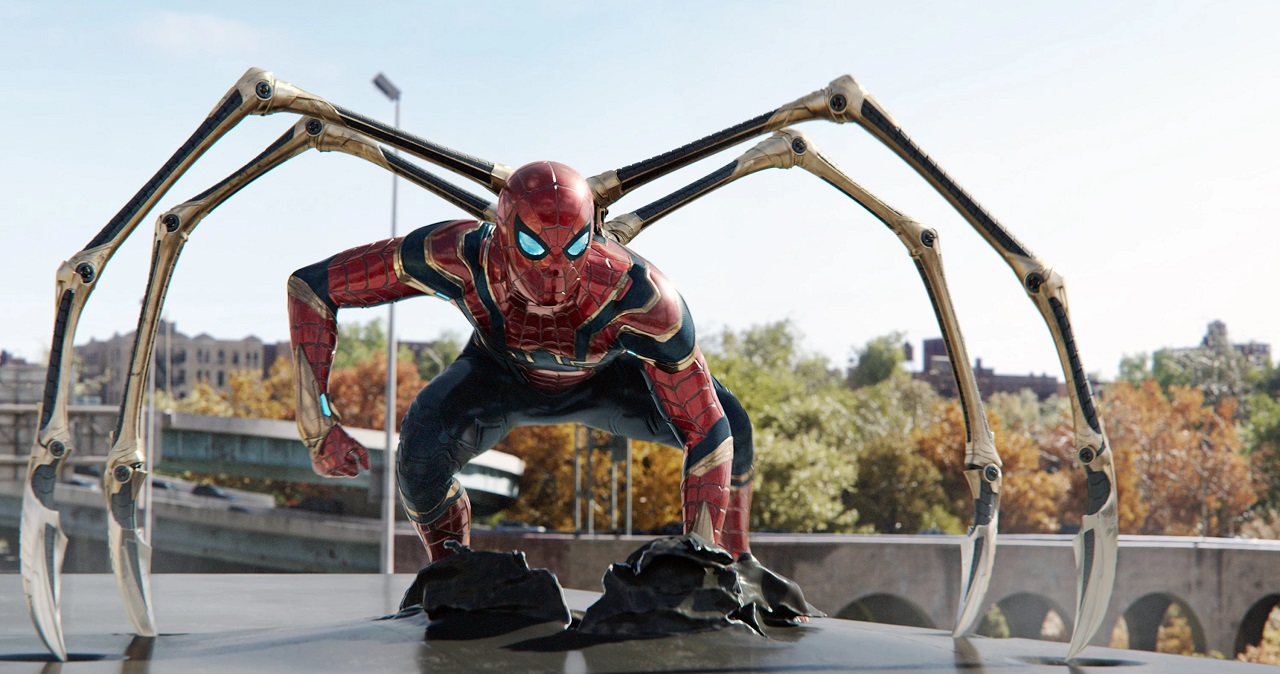 The other big surprise that then came was how No Way Home exploded at the box-office. It has earned $1.87 billion in worldwide box-office rentals as of this writing. This makes it the sixth highest grossing film of all time. This also makes it the third highest grossing Marvel film of all time behind Avengers: Endgame and Avengers: Infinity War, the second highest grossing Marvel film in the US. The amazement was that this occurred during the midst of the Corona Virus pandemic when many theatres around the world were closed or were insisting on reduced seating to enforce social distancing. No Way Home not only became the highest grossing film of the pandemic but it also grossed nearly twice what all the other MCU films released during this period – Black Widow (2021), Eternals (2021) and Shang-Chi and the Legend of the Ten Rings (2021) – did combined.
Marvel had massive success in bringing together all of their characters in the various Avengers films. Sony don't quite have that to call on – although they do get the loan of Benedict Cumberbatch's Dr Strange. Here Sony set out to up Marvel at their own game by building their own shared universe out of the Spider-Man copyright and ingeniously managing to bring back most of the major villains and the actors who played them from their previous films, along with Andrew Garfield and Tobey Maguire reprising their roles as Peter Parker/Spider-Man from the two previous incarnations. Into the bargain, that is not the only shared universe Sony manage to wind in and they also get in a one scene cameo from Charlie Cox as Matt Murdock from tv's Daredevil (2015-8). (Indeed. Marvel has been non-committal whether the characters from the now-cancelled Defenders Universe – Daredevil, Jessica Jones, Luke Cage, Iron Fist, The Punisher – belong to the MCU or not). The end credits sequences also contain a cameo from Tom Hardy as Eddie Brock/Venom, tying together with the end credits scene from Venom: Let There Be Carnage. Sony were clearly onto something the the concept and the MCU promptly went away and used a very similar idea in Doctor Strange in the Multiverse of Madness (2022).
I applaud the enormous ingenuity that Sony conducted in pulling off such an amazing Crossover, let alone the nightmare agents deals that must have been involved in bringing everything together. There was a massive swell of fan enthusiasm for Spider-Man: No Way Home – something that at current count has No Way Home voted into the Top 50 films on the IMDB. I am someone who likes to stand as a lone voice and not get swept along with the tide of public opinion. I also am one of the more health cautious who elected not to go and see No Way Home during its theatrical release and waited for it to come to streaming. Often in cases where you are watching something after the public reaction, you have to unbundle inflated expectations from the film itself. So how then does Spider-Man: No Way Home stack up?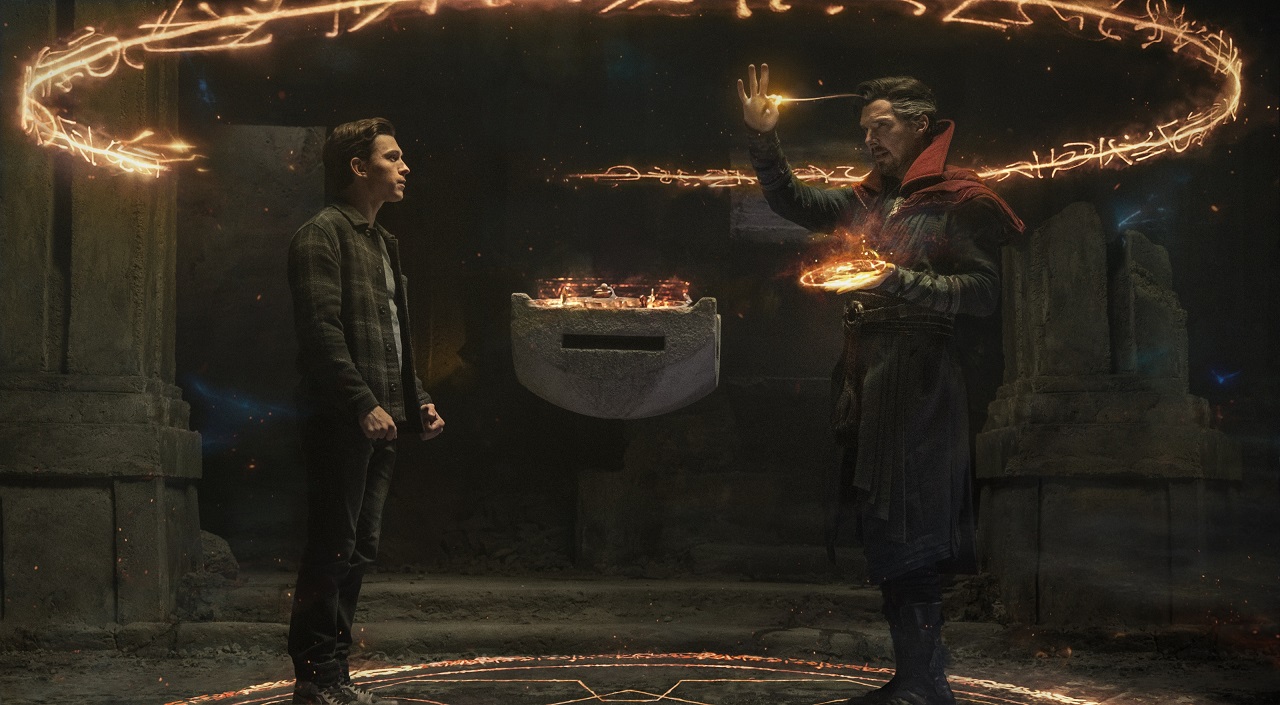 I thought No Way Home was an enjoyable film. It is not among my Top 10 Films of the year, it is not even one I would place among the top Sony Spider-Man films – which I would cite as being Spider-Man 2, The Amazing Spider-Man 2 and Spider-Man: Homecoming. I thought it was okay, although a number of parts of it did not work for me. One of these is the whole Peter Parker as a nerdy high-school student – which is certainly part of the comic-books. While this approach seemed a fresh and original reinvention in Spider-Man: Homecoming, it has come to so widely distort the comic-book canon – the killing of key characters of the mythos, J. Jonah Jameson rewritten as an Alex Jones-type conspiracy vlogger with a hate-on for Spider-Man – that it feels like it no longer resembles Spider-Man. And that's not even getting to how Zendaya, rechristened as Michelle 'MJ' Jones-Watson, continues to make the most utterly characterless Mary-Jane in the history of Spider-Man (and that's after three films and a real-life romance with Tom Holland, some of which you wished had shown up on the screen).
The other big problem I have with No Way Home is the actual plot. The idea of bringing so many characters from multiple media universes together is ingenious but the plot holding it together is less than exciting. The film opens with with Peter's secret identity having been revealed to the world. The entire plot then revolves around Peter going to Dr Strange and asking him to conduct a magic spell to wipe out everybody's memories of this. This is really only one-step up from the magic amnesia-inducing kiss used to wipe the knowledge of Superman's secret identity from Lois Lane's mind at the end of Superman II (1980).
The other plotting aspect is what happens when the various Super-Villains are brought back. The villains present include the very best that the Sony Universe has managed to produce – Doc Ock, The Green Goblin – and others giving great airings of characters that didn't quite come off the first time – Jamie Foxx as Electro. The film does pit Tom Holland's Spider-Man against some of these individually on several occasions and the various Spider-Men against all of them in a battle royale at the end. On the other hand, almost the first half of the film is one that makes Tom Holland's Peter into such a nice guy that he instead seeks to find ways to cure all of these characters from their various conditions. The scenes with Tom Holland and the assorted super-villains all sitting down and cooperating on finding solutions seems such an effective gutting of all the potential that super-villains are traditionally meant to hold – be magnificent and evil, be the nemesis to the superhero of the show – that it feels sad to behold.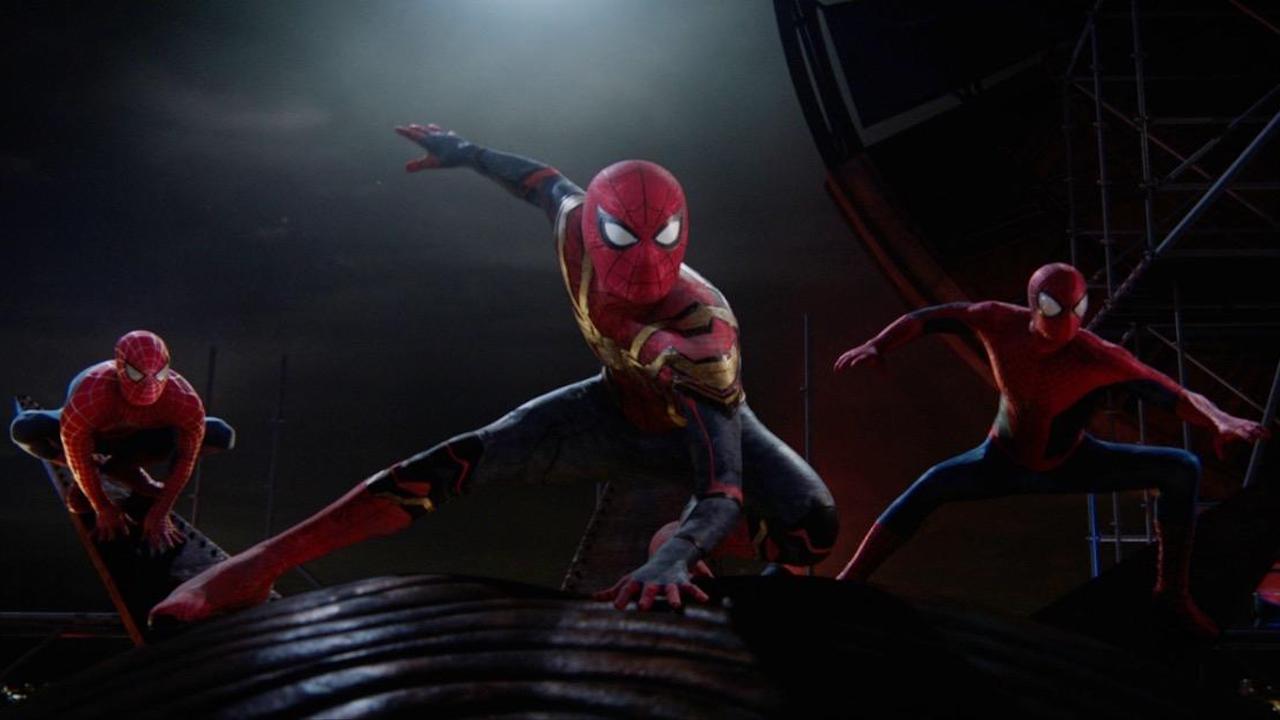 Certainly, the film does eventually drop the anaemic Cure the Super-Villains plot and mounts everything together for a big entertaining battle. It is just before this point that the film produces Andrew Garfield and Tobey Maguire and brings all three together. These scenes feel easily the most enjoyable in the film. Holland, Maguire and Garfield have a great deal of fun bouncing off each other – especially amusing being the scenes where they stand around comparing their various adventures. And then it is off to another grandly-scaled superheroic battle. All fun but I certainly think that Spider-Man: Into the Spider-Verse did a far better job of allowing assorted multiverse versions of Spider-Man to come together on screen.
That brings us to the success of Spider-Man: No Way Home. It's an okay and fun in moments but I don't think there is anything about any of its separate elements it does any better than other films. Like the recent Ghostbusters: Afterlife (2021) and Disney's third Star Wars trilogy, the rest of it feels like a film that is only getting its massive audience acclaim out of playing the nostalgia card and seeing old and new iterations of characters come together.
---
Trailer here
---