---
Crew
Director/Screenplay – Thomas Woodrow, Producer – Michelle Cameron, Photography – Shabier Kirchner, Music – Mark Korven, Visual Effects – P.S. 260 (Supervisor – Matt Posey), Makeup Effects – Jackie Risotto, Production Design – Rayna Savrosa. Production Company – Journeyman Pictures/Gone Fishing Media/P.S. 260.
Cast
Louisa Krause (Olivia), Aaron Stanford (Daniel), Doug Jones (Man from the Pool)
---
Plot
A man and a woman, Daniel and Olivia, make their way across a wasteland. He urges her onwards with stories of the place they came from near the sea and the welcome they will be given when they return. They then come across two neighbouring apartment towers. Daniel is able to turn the power inside back on and they revel in the luxuries they find inside. She wants to continue on their journey. Daniel argues that they have all they need here and informs her that he only made up the stories about the place by the sea to keep them going. In an empty pool, they find a man, alive but in a blank and unresponsive state. Hurt by being lied to by Daniel, Olivia starts to bond with the man from the pool.
---
We've Forgotten More Than We Ever Knew was a directorial debut for Thomas Woodrow. Despite featuring some moderately well-known names in his cast, the film only played at a handful of minor film festivals and was not widely seen.
At face value, We've Forgotten More Than We Ever Knew appears to be a film set in the aftermath of the collapse of civilisation. It's not quite but more on that in a minute. Crucially, most who have seen it have pegged it as a standard post-apocalyptic drama (See After the Holocaust Films). Based on the capsule descriptions and the title, I was imagining something akin to Glen and Randa (1971) about a couple of Flower Children walking the ruined landscape coming across the leftover detritus of civilisation and marvelling at what its purpose might have been.
On the other hand, you soon start to become puzzled about what is going on. Aaron Stanford and Louisa Krause are a couple about whom we know almost nothing. As the title says, they have forgotten large amounts about civilisation – your assumption is because it has been destroyed but this may not be the case. At the same time, he seems to know more fragments about the past than she does and neither of them seem to have too many problems adjusting to living in the apartment, apart from her puzzling over using a fork to eat.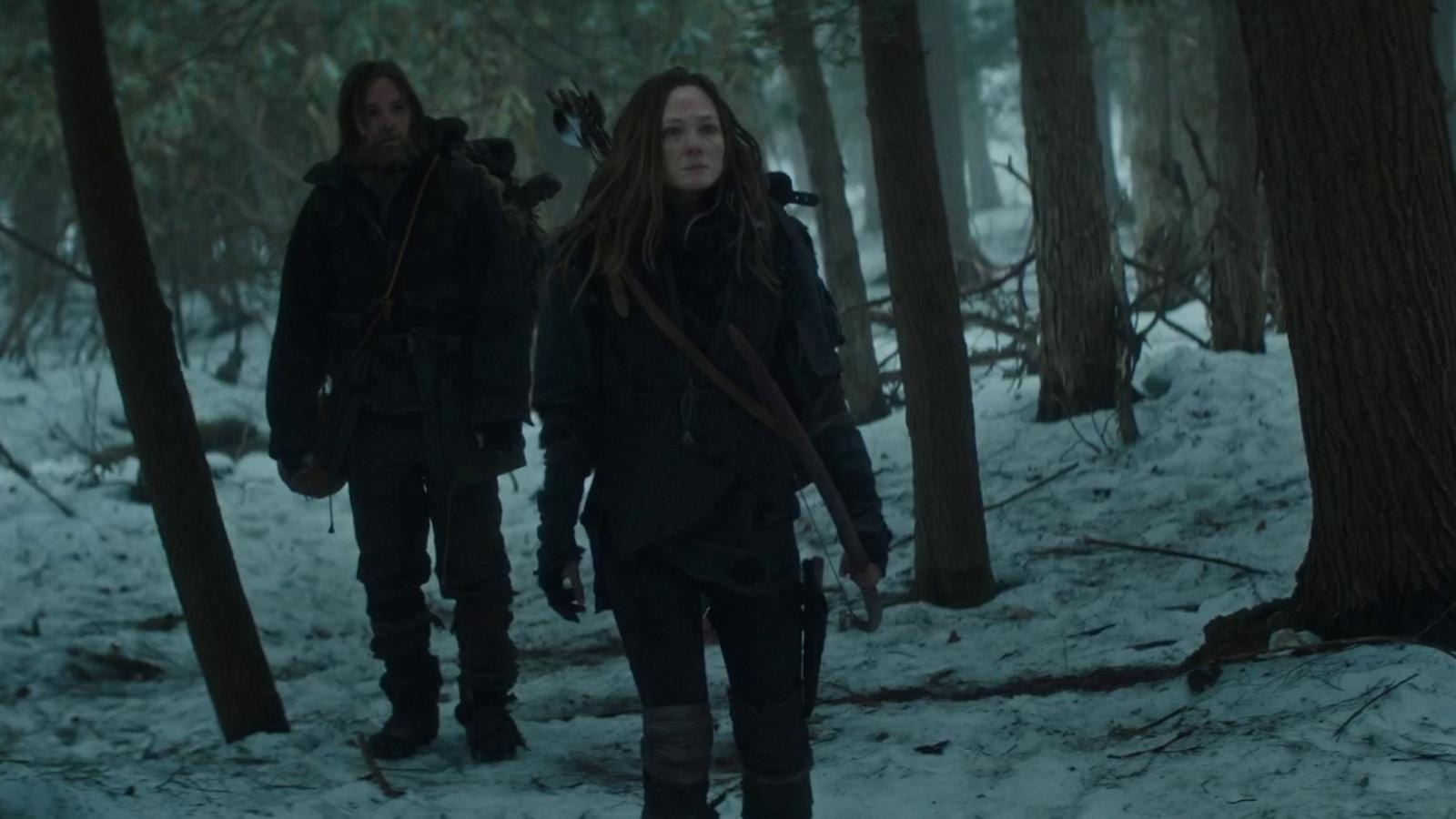 The apartment proves to be an equal puzzle. Rather than being in a state of abandoned decay, it looks exactly as it was left – except for some mould growing in the empty swimming pool. The biggest puzzle is the man found in the pool, played by Doug Jones, the regular Guillermo Del Toro suit performer alias Abe Sapien in the Hellboy films and the creature in The Shape of Water (2017), plus Saru in tv's Star Trek: Discovery (2017– ). The strangeness of this is that Jones plays the part entirely blankly, standing unmoving like a mannequin, only very occasionally turning his head to look at something.
The more the film goes on, the less you feel a Glen and Randa-like sense of wonderment at people puzzling over artifacts of a lost civilisation and the more you are mystified about the world the characters are in – how come a double apartment tower is left abandoned and ready to be used, with the power connected and food left unspoiled and available? Who or what is Doug Jones's stranger? Given that all of the text in the film seems written in a strange unidentifiable script, are we in some alternate world?
It is a desire to answer these questions that drives the film more than anything. There is a sort of plot going on – a strange love triangle where Louisa Krause is upset at Aaron Stanford lying to her and strays off into the arms of the man in the pool. Aaron Stanford spends all his time poring over old audio tapes, which contain fragments that you are not sure whether they make sense or not, and the impression is that he will find an answer among them that gives answers to everything.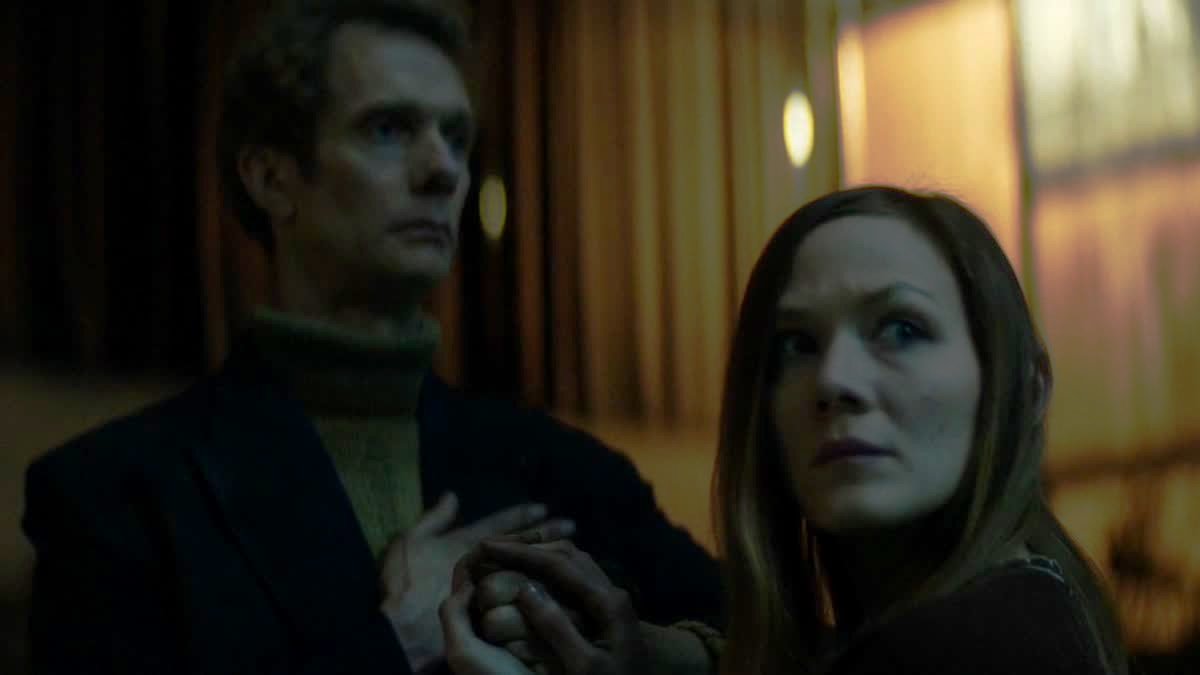 Instead the film arrives at an even more baffling ending. [PLOT SPOILERS]. Doug Jones comes to life to dance with Louisa Krause. This enrages Aaron Stanford who chases them through the building before somehow disappearing through a wall. Doug Jones will not stop dancing despite Louisa Krause's attempts to free herself and she eventually pushes him away whereupon he collapses into the same corner of the pool and in the same position as he was found. She and Aaron turn the power in the apartment off and return to their quest through the wilderness for the place that Aaron Stanford said he made up, just like they were when we met them at the start of the film.
All of which leaves one utterly baffled about the answers they were hoping to find. Indeed, this is not even a post-holocaust film as you expected as it never does anything to explain its world, its characters or what is happening. In fact, the real label for this would be as a work of surrealism.
---
---