---
Crew
Director/Screenplay – Kevin King, Producers – Kevin King, Abigail Steele & John Virgo, Photography – Stelios Xanthos, Music – Christopher Doucet, Visual Effects Supervisor – Jacob Dickey, Special Effects – Clark Edmunds, Makeup Effects Supervisor – Chris Hanson, Production Design – Sean Rampton. Production Company – Transmission/Arrowstorm Entertainment/Parking Garage Pictures/Ex Machina Films.
Cast
Eve Mauro (Lieutenant Spears), Rocky Myers (Jack Kilmore), Jake Stormoen (Lieutenant Wizkowski), Danny Trejo (Machine Gun), Adam Johnson (Colonel Shaw), Angie Papanikolas (Lieutenant Lopez), Lexi Victoria Soto (Molly), Jason Wixom (Kid), Paul Hunt (President), Danny James (Carlisle), Aubrey Reynolds (Amy Kilmore)
---
Plot
The artificially intelligent weapons of X Corp turn on and attack humanity. One year later and most of civilisation has been obliterated. Lieutenant Spears is serving with a surviving military unit at a hidden location in the desert. While on patrol, she observes Jack Kilmore, the former head of X Corp, being captured by the cyborgs. A detachment is sent to rescue him. Kilmore reveals that it is possible to shut the machines down by destroying the broadcast tower that controls them. As they set out to track the hidden location of the tower, the machines detect their whereabouts and come after them in force.
---
Arrowstorm Entertainment is a Utah-based company that specialises in films made on low budgets that have usually been raised via Kickstarter. They have also made Dawn of the Dragonslayer (2011), The Crown and the Dragon (2012), Orc Wars (2012), Osombie (2012), The Shadow Cabal (2012), Dragonfyre (2013), Zombie Hunter (2013), Survivor (2014), Christmas Dragon (2015), Magellan (2017), 626 Evolution (2017), The Apprentice (2018) and the tv series The Outpost (2018- ), as well as the popular Mythica fantasy adventure series that began with Mythica: A Quest for Heroes (2014) and currently runs to four follow-ups.
Arrowstorm are essentially fan filmmakers with better budgets than most. Although, as the employment of Danny Trejo here indicates, they are proving ambitious and are gaining an increasing degree of professionalism with every film they make. Like most fan filmmakers however, their works are dominated by a desire to fannishly replicate the cinematic models that they love. As such, Cyborg X feels like it comes heavily influenced by the Terminator sequels and copies. It is essentially a 1990s cyborg action/post-holocaust future film – think any of the works made throughout the era by Albert Pyun such as Cyborg (1989), Knights (1993) or Nemesis (1993) and sequels – where the only real difference is the employment of CGI effects.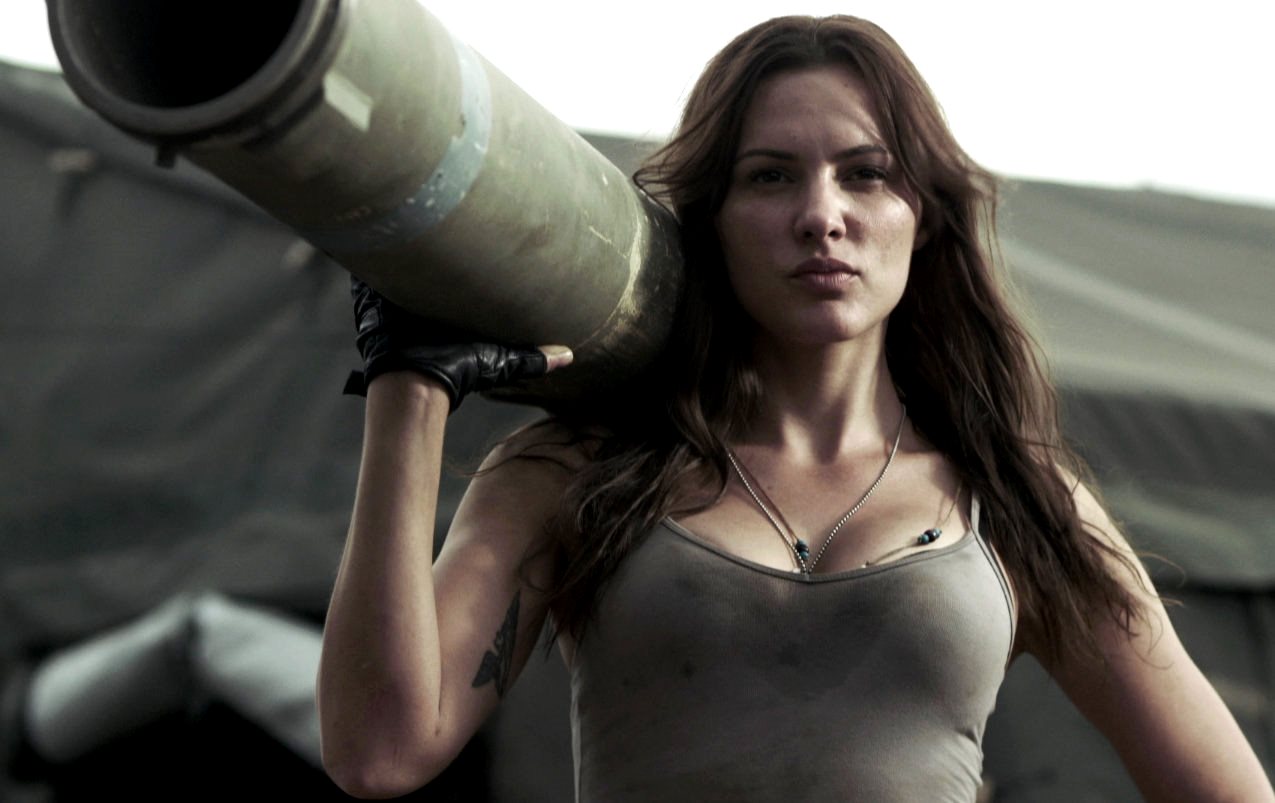 Cyborg X is a competent run through of the basics but never anything more than that. It is efficiently made, doesn't wear its low budget too obviously and keeps the action element moving at a reasonable pace. On the other hand, there is nothing it does with the assemblage of elements that feels like we have not seen it before in countless other films. The effects range between the occasionally amateurish and some subtly effective scenes where digital effects have been used to touch up background shots and place huge craters and crashed planes in the desert.
Much of the film feels as though it has been predicated around having the availability of Danny Trejo for a few days of shooting. Trejo is cast to character playing the tough as nails and crazy to match one-man army, although ends up being killed off in mid-film, allowing the unknown leads to carry the rest of the show.
---
Trailer here
---