---
USA. 2016.
Crew
Director/Screenplay – Josh Ridgway, Producers – Rishi Chitkara & Josh Ridgway, Photography – Andy Lohrenz, Music – Wes Poland, Visual Effects – questPacifica (Supervisor – Jeff Murphy), Production Design – Eric Whitney. Production Company – Indican Pictures/Copper Kid Productions/Quest Pacifica LLC
Cast
Richard Tyson (Martin Dresher), Kayle Carlyle (Kyra Stillwell), Lance Henriksen (The Finisher), John Wesley Shipp (Stillwell), Vernon Wells (Shamrock), James Wlcek (Brennan), Matthew Tompkins (John Anson), Susanna Gibb (Erin), Eric Roberts (Senator Allen), Clarence Gilyard, Jr. (Reverend Rains)
---
Plot
Much of the world has been obliterated by the Drax Virus and civilisation lies in ruins. Dresher is a Chaser, or bounty hunter. In Union City, he takes an assignment to go after John Anson and his gang for an incredibly large bounty being offered. Dresher sets out on Anson's trail, avoiding rival bounty hunters and Anson's attempts to kill him. As he becomes aware, there is more to the story – Anson is in fact an escaped criminal from a parallel Earth and there are others from the multiverse wanting to apprehend him.
---
The Sector was a feature-length directorial debut for Josh Ridgway. Ridgway had had a sporadic career as an actor with minor roles in films like Arlington Road (1999) and Boys Don't Cry (1999). Ridgway has produced a number of other genre films with Earthling (2010), Hayride (2012) and Jasmine (2015). He had previously written and produced the 20-minute short film Travelers (2013) where the character of Rysher played by Richard Tyson made his first appearance. Ridgway went on to make Howlers (2019) about a Western gunslinger resurrected from the grave to fight werewolves.
The alternate or parallel world-hopping theme is always a promising one. There however have been some not very challenging attempts to tackle it with the likes of tv's Sliders (1995-2000) and films such as Crossworlds (1996), Last Lives (1997) and The One (2001). The Sector follows the familiar plotline that runs through several of these of an escaped criminal seeking refuge in this timeline. All of the works cited above make a stab in the direction of tackling their themes, either in terms of visiting alternate worlds or showing people dealing with their doubles or being mistaken for them.
By contrast, The Sector allows most the possibilities to fall through its hands – it is just a bounty hunter tale about pursuing an escaped criminal, nothing more adventurous than that. The sole visit we make to the alternate timeline comes right at the end but never strays beyond a single scene shot in a garage.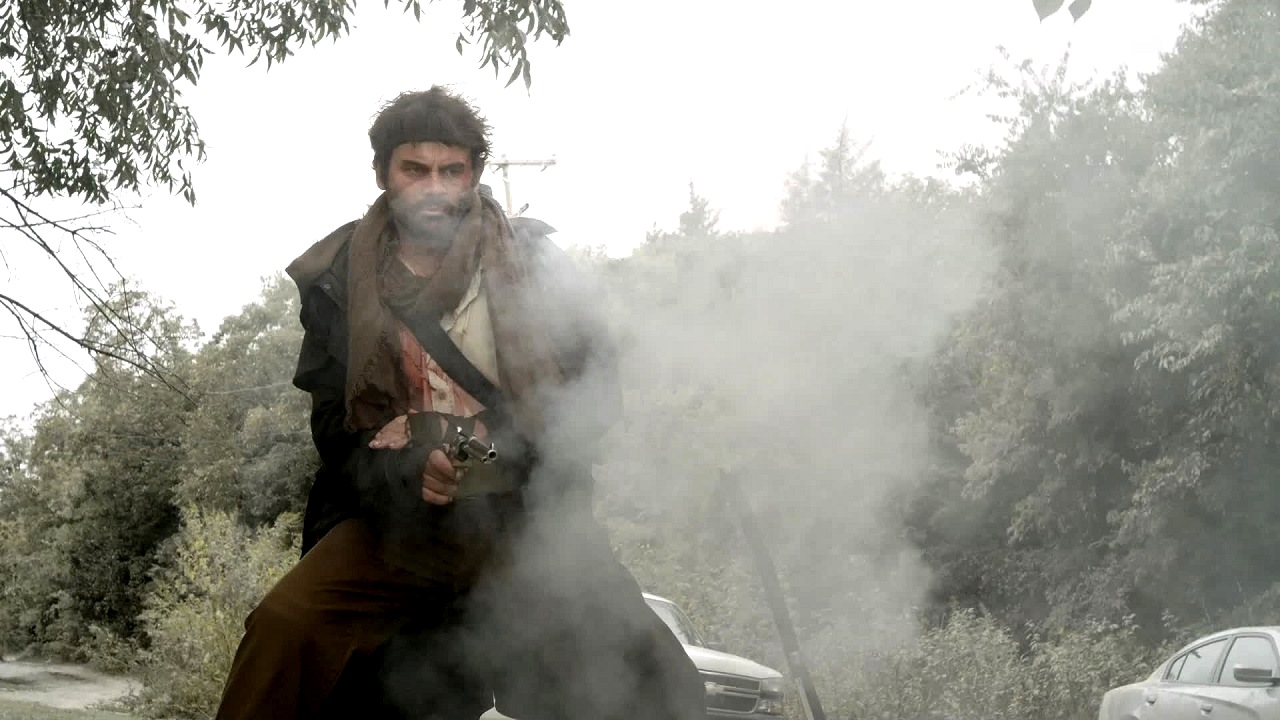 The Sector also adopts a post-holocaust setting. However, it is clearly a film with a low-budget and is not able to afford to depict this. One's suspension of disbelief gets severely undercut when we are supposedly in a post-civilised world and yet people are driving regular cars and trucks or where locations are warehouses and ordinary suburban homes with mown lawns. The action scenes are limited – a swordfight, a boilerplated-in sequence where Richard Tyson comes across a cult and is required to engage in gladiatorial combat to win his freedom – but passable.
The one advantage the film has is that it has managed to pull in a reasonable B-list cast. In the central role is Richard Tyson, who used to be considered a heartthrob for about five minutes in the 1980s, but mostly is an actor who suggests he doesn't have a lot going on between his ears. Most of the other names like Vernon Wells and Eric Roberts are constricted to a single scene appearance or all their scenes have been shot in a single location on clearly a minimised schedule. The film gets more substantial usage out of John Wesley Shipp, the original tv The Flash (1990-1), as a parallel world scientist whose purpose is not-exactly-explained, and Lance Henriksen who turns up with great presence as the mysterious Finisher.
---
Trailer here
---