---
USA/Japan. 1995.
Crew
Director – Tony Randel, Screenplay – Peter Atkins & Tony Randel, Based on the Graphic Novel by Buronson & Tetsuo Hara, Producers – Aki Komine & Mark Yellen, Photography – Jacques Haitkin, Music – Christopher L. Stone, Production Design – Clark Hunter. Production Company – First Look Pictures/Ozla Pictures/Zeta Entertainment/Neo Motion Pictures.
Cast
Gary Daniels (Kenshiro), Costas Mandylor (Lord Shin), Isako Washio (Julia), Chris Penn (Jackal), Dante Basco (Bat), Nalona Herron (Lyn), Malcolm McDowell (Ryuken), Downtown Julie Brown (Charlie)
---
Plot
After the downfall of civilization, there have emerged two schools of martial arts, the North Star school and the Southern Cross school. Lord Shin, leader of the Southern Cross school, kills Ryuken, Fist of the North Star. Ryuken's son Kenshiro now inherits the role of Fist of the North Star. Kenshiro comes to the aid of the people of Paradise Valley as they are invaded and overrun by Shin's Crossmen. At the same time, Shin has also abducted Kenshiro's love Julia and is forcing her to become his. Kenshiro sets out to stop Shin, something that will culminate in a showdown between the Southern Cross and North Star schools.
---
As the cult of anime and manga hit the West following the amazing success of Akira (1988), Fist of the North Star was one of a handful of Western live-action manga adaptations that were made in an attempt to exploit this interest. There was also the low-budget adaptation of The Guyver (1991) and were at various points also planned live-action adaptations of Akira and Mai the Psychic Girl. Things took off in the 00s with the live-action English-language likes of Transformers (2007), Speed Racer (2008), Blood: The Last Vampire (2009), Dragonball: Evolution (2009) and Kite (2014), Ghost in the Shell (2017) and Cowboy Bebop (2021), and Japanese-made efforts such as Casshern (2004), Cutie Honey (2004), Devilman (2004), YatterMan (2009), Space Battleship Yamato (2010), Kiki's Delivery Service (2014), Lupin III (2014), Attack on Titan (2015), Fullmetal Alchemist (2017), Gintama (2017) and Tokyo Ghoul (2017). However, 1996 brought both Fist of the North Star, adapted from the manga and the animated tv series Fist of the North Star (1984-7), as well as Crying Freeman (1995).
Fist of the North Star comes from Tony Randel (and his regular co-writer Pete Atkins). The two first made Hellbound: Hellraiser II (1988) and Tony Randel has since remained a steady but unremarkable genre hand with various films such as Children of the Night (1991), Amityville 1992: It's About Time (1992), Ticks (1993), The Double Born (2008) and The Hybrids Family (2015).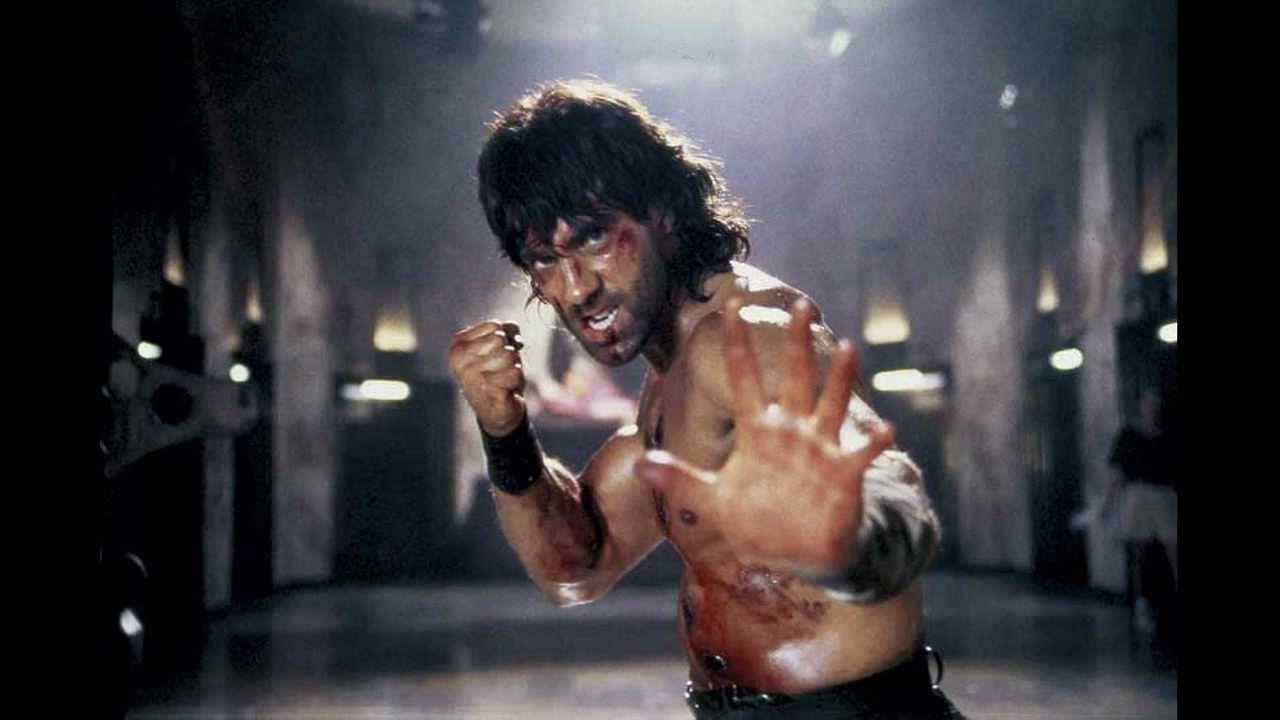 Fist of the North Star never quite comes off. The problem is that Tony Randel is not sure what type of film he is making. He creates all manner of bizarrely over-the-top martial arts moves – combatants fire lightning bolts, opponents legs cross like clashing swords in mid air, Gary Daniels has a move involving finger tapping an opponent that causes their head to explode (Chris Penn wears a helmet throughout to delay the effect of one such explosion) and delivers kicks that dislocate an opponent's jaw like a Size 15 shoe.
On the other hand these moves, which seem to be wanting to mutate into the wildly over-the-top acrobatics of a Hong Kong fantasy film, sit at odds with the realistic post-holocaust setting, which comes filled with grimly violent images of marauding gangs dragging burning victims through the shantytown behind vehicles and drowning people in barrels of water. The result feels like two distinctly different films that never mix in their approaches.
The film also suffers from bad miscasting. For one, it retains the Japanese names of the characters from the manga but then incongruously casts them with Caucasian faces. Hero Gary Daniels, a minor martial arts star, is a bland actor with no concept of the meaning of depth. On the other hand, Costas Mandylor, an actor who is usually all glowering romantic moodiness, is totally wrong when it comes to playing a larger-than-life supervillain.
---
---