---
Crew
Director/Screenplay – Noah Baumbach, Based on the Novel by Don DeLillo, Producers – Noah Baumbach, David Heyman & Uri Singer, Photography – Lol Crawley, Music – Danny Efman, Visual Effects Supervisor – Javier Marcheselli, Visual Effects – The Artery (Supervisors – Elad Offer & Vico Sharabani), Clear Angle Studios Ltd, Framestore (Supervisors – Phil Brennan & Jonathan Fawkner), Lola VFX (Supervisor – Edson Williams), Misc Studios (Supervisor – Milen Pishulivski), Netfx Mumbai (Supervisor – Swapnil Amre), Phosphene (Supervisor – Christian Lowe), Raynault VFX (Supervisor – Vincent Poitras), Rising Sun Pictures (Supervisor – Matt Greig), Rocket Science VFX (Supervisor – Adam Jewett) & Turncoat Pictures (Supervisor – Troy Moore), Special Effects Supervisor – John Ziegler, Prosthetics & Masks – Michael McCracken & Matthew W. Mungle, Production Design – Jess Gonchor. Production Company – NBGG Pictures/Heyday Films/A24.
Cast
Adam Driver (Jack Gladney), Greta Gerwig (Babette Gladney), Don Cheadle (Murray Siskind), Raffey Cassidy (Denise Gladney), May Nivola (Steffie Gladney), Sam Nivola (Heinrich Gladney), Dean Moore & Henry Moore (Wilder Gladney), Lars Eidinger (Mr Gray), Jodie Turner-Smith (Winnie), Barbara Sukowa (Sister Herman Marie), Francis Jue (Dr Lu), Bill Camp (Man with TV)
---
Plot
Jack Gladney is a professor specialising in Hitler Studies at College on the Hill. He lives with his wife Babette and their blended family. Both he and Babette admit they fear death. A collision between a truck and a train releases a toxic cloud into the atmosphere. Jack is certain that this will not affect them but then they are forced to evacuate their homes and move to a temporary encampment. Jack finds that while he stopped at a gas station to refuel, he may have suffered from two minutes exposure to the toxic cloud. He afterwards becomes fearful for his life. At the same time, he find that Babette has been popping Dylar, an unregistered pill, and becomes determined to find out her secret.
---
Noah Baumbach is a director/writer who has gained a good deal of acclaim since the late 1990s with films such as The Squid and the Whale (2005), Margot at the Wedding (2007), Greenberg (2010), Frances Ha (2012), While We're Young (2014), Mistress America (2015), The Meyerowitz Stories (2017) and Marriage Story (2019). He has appeared on this site's radar as co-director of the documentary De Palma (2015) and with scripts for works as diverse as Wes Anderson's Fantastic Mr Fox (2009), Madagascar 3: Europe's Most Wanted (2012) and his partner Greta Gerwig's upcoming directorial outing Barbie (2023).
White Noise is adapted from a 1985 novel of the same name from novelist and playwright Don DeLillo. DeLillo has been publishing since 1971, producing works such as Americana (1971), Libra (1988), Underworld (1997), The Body Artist (2001), Cosmopolis (2003), Falling Man (2007) and Point Omega (2007). DeLillo's books are works of social satire that tackle many of the themes of the postmodern identity crisis. DeLillo had previously appeared on film with his screenplay for the baseball film Game 6 (2005) and was adapted with Cosmopolis (2012), one of David Cronenberg's most underrated films. This is not related to the previous film of the same name, the quite decent ghost story White Noise (2005) or its sequel.
Full disclosure – I haven't read this particular DeLillo novel but did read some of the online study guides to make comparison. It becomes apparent that Noah Baumbach has conducted an enormously faithful adaptation, even down to retaining the section headings that DeLillo uses. There are some minor condensings and a name change for the university but that appears to be about it as far as I can ascertain.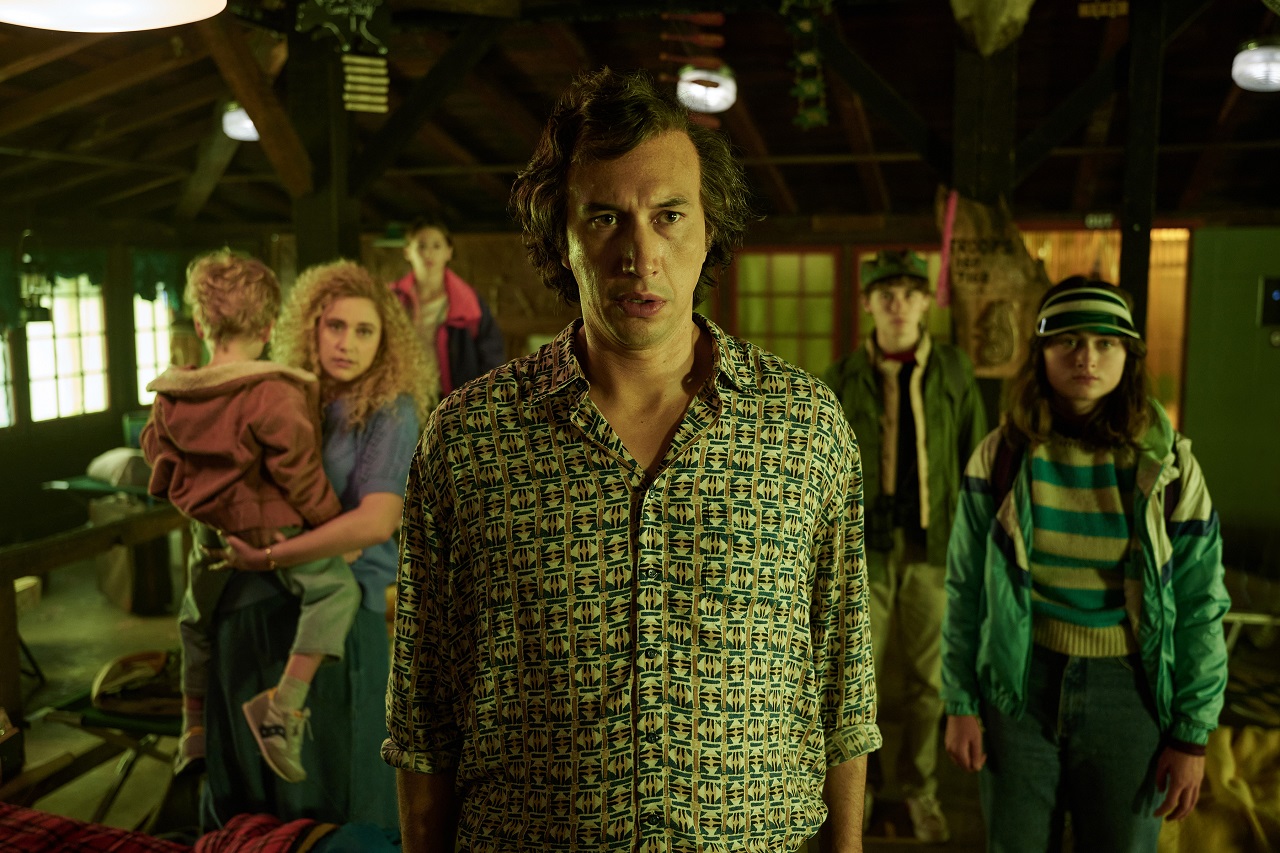 I really started to like White Noise during its first section. I wasn't sure whether the dialogue here was Noah Baumbach's or Don DeLillo's but it has a whiplash smartness – one that comes at you sideways and then winds around on itself to come at you again from behind. There's the hilarious opening monologue where Don Cheadle gets enthusiastic about the joy of car crash scenes in movies and how they represent an American optimism. Or the scene in the supermarket with Greta Gerwig and daughter Raffey Cassidy arguing about whether or not to buy a sugar-free chewing gum that can kill rats.
There are all manner of slyly funny lines: "I want to know how scared I should be," says Raffey Cassidy as she looks in the windows of other fleeing vehicles during the evacuation. Or Adam Driver's discovery that the evacuation procedures are only ones for a rehearsal: "Are you saying you saw the chance to use the real event in order to rehearse the simulation?" It is, at times, blacker-than-black Satire. Sometimes the humour gets broad – the sequence with the car stuck in the river looks more like a slapstick scene from one of the National Lampoon's Vacation films.
I went into White Noise knowing little about it beyond its plot description – the way I like to watch films. What it seemed to be shaping up to be was a Catastrophe Film, along the lines of something like The Crazies (1973) or The Crazies (2010), Silent Night (2021) or the Brazilian Covid-era film The Pink Cloud (2021) about a toxic spill affecting society. The nearest comparison point to be made might be It's a Disaster (2012), a comedy set around a dinner party just as a toxic spill is released in the area.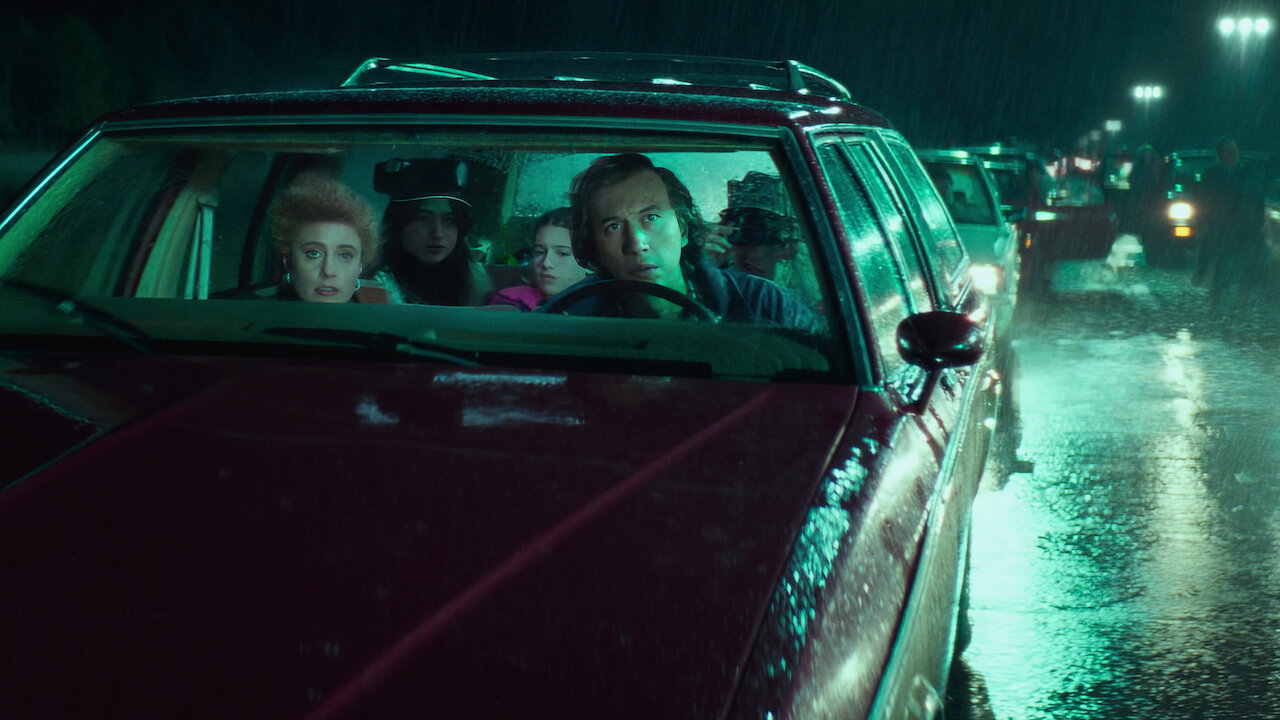 However, this gives some wrong perceptions about the film. In any other Catastrophe or Disaster Movie, the story would be focused on the toxic spill and the human drama as the characters race to flee amid fears over possible infection. Contrarily, White Noise makes this a middle act. Where another film that follows more along genre lines would make the climax a bid for freedom, this has the toxic cloud blow over and the characters return to their same mundane lives as before.
Where the film worked less effectively for me was the end sections involving Adam Driver investigating wife Greta Gerwig's use of an unregistered medication and then his tracking down pusher Lars Eidinger in a hotel room. Firstly, these scenes seemed a dramatic wind-down from the big urgency of the airborne toxic cloud section and an uneasy slip back into family melodrama. Here even the satire and snappy dialogue of the earlier sections is gone. It does return a little during the final sections encountering the nuns at the hospital. On the other hand, I could not quite figure what was going on with Lars Eidinger's character, although things made a good deal more sense after reading the more detailed plot description of the book. It may be a case where the film's problem is simply being too faithful to the book.
On the other hand, all of this does seem to make for a quite reasonable metaphor for the Covid pandemic, as many reviewers raced to do, seemingly unaware that the film was adapting a book that was over 35 years old. The film does naturally lend itself to such interpretations in the scenes of Adam Driver's assurance that everything will blow over and not affect them and insistence there is no need to panic, followed by the later scenes where he becomes paranoid about infection.
---
Trailer here
---