---
Crew
Director/Screenplay – Camille Griffin, Producers – Celine Rattray, Trudie Styler & Matthew Vaughn, Photography – Sam Renton, Additional Photography – Ben Davis, Music – Lorne Balfe, Visual Effects Supervisor – Angus Bickerton, Visual Effects – Buf (Supervisor – Geoffrey Nicquet), Special Effects Supervisor – Matt Strange, Production Design – Franckie Diago. Production Company – Marv/Maven Screen Media/Cloudy Productions.
Cast
Keira Knightley (Nell), Matthew Goode (Simon), Roman Griffin Davis (Art), Annabelle Wallis (Sandra), Sope Dirisu (James), Lily-Rose Depp (Sophie), Lucy Punch (Bella), Rufus Jones (Tony), Kirby Howell-Baptiste (Alex), Davida McKenzie (Kitty), Hardy Griffin Davis (Hardy), Gilby Griffin Davis (Thomas), Trudie Styler (Nicole)
---
Plot
Husband and wife Nell and Simon, along with their son Alex and twins Hardy and Thomas, welcome a bunch of old school friends at their country home for Christmas dinner. The guests include husband and wife Tony and Sandra and their daughter Kitty; Bella and her girlfriend Alex; and James, now a successful doctor and his American girlfriend Sophie, a model. As they settle in over dinner and drinks, they are trying to deal with the grim fact that a deadly poison released in Russia has been sweeping the world and killing everything in its path. It is expected that the cloud carrying the poison will arrive there the next day. The government has distributed Exit suicide pills that will spare people the pain and agony of death once affected. As the night settles in, each of them in their own way confronts the coming end and their choice of whether or not take the pills.
---
Silent Night was a feature-length directorial debut for Camille Griffin who had previously made a half-dozen short films. Despite being an unknown, Griffin has assembled an impressive line-up of talent including actors like Keira Knightley, Matthew Goode and the rising names of Annabelle Wallis and Johnny Depp's daughter Lily-Rose. Not to mention she also has on board as producers Matthew Vaughn, the director of Kick-Ass (2010) and Kingsman: The Secret Service (2015), and Trudie Styler, Sting's wife, who also appears on-screen as the grandmother on the video conference, who has a reasonable body of work as a producer with everything from several of Guy Ritchie's early films to Moon (2009).
I make an effort to go into films knowing as little about them as possible in order to view the twists and surprises as fresh. All I had read about Silent Night was the capsule synopsis "Nell, Simon, and their son Art are ready to welcome friends and family for what promises to be a perfect Christmas gathering. Perfect except for one thing: everyone is going to die." This made Silent Night seem like it would be a horror film – indeed, there had previously been the Christmas slasher Silent Night (2012). I had assumed that this meant Nell, Simon et al were intending to bump all the others off and that maybe we'd end up with a Christmas-themed variant on something like The Last Supper (1995).
This could not be further from the actuality of the film. Things start out in very deceptive ways – for at least the first half-hour or more what we have seems as though it is going to be a regular Christmas Film about a diverse assortment of old friends and their respective partners and children gathering together for a Christmas dinner. Camille Griffin charts the banter and occasional bickering between the characters – you see an undeniable undertow of something darker that nobody is quite discussing occasionally intrude into the conversation – but it could still be a regular Christmas gathering film.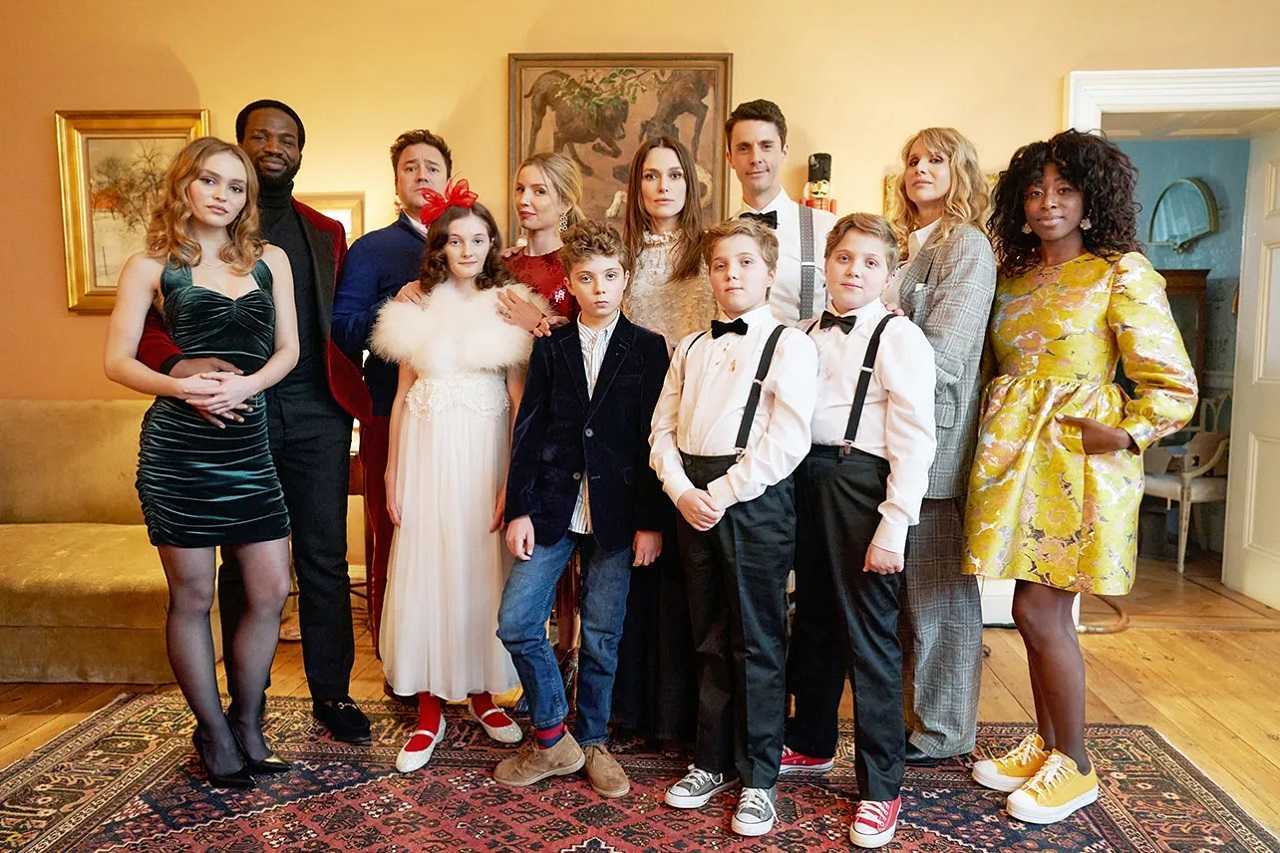 Interspersed with this are news snippets about the poison cloud and conversations among the men as they share a joint in the greenhouse and give Sope Dirisu hugs after he admits he had to help put the elderly and infirm out of their misery at the hospital where he works. It gradually becomes apparent that what we have is a Catastrophe Film where the gathered group are facing the end of the world as a poison cloud that originated in Russia (cause never explained) crosses the world killing every living thing. The premise is akin to the nuclear war film On the Beach (1959), which had a diverse group of people gathered in Melbourne, Australia as radiation clouds crossed the world killing all life in their path.
In recent years, there has been a small spate of films about groups of friends who are gathered as social catastrophe and the potential end of the world strikes with the likes of Melancholia (2011) and Goodbye World (2013), which this has been spun to more comedic ends in It's a Disaster (2012) and This is The End (2013). There is something also of Don McKellar's Last Night (1998), a film about how people confront the imminent end of the world. You could also point to the The Last Night of the World episode of the Ray Bradbury anthology The Illustrated Man (1969) where parents anguish over giving suicide pills to their children following a premonition of the end of the world.
If there is a Christmas Film for the Covid pandemic era, then Silent Night is surely it. Pandemic era attitude seep in – the discussion about how the homeless and illegal immigrants have to be abandoned because, as Sope Dirisu says, "there is nothing we can do for them" seem to echo with discussions by some governments on herd immunity solutions.
The drama ends up being extraordinarily wrought. This is maybe the bleakest Christmas film ever made. Camille Griffin has a great grasp of her actors and the drama. Especially lyrical is a scene where the cloud is seen moving through the countryside and towns, contrasted with the gathered party dancing, all as the Christmas carol Silent Night (1818) plays on the soundtrack.
The most effective and darkly funny scenes come at the end as the group take their pills and things proceed to go wrong in assorted different ways – people realising they had forgotten to say goodbye to each other or when Lucy Punch gives girlfriend Kirby Howell-Baptiste her pill after she passes out drunk only for Kirby to wake up and then vomit the pill up after Lucy has taken hers. The scenes with Matthew Goode dealing with the twins who first demand that they each did not get a separate can of Coke to take their pills and then that the Coke is not cold, necessitating that he with increasing frustration has to run down to the kitchen to get more cans and then ice is quite hilarious in the midst of the tragic. The only aspect that didn't work for me was the final shot, which seemed to be far too predictably heading off in the direction of another type of genre film, and which it feels that such a strong and emotionally powerful film didn't need.
The film comes with a great ensemble cast who all seem perfectly at home in their characters and do a fantastic job of bouncing off each other. To single out anyone in particular, I'd have to point to Annabelle Wallis, an increasingly rising name – see her turn as the woman haunted by a twin in Malignant (2021) from earlier in the year. The scene where the group are discussing who slept with who and who did and didn't desire the other as she drunkenly reacts contains some great acting on her part.
One of the best performances in the film comes from young Roman Griffin Davis whose decision not to take the pills forms some of the key drama in the middle of the show – the scene where he announces to Lily-Rose Deep his decision to stay with her and the subsequent scene where Keira Knightley is urgently pleading with him of the consequences and reality of his decision are some of the most moving parts of the film.
(Winner in this site's Top 10 Films of 2021 list. Nominee for Best Original Screenplay and Best Supporting Actor (Roman Griffin Davis) at this site's Best of 2021 Awards).
---
Trailer here
---