---
Crew
Director – Angus MacLane, Screenplay – Jason Headley & Angus MacLane, Story – Matthew Aldrich, Jason Headley & Angus MacLane, Producer – Galyn Susman, Photography – Jeremy Lasky & Ian Megibben, Music – Michael Giacchino, Visual Effects Supervisor – Jane Yen, Animation Supervisor – David DeVan, Production Design – Tim Evatt. Production Company – Pixar Animation Studios.
Voices
Chris Evans (Buzz Lightyear), Keke Palmer (Izzy Hawthorne), Peter Sohn (Sox/Old Sox), Taika Waititi (Mo Morrison), Dale Soules (Darby Steel), James Brolin (Zurg), Uzo Aduba (Alisa Hawthorne), Isiah Whitlock Jr. (Commander Burnside), Bill Hader (Featheringhamstan), Efren Ramirez (Airman Diaz)
---
Plot
Buzz Lightyear is part of a crew under Commander Alisa Hawthorne as they explore the planet T'Kani Prime. They are forced to retreat by the planet's wildlife but the ship is damaged during lift-off. The crew are left with no choice but to set up base. Buzz keeps trying to perfect a fuel formula that will allow them to launch back into hyperspace and return home. He test flies a small craft using an experimental formula he has made but when he returns it is four years later due to relativistic effects. During this time, his crewmates have now established a colony. Buzz continues to try other formulas in an effort to make it into hyperspace. On each occasion, he skips forward four years in time, returning to witness Hawthorne marry, have a daughter, grow old and pass away. Defying the orders of Hawthorne's successor, Buzz makes one more attempt to launch into hyperspace using a formula synthesized by his robot cat. This succeeds and Buzz makes a return 22 years later. After crashing, he is found by three novice recruits that include Hawthorne's grand-daughter Izzy. They reveal that the colony is now under the thrall of the invader Zurg and his army of robots. Reluctantly accepting their frequently bumbling help, Buzz sets out to stop Zurg.
---
Buzz Lightyear (voiced by Tim Allen) was a character introduced in Pixar's first film Toy Story (1995). The character of Buzz, a space hero full of heroic determination while failing to understand that he is merely a toy, became a fan favourite. Buzz went on to appear in Toy Story 2 (1999), Toy Story 3 (2010) and to a lesser extent Toy Story 4 (2019). Shortly after the second film, Buzz was also spun off as a character in a series of space adventures in the animated tv series Buzz Lightyear of Star Command (2000-1), which lasted for 65 episodes and a film Buzz Lightyear of Star Command: The Adventure Begins (2000) that was released to video as promo for the tv series.
Lightyear maintains that it is the film that Andy saw before the events of Toy Story and that the Buzz doll was as a merchandising tie-in. This is a piece of dubious rectonning that puts one off from the moment such announcement appears as the opening screen. Indeed, just the lack of Tim Allen-voiced Buzz Lightyear (who is replaced here by Chris Evans) is an automatic black mark against the film.
Director Angus MacLane has been working at Pixar since the 1990s and was an animator and storyboard artist on both Toy Story 2 and Toy Story 3, while he also directed two Toy Story-based short films with Small Fry (2011) and Toy Story of Terror (2013) (which do actually feature Tim Allen and the other main voice actors). He had previously co-directed the feature-length Finding Dory (2016).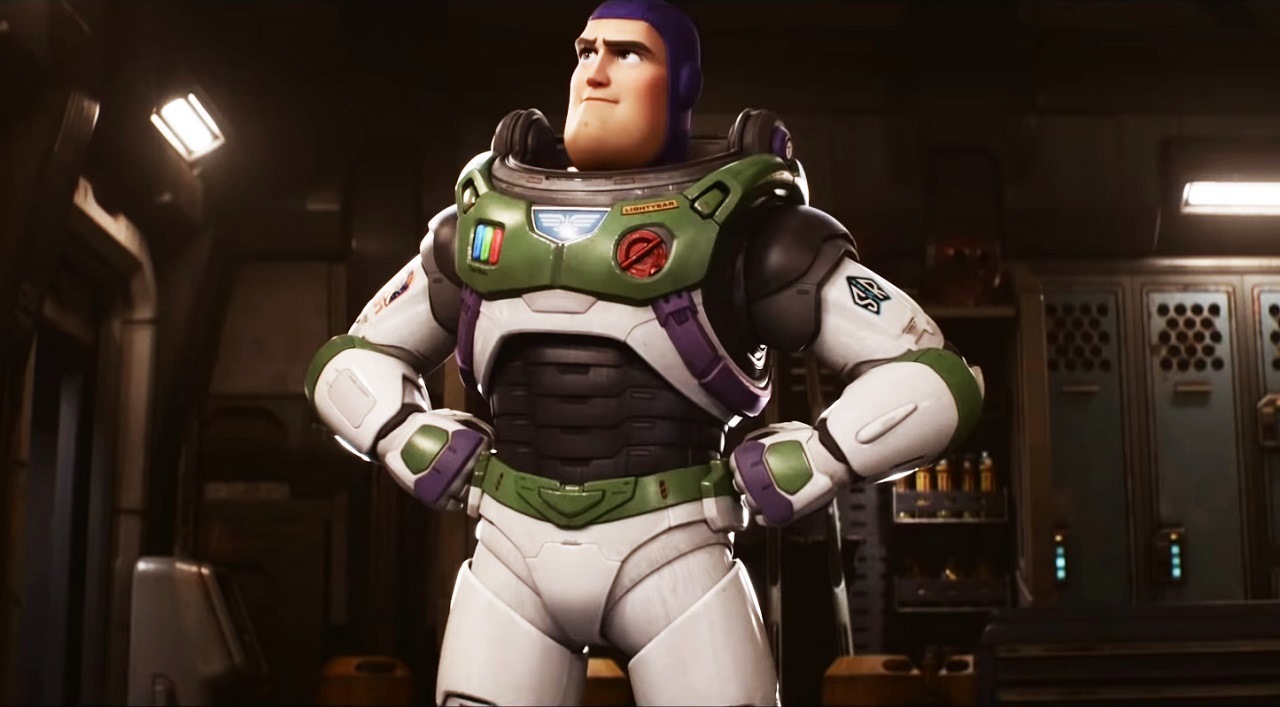 Pixar enjoyed enormous success from 1995 through to 2010 but this has slowly been winnowed away. What used to be a series of annual event films became watered down into mediocre sequelitis throughout the 2010s. By the time Pixar realised it was time to turn things around, Covid-19 happened. All of Pixar's films throughout 2020-2 have had nominal theatrical releases at best and in most cases have been dumped straight to streaming on Disney+. Lightyear did receive a theatrical release but box-office response was low – only $115 million domestically, which is good for most films but only makes it the 22nd top-grossing Pixar film of all time domestically, slightly more than Onward (2020), which had its release curtailed by the pandemic, and sitting below The Good Dinosaur (2015), Pixar's lowest grossing film to receive a full theatrical release.
The main controversy that Lightyear had before release is that the film briefly shows a kiss between Commander Hawthorne and her wife. Leading up to the film's release, conservative parental circles kicked up a controversy about the infiltration of an LGBTQA agenda into innocuous family entertainment. It is possible this may have dented the film's box-office success. On the other hand, seeing the kiss, it is such a blink-and-you-miss-it affair that afterwards you shake your head, finding it hard to believe that anybody could have gotten worked up about it.
On its own terms, Lightyear is a knockabout Space Opera and Planetary Adventure (it sits between being both in terms of genre definitions). The film gets a good deal of mileage during the middle scenes out of a trio of inept supporting characters that accompany Buzz through the middle of the action. The scene with them trying to disable an attacking Zyclops that drags Buzz off is side-splitting. Even more of a scene-stealer proves to be Buzz's perkily intelligent robot cat Sox.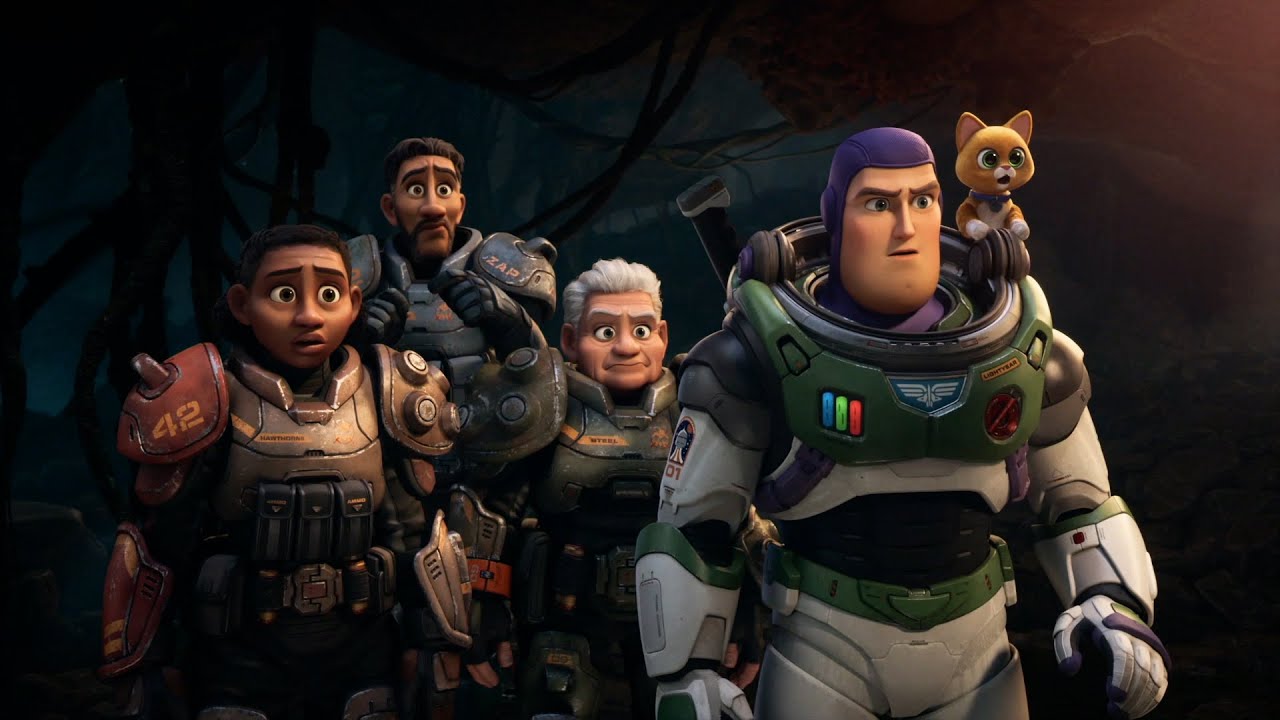 What I did like is that the film has an ambitiously intelligent plot. It is one that readily makes use of Einsteinian time dilation as an integral plot element, taking the film somewhat in the direction of Disney's Flight of the Navigator (1986). The scenes where Buzz skips through the years and sees only brief glimpses of Hawthorne's married life before returning to find he has missed her death seems reminiscent of the Adam Sandler comedy Click (2006), while going for the same kind of tearjerker that we had at the start of Up (2009).
I have some issues with the claim that Lightyear is now the film that Andy in Toy Story watched before being given the Buzz Lightyear toy. The Buzz we have here is a much more generally competent one that the likeably deluded character we had in the Toy Story films, while Zurg is most definitely not the same character in those films. What Lightyear doesn't seem to appreciate is that Buzz Lightyear was intended as a parody of a certain type of space hero, while this plays the character straight. Moreover, the relationship with Zurg was intended as a parody of the Luke Skywalker-Darth Vader father-son relationship in The Empire Strikes Back (1980).
The Time Travel plot does lead to Lightyear's biggest bone of contention. [PLOT SPOILERS] Here the film has borrowed the essential plot twist from The Lego Movie 2 (2019) and reveals that the villain Zurg is actually a future version of Buzz who has become embittered and gone over to the dark side. The main problem with this is that it shoots out all continuity to the Buzz Lightyear and Zurg characters that have been established in the Toy Story films. Rather than have the two as father-son, Zurg now becomes the older Buzz – to conduct this continuity reset, the film even drops Zurg's title of emperor. Not to mention this overwrites all of the continuity that was established in the Buzz Lightyear of Star Command animated series.
---
Trailer here
---