---
Crew
Director/Screenplay – Goran Dukic, Based on the Novella Kneller's Happy Campers by Etgar Keret, Producers – Chris Coen, Tatiana Kelly, Mikal P. Lazarev & Adam Sherman, Photography – Vanja Cernjul, Music – Bobby Johnston, Music Supervisor – Robin Urdang, Visual Effects Supervisor – Chris Dawson, Special Effects – West FX (Supervisors – Bob Garrigus & Joseph Jenkins), Makeup Effects – Almost Human, Inc. (Supervisor – Robert Hall), Production Design – Linda Sena. Production Company – Autonomous Films/Halcyon Pictures Ltd/Adam Sherman Inc./Crispy Films/No Matter Pictures.
Cast
Patrick Fugit (Zia), Shannyn Sossamon (Mikal), Shea Whigham (Eugene), Tom Waits (Rafe Kneller), Leslie Bibb (Desiree Randolph), Mikal P. Lazarev (Nanuk), John Hawkes (Yan), Mark Boone Jr. (Mike), Will Arnett (Messiah), Abraham Benrubi (Erik), Sarah Roemer (Rachel), Amy Siemetz (Nina), [uncredited] Jake Busey (Brian), [uncredited] Mark Edward Smith (Policeman)
---
Plot
Depressed over breaking up with his girlfriend Desiree, Zia slashes his wrists. He comes around in an afterlife that is inhabited by suicides – a world that looks very much like this one except that everybody is unhappy and nobody smiles. Zia gets a job at Kamikaze Pizza and a room with its owner. He befriends the Russian Eugene who is there with his entire family. After encountering a friend, Zia learns that Desiree is also there, having killed herself not long after he did. Zia persuades Eugene into setting out on a road trip to find Desiree. Along the way, they pick up a hitchhiker Mikal who is certain that her being there is an accident and is on a quest to find the People in Charge. Their journey takes them through many strange places. They eventually arrive at the camp of Kneller where the residents are able to conduct miracles – but only when nobody cares. Throughout, Zia finds himself becoming attracted to Mikal.
---
Wristcutters: A Love Story gained a reasonable, indeed potentially cult, reputation on the indie film circuit after its premiere at Sundance in 2006. It played at a number of film festivals around the world and won several Independent Spirit awards. It was a debut feature for Croat emigrant Goran Dukic who has yet to make another film.
Wristcutters: A Love Story is an afterlife film, but one that is made with an oddball eccentricity. Just going by its premise – a young man slits his wrists and ends up in a special afterlife for suicides where nobody is ever happy – it hits in with an appeal that cannot help but hold a good deal of darkly funny cult potential. The world of the afterlife seems to have been shot in the most rundown, desolate and dreary locations (both indoor and outdoor) that the filmmakers could find. Every building is in a state of disrepair and almost every outdoor scene includes a ruined or abandoned vehicle in it.
Goran Dukic has a considerable eccentricity of approach. The film is filled with quirky characters and asides – strange characters like the mechanic (Mark Boone Jr.) who heals the car by empathising with it; the black hole beneath the passenger seat of the car that swallows up everything that falls down there; the cop who takes off his cap and reveals that half of his head has been blown away, all the while having a perfectly normal conversation with Shannyn Sossamon; or debates between Patrick Fugit, Shea Whigham and Shannyn Sossamon over who has the cock and as a result cannot sit in the backseat.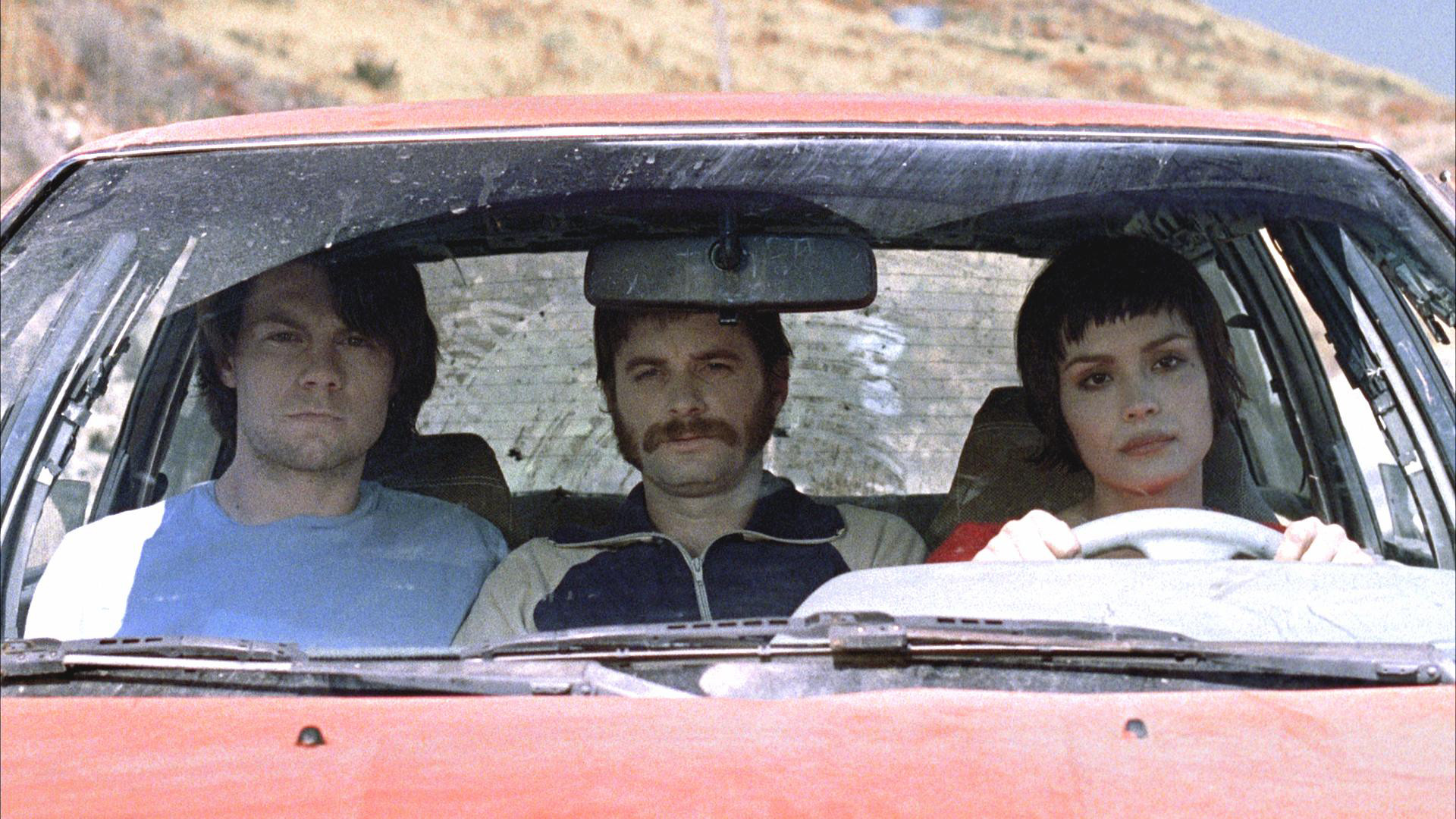 Wristcutters is at its strangest during the scenes where it turns up at the camp of musician Tom Waits' Kneller. Reminiscent of Dark at Noon (1993), random miracles seem to take place in the background – people float in mid-air, Shannyn Sossamon lights a cigarette and the dropped match floats upwards, Shea Whigham catches a fish and its colour changes when he touches it. Musician Tom Waits, who can be a decent actor, gives one of his weirdest performances as Kneller.
The sequence is taken up by a long trek to the King's compound where Patrick Fugit is eventually reunited with his girlfriend as Tom Waits and Will Arnett fight over ownership of the dog and Arnett goes to perform his miracle whereupon he shoots himself, just as the People in Charge arrive and disperse the crowds. Patrick Fugit then vanishes into the black hole under the car seat and wakes up in hospital alongside Shannyn Sossamon as the film banally segues into a Made in Heaven (1987)-type ending where love found in the afterlife is (presumably) carried on in the corporeal world.
In a way, Wristcutters' indie sensibility eventually does it in. It feels like a film that seems to be trying to be eccentric and oddball for the sake of it. With a premise like this, you keep expecting the film to burst into moments of black comedy – the premise is a rich goldmine of it – but it never does. Goran Dukic keeps plugging away at these weird scenes but all he produces is a puzzled scratch of the head. A very similar film that came out the same year was the Norwegian The Bothersome Man (2006), which was also set in a Hell for suicides where everybody seemed to be drowning in banality. The Bothersome Man did a far better job of grasping hold of its blackly funny sensibilities than Wristcutters does. Wristcutters might be a cult film to some, but I must confess that I just didn't get it.
---
Trailer here
Film online in several parts beginning here:-