---
Crew
Director – Jonathan Frakes, Screenplay – Marco Schnabel, Producers – Michael S. Murphey & Noah Wyle, Photography – Walt Lloyd, Music – Joseph LoDuca, Visual Effects – Electric Effects (Supervisor – Mark Nelmes), Special Effects Supervisor – Max Poolman, Production Design – Robb Wilson King. Production Company – TNT/Electric Entertainment.
Cast
Noah Wyle (Flynn Carson), Gabrielle Anwar (Professor Emily Davenport), Bob Newhart (Judson), Jane Curtin (Charleen), Erick Avari (General Samir), Robert Foxworth (Uncle Jerry), Olympia Dukakis (Margie Carson), Hakim Kae-Kazim (Jomo), Zahn McClarnon (Tommy Yellow Hawk)
---
Plot
Flynn Carson is sent a package but thieves break in to his apartment to steal it. Judson informs Flynn that the package contained clues leading to the whereabouts of the legendary King Solomon's Mines. He sends Finn to Casablanca on the trail of pieces of the map to the mines at the same time as criminals also seek the pieces. Joined by British archaeologist Emily Davenport, Flynn heads to Gedi, Kenya in search of the legendary temple that holds King Solomon's fabulous treasure.
---
This was the second of The Librarian tv movies, produced Dean Devlin's Electric Entertainment production company. The series had begun with The Librarian: Quest for the Spear (2004) and was followed by Return to King Solomon's Mines, one further film The Librarian: The Curse of the Judas Chalice (2008) and then the tv series The Librarians (2014-8) that lasted for four seasons. Noah Wyle appears in all of these incarnations as the titular The Librarian, along with Bob Newhart as the library head Judson and Jane Curtin as its director.
The Librarian(s) is an Adventure series is centred around the quest for mythical artefacts. That said, King Solomon's Mines is not a locale that exists in actuality but is in fact one that was invented by British adventure writer H. Rider Haggard in his novel King Solomon's Mines (1885), starring Haggard's adventurer hero Allan Quatermain. There have been a number of film adaptations of the book. King Solomon's Mines (1937), with Cedric Hardwicke as Quatermain and King Solomon's Mines (1950), with Stewart Granger and Deborah Kerr, are fine adventures, with the 1950 version in particular considered a classic. There was a further British-Canadian production King Solomon's Treasures (1978), with John Colicos as Quatermain; Cannon Films abysmal King Solomon's Mines (1985) with Richard Chamberlain; a Hallmark Entertainment tv mini-series King Solomon's Mines (2004) with Patrick Swayze as Allan Quatermain; and The Asylum's cheap Indiana Jones cash-in Allan Quatermain and the Temple of Skulls (2008) with Sean Michael as Quatermain.
Jonathan Frakes came to fame as Commander Riker on tv's Star Trek: The Next Generation (1987-94). He parlayed his fame there to making his debut as a director on the show and from there went on to direct the second and third Next Generation feature films Star Trek: First Contact (1996) and Star Trek: Insurrection (1998). He followed this with two other theatrical films Clockstoppers (2002) and the live-action version of Thunderbirds (2004). When the latter bombed badly, Frakes' directorial career dried up and he has since worked in television, directing numerus episodes of the various Star Trek series, Dean Devlin's Leverage (2008-12), and shows like Castle, Burn Notice and NCIS: Los Angeles, among others, as well as the second and third Librarian films and various episodes of the Librarians tv series. (Frakes can be briefly seen on screen here as a passenger aboard the marriage bus).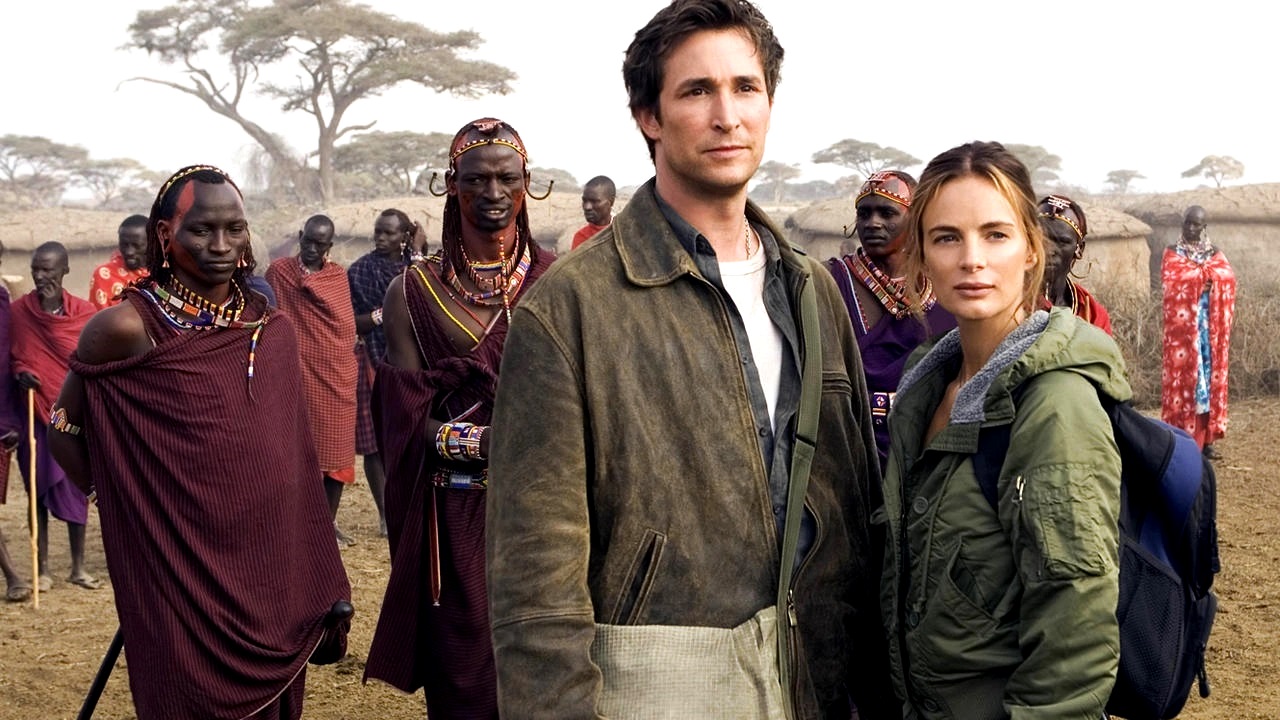 Jonathan Frakes has demonstrated he is a solid director with a great grasp of effects. He should have gone on to do better things but for the Thunderbirds misfire, which was undercut by cutsie humour and in-joking. The first Librarian film, Quest for the Spear worked quite enjoyably under director Peter Winther but Return to King Solomon's Mines lacks the same spark that carried that film.
The crucial failing is that Jonathan Frakes gives Return to King Solomon's Mines a glib, jokey attitude and makes the characters too cocky. This hits in from about the moment that Noah Wyle turns up at the library in the first few scenes amid joking about a guard turned to stone after looking at the Medusa and some silly scenes ducking around a playful Excalibur and a self-playing flute. The action sequences are sub-par. The silliest of these is one with the group in a canoe having to deal with an attack by hippos. The climactic sequence with unleashing of the spirits suffers badly from cut-price digital effects.
Whereas the first film had some imagination, this only recycles Raiders of the Lost Ark (1981) – where we have an adventurer who must contact a girl to obtain a Magical Artefact and then go on a tomb raiding quest for a magical treasure from Judaic mythology up against generic bad guys, before the artefact is opened releasing spirits and the good guys get their comeuppance. The end has been set up to make a lame joke that quotes Casablanca (1942).
Not to mention, the plot has anachronistic absurdities like copies of the Dead Sea Scrolls shown as modern bound books. In the prize point of absurdity, Gabriella Anwar is said to have 25 phds – in the US, a phd takes between 4-6 years to complete. A total of 25 doctorates would take around a hundred years to get through – even if she were doing 2-3 concurrently it would still take around fifty years, which seems quite a stretch for Anwar who was 36 at the time the film aired.
---
Trailer here
---