---
Crew
Director – Rudolph Maté, Screenplay/Based on the Novel by Ben Hecht, Producer – Frank P. Rosenberg, Photography (b&w) – Russell Metty, Music – Franz Waxman, Art Direction – Leo K. Kuter. Production Company – Warner Brothers.
Cast
Jane Wyman (Ruthie Woods), Van Johnson (Private Art Hugenon), Josephine Hutchinson (Agnes Woods), Eileen Heckart (Grace Ullman), William Gargan (Harry Woods), Alan King (Sergeant Gil Parkins), Irene Seidner (Mrs Herman), Fred Clark (Stephen Jalonkik), Barbara Nichols (Arlene Witchy), Peggie Castle (Millie Krantz)
---
Plot
New York City, 1942. Ruthie Wood, a secretary for a shoe company, meets Private Art Hugenon who offers to carry her parcels home in the rain. She invites him to dinner and is charmed by his personality. He then receives news that he has been posted overseas. Before he goes, Art asks her to marry him and she agrees. After he leaves, she writes him every day but receives no reply. She then receives news that Art has been killed in action. Distraught with suffering and infected with pneumonia, she wanders out into the rain one night where Art reappears to her in a church, saying that their love cannot keep them apart.
---
Miracle in the Rain was one of a spate of these 'miracle" titled films that came out during the 1940s/early 1950s – see also Miracle on 34th Street (1947), The Miracle of the Bells (1948), Miracle in Milan (1952), The Miracle of Our Lady of Fatima (1952), The Miracle of Marcelino (1955), and The Miracle (1959), most of which concern themselves with the appearance of the miraculous amid the everyday. Many of these films, including The Miracle of the Bells, are specifically rooted inside Catholic faith. (For a more detailed overview see Films About Miracles and Catholicism in Fantastic Cinema).
As a banally sudsy romance, Miracle in the Rain is passable. Its on-screen superfluousness is nicely contrasted with some of the more downbeaten realities of the day – the heroine lives in a tenement house, for example. Even director Rudolph Maté's shooting on the streets would have seemed a radical move after the artificial exteriors that became the norm for 1930s melodramas.
Jane Wyman has a sweet plainness and Van Johnson plays with a dizzily defiant optimism. (Although many of the things taken for granted such as his simply inviting himself to dinner at her apartment or her being made to wait for more than an hour when he fails to turn up and not complaining when he does, may raise a few hackles with today's woman). Even Jane Wyman's speech about not being able to accept religion because of the tragedy in her life is credible.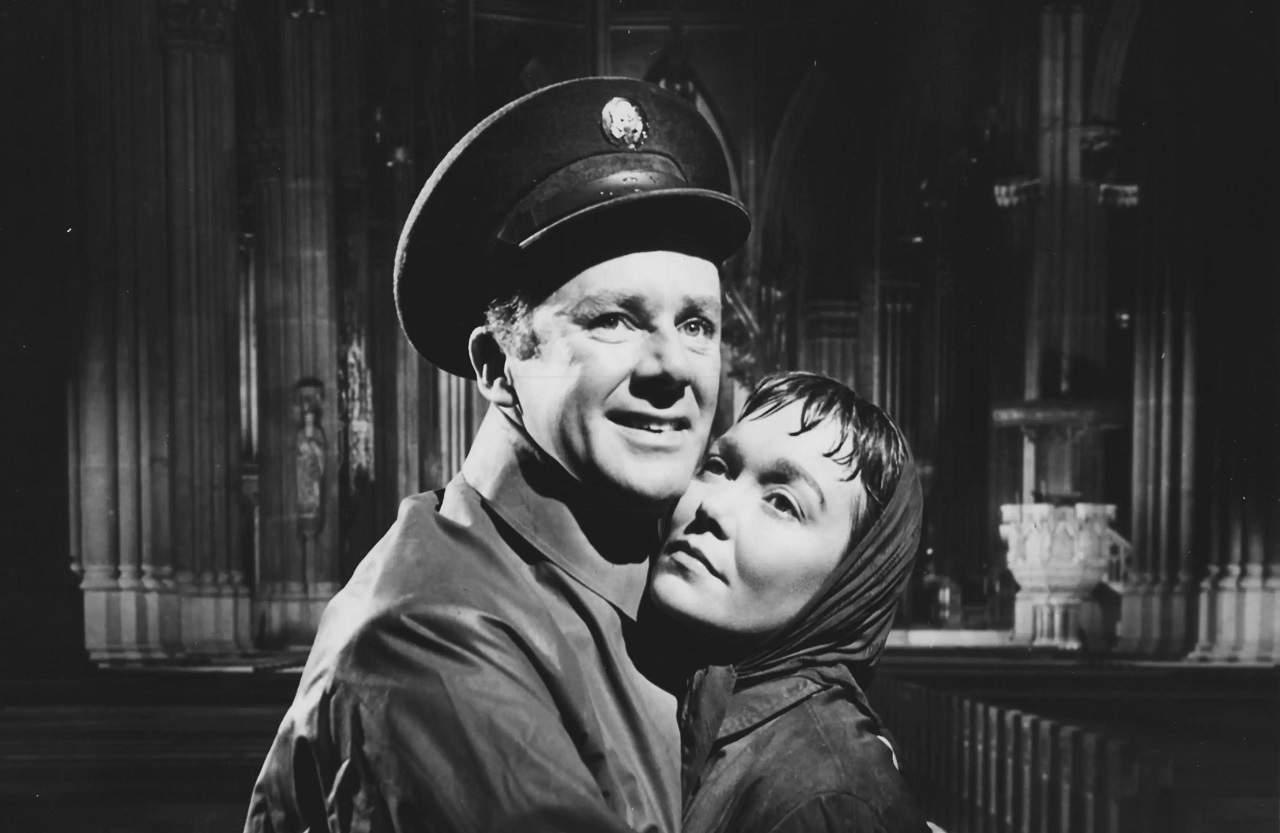 However, the point that the film enters into the realm of fantasy at its ending proceeds to do it in. It wallows in Catholicism and a wretchedly sentimentalised belief in a love that exists beyond the grave. This is the point that its slim earlier charms disappear entirely beneath a weight of shamelessly melodramatic poppycock.
Scriptwriter/novelist Ben Hecht (1894-1964) also wrote the stomach-churningly pious The Miracle of the Bells (1948), which also featured a central character's coming to acceptance with Catholicism and climaxed with a miracle. Hecht also wrote a number of other classic screenplays during the era with Scarface (1932), Gunga Din (1939), Wuthering Heights (1939), Spellbound (1945), Notorious (1946) and Kiss of Death (1947).
Hungarian born Rudolph Maté (1898-1964) was a former cinematographer – he had lensed classic Carl Dryer works like The Passion of Joan of Arc (1928) and Vampyr (1932), before moving to Hollywood in the 1930s where he was nominated for an Academy Award for cinematography five times. He directed a number of other films during the era, including D.O.A. (1950) and the original The 300 Spartans (1962), as well as one other genre film with the classic When Worlds Collide (1951).
---
---