---
Crew
Director/Screenplay – Woody Allen, Producers – Letty Aronson & Gareth Wiley, Photography – Remi Adefarasin, Visual Effects – The Moving Picture Company (Supervisor – Richard Stammers), Special Effects – Effects Associates, Production Design – Maria Djurkovic. Production Company – BBC Films/Ingenious Film Partners/Jelly Roll Productions.
Cast
Scarlett Johansson (Sondra Pransky), Woody Allen (Sidney Waterman/Splendini), Hugh Jackman (Peter Lyman), Ian McShane (Joe Strombel), Romola Garai (Vivian), Charles Dance (Mr Malcolm), Kevin R. McNally (Michael Tinsley), Fenella Woolgar (Jane Cook), Victoria Hamilton (Jan), Julian Glover (Lord Steven Lyman), Anthony Head (Detective)
---
Plot
Colleagues attend the funeral of journalist Joe Strombel and toast his reputation as someone who would go to great lengths for a story. While travelling aboard Charon's boat to the afterlife, Strombel talks to a secretary who confesses that she thinks she was poisoned after discovering evidence that suggested her employer Peter Lyman, the son of Lord Lyman, was a serial killer known as the Tarot Card Killer. Meanwhile, American Sondra Pransky is a not-very-successful journalism student studying in London. She and her hosts go to a show by the American stage magician Splendini where she is chosen as a volunteer in a vanishing trick. When Sondra enters the cabinet, she is startled by the appearance of Joe's ghost who tells her that he has focused on another journalist in order to get his scoop through. He leaves her with the details about Peter Lyman. Sondra teams up with Splendini, real name Sidney Waterman, who believes after he sees Joe's ghost. Getting into an exclusive club where Lyman swims, Sondra pretends to drown so that Lyman can rescue her. Calling herself Jade Spence and introducing Sidney as her father, she accepts an invite to go on a date with Lyman. The two soon become lovers. They try to obtain evidence to prove that Lyman is the Tarot Card Killer. However, as Sondra becomes more involved with Lyman, she begins to doubt the purpose of the mission.
---
Scoop was the 37th film made by Woody Allen as director. Scoop came out in the year just after Allen celebrated his 70th birthday and his 40th year as a filmmaker. Throughout his career, Woody Allen has carved out a unique niche, beginning with various absurdist comedies in the 1970s, moving through an existential quest for greater meaning in the early 1980s and settling into a middle-age in the 1990s where he has explored the lives of New York's upper-class. Throughout all of these, Allen constantly explores the same neuroses and social awkwardness. His works divide some but he has consistently earned critical acclaim and numerous awards nominations. Though he films on modest budgets, Allen has high-profile actors lining up to work with him. Surprisingly, what few people realize is that Woody Allen is a substantial genre contributor, having made sixteen films that fall into the fantasy category. (See below for Woody Allen's other genre films).
Scoop was Woody Allen's second film made after he moved shop to England and later Europe, citing the difficulty of making films in the USA without interference from the suits. Scoop is very much a familiar rehash of common Woody Allen themes. There is the recurrent fascination with shabby stage magicians who may have real magical powers beneath their tatty stagemanship, although often unknown to themselves, whom we have seen in films like New York Stories (1989), Shadows and Fog (1991), The Curse of the Jade Scorpion (2001), You Will Meet a Tall Dark Stranger (2010) and Magic in the Moonlight (2014). There is also the fascination with amateur sleuthing and capers that we have seen in a number of 1990s Allen films such as Manhattan Murder Mystery (1994) and Small Time Crooks (2000). As with most of his films throughout the 1990s, Allen centres his stories around the upper-classes – in this case the British aristocracy. (It is clear that the move to England has given Woody Allen a whole new opportunity to explore upper-class privilege).
Scoop came just after Woody Allen's first British film Match Point (2005) (and features Match Point heroine Scarlett Johansson in her second lead role for Allen). Match Point was Woody Allen's best film in some twenty years and seemed to show that a move away from his old hunting grounds of New York City had managed to reinvigorate his creative juices. Alas, Scoop proves to be a big disappointment – doubly so coming straight after a work as strong as Match Point.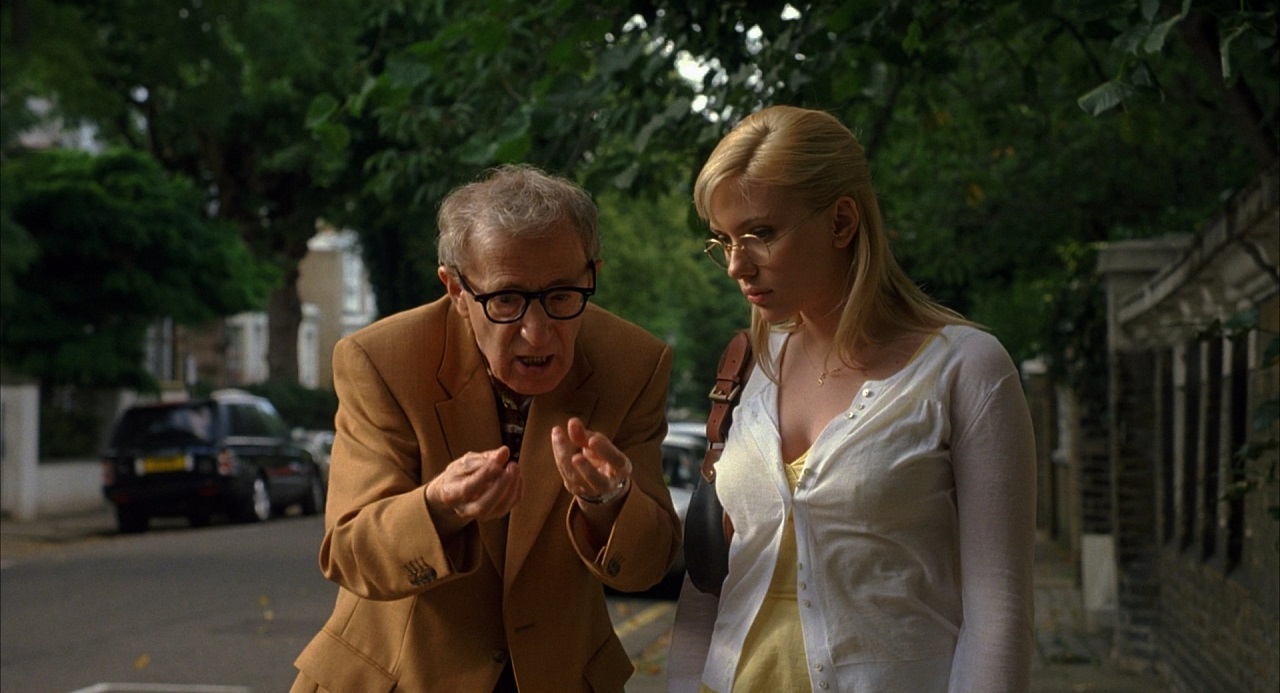 There is something frustratingly predictable about every turn the plot takes – that Scarlett Johansson will become involved with Hugh Jackman after their date; that she will end up falling for him and doubt the suspicions that led her there in the first place; that there will come seemingly conclusive evidence that counts Hugh Jackman out as a suspect, whereupon she will confess to him how silly it was of her to entertain such suspicions; that he will turn out to be the killer after all; that she will survive his attempt to bump her off. Woody Allen plays all of these twists as though he was the first person to ever think of them and all that you can see in watching Scoop is the turning of a plot that was creaky around the time that Allen was in diapers.
Allen also suffers from an uncertainty over what genre of film he wants Scoop to be. It is uncertainly a comedy, although Allen's characteristic one-liners seem uncommonly subdued and there are never any parts that could be considered genuinely funny. On the other hand, Scoop also seems uncertain as a thriller. The plot is far too predictable and well worn to function as a thriller and you constantly keep expecting some element of humour to come along and turn the genre on its head – but it never does. To place things in perspective, were Scoop made without Woody Allen's name or the cast list it has, it almost certainly would have only been shuffled off to a direct-to-DVD release.
There are also a number of plausibility holes in the script. It is never made clear whether Hugh Jackman is the real Tarot Card Killer or has just used the cover of the killings conducted by someone else to bump off a prostitute that was blackmailing him. The end of the film seems to suggest that the latter was the case, yet Ian McShane's encounter with the secretary in the afterlife at the start suggests that Jackman was responsible for all of the killings.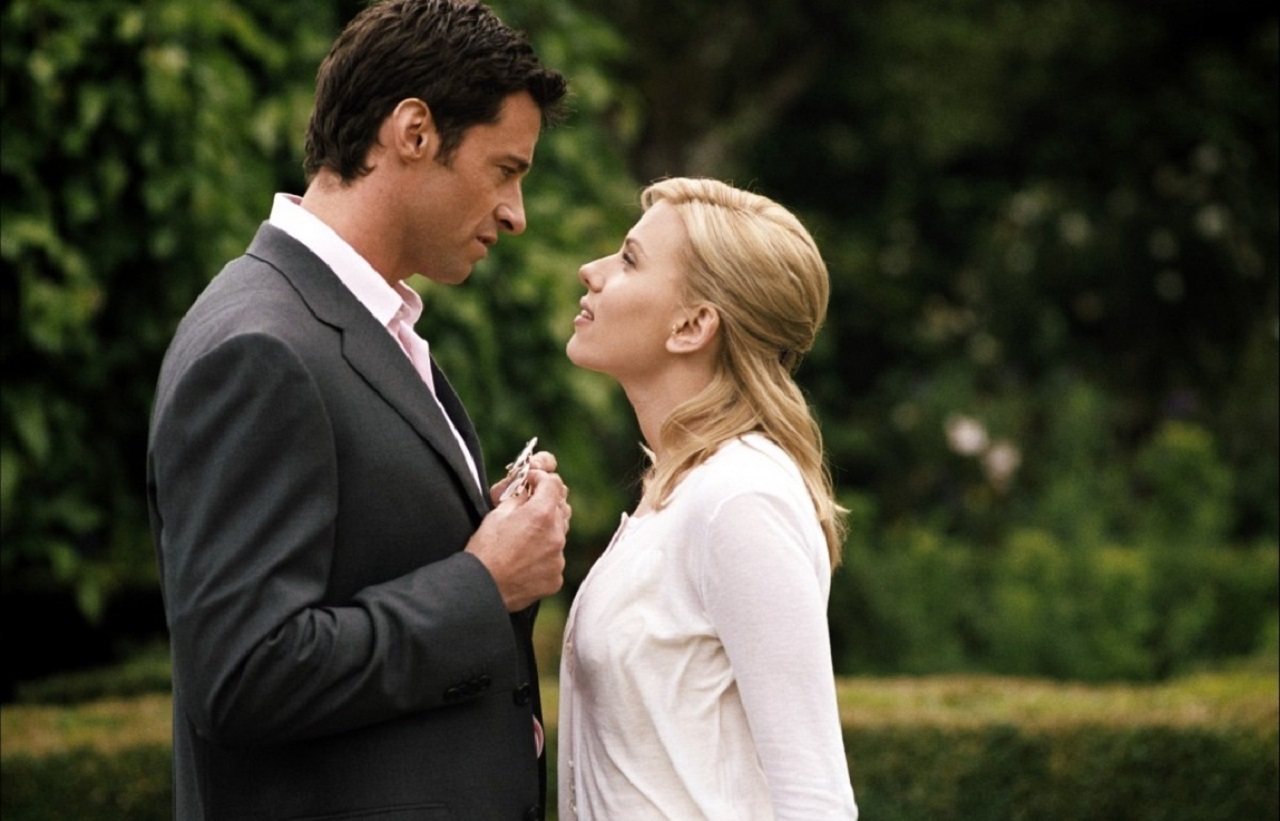 Also, as someone who has worked as a journalist, I have some niggles with Scarlett Johansson's portrait of a student journalist. There are never any scenes that we see her engaged in her capacity as a student journalist, excepting the interview with Kevin R. McNally's director at the start where we get the impression that she is freelancing. At the very least, she should have been attached to a newspaper for student experience and the scene where editor Charles Dance dismisses the story she writes on the grounds of unsubstantiated claims is something she would almost surely have been taught to self-edit in journo school.
Scarlett Johansson was a luminous joy in Match Point but here she seems a little uncertain, even miscast. In the first few scenes, she seems to be setting out to do what Kenneth Branagh did in Celebrity (1998) and trying to imitate Allen's characteristic on-screen mannerisms. However, the moment she sheds her dressing gown in the club swimming pool, we can see that Johansson (who has regularly topped various Sexiest Women Alive lists in magazines like FHM, GQ, Maxim and Playboy) is someone who just cannot do bespectacled and nerdy. And, as though agreeing with this, Woody Allen subsequently forgets about such characterisation. The role feels like it needed one of Allen's earlier muses like Diane Keaton and particularly Mia Farrow who does hesitancy and uncertainty to perfection.
Allen casts himself as a lead in one of his own films once again, although this time has done so with a certain degree of self-deprecation. The role he plays is that of a shabby showman who seems to have come from third-rate dinner theatre. Allen gets to deliver a few of his characteristic one-liners but the humour is now no longer wry but groan-inducingly corny. The one who does well out of the film is Hugh Jackman who has never managed to appear more handsomely charming and suavely polished than he does here. [In a peculiar coincidence, the same year both Hugh Jackman and Scarlett Johansson also travelled to England to appear together in another story about stage magicians with The Prestige (2006)].
Woody Allen's other films of genre note are: Play It Again Sam (1972), Everything You Always Wanted to Know About Sex * But Were Afraid to Ask (1972), Sleeper (1973), Love and Death (1975), A Midsummer Night's Sex Comedy (1982), Zelig (1983), The Purple Rose of Cairo (1985), New York Stories (1989), Alice (1990), Shadows and Fog (1991), Mighty Aphrodite (1995), Everyone Says I Love You (1996), Deconstructing Harry (1997), Match Point (2005), Midnight in Paris (2011), To Rome with Love (2012) and Magic in the Moonlight (2014).
---
---