---
Crew
Director – Bill Corcoran, Screenplay – Paul Lalonde & John Patus, [Uncredited] Based on the Novel Tribulation Force: The Continuing Drama of Those Left Behind by Tim LaHaye & Jerry B. Jenkins, Producers – Peter Lalonde & Nicholas D. Tabarrok, Photography – Michael Storey, Music – Gary Kortinoff, Visual Effects – GVFX Visual Effects (Supervisor – Tom Turnbull), Special Effects Supervisor – John LaForet, Production Design – Harold Thrasher. Production Company – Cloud Ten Pictures/Darius Films Inc..
Cast
Kirk Cameron (Buck Williams), Brad Johnson (Rayford Steele), Janaya Stevens (Chloe Steele), Gordon Currie (Nicolae Carpathia), Clarence Gilyard (Pastor Bruce Barnes), Chelsea Noble (Hattie Dunham), Krista Bridges (Ivy Gold), Lubomir Mykytiuk (Rabbi Tsion Ben-Judah), Chris Bondy (Steve Plank), David MacNiven (Chris Smith), Christie McFadyen (Irene Steele), Brian Kaulback (Burned Fireman)
---
Plot
In the aftermath of The Rapture, Buck Williams, Rayford Steele and other believers debate what to do. They watch as Nicolae Carpathia is made Secretary General of the United Nations, promising to bring peace to the whole world. In the midst of this, Buck and Rayford's daughter Chloe begin to feel a mutual attraction. However, Chloe becomes upset when she meets Buck's co-worker Ivy Gold who is staying in his apartment and assumes her to be his fiancée. Nicolae seeks to recruit Buck to get his message out to the world. They find that Nicolae has placed security around the Wailing Wall in Jerusalem where two Witnesses have appeared. Buck conceives a plan to sneak in past the cordon and televise what happens live. Their opportunity comes when Nicolae invites Buck to Jerusalem, while Rayford signs on as Nicolae's pilot. There they discover that Nicolae plans to get the world's top rabbinical scholar to proclaim him as the Messiah.
---
The Left Behind series was a series of books written by Christian minister Tim LaHaye and former sports writer Jerry Jenkins. The series began with Left Behind: A Novel of the Earth's Last Days (1995) and continued for fifteen books up until 2007, as well as several spinoff books. The series focuses on Biblical End Times Prophecies – The Rapture, the coming of the Anti-Christ, the establishment of the One World Government etc. The books enjoyed reasonable success.
The films rights to the books were obtained by Canadian brothers Peter and Paul Lalonde who operated as Cloud Ten Pictures. Under the Cloud Ten banner, they made their own series of End Times films consisting of Armageddon (1998), Revelation (1999), Tribulation (2000) and Judgment (2001), among other works. The Lalondes produced three Left Behind films, which consist of Left Behind (2000), Tribulation Force and Left Behind: World at War (2005), all starring high-profile Christian convert Kirk Cameron.
Before the first film even opened, LaHaye and Jenkins filed a lawsuit against Cloud Ten Pictures, the basis of which seemed to be that they felt let down by the Lalondes for failing to produce the film on an A-budget. Even though Tribulation Force is based quite closely on their second novel Tribulation Force: The Continuing Drama of Those Left Behind (1998), LaHaye and Jenkins have declined to be credited on the film, while the third film World at War is an original work that abandons all connection with the book series. The court settlement went in the Lalondes' favour. Paul Lalonde without his brother later went on to remake the original as the Nicolas Cage-starring Left Behind (2014), followed by the Kevin Sorbo starring/directed Left Behind: Rise of the Antichrist (2023). There was also a further film Left Behind – Vanished: Next Generation (2016) produced by LaHaye's grandson without the involvement of the Lalondes, which reworked the basics for a Young Adult audience.
The problem that the Left Behind films leave you with as a reviewer is that on one hand they are quite well made films – at least in comparison to anything of comparable B-budget that was being made around the same time. (I won't say the same for World at War, which appears to have been made cheaply and is a fairly awful film). There is nothing you can fault in any of the performances, which are generally to a professional standard all around. On the other hand, they are films that attain ridicule from secular audiences and hold a message of earnest religious proselytism that is fairly unpalatable.
The majority of Christian Cinema films dealing with Biblical End Times focus on The Rapture and its immediate aftermath – see other efforts like The Moment After (1999), In the Blink of an Eye (2009) and Revelation Road: The Beginning of the End (2013) and sequels. By contrast, the Left Behind series has The Rapture over and done with in the first film, while the sequel focuses on the believers dealing with the Antichrist's attempts to form the One World Government and bring about various Biblical prophecies.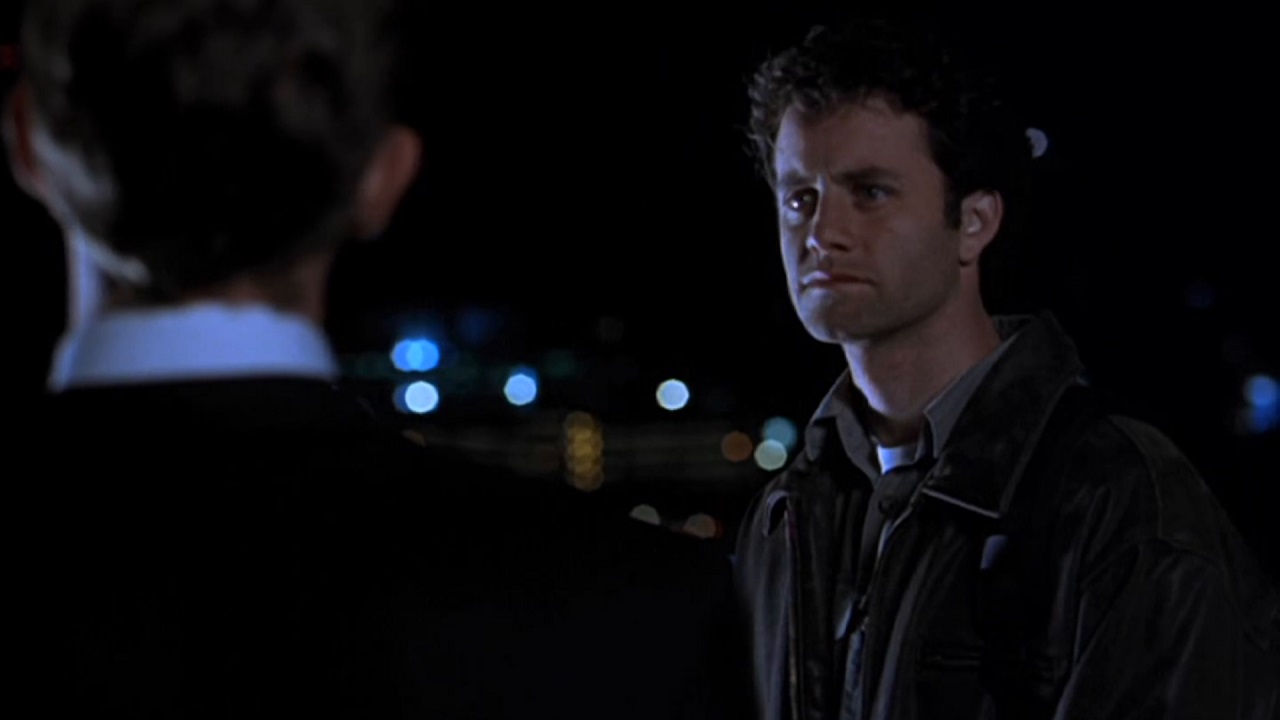 The problem with dramatically portraying the Biblical End Times is that the actual Biblical account, which ends with The Antichrist ruling over the Earth for a thousand years, is one that runs contrary to the message of good drama, not to mention is a little pessimistic for a film that is trying to offer an upbeat Christian message. So in order for their stories to have things like heroic arcs, most Christian films have to cheat on this. The Omega Code (1999) actually had the Antichrist being defeated. In Tribulation Force, they get around this with The Antichrist not being defeated overall just in terms of the particular scheme he was trying to pull off.
And for all that I vehemently disagree with where Kirk Cameron, LaHaye, Jenkins and co are coming from, there are sections of the film that come across as well written – like where Cameron challenges David MacNiven who says he is a good person and recites a list of minor infractions of the Ten Commandants that prove otherwise, or where Brad Johnson comes to the aid of a suicidal MacNiven and offers him hope. On the other hand, for all the "if you tell a lie, you're a liar" message the film preaches, the script does have both Kirk Cameron and Brad Johnson lying or at least purposefully evading telling Nicolae Carpathia the truth by giving answers that have ambiguous or misleading meanings.
The other weirdly funny bit is when the film tries to develop a romance between Kirk Cameron's Buck and Janaya Stevens as Brad Johnson's daughter. This, which is taken directly from the book, is premised on a series of misunderstandings that almost any other film would play for comedy – she realises her attraction to him and goes to his apartment to tell him before he leaves for Jerusalem. There she encounters co-worker Krista Bridges who dismisses her, assuming she is a groupie. Janaya sees that Krista is wearing a ring and assumes that this is a fiancée that Buck never told her about and acts all prickly when he comes to visit. It's probably the sort of misunderstanding that could only take place in a Christian film.
The other rather funny aspect is how Kirk Cameron's hardline Christian moral stance waters the romance down to the entirely passionless. As an actor, Cameron holds a position where he refuses to engage in any type of romantic activity with a woman to whom he is not married – this is something that purportedly wrecked the tv show Growing Pains (1985-92) where he came to fame, Thus the romance between he and Janaya becomes nothing more than a hug and a chaste kiss on the cheek. Cameron's actual wife Chelsea Noble is present in the film where interestingly enough she plays the role of Hattie Dunham, Brad Johnson's air hostess ex, who seems to have gone over to Carpathia's side (and wears heels and mini-skirts!).
Gordon Currie plays Carpathia with fake East European accent like a B movie cliche of a Russian oligarch, In fact, the more you think about with the comic-bookish name and Currie's playing, Nicolae Carpathia would be perfectly suited to being a James Bond villain.
Bill Corcoran has a long history directing television going way back to the 1980s where he delivered episodes of shows such as Alfred Hitchcock Presents (1985-9), Friday the 13th (1987-90), Wiseguy (1987-90) and 21 Jump Street (1987-91). Corcoran has made numerous tv movies and/or films that have received video/dvd release including Portraits of a Killer (1996), Atomic Twister (2002), A Job to Kill For (2006), The Unquiet (2008) Vipers (2008), Death Warrior (2009) and Rise of the Gargoyles (2009).
---
Trailer here
---