USA. 2014.
Crew
Director – Sergio Mimica-Gezzan, Screenplay – Paul Scheuring, Producers – Aidan Elliott & Mark Huffam, Photography – Gavin Struthers, Music – Klaus Badelt, Visual Effects Supervisor – Hugh MacDonald, Visual Effects – Nvizible, Special Effects Supervisor – Simon Cockren, Production Design – David Craig. Production Company – Scott Free/343 Industries.
Cast
Mike Colter (Commander Locke), Steven Waddington (Randall Aiken), Luke Neal (Lieutenant Horrigan), Christina Chong (Private Macer), Christian Contreras (Ramos), Eric Koffi Abrefa (Haissl), Alexis Rodney (Arris), Alexander Bhat (Estrin), Jennie Gruner (Wisner), Enda Oates (Goodwin), Jonathan Harden (Axl), Sarah Armstrong (Gaines)
---
Plot
It is the 26th Century. Humanity exists in a tenuous truce with the alien Covenant. A troupe of ONI (Office of Naval Intelligence) soldiers commanded by Locke are stationed on the planet Sedra when they witness an exchange between a Yohnet smuggler and a Covenant Zealot. They pursue the Yohnet, shooting it, not before it drops a bomb that emits an unknown element that infects all humans in the vicinity. Trying to trace the origin of the element, they realise that it comes from a shard of the destroyed Halo that has fallen into orbit around a red star. Even though accessing the Halo has been forbidden by the truce, scavengers have been raiding the ruins. Locke and his team head there to destroy the Halo with a Havoc tactical nuke, joined by several members of the local Sedran force. Landing on the fragment, they have only a few hours of nightfall before the side of the surface they are on is scorched by blistering heat. They locate the scavengers only to find that the shard is infected by deadly Hunter Worms that focus on and attack all technology. Forced to abandon all their gear and with their lander destroyed, they try to make it to the scavengers' ship and get off the surface before sunrise. However, a problem is presented in that the lander is only a two-person ship and this means several of them will have to be left behind. The choice breaks into vicious in-fighting and murder between members of the party.
---
Halo has become one of the most acclaimed modern videogames. This premiered with Halo: Combat Evolved (2001) from Bungie Studios, which was subsequently acquired by Microsoft. It is a first-person shooter game that takes place (at least in the original versions) on an artificial ringworld left by an ancient alien species and involves the war for supremacy between human marines and the alien Covenant. Through its various incarnations, which include game sequels and spinoff books and comics, Halo has built out a massive backstory dealing with the past and future history of the galaxy and its various alien peoples.
Halo has also produced a surprising number of film spinoffs. Between 2005 and 2007, there was a proposed version with Peter Jackson as producer and Neill Blomkamp as director but this collapsed due to a massively spiralling projected budget. There was subsequently Halo Legends (2010), an animated compilation wherein various anime directors were hired to deliver short films set in the Halo universe. This was followed by the live-action Halo 4: Forward Unto Dawn (2012), a web series of five episodes of fifteen minutes apiece later released as a single film, made to promote the release of the videogame Halo 4 (2012).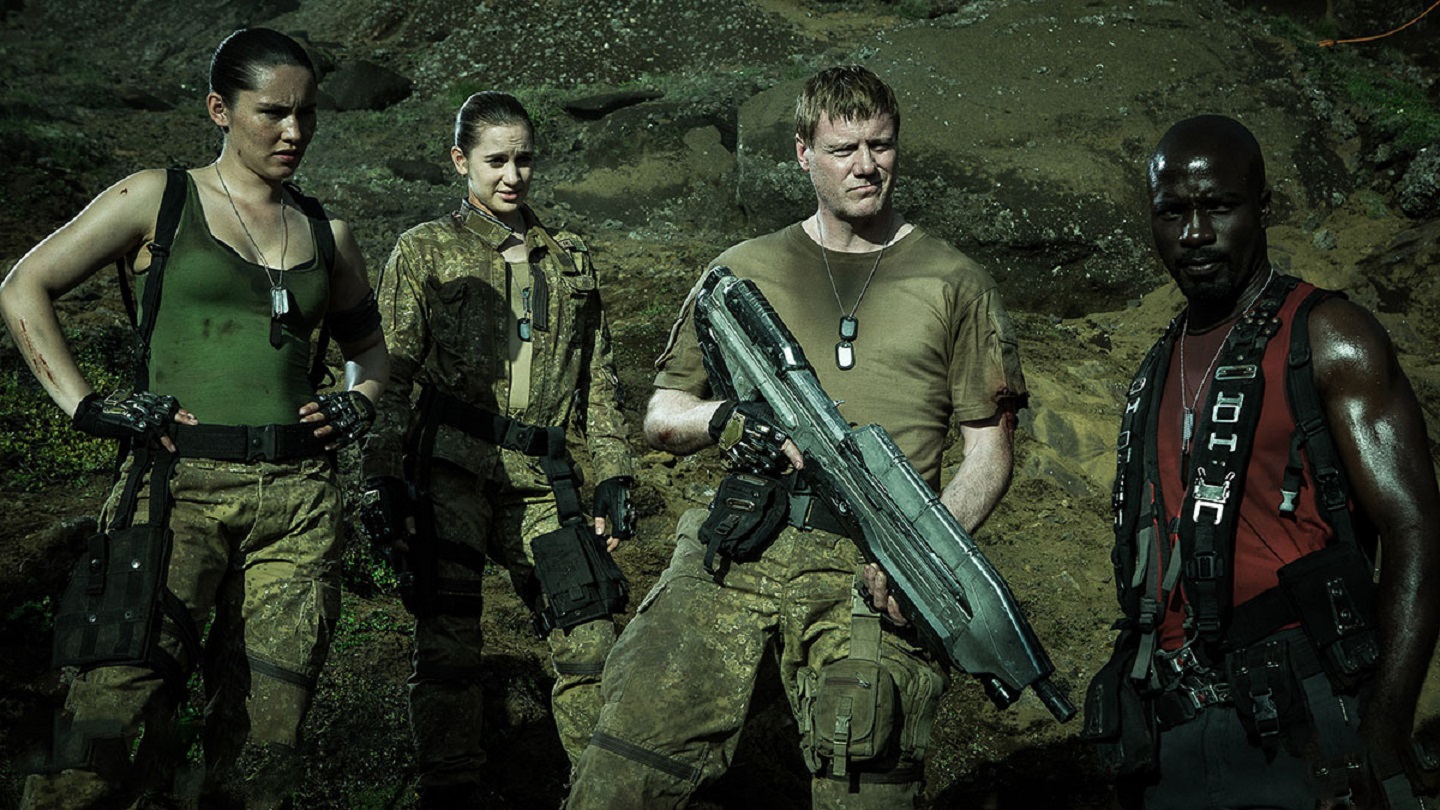 Halo Nightfall is another web series of five episodes of thirty minutes apiece released streaming to the so-called Halo Channel for the Xbox, which has similarly been repackaged as a single film for commercial release. It cannot be considered a sequel to Forward Unto Dawn so much as more adventures in the same universe. This has been better budgeted and even comes under with Ridley Scott's Scott Free production company label and with Scott executive producing. The director is Sergio Mimica-Gazzan, an expatriate Croat who was a former producer for Steven Spielberg and has gone on to work on directing a great deal of genre tv, including episodes of Battlestar Galactica (2003-9), Falling Skies (2011-5 ), Under the Dome (2013-5), The Last Ship (2014-8) and the mini-series The Pillars of the Earth (2010), among others.
Halo 4: Forward Unto Dawn looked like it was trying hard but suffered from low-conceptual and budgetary horizons. The videogame has a vast reach and is filled with big concepts; all that Forward Unto Dawn offered up was a squeaky clean recruits in training scenario where disappointingly little had been done to make it look as though it was taking place in the future. The good news is that all of that has changed by the time of Halo Nightfall. Within the opening minutes, we get the appearance of an impressively created full Covenant Zealot. This is followed by a pursuit through a city of the future, which looks like a city of the future should rather than comes with the contemporary-world-pretending-to-be-the-future corner-cutting edges that Forward Unto Dawn had.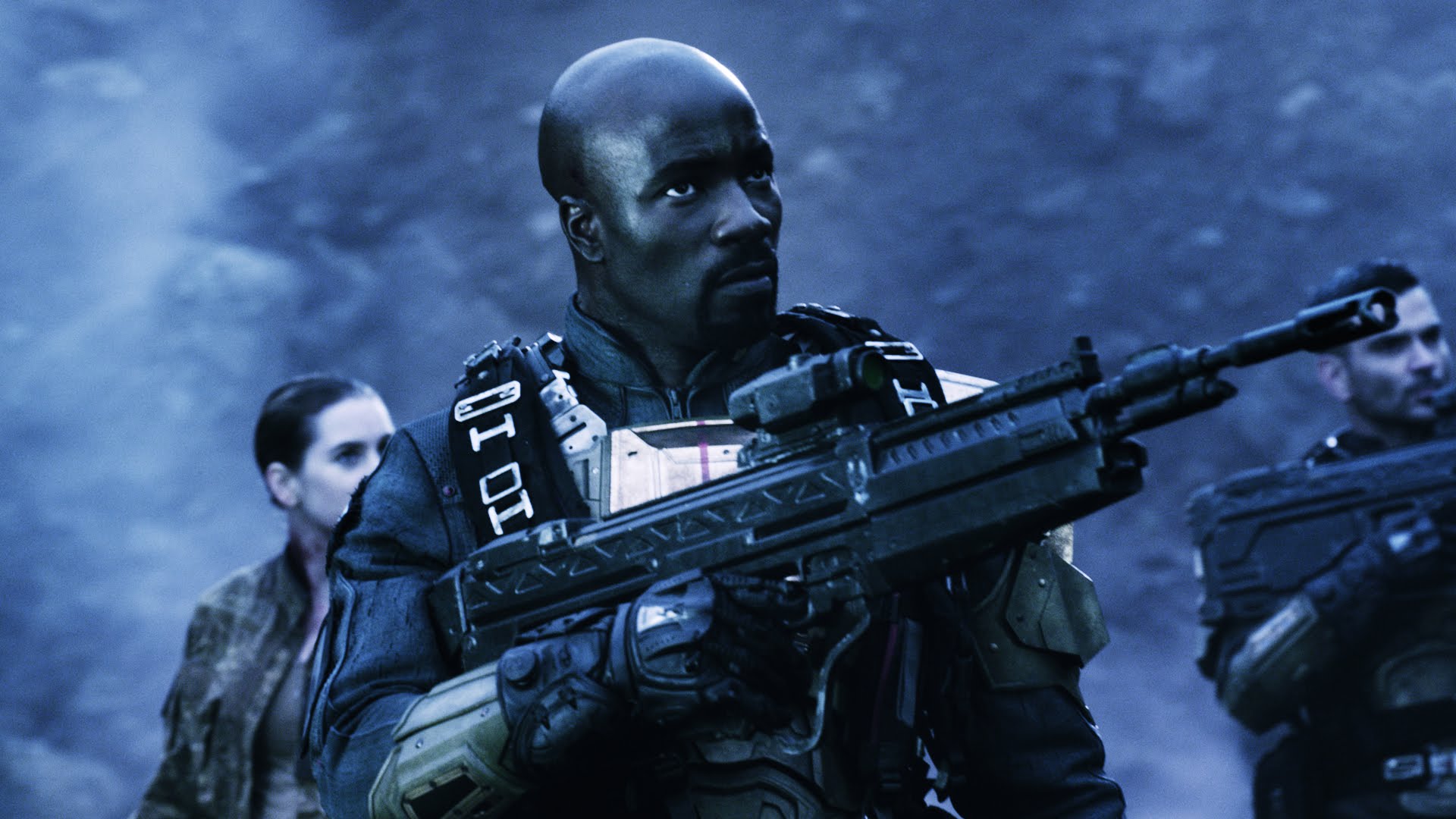 Nightfall gives us the same marines in space theme that Forward Unto Dawn did but with a much grittier edge. Still, the space marines concept has been just a little overused in recent years – all the way from Aliens (1986) through tv's Space: Above and Beyond (1995) to Starship Troopers (1997) and sequels. Even the concept of the soldiers landing on a shard of the Halo, which is going to scorch them with sunlight when it rises seems a rehash of the world of Crematoria in The Chronicles of Riddick (2004). (It is hard to get an idea of the size of the fragment – from the broken arc that arches up into the sky, it would seem to be at most a few hundred miles in length. The Halo is meant to be a ringworld that circles the entire sun so the arc of the ring would go for millions of miles ie. would not leave such a pronounced section of it visible to the naked eye).
That said, once the party arrive, Halo Nightfall quickly slips into a good, solid planetary mission gone wrong scenario. The location of the Halo fragment – all shot in Iceland and taking place across harshly burnt, volcanic rock – looks fantastic. Moreover, the script keeps a tight focus on the characters, giving the actors (all unknowns, although Mike Colter did subsequently go onto become tv's Luke Cage) the opportunity to make them individualistic. The best parts of the film come during the latter third when the party turns to vicious in-fighting and tensions amongst themselves over which two will be the ones that depart in the craft. The elimination, choices and back-stabbings that go on are intensely nail-biting and the film especially good during these scenes.
---
Trailer here
---