---
USA. 2014.
Crew
Directors – Jay Oliva & Ethan Spaulding, Screenplay – Heath Corson, Music – Robert J. Kral, Animation Services – Moi Animation Studios (Directors – Yangho Ji, Sunki Kang, Sangjin Kim & Younghee Shim). Production Company – Warner Bros. Animation.
Voices
Kevin Conroy (Batman/Bruce Wayne), Neal McDonough (Deadshot/Floyd Lawton), Hynden Walch (Harley Quinn/Dr Harleen Quinzel), Troy Baker (The Joker), Jennifer Hale (Killer Frost/Louise Lincoln), Greg Ellis (Captain Boomerang/George Harkness), Matthew Gray Gubler (The Riddler/Edward Nygma), John DiMaggio (King Shark/Nanaue), C.C.H. Pounder (Amanda Waller), Giancarlo Esposito (Black Spider/Eric Needham), Nolan North (The Penguin/Oswald Cobblepot)
---
Plot
Various super-villains of Gotham City – Deadshot, Harley Quinn, Killer Frost, Captain Boomerang, King Shark, Black Spider and KGBeast – are brought together by Amanda Waller, the head of a covert government agency. They are told that they have been recruited as members of the Suicide Squad, which is made up of criminals that have been given life sentences with no option of parole who can be sent on missions from which there is little hope of return. To encourage their participation, nano-bombs have been implanted in their neck and will be detonated if they deviate from the plan. They are assigned to break into Arkham Asylum and retrieve The Riddler's cane, which holds a thumb drive that contains a top-secret list of all the potential members of the Suicide Squad. Having to reign in their various crazy and murderous personalities and competing egos, the villains head into action. As several of them try to find means of subverting their restraints and orders, Batman, who is trying to find a dirty bomb that The Joker has procured, becomes aware that something is happening at Arkham and arrives to investigate.
---
Batman: Assault on Arkham is another of the DC Universe Original Animated Movies, which have so far included Superman: Doomsday (2007), Batman: Gotham Knight (2008), Justice League: The New Frontier (2008), Green Lantern: First Flight (2009), Superman/Batman: Public Enemies (2009), Wonder Woman (2009), Batman: Under the Red Hood (2010), Justice League: Crisis on Two Earths (2010), Superman & Batman: Apocalypse (2010), All-Star Superman (2011), Batman: Year One (2011), Green Lantern: Emerald Knights (2011), Batman: The Dark Knight Returns Part I (2012), Justice League: Doom (2012), Superman vs. The Elite (2012), Batman: The Dark Knight Returns Part II (2013), Justice League: The Flashpoint Paradox (2013), Superman Unbound (2013), Justice League: War (2014), Son of Batman (2014), Batman vs. Robin (2015), Justice League: Gods and Monsters (2015), Justice League: Throne of Atlantis (2015), Batman: Bad Blood (2016), Batman: The Killing Joke (2016), Justice League vs Teen Titans (2016), Batman and Harley Quinn (2017), Justice League Dark (2017), Teen Titans: The Judas Contract (2017), Batman: Gotham By Gaslight (2018), The Death of Superman (2018), Suicide Squad: Hell to Pay (2018), Batman: Hush (2019), Justice League vs The Fatal Five (2019), Reign of the Supermen (2019), Wonder Woman: Bloodlines (2019), Justice League Dark: Apokolips War (2020), Superman: Man of Tomorrow (2020), Superman: Red Son (2020), Batman: Soul of the Dragon (2021), Batman: The Long Halloween Part One (2021), Batman: The Long Halloween Part Two (2021), Injustice (2021), Justice Society: World War II (2021), Batman and Superman: Battle of the Super Sons (2022), Catwoman: Hunted (2022), Green Lantern: Beware My Power (2022), Batman: The Doom That Came to Gotham (2023), Justice League: Warworld (2023) and Legion of Super-Heroes (2023).
Arkham Asylum is one of the central locales in Batman comics. Introduced in 1974, it took on the dimensions of a looming dark edifice where all the crazies of the Batman universe were confined. (The name Arkham is taken from a fictional town that reappears in the short stories of horror writer H.P. Lovecraft). Later Batman stories developed out the history of the institution and it has been the centrepiece of a number of iconic graphic novels. It has made sporadic appearances in several of the live-action films, most notably Batman & Robin (1997) and Batman Begins (2005), where The Scarecrow/Jonathan Crane is the director, as well as the tv series Gotham (2014-9).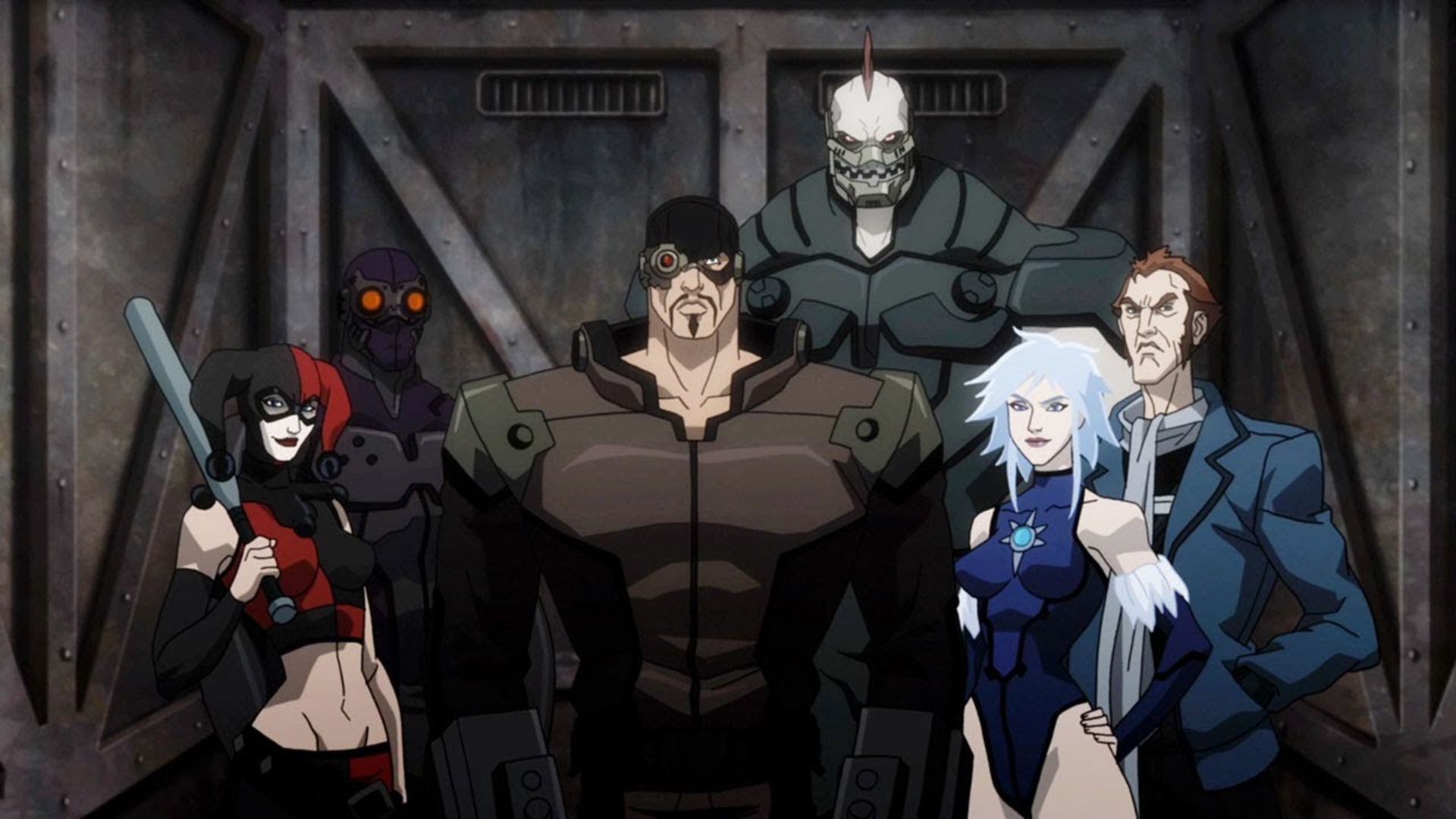 Arkham has also been the basis of a successful series of Batman videogames – Batman: Arkham Asylum (2009), Batman: Arkham City (2011), Batman: Arkham Origins (2013), Batman: Arkham Knight (2015) and Batman: Arkham VR (2016) – wherein the player is Batman who must enter the asylum and take on the villains. In a deviation from the usual, where most of the DC Universe Original Animated Films are adapted from graphic novels, Assault on Arkham has been made to tie into the game's continuity and apparently takes place somewhere before the events of Arkham Asylum.
The thing that should be specified about Batman: Assault on Arkham is that it is not a Batman film as much as it is a Suicide Squad film. Suicide Squad was a team-up of Batman super-villains that was intended as a dark counter to the superhero teams of Justice League, the Legion of Superheroes and so on. The original Suicide Squad appeared in 1959 but its popularity did not begin until it was launched as its own title in 1987 where a revolving line-up of usually C-list villains fought various menaces under the directorship of Amanda Waller. Assault on Arkham should be mandatorily watched before everyone sees Suicide Squad (2016), the live-action film based on the comic-book, albeit with a slightly different line-up of villains. The DC Universe Original Animated Movies later returned to make an original Suicide Squad film with Suicide Squad: Hell to Pay (2018).
The Suicide Squad focus makes Assault on Arkham akin to a Justice League film but featuring super-villains where more of a focus is placed on the gleeful mayhem that results. As a result, the film comes with much more of a darkly macabre sense of humour than the other DC Universe Original Animated Films (and quite a bit more of an adult tone than usual – at one point, we have Deadshot and Harley Quinn taking a bedroom tumble). The adventure and superheroics are fairly straight-forward – the film is not too much more than a standard heist story. Nevertheless, the characters are surprisingly well defined and given excellent voicings.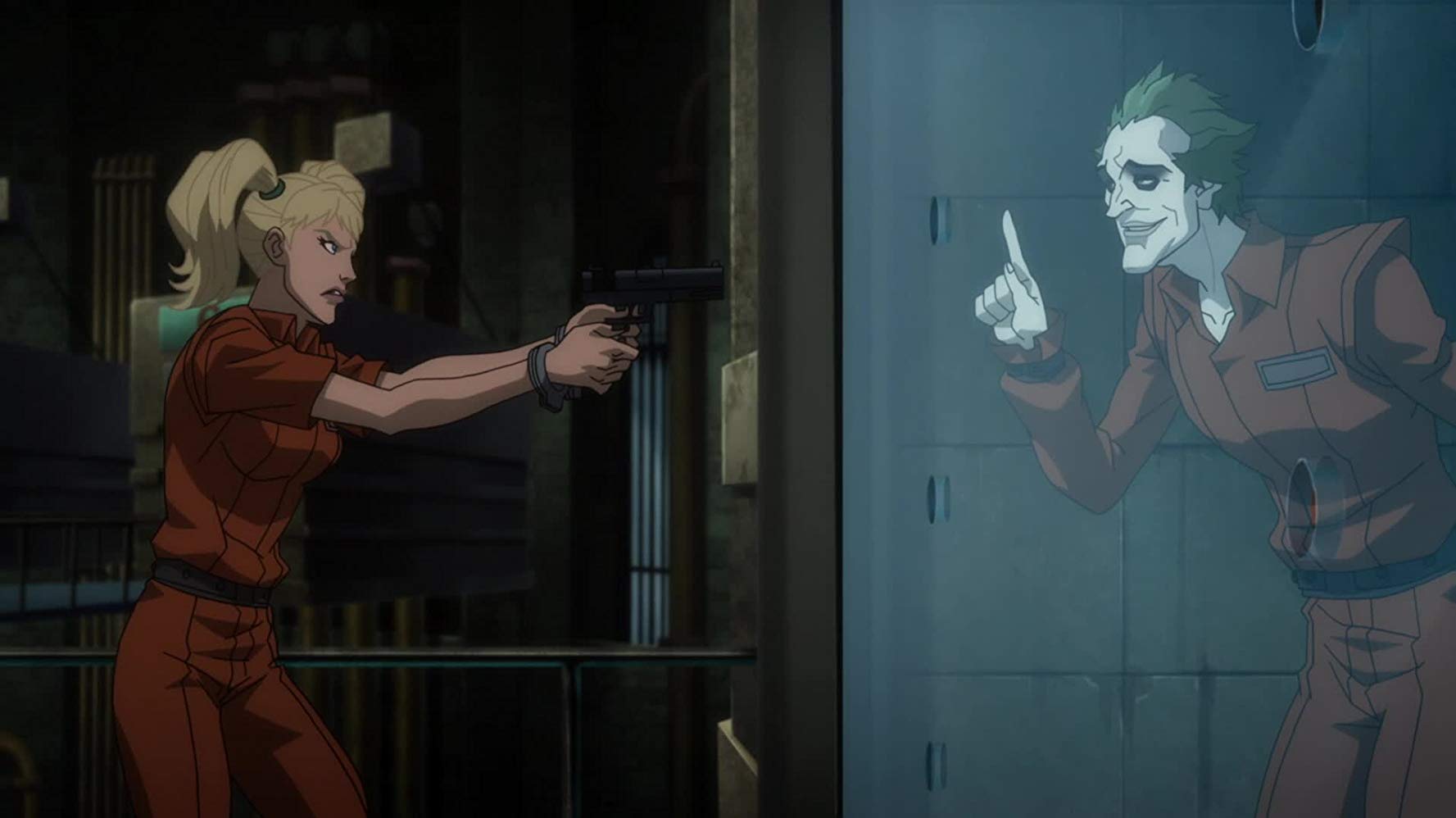 Beyond Deadshot, The Joker and Harley Quinn, which was actually an invention of Bruce Timm's tv series Batman (1992-4), which started off the modern DC animated universe, and guest appearances from The Riddler and The Penguin, most of the members of the Squad are real C-listers, many of whom I had never heard of before (and who had not made any appearances in the various DC animated media). The story is stuck with introducing them to audiences anew – the fact that it has such a large canvas of characters and essentially has to introduce all of them (and succeeds) is to its credit.
Deadshot goes from a villain to a surprisingly honourable and principled default hero of the show; there is an intriguing Odd Couple relationship created between Killer Frost and King Shark. The stars of the show get to be Hynden Walch's appealingly crazy Harley Quinn and Troy Baker who nails The Joker's dementia with dead-on accuracy, the best actor cast in the role since Mark Hamill departed. Matthew Gray Gubler also gives us one of the better airings of The Riddler.
---
---