---
USA. 1994.
Crew
Director – Sam Irvin, Screenplay – Peter David, Story – Mark Goldstein, John Rheaume & Greg Suddeth, Story Idea – Charles Band, Producers – Oana Paunescu & Vlad Paunsecu, Photography – Adolfo Bartoli, Music – Pino Donaggio, Visual Effects – David Allen Productions (Director – David Allen), Digital Effects Supervisor – Paul Gentry, Makeup Effects – AlchemyFX (Supervisor – Michael S. Deak), Production Design – Milo. Production Company – Full Moon Productions.
Cast
Richard Joseph Paul (Zack Stone), Andrew Divoff (Redeye), Jimmie F. Skaggs (Buteo), Jackie Swanson (Mattie Chase), Meg Foster (Stell Barr), Carel Struycken (Mr Gaunt), Musetta Vander (Lash), George Takei (Doc Valentine), Julie Newmar (Miss Kitty), Frank Roman (Wormhole), Jeff Moldovan (Spanner), Isaac Hayes (Buster), Irwin Keyes (Bork), Mike Genovese (Marshall Stone)
---
Plot
On another world, the alien bandit Redeye and his gang arrive in the small town of Oblivion. Redeye then challenges Sheriff Marshall Stone to a shootout in the main street and kills him. With no one else to stand against them, Redeye and his gang cause mayhem throughout the town. News of Stone's death is brought to his son Zack. Zack rescues Buteo, a native of the planet, after coming across him tied up in the desert. The two ride into Oblivion where there is pressure on a reluctant Zack to take up the badge of the sheriff and stop Redeye and his gang.
---
Oblivion was one of the films from Full Moon Productions, a company set up by producer Charles Band that generated a prolific output of low-budget genre films throughout the 1990s and 2000s. Full Moon released dozens of genre films, including entire series such as the Puppet Master, Subspecies, Trancers, Gingerdead Man and Evil Bong films. Oblivion – no relation to the later big-budget Tom Cruise Oblivion (2013) – was one of their better films of this period.
Oblivion has been pitched with the fairly simple concept of being a Space Western. The Western has made some odd crosshatches with the science-fiction genre over the years. The only other full-fledged attempt to create a Space Western was Hammer's much ridiculed Moon Zero Two (1969). In a similar vein, there was also Outland (1981), which transposed High Noon (1952) into space, and Battle Beyond the Stars (1980), which transposed The Magnificent Seven (1960) into space, and the oddity of the Star Trek episode Spectre of the Gun (1968) where aliens force the Enterprise crew to replay the Gunfight at the OK Corral. (For a full listing of Western/genre crossovers see my essay Weird Westerns).
Beyond that we have had Western/time travel efforts in Timerider: The Legend of Lyle Swann (1982), Back to the Future Part III (1990), the Doctor Who episodes The Gunfighters (1966) and A Town Called Mercy (2012) and Star Trek: The Next Generation's Time's Arrow (1992); Western plots transposed into post-holocaust settings such as Steel Dawn (1987) and Omega Doom (1996); cowboys up against alien invaders in films like High Plains Invaders (2009) and Cowboys & Aliens (2011); various virtual Western scenarios as in Westworld (1973) and Welcome to Blood City (1977); and weird mixes that throw in advanced technology and/or Steampunk elements as in Wild Wild West (1999) and tv's The Adventures of Brisco County Jr (1993-4) and Legend (1995).
Elsewhere in genre material, the Western has been blended with horror tropes that have included vampire Westerns such as Curse of the Undead (1959), Billy the Kid Versus Dracula (1966), Sundown: The Vampire in Retreat (1989) and Bloodrayne: Deliverance (2007); avenging ghost/revenant Westerns like High Plains Drifter (1973), Shadow of Chikara (1977), Ghostriders (1987), Ghost Town (1988) and Jonah Hex (2010); two zombie Westerns with The Quick and the Undead (2006) and The Dead and the Damned (2010); cowboys vs troglodytes in The Burrowers (2008) and Bone Tomahawk (2015); and two entire horror Western anthologies with Grim Prairie Tales (1990) and Into the Badlands (1991); not to mention Jesse James Meets Frankenstein's Daughter (1966).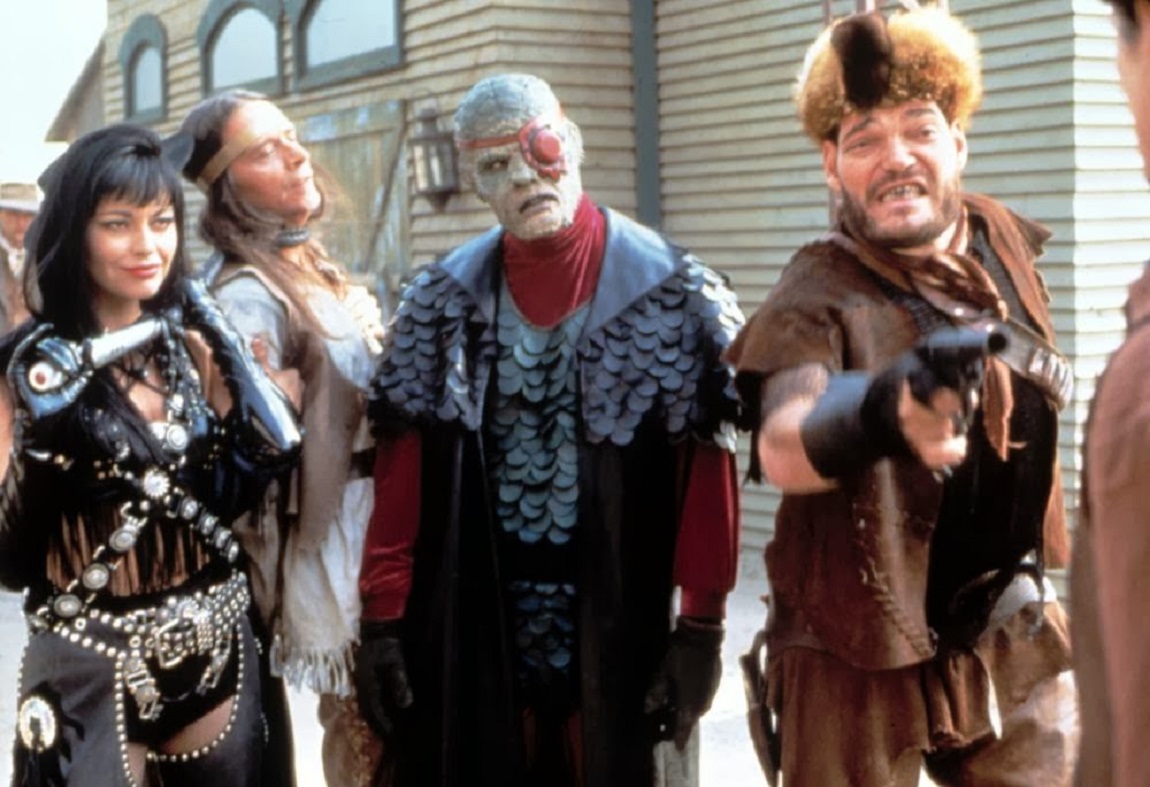 Oblivion resembles Star Wars (1977) in that it feels like a tip of the hat to a mutually recognisable cinematic past. Both Oblivion and Star Wars operate as Space Operas – although Oblivion is more what you call a Planetary Adventure (essentially a planet-bound space opera). Like Star Wars, its' visuals homage a bygone era. It takes the idea that was used in Moon Zero Two and Outland – of transplanting a Western into outer space – and plays it literally. Thus the black hat villain is a one-eyed lizard alien; the deputy is a cyborg; the town undertaker (played by Carel Struycken of The Addams Family (1991) fame giving the best performance of the film) has the ability to foresee when deaths are going to happen; and when people are tied up in the desert, the ants and lizard are giant-sized creatures (courtesy of Band in-house stop-motion animator David Allen). It doesn't do to ask too many questions about why a Western town has been recreated on an alien world or why the alien natives dress and talk like American Indians, it is a mash-up that is meant to work as an appreciation of two conflicting genres brought together. As such, Sam Irvin gets an almost pitch-perfect replication of the two.
The film is weakened by one of Full Moon's typical corner-cutting budgets – the entire Western town was built in Romania, for example. Even so, Oblivion feels like one of their films of this era where they were making more effort than usual. There is a rather doll sense of humour at times – the funeral service that keeps being interrupted by the bingo hall being held next door. And Sam Irvin directs the best cinematic arm wrestle scene ever.
Oblivion has an amazing cast list for such a low-budget production. There is George Takei, most famous as Sulu on Star Trek (1966-9) and several years before reinventing himself as a celebrity blogger, as the town's doctor. He gets lots of Star Trek-related one-liners: "Jim, beam me up" and "Great Scotty." There is also Julie Newmar who gained a fame as Catwoman in tv's Batman (1966-8) now at the age of 61 and still parading about in a leopard skin cat-suit amid much in the way of cat-related puns. One of the finds in the film is South African actress Musetta Vander who inhabits the corset, bondage gear and whip like she was born to it and totally owns the screen every time she is around. Also present is Meg Foster who has appeared in substantial number of genre films from They Live (1988) to Full Moon's Shrunken Heads (1994), while Isaac Hayes, the musician best known for the Shaft (1971) theme, who became an actor in later years in everything from Escape from New York (1981) to voicing the Chef in South Park (1997– ), turns up as a bartender.
Oblivion 2: Backlash (1996) was a sequel shot back-to-back with this.
Sam Irvin had first appeared on the genre scene with his second film Guilty as Charged (1991), featuring Rod Steiger as a vigilante executioner. Irvin went onto make Magic Island (1995) for Charles Band. He has made one or two other oddities like the eccentric thriller Roses Are Dead/Eyes of a Stranger (1993), Elvira's Haunted Hills (2001) and the asteroid collision film Deadly Skies/Force of Impact (2006), as well as acted as producer of When Time Expires (1997), Gods and Monsters (1998), The Mating Habits of the Earthbound Human (1998), Bolt Neck/Big Monster on Campus (1999) and Ancient Evil: Scream of the Mummy (2000).
---
---