---
Crew
Director/Screenplay – Jeffrey St. Jules, Producers – Don Allen, Daniel Bekerman & Jonathan Bronfman, Photography – Bobby Shore, Music – Darren Fung, Richard Pell & David Wall, Visual Effects – Intelligent Creatures (Supervisor – David Scott), Special Effects Supervisors – Jack Benning & Max MacDonald, Makeup Effects – Mind Warp Productions, Inc. (Supervisor – David Scott), Production Design – Aidan Leroux. Production Company – Scythia/Revolver Films/JoBro Productions and Film Finance.
Cast
Jane Levy (Stepphy Holiday), Justin Chatwin (Bobby Shore), David Reale (Fabian), Peter Stormare (George Holiday), Kristian Bruun (Helmut), Boyd Banks (Gord), Sean Cullen (Jack Avery)
---
Plot
It is 1963 in the tiny Canadian town of Lonely Pines. Stepphy Holiday works in her father's garage and dreams of being a singer. She is wowed when she receives a response to her audition tape and an invitation to travel to New York. However, her alcoholic father does not want her to leave and throws the letter in the fire. Getting drunk at a dance, Stepphy accepts a ride with Fabian, whose father owns the town's Purple Mist mill. He pulls up outside the factory and starts to make out with her as she passes out. She comes around and flees just as he notices that something is wrong at the factory. She is given a ride by none other than Bobby Shore, the singer she idolises on tv, but his car breaks down. She offers Bobby to come and stay at their place while waiting for repair parts to be sent. There she quickly falls under the spell of his charms. They makes plans to marry and for him to take her away to Hollywood. At the same time, Fabian comes warning that the Purple Mist spill is causing hallucinations and deadly mutations among the townspeople.
---
Bang Bang Baby is a debut feature for Canadian director Jeffrey St. Jules who had previously made several shorts, which had won some awards. Bang Bang Baby premiered at the 2014 Toronto International Film Festival where it won the award for Best Canadian Feature.
Bang Bang Baby is a peculiar genre-bending beast that had most audience members scratching their heads. (Of the audience of five I sat watching the film with, two of them walked out). It suggests a hyper-real recreation of a 1950s rock'n'roll movie – the sort of films that Elvis Presley used to appear in – but cast through a modern lens where everything has been exaggerated. The film plays all of this surprisingly straightforward for the most part – which is, I think the problem that most audiences had with the film.
The publicity and promotion seemed to be having difficulty pigeonholing the film – we are promised science-fiction and mutations and yet for a good part of it we get this surprisingly winsome mock 1950s film cast through a wistful lens of nostalgia. Certainly, what must be said in this regard is that the lovely Jane Levy seems the essence of pure-hearted innocence, while Justin Chatwin does an impeccably charming and smooth Elvis-modelled star who sweeps her off her feet.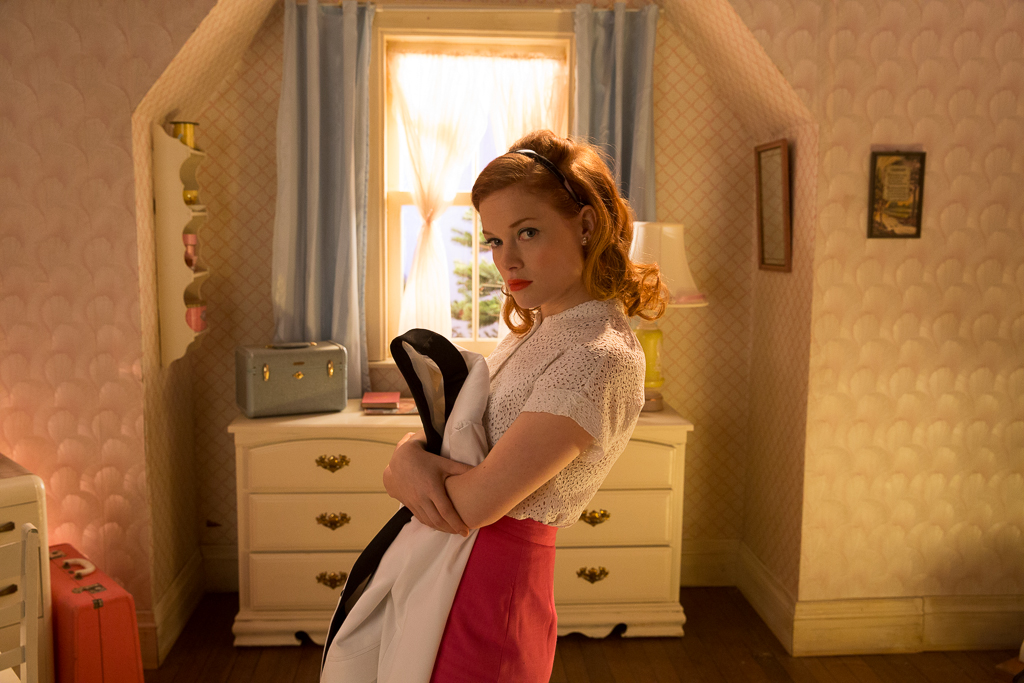 It is some way into the film before Bang Bang Baby reveals its genre colours. In the midst of Jane Levy's daydream romance with Justin Chatwin, David Reale keeps insisting that she come away, that things are wrong and she is experiencing hallucinations. At this point, the film starts to slowly resemble some demented mash-up between a 1950s Elvis film and a 1950s monster movie. Or perhaps even more so a version of something like The Crazies (1973) where the populace is infected by a form of mass insanity.
There are the bizarre eruptions of mutations as Jane Levy's belly starts moving in unnatural ways, while other of the townspeople start developing weird facial appendages, most peculiarly the wedding ceremony where they are surrounded by a freakshow of oddities, including a minister who has to keep hiding his face behind his Bible. The most surreal of these is when David Reale conducts a musical duet accompanied by the pair of lips attached to the side of his neck.
Then there comes the extraordinary twist about two-thirds through [PLOT SPOILERS] where Jane Levy discovers she has married David Reale instead of dream guy Justin Chatwin where the twist seems to give the impression that Chatwin was all just part of her hallucination and that she instead married/became instantly pregnant to Reale after he molested her in the car. This becomes something akin to the ingenious The Voices (2014), which took place in a bizarre pink-coloured small town where Ryan Reynolds happily talked to his pets and kept talking heads in his fridge before he took his psychiatric meds and reality was restored as something much grimmer. The plot starts to lose steam during its latter third but the journey there is a fascinatingly offbeat and unusually well crafted one.
---
---