USA. 2001.
Crew
Director – Brent Maddock, Screenplay – John Whelpley, Story – Brent Maddock, Nancy Roberts & S.S. Wilson, Producer – Nancy Roberts, Photography – Virgil Harper, Music – Kevin Kiner, Visual Effects Supervisor – Linda Drake, CGI Effects – Himani Productions, Inc. (Supervisor – Kevin Kutchaver), Special Effects – Special Effects Services (Supervisor – Larry Fioritto), Creature Effects – Amalgamated Dynamics, Inc. (Supervisors – Alec Gillis & Tom Woodruff), Production Design – Ken Larson. Production Company – Stampede Entertainment.
Cast
Michael Gross (Burt Gummer), Shawn Christian (Desert Jack Sawyer), Susan Chuang (Jodi Chang), Ariana Richards (Mindy), Tony Genaro (Miguel), Charlotte Stewart (Nancy), [uncredited] Tom Everett (Agent Frank Statler), Robert Jayne (Melvin), Barry Livingston (Dr Andrew Merliss), John Pappas (Agent Charlie Rusk), Billy Rieck (Buford)
---
Plot
Burt Gummer returns home to Perfection, Nevada from Graboid hunting in Argentina. He is dismayed to find that the town has turned into a tourist trap exploiting the novelty of the Graboids. One of those doing so is Desert Jack Sawyer who runs a desert tour where he and a colleague fake appearances of the Graboids for tourists. One of Jack's outings is then upset by the appearance of a real Graboid. Burt immediately leaps into action, preparing to hunt it down. However, agents from the Environmental Protection Agency arrive, insisting that Burt cannot kill the Graboid because it is an endangered species. Burt reaches an agreement with them to capture a Graboid for scientific study. As this goes wrong, Burt and the others must deal with not only Graboids and Shriekers, but a new evolved form of Graboid nicknamed the Ass Blaster, which has wings and can launch itself through the air like a rocket by farting a mix of chemicals.
---
Tremors (1990) was a highly enjoyable monster movie that adeptly blended monster-hunting thrills with a good deal of comedy. It was well received by audiences, although hardly a runaway hit. The surprise about its merely modest reception is how much has subsequently been spun out using the Tremors name. Creative control of the series passed over to the original film's screenwriters Brent Maddock and S.S. Wilson who made Tremors II: Aftershocks (1996), Tremors 3: Back to Perfection here and then Tremors 4: The Legend Begins (2004), alternating the directing duties between themselves. They also oversaw the tv series Tremors (2003), which lasted for thirteen episodes. A decade later, the series was revived with Tremors 5: Bloodlines (2015) and Tremors: A Cold Day in Hell (2018). Michael Gross, formerly the father on tv's Family Ties (1982-9), is the one constant in front of the camera between all of these versions.
The surprise about such a lightweight concept – a standard monster movie with a tongue-in-cheek attitude – is just how much Maddock and Wilson have managed to milk out of the premise and moreover how consistently enjoyable the sequels have been. Back to Perfection puts some highly amusing new twists on the basics. Maddock and Wilson have Michael Gross return to Perfection, only to find it has now become a tourist trap exploiting the Graboids – with Shawn Christian amusingly running a scam Graboid tour that fakes appearances with pretend radar tapes, blasts of fire extinguishers, fence posts that are wired to collapse and a tour vehicle that is rigged to stall in the middle of their 'escape'. Naturally the film takes the opportunity to have a Graboid erupt during the midst of this, throwing the otherwise cockily assured Shawn Christian's plans amok. The film gets even funnier when it starts throwing in environmental protection agencies arriving to prevent them hunting the Graboid because it is an endangered species, which naturally riles up the militant libertarian Michael Gross.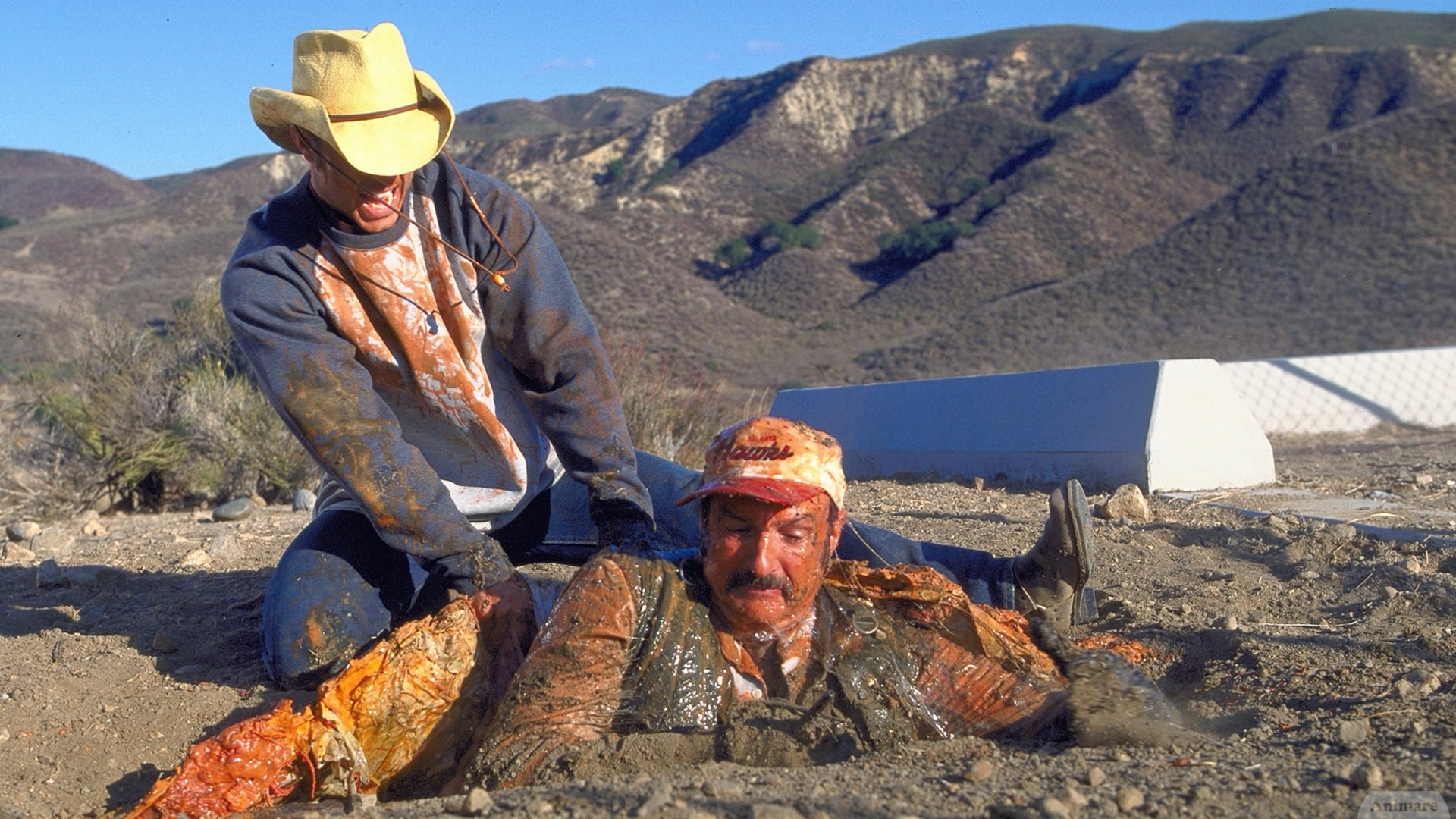 Back to Perfection is a much more comedic Tremors film than its predecessors. Maddock and Wilson seem to have sat back and had as much fun as they could in putting spins on the familiar. There are times that this heads into the completely demented – like when Michael Gross is swallowed alive by a Graboid but continues communicating with Shawn Christian by walkie-talkie as the Graboid heads through the sands with Christian tracking it by the tracer and then having to cut Gross out of the downed Graboid's innards with a chainsaw.
The film's one totally WTF moment is when we get a new evolved form of the Graboid, which appears and then promptly takes to the air, propelling itself by rocket fuel blown out of its ass (something that promptly has it nicknamed the Ass Blaster). The Ass Blaster is a bizarre creation, designed with a combination of wings that seem like suntan reflector screens and absurdly long, scrawny beaks. On the minus side, the digital effects and animatronics used here are so-so, while elsewhere the Graboid effects have been digitally cut and pasted from the other two movies.
Given a film all to himself, Michael Gross naturally has a field day and rises to the fore with great comic effect. One of the great joys of the film is also seeing Ariana Richards, the promising child actress from Jurassic Park (1993), a few more years grown up and now playing teen roles. She cannot help but remind of the same way that Drew Barrymore blossomed from a child star (after also appearing in a Spielberg film) to an adult actress. She does promisingly as a grown-up, even if the film never gives her much to do. Alas, Tremors 3 would be her last film and Araiana since quit acting, preferring to become a painter instead.
---
---