aka Octopus 2: River of Fear
---
Crew
Director – Yossi Wein, Screenplay – Michael Weiss, Story – Boaz Davidson & Danny Lerner, Producers – Boaz Davidson, Danny Lerner & David Varod, Photography – Peter Belcher, Music – Bill Wandel, Visual Effects – Shiny Mind, Visual Effects Supervisor – Scott Coulter, Special Effects Supervisor – Willie Botha, Animatronics – Michael Georgiev & Martin Ruskov, Production Design – Carlos Da Silva. Production Company – Nu Image.
Cast
Michael Reilly Burke (Detective Nick Hartfield), Meredith Morton (Rachel Starbird), Frederic Lane [Frederic Lehne] (Detective Walter McNair), Paul Vincent O'Connor (Captain Hensley), John Thaddeus (Detective Tony Molinari), Clement Blake (Mad Dog), Duncan Fraser (Mayor), Chris Williams (Payton), Haralampy Anichkin (Judge)
---
Plot
Nick Hartfield, a detective on New York's River Patrol, is ridiculed after he makes a drug bust on a boat only for it to turn out to belong to a judge who is peacefully fishing. Nick and his partner Walter McNair investigate two mutilated bodies. A homeless guy claims that he saw the victims killed by an octopus. After going diving in the harbour, Nick encounters the giant octopus. However, the idea is ridiculed by their captain. Walter is then killed by the octopus. Nick teams up with Rachel Starbird, an assistant sent by the mayor to ensure there are no problems for the upcoming July 4th celebrations. Together they try to stop the giant octopus lurking in the Hudson River.
---
Octopus (2000) was a cheap CGI monster movie from Nu Image, a film studio founded by several Cannon Films associates. Nu Image was mostly known in the 1990s for their action films and more recently hits like The Expendables (2010) and sequels. During the early 2000s, Nu Image made a score of such cheap monster movies and killer shark films with the likes of Shark Attack (1999), Crocodile (2000), Spiders (2000), Rats (2003), Shark Zone (2003), Larva (2005), Mansquito (2005), Raging Sharks (2005), Kraken: Tentacles of the Deep (2006), Attack of the Gryphon (2007), Mega Snake (2007), Flu Bird Horror (2008) and Shark in Venice (2008).
Octopus was notable for the absurdity of its premise – a submarine attacked by a giant octopus – and the fact that the film was so cheaply made that the octopus itself was rarely depicted, only occasional shots of its tentacle bursting into the submarine. With Octopus II, more commonly known as Octopus 2: River of Fear, but just Octopus II on the credits, Nu Image return to make a sequel. The same producing team and scriptwriter Michael [D.] Weiss are back, although none of the cast return.
The sequel is not connected to its predecessor other than featuring another giant octopus (although this is clearly not the same octopus given that it was killed in the first film). As in the previous film, there is no explanation given for what created the octopus. The action is relocated from a submarine to New York City's harbour and Hudson River (despite which shooting was conducted in Nu Image's preferred cut-price location of Bulgaria).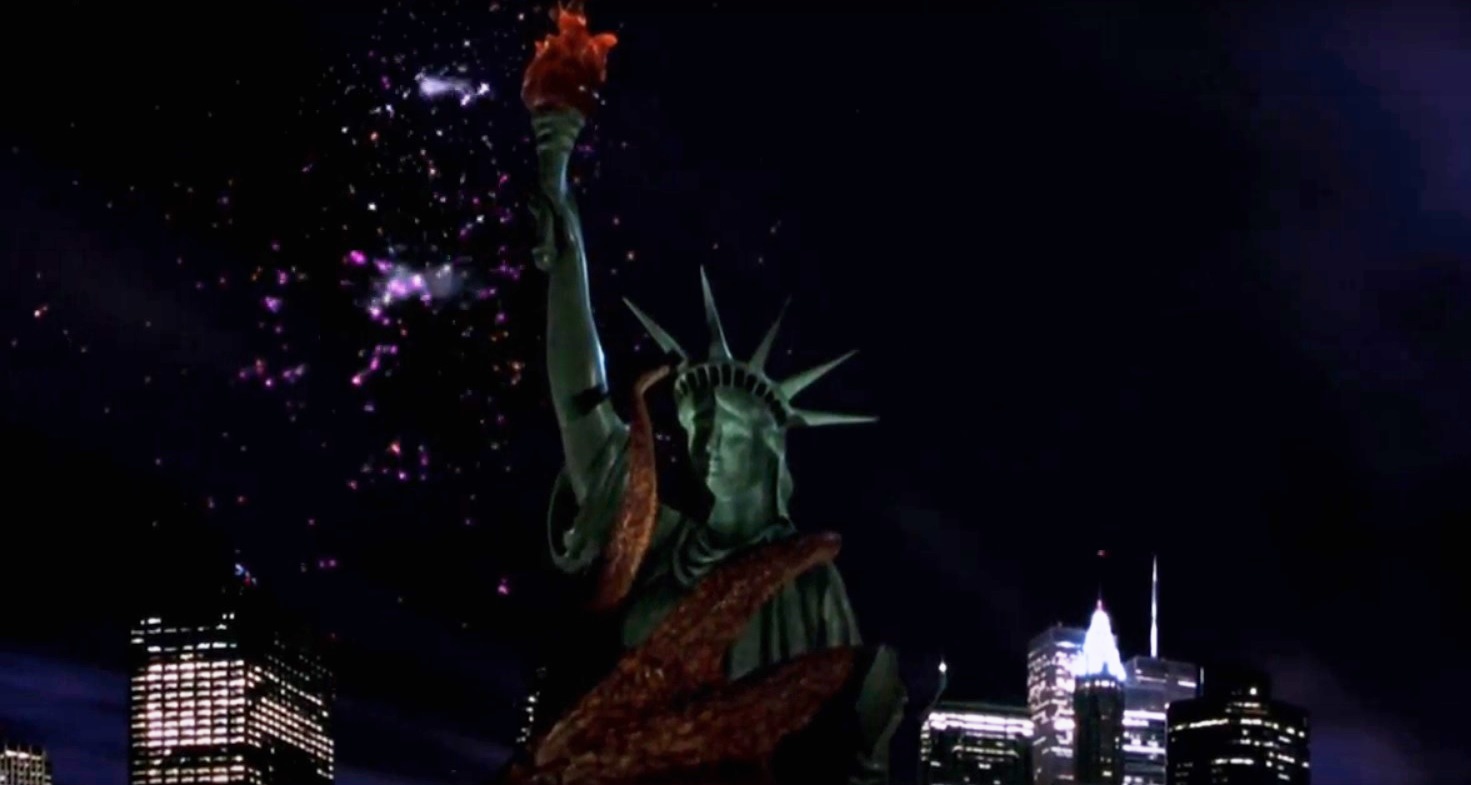 Octopus II is lumbered by the absurdity of its premise and the cheapness of its presentation. Slightly more budget has been thrown at this film than the first film. We get a few occasional shots of the full-size octopus, although none of it emerging out of the water and attacking. There are also much more in the way of animatronic tentacle attacks, which are passably convincing. The most ridiculous part of the film is where Michael Reilly Burke has a dream that he is on the Statue of Liberty as it is being attacked and torn down by the octopus.
The film often seems to avoid effects sequences. Most of these take place underwater. Or else the film is focused on non-octopus scenes like the problems of Michael Reilly Burke being taken seriously by his colleagues. The big dramatic set-piece of the film, for instance, is not anything to do with the octopus but in rescuing a busful of children from a flooding tunnel.
Yossi Wein was a Polish-born cinematographer who worked on various Nu Image and Millennium films from the late 1980s. He has stepped up to direct several of their action films beginning with Lethal Ninja (1992) and assorted others like Never Say Die (1994), Merchant of Death (1997), U.S. Seals (2000), Death Train (2003), Disaster (2003), plus a couple of Operation Delta Force sequels. His only other genre film was Cyborg Cop III (1995).
---
Trailer here
---