---
Crew
Director – Crispian Mills, Screenplay – Henry Fitzherbert & Crispian Mills, Story – Henry Fitzherbert, Crispian Mills & Luke Passmore, Producer – Charlotte Walls, Photography – John De Borman, Music – Jon Ekstrand, Visual Effects Supervisor – Sebastian Barker, Visual Effects – Automatik, Special Effects Supervisor – Scott MacIntyre, Creature Effects – Millennium FX (Designer – Bob Mayor), Production Design – Matthew Button. Production Company – Catalyst Global Media/Stolen Picture/Sony Pictures International Productions.
Cast
Finn Cole (Don Wallace), Asa Butterfield (Willoughby Blake), Hermione Corfield (Clemsie Lawrence), Simon Pegg (Meredith Houseman), Michael Sgeen (The Bat), Tom Rhys Harries (Matthew Clegg), Nick Frost (Woody Chapman), Isabella Laughland (Kay), Kit Connor (Wootton), Max Raphael (Hargreaves), Jane Stanness (Matron), Margot Robbie (Audrey Houseman), Louis Strong (Smudger), Jo Hartley (Babs Wallace), Alexander MacQueen (Lambert)
---
Plot
Don Wallace's mother is able to get him a position at the exclusive Slaughterhouse boarding school. Don is roomed with Willoughby Blake and finds that his predecessor died in circumstances that nobody will talk about. Don soon begins to hate life at Slaughterhouse, especially in Sparta House under the tyrannical prefect Clegg. He does however find some promise in an attraction to fellow pupil Clemsie Lawrence. While walking in the woods, Don and Willoughby discover a large sinkhole in the ground that has been produced by nearby fracking operations. They later find a wounded creature that has emerged from the sinkhole. In rapid course, the school is surrounded by vicious creatures emerged from the sinkhole and on the attack.
---
Slaughterhouse Rulez was the first film from Stolen Picture, a company formed in 2016 by actor Simon Pegg and his frequent co-star/collaborator Nick Frost. Stolen Picture subsequently produced the paranormal investigators comedy tv series Truth Seekers (2020) also with Pegg and Frost. The film is directed by Crispian Mills, the son of actress Hayley Mills and a former member of the band Kula Shaker, who had previously directed Simon Pegg in the serial killer black comedy A Fantastic Fear of Everything (2012).
Slaughterhouse Rulez readily sinks its teeth into the British boarding school tradition. This is something that is an essential part of British culture (depending on one's background) but is for the most part an alien concept to Americans who seem to get most of their idea of what a boarding school is from watching Harry Potter films. There's a whole British tradition of boarding school comedies from Tom Brown's School Days (1857) to Billy Bunter and the St Trinian's films. The film carps at many of the familiar aspects of the genre from the bullying prefects, house rivalries, eccentric housemasters and pupil shenanigans.
I didn't much get into of the previous Simon Pegg-Crispian Mills outing A Fantastic Fear of Everything – it felt like a comedy that hit the ground at an hysteric pitch and stayed there without every actually managing to be funny. With Slaughterhouse Rulez, Mills has a much bigger budget and seems much more assured and polished as a director. Mills makes the film look great on the eye with the location shooting at Stowe School in Buckinghamshire (where apparently he went to school) being particularly picturesque.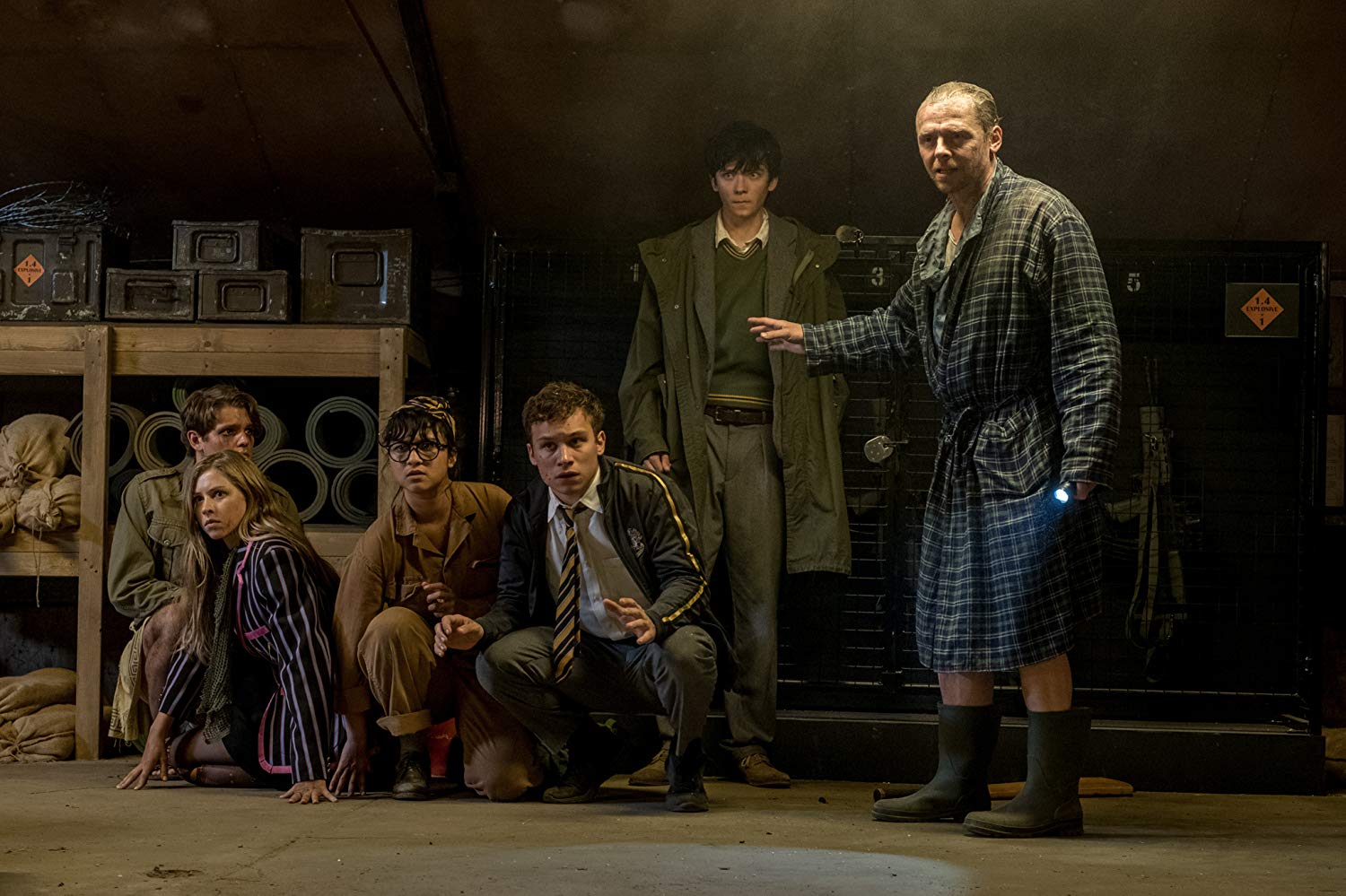 Crispian Mills has a fine cast including Simon Pegg in a supporting role as a schoolteacher, Michael Sheen, Asa Butterfield as Finn Cole's roommate, a video cameo from Margot Robbie as Pegg's wife and promising new names like Finn Cole and Hermione Corfield. The scene-stealer of the show gets to be Michael Sheen as the comically ineffectual twit of a principal known only as The Bat (after the habit of flapping his robe after him). And yet for all that, Slaughterhouse Rulez comes out as being amiable in its caperings rather than actually any moments that one can think that were laugh-out-loud funny.
The title automatically makes you think that you are watching a horror film – it suggests something like a Backwoods Brutality film, which is surely about as far removed from a British boarding school comedy as you can get. The film gains a whole lot more life when it gets the creatures running around. There are some very good creature effects and Crispian Mills stages the sequences well with a good balance of ick and comedy. Explanations for the monster are a little thin and some of the other effects like the representation of the fracking tower are a little dodgy but the shows holds up fairly well.
---