---
Crew
Director – Don Michael Paul, Screenplay – Brian Brightly & Don Michael Paul, Story – Brian Brightly, Producer – Todd Williams, Photography – Alexander Krumov, Music – Frederik Wiedmann, Visual Effects – Cinemotion (Bulgaria), Special Effects Supervisor – Alex Gunn, Production Design – Nopphadol "Ding" Arkart. Production Company – Universal 1440 Productions.
Cast
Michael Gross (Burt Gummer), Jon Heder (Jimmy), Richard Brake (Bill Davidson), Caroline Langrishe (Jasmine 'Jas' Welker), Jackie Cruz (Freddie), Cassie Clare (Anna), Sahajak Boonthanakit (Mr Bowtie), Matthew Douglas (Dr Alistair Richards), Randy Kalsi (Wall Street)
---
Plot
Jas Walker leads a scientific research operation on a tropical island that has been set up as a nature preserve by the biotech company Avex-Bio. She discovers that Avex-Bio head Bill Davidson is preparing to stage a big game hunt for paying clients using several Graboids unleashed on the island. She immediately sends her assistant Jimmy to find Burt Gummer where he is living in survivalist isolation on a small tropical island. As Burt is brought to the Avex-Bio island, complaining all the way, Jimmy discovers that Burt and Jas used to be an item. Despite Burt's warnings, the hunt goes wrong and the hunters are massacred by Graboids. Burt tries to organise the survivors to stop the Graboids before they become Ass Blasters and are able to fly away but is stymied by lack of any weapons on the island.
---
Shrieker Island is the seventh Tremors films. The series began all the way back with Tremors (1990) and Shrieker Island comes out on the series' thirtieth anniversary. The original was followed by several sequels – Tremors II: Aftershocks (1996), Tremors 3: Back to Perfection (2001) and Tremors 4: The Legend Begins (2004), as well as a short-lived tv series Tremors (2003). There was a gap for a decade and then the series was revived again for a further trilogy under director Don Michael Paul with Tremors: Bloodlines (2015), Tremors: A Cold Day in Hell (2018) and Shrieker Island.
All of these have repeated the same limited premise – of characters hunting the same monsters that burrow underground (usually some type of desert locale). The single through character in all of the films is Michael Gross's crazed survivalist Burt Gummer who was promoted from comic supporting character in the first two films to the hero throughout the sequels and tv series.
The Tremors films have maintained a far higher degree of consistency so far – more so than any other monster movie franchise I can think of. Even the Don Michael Paul films, which give the impression they were revived solely because someone thought there was still money left in the franchise, have been better than average. On the other hand, when it comes to Shrieker Island, the seams are finally showing. There is even much less of the Graboid scenes than in the previous entries.
The second trilogy of Tremors films have given all impression they are running out of ideas so inject novelty by changing the locations on us – Bloodlines went to South Africa and A Cold Day in Hell to the Arctic. Shrieker Island takes place on an unspecified tropical island (the film was shot in Thailand). The plot is a variant on Jurassic Park (1993) where a biotech billionaire has set up a personal game preserve for paying clients to hunt Graboids. The film doesn't really do anything different after that point except have the usual scenes of the characters racing around being hunted. Perhaps the most novel twist is in having the group stripped of all weaponry and forced to improvise but the script soon has them appropriate various firearms.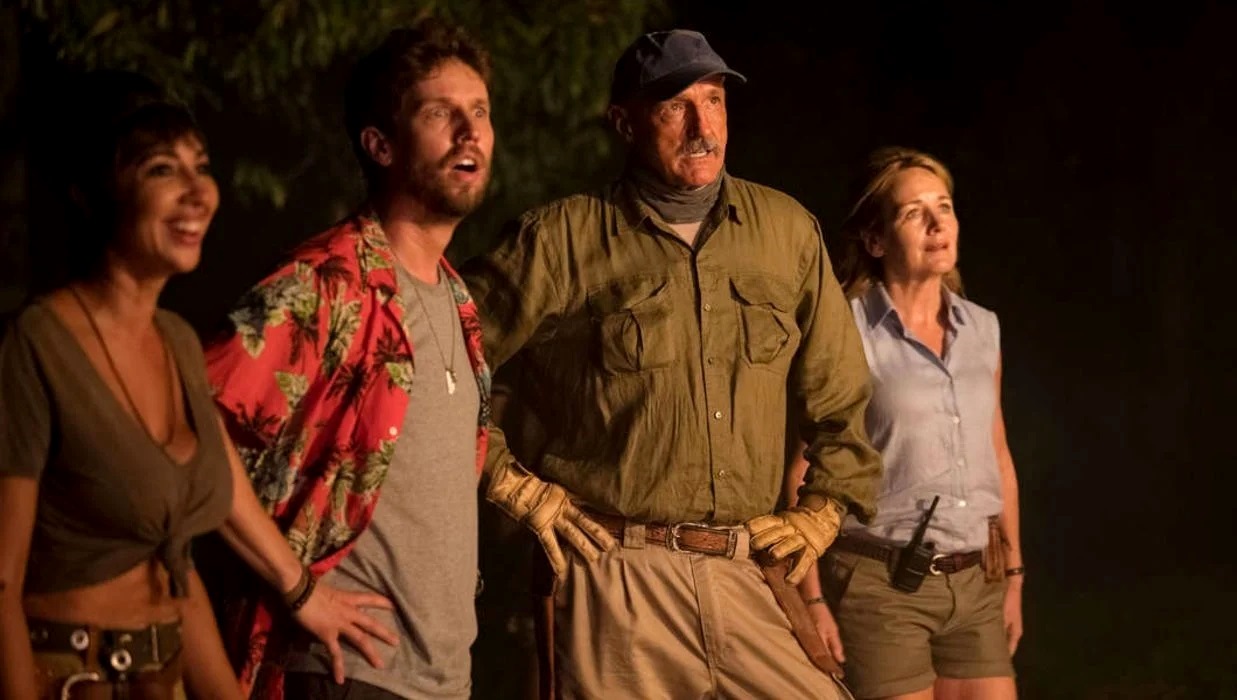 Michael Gross is introduced as a crazy wild man, having taken his survivalist obsession to the point of going and living a Robinson Crusoe existence on a desert island. Once he is shaved and cleaned up, Gross rises to give us a good old airing of Burt Gummer. Notedly, this entry writes out the character of Jamie Kennedy's Travis from the previous two films, although gives us the plausible excuse that he is in a jail in Mexico and instead gives us his mother, Burt's ex played by Caroline Langrishe. Meanwhile, Michael Gross is paired alongside another young, cluelessly nerdy guy played by Jon Heder. Opposite Gross, we get a human nemesis for the first time with Richard Brake holding up rather well in a bad guy role (even if he is bumped off far too early in the game and without much drama).
>P>Michael Gross however finally appears to have decided to call it a day. At age 73 and having been playing Burt for thirty years, he is probably getting well beyond all the physical running around. The franchise-makers give Burt a sentimental send-off and tribute. Not too serious a one though – the end credits promptly urge us to make April 14th into Burt Gummer Day and then in the next panel remind us to 'Pay Your Taxes'. Notedly Burt's send-off comes without actually seeing his actual demise or body so the door is left open for his potential return.
Don Michael Paul debuted as director of the Steven Seagal film Half Past Dead (2002) and has a made a handful of action films, mostly sequels to other people's films. These include Company of Heroes (2013), Jarhead 2: Field of Fire (2014), Sniper: Legacy (2014), Kindergarten Cop 2 (2016), Sniper: Ghost Shooter (2016), Jarhead: Law of Return (2019) and Bulletproof 2 (2020). Paul has occasionally dabbled in genre material with the horror film The Garden (2006), Lake Placid: The Final Chapter (2012), Death Race: Beyond Anarchy (2018) and Scorpion King: Book of Souls (2018), as well as written the future-set biker film Harley Davidson and the Marlboro Man (1991).
---