---
Crew
Director/Screenplay – Cameron Crowe, Based on the Film Open Your Eyes Written by Alejandro Amenabar & Mateo Gil, Producers – Cameron Crowe, Tom Cruise & Paula Wagner, Photography – John Toll, Music – Nancy Wilson, Visual Effects Supervisor – Alison O'Brien, Visual Effects – CFX, Cinesite (Supervisor – Mike Fink), Digiscope (Supervisor – Dion Hatch) & Digital Domain (Supervisor – Kevin Mack), Special Effects Supervisor – Gary D'Amico, Makeup Effects – Michele Burke & Kurtzman Nicotero Berger EFX Group Inc (Supervisors – Howard Berger, Robert Kurztman & Greg Nicotero), Production Design – Catherine Hardwicke. Production Company – Cruise-Wagner Productions.
Cast
Tom Cruise (David Aames), Penelope Cruz (Sofia Serrano), Cameron Diaz (Julia Gianni), Jason Lee (Brian Shelby), Kurt Russell (Dr Curtis McCabe), Noah Taylor (Edmund Ventura), Timothy Spall (Thomas Tipp), Armand Schultz (Dr Pomerantz), Tilda Swinton (Rebecca Dearborn)
---
Plot
David Aames has inherited a flourishing New York magazine publishing empire from his late father and lives a carefree playboy lifestyle. At one of his parties, he meets the lovely Sofia Serrano and falls in love with her sparkling simplicity within the space of a single night. Outside Sofia's apartment, he finds Julie Gianni, a girl he recently slept with and who has been stalking him. Julie takes him for a ride in her car and then drives the both of them off a bridge. David survives but is left with his face hideously disfigured, something that surgeons are unable to fix. David manages to get together with Sofia despite this. Surgeons then offer him a new miracle treatment that restores his face to what it was. David's happiness is marred by dreams that increasingly begin to blur with reality, ones where his face is alternately scarred and whole again and where Julie has now taken Sofia's place and he finds himself imprisoned, accused of her murder.
---
Vanilla Sky is the English-language remake of Open Your Eyes (1997), the Spanish-language film that became an arthouse sleeper in 1998-9. Tom Cruise had seen the original and became so enamoured of it that he decided to not only star in the remake but also produce it, as well as sponsor Open Your Eyes' writer/director Alejandro Amenabar's English-language debut with the fine ghost story The Others (2001) via his own production company and starring Cruise's now ex-wife Nicole Kidman. For the remake, Cruise has also brought on board director/writer Cameron Crowe who made Cruise's Jerry Maguire (1996) as well as the Cruise-less Almost Famous (2000), both to widespread critical, mainstream and award success and the subsequent likes of Eizabethtown (2005), We Bought a Zoo (2011) and Aloha (2015).
Over the last few years, the habit of Hollywood conducting English-language remakes of foreign films has resulted in a good many disasters – The Vanishing (1993), Point of No Return (1993), Diabolique (1996) and Just Visiting (2001). The thinking behind Vanilla Sky's making aside – the presumption that American audiences are either unable to read subtitles or are so prejudiced against films from a foreign country or without any American names in them that they will not go to see them – it emerges as one of the few of these English-language remakes that is conducted with great respect for the original, as well as being a worthwhile film in its own right. One had disastrous premonitions of Vanilla Sky – that the original would emerge akin to something like co-star Penelope Cruz's vehicle of the same year, Captain Corelli's Mandolin (2001), all lavishly photographed scenery, handsomely framed stars, stirring emotional cues and almost nothing in the way of any dramatic substance.
Bar a few of the titular digitally enhanced vanilla skies at the end and a nifty opening dream sequence where Tom Cruise drives through the streets of an empty Manhattan and building-sized digital displays come to echo his panic, courtesy of Digital Domain, Cameron Crowe almost entirely eschews any big-budget flourish and special effects trickery that has killed several remakes – The Haunting (1999) and Just Visiting being two perfect examples – and instead concentrates on the story.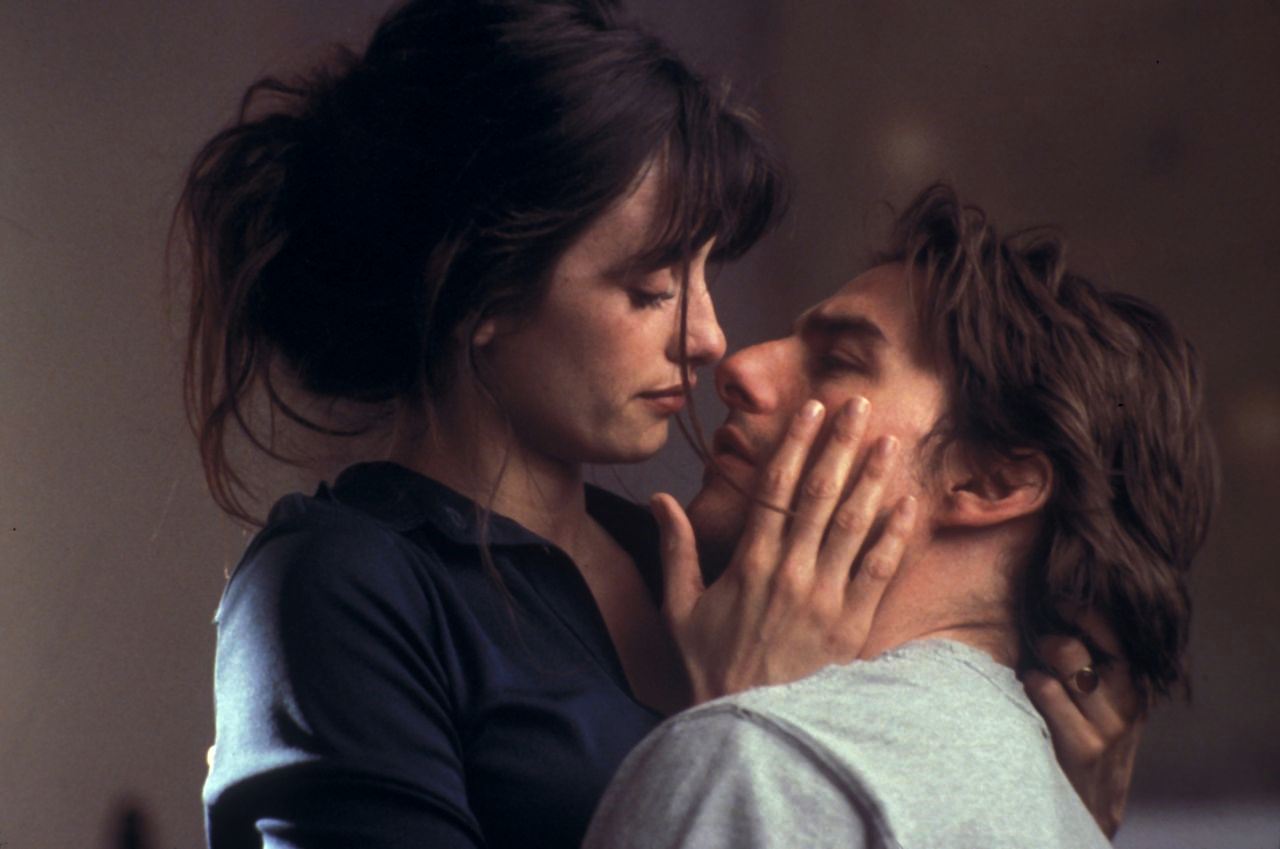 Despite what Cameron Crowe said in pre-publicity, hinting that he was only using the source as a loose text, calling it "two brothers posing the same question from different directions," Vanilla Sky is surprisingly faithful to Open Your Eyes and rarely departs from the original. There are slightly fewer in the way of reality flips and disjunctions and some minor changes such as expansion of the Tom Cruise character's background and the addition of the publishing empire he manages but, bar the names of the characters, a twenty page synopsis of both films would be almost indistinguishable.
Crowe even faithfully replicates two of the finest directorial moments from the original – where Tom Cruise and Penelope Cruz create portraits of one another in her apartment and the moment he idly wishes everybody in a bar would "shut up" and they unexpectedly do. (Although, one missed the lovely scene where the hero longingly follows a clown, sitting and watching until the rain washes its facepaint away revealing Penelope Cruz underneath). Crowe is so faithful to the original he even casts Penelope Cruz in the same part she played in the Spanish version. (In another lovely touch, the first words we hear in the film are the same we heard in the original – moreover in Spanish too – Penelope Cruz's voice saying "abre los ojos", the Spanish-language title of the original).
What Cameron Crowe brings to bear on the film are the things that Crowe does best – his ability to write great characterisation and dialogue that sparkles with wit. To such extent, he embellishes the characters, adding depths, strengthening the reasons for Tom Cruise's attraction to Penelope Cruz and writing some beautiful dialogue explaining the Cameron Diaz character's motivation. Would that any remake treat an original with such faithfulness – that it keep and understand all the things that made the original work and embellish only in ways that strengthen rather than drown the film out with A-budget flourish or the intrusive imprimature of directorial egotism.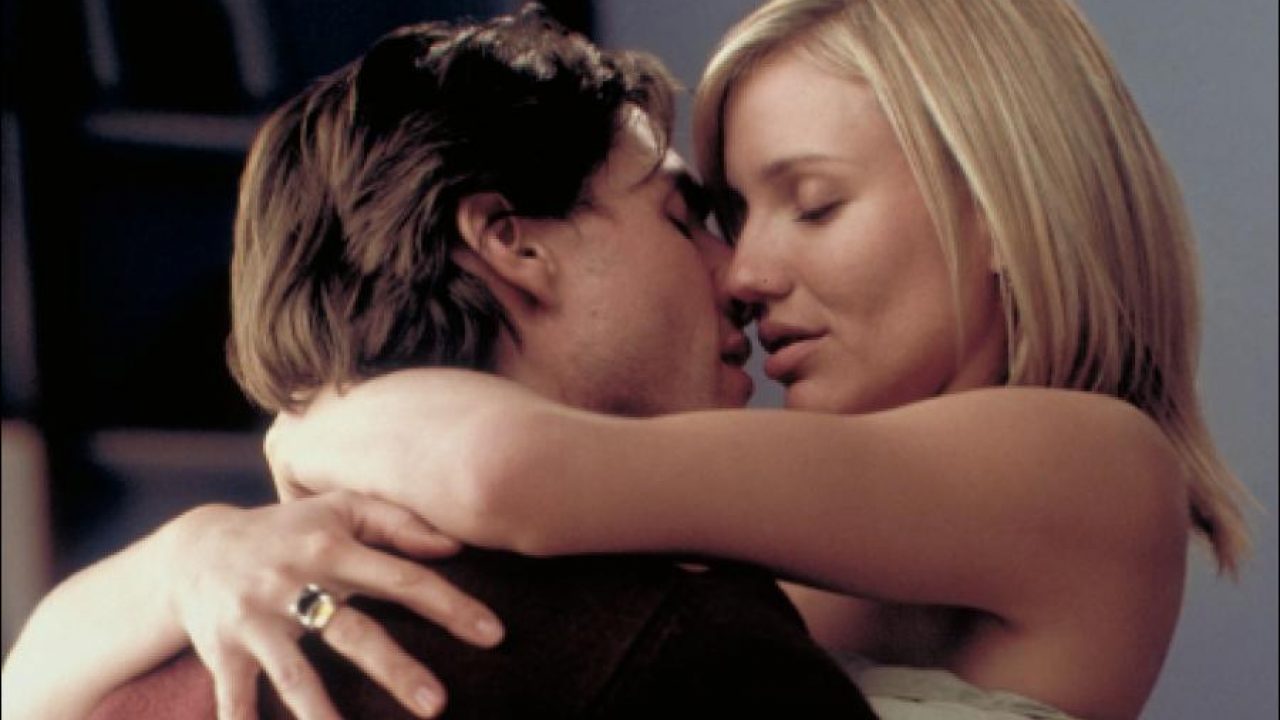 Where Cameron Crowe's own imprint does sneak in occasionally is in some of the background where one can clearly see his love of rock music – Almost Famous's tale of a rock journalist was autobiographical writing on Crowe's part – with appearances from John Coltrane and touches like Tom Cruise having a smashed Pete Townsend guitar mounted in a display case in his apartment. (A scene where Tom Cruise and Kurt Russell discuss their favourite Beatle and Cruise idly says his was George was given unexpected poignancy by the death of George Harrison a matter of days before Vanilla Sky's world premiere). The ending where we see that Tom Cruise has constructed an artificial life based on Bob Dylan album covers and an admiration of Jean-Luc Godard films may, one suspects, be a wish-fulfilment fantasy dream world as much for Cameron Crowe as it is the Tom Cruise character in the film.
Perhaps where Vanilla Sky falters slightly is in the ending, which has had the surprise it had when Open Your Eyes came out taken off it by a number of others films since – the likes of Dark City (1998), The Matrix (1999), eXistenZ (1999) and The Thirteenth Floor (1999). Even though I saw Vanilla Sky with a much larger theatrical audience than I did Open Your Eyes, the buzz from the crowd exiting Open Your Eyes was a far more excited one than there was for Vanilla Sky. It seems a tale that loses some of its sting in its familiarity. Vanilla Sky received a surprisingly negative critical reception but is nevertheless well worthwhile.
(Winner for Best Adapted Screenplay and Best Sequel/Remake and Nominee for Best Actor (Tom Cruise) at this site's Best of 2001 Awards).
---
---