---
Crew
Director/Screenplay – Mike Cahill, Producer – James D. Stern, Photography – Markus Förderer, Music – Will Bates, Visual Effects Supervisor – Michael Glen, Visual Effects – The Molcule (Supervisor – Luke Ditommaso), Thought Visualizer Animation – //Kneeon (Supervisor – Mike Healy), Special Effects Supervisor – Chris Brenczewski, Production Design – Kasra Farahani. Production Company – Endgame Entertainment Company/Big Indie Pictures
Cast
Owen Wilson (Greg Whittle), Salma Hayek (Isabel Clemens), Nesta Cooper (Emily Whittle), Steve Zissis (Bjorn Pederson), Jorge Lendeborg Jr. (Arthur Whittle), Bill Nye (Chris), Ronny Chieng (Kendo)
---
Plot
Greg Whittle is called in by his boss Bjorn and told that he is fired because he spends all his time drawing pictures rather than working. Greg erupts in upset, causing Bjorn to fall back and knock his head on his desk, killing himself. Greg props Bjorn's body up against the window, leaving it hidden by the curtain and flees the scene. In the bar across the street, he meets the strange Isabel who insists that Greg is the only person there that is real. She insists that they are inside a virtual simulation and the people around them are generated characters. She shows him that she can manipulate the illusion. She offers to solve his problem and proceeds to cause Bjorn's window to open whereupon he falls out and everyone believes he jumped in a suicide. Greg and Isabel engage on a passionate romance, while moving into the off-the-grid open shelter she has created under a bridge. They amuse themselves manipulating the illusion. Meanwhile, Greg's daughter Emily becomes concerned about him going missing and sets out to locate him. Greg insists that he find out what lies outside the illusion and Isabel finds them the drugs that allow them to exit. Greg then finds himself in a utopian future world where he and Isabel are respected scientists. She has created a Virtual Reality illusion of the misery of the present so people can appreciate what they have.
---
Bliss was the fourth film from director Mike Cahill. After assorted editing work through the 2000s, Cahill appeared with the documentary Boxers and Ballerinas (2004) and then gained attention with the indie SF film Another Earth (2011) made in collaboration with Brit Marling. This was followed by the SF film I Origins (2014) and directing work on assorted tv episodes.
Bliss looked a really promising idea. It seemed like a variant on the 'We Are All Living in the Matrix' conspiracy theory that has floated around the internet the last few years – the idea modelled after The Matrix (1999) that everything we experience could just be a vast Virtual Reality simulation without our knowing it. Various arguments have been floated for and against the idea – even Elon Musk has spoken in its favour. (The main argument against it is that it seems an unfalsifiable hypothesis where it is impossible to conduct an experiment to test whether or not the illusion is real). Not that that should prevent such ideas from making entertaining science-fiction and a number of films have taken up the idea recently with The Mandela Effect (2019) and Rodney Ascher's documentary A Glitch in The Matrix (2021).
As such, Bliss starts extremely well as a wild Conceptual Breakthrough story. We are introduced to Owen Wilson as someone in a nowhere job called in to talk to boss Steve Zissis only to be told he is fired for spending all his time drawing. Things go sideways where Owen's upset reaction to this causes Zissis to fall back and hit his head on his desk and be killed. Owen tries to deal with by hiding the body, hooking Zissis's arms to the window frame and pulling the curtain to cover him. In the bar across the street, Owen encounters Salma Hayek who regards him as the only 'real' person in the bar and demonstrates things by causing people to drop things by flicking her fingers. (She also later points out that she is the woman who appears in Owen's drawings). She then promises to solve Owen's problems if he will do her a favour whereupon she causes Zissis's body to fall out of the window where it is taken to be a suicide.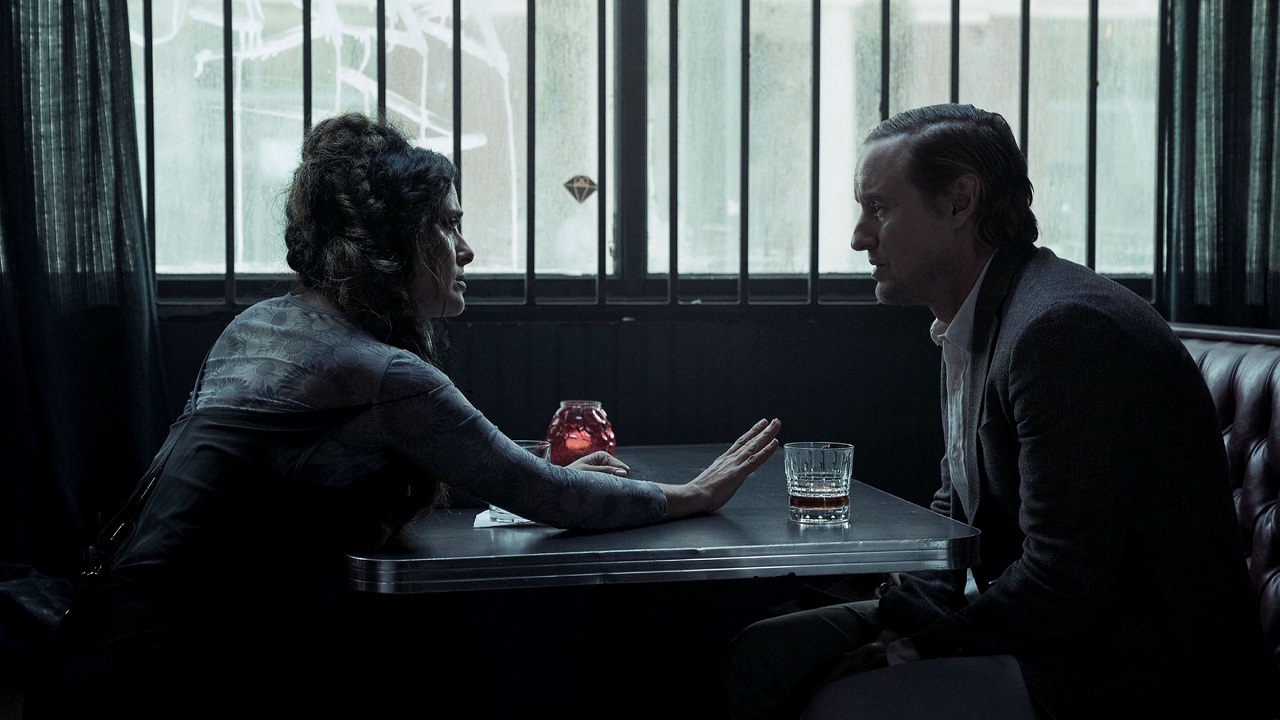 Salma Hayek has an entertainingly crazy, live wire presence – it is the most in-charge one has seen her in a film in some time. One is considerably entertained as we watch her and Owen running about, living homeless and especially the scenes with them at a roller rink walking about and causing people to have accidents and collapse (it is never made clear whether the people who fall are dead or unconscious). This seems to be doing a fine job of shaping up as a We Are All Living in the Matrix film.
The second half of the film goes off in a completely different direction. Here Owen Wilson asks Salma Hayek to take him out of the illusion and after taking the blue pills they exit to find they are part of an experiment run by Hayek to create a virtual world that is a mimicry of the one we live in. As the frame of the film pulls back, we find that we are in a utopian future world where almost every whim people have is tended to and the both of them are respected scientists. The most disconcerting aspect is when we get a momentary aside that shows that the daughter that Owen Wilson had in the virtual world is nothing more than a program inside the system.
Things become confusing after that point. The script fragments off as Owen Wilson's vision of the future starts to blur with the present. He returns to the supposedly virtual illusion and seems to prefer life there. The film reaches an end that leaves us uncertain whether the future or the present-day scenes are the illusion, or even whether Owen Wilson is suffering from mental illness. Certainly, the abruptness of the final scene has an appealing kick.
Not to mention there are a number of unclear questions at the end of it – like why Owen has amnesia about who he is while in the present-day simulation and even as he exits into the future, yet Salma does not. (The obvious answer is that that is the most convenient way for us to experience the story's conceptual breakthrough plot). It also seems absurd that there seems no easy way to leave the virtual illusion one is in other than taking a drug that is not in easy supply ie. has to be illicitly manufactured.
(Nominee for Best Actress (Salma Hayek) at this site's Best of 2021 Awards).
---