aka MI: 2
---
USA. 2000.
Crew
Director – John Woo, Screenplay – Robert Towne, Story – Brannon Braga & Ronald D. Moore, Based on the TV Series Mission: Impossible Created by Bruce Geller, Producers – Terence Chang, Tom Cruise, Paul Hitchcock & Paula Wagner, Photography – Jeffrey L. Kimball, Music – Hans Zimmer, Theme – Lalo Schifrin, Visual Effects Supervisor – Richard Yuricich, Visual Effects – Cinesite, Special Effects Supervisor – R. Bruce Steinheimer, Makeup Effects – Kevin Yagher Productions (Supervisor – Kevin Yagher), Production Design – Thomas E. Sanders. Production Company – Paramount
Cast
Tom Cruise (Ethan Hunt), Dougray Scott (Sean Ambrose), Thandie Newton (Nyah Nordhoff Hall), Ving Rhames (Luther Stickell), Richard Roxburgh (Hugh Stamp), [uncredited] Anthony Hopkins (IMF Secretary), John Polson (Billy Baird), Rade Szerabadja (Dr Vladimir Nekhorvich), Brendan Gleeson (John McCloy), William R. Mapother (Wallis)
---
Plot
Ethan Hunt is recruited to stop rogue IMF agent Sean Ambrose who has stolen Chimera, the antidote to the lethal bio-weapon Belerophon and is planning to auction it. Hunt is ordered to enlist the aid of sexy thief Nyah Nordhoff Hall. In the process of doing, Ethan falls in love with her. He then finds that Nyah has been recruited because she was Ambrose's former girlfriend and that he is required to place her in danger by getting her to seduce her way into Ambrose's lair.
---
Mission: Impossible (1966-73) was one of the few serious spy efforts to emerge following the success of the James Bond films. Despite the series' popularity, it was never one I warmed to. It seemed more like an illustrated Popular Mechanics schematic being enacted by a set of characters that lacked identities than it ever did a dramatic series. There was no tension in an episode, simply the unfolding of a carefully rehearsed plot where nothing ever seemed to go wrong. The series was badly revived in the Australian-shot series Mission: Impossible (1988-90) and then in the 1990s underwent one of the numerous big-screen revivals of 1960s tv series as Mission: Impossible (1996). The Mission: Impossible film was a huge hit but most audiences dismissed it as having two seat-edge sequences – the CIA break-in and the train-top climax – while the rest fell apart in an incomprehensible plot.
This was followed by Mission: Impossible II here, which was as big a hit as the original and is a much better film. On script, Mission: Impossible II brings back Robert Towne, who wrote the first film and won an Oscar as screenwriter of Chinatown (1974), and has a story from Brannon Braga and Ronald D. Moore, writers and producers on most of the modern Star Trek incarnations. The film has also savvily employed John Woo, who is possibly the finest action director in the world (at least during the 1990s).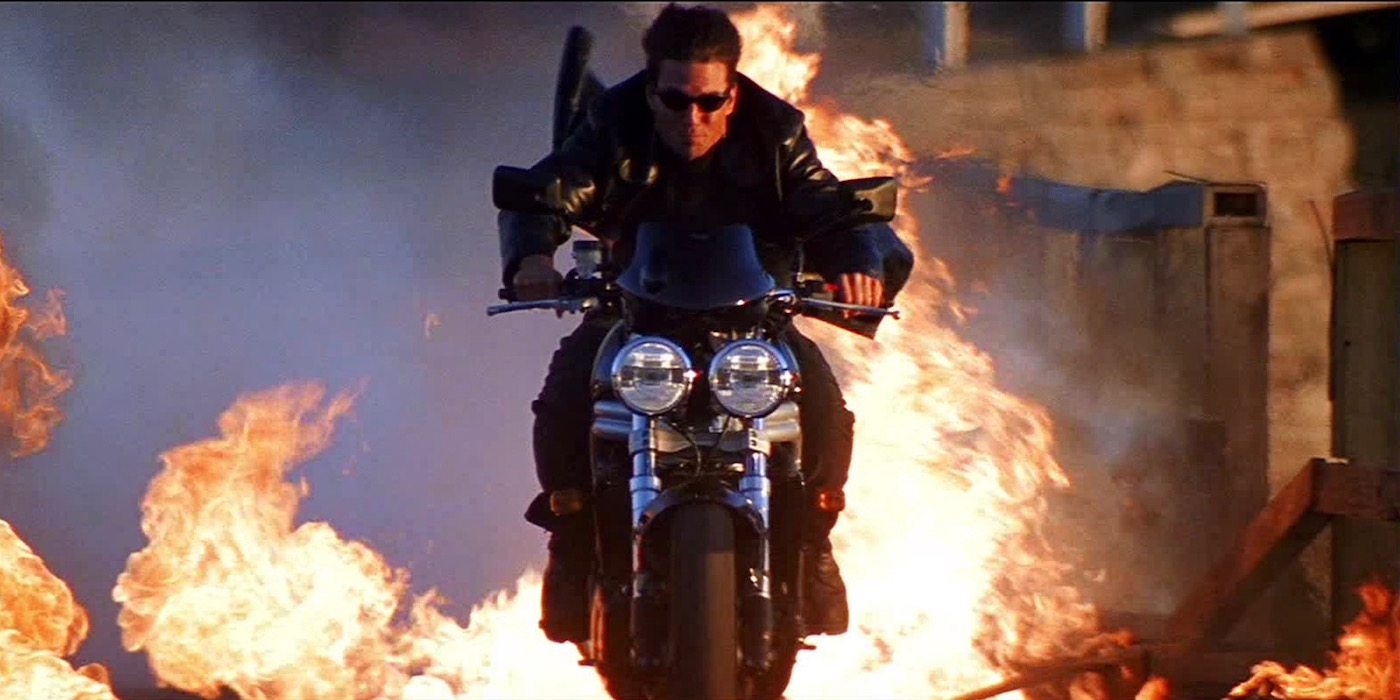 In his native Hong Kong, John Woo made a cult name as director of such stylish films as A Better Tomorrow (1986), The Killer (1989) and Hard-Boiled (1992). Woo was able to trade upon his cult name to emigrate to the West before the 1997 takeover of Hong Kong where he found welcome employ, although his American works have generally been unsatisfying in comparison to their Hong Kong counterparts. Hard Target (1993) bore the trademark John Woo stylism, although it lacked the Woo bite thanks to US censorship; while subsequent efforts like Broken Arrow (1995), Face/Off (1997), Windtalkers (2002) and Paycheck (2003) buried Woo's stylistic flourishes under the machinery of the big-budget action film.
Mission: Impossible II was the first American John Woo film that seems to operate on all cylinders. It is filled with all the trademark Woo flourishes with almost half the film shot in slow-motion focusing on stylish poses of people ejecting ammo clips, walking through explosions or turning into the camera in slow-motion; fight sequences conducted with an incredible acrobatic dexterity with people leaping through the air and kicking others in the head in passing or forward-rolling to avoid heavy hails of artillery fire; and fluttering doves.
As with any John Woo film, Mission: Impossible II falls between the dazzling and what in a lesser director's hand would have seemed absurd – Tom Cruise and Thandie Newton making out in a car balanced on the edge of a cliff; or the idea that someone can accurately fire a gun while spinning about balanced on the front wheel of a motorcycle. John Woo has a good deal of fun with the film and creates enthralling sequences – the over-the-credits freefall rock climb; a sequence reminiscent of the central set-piece in the first film descending into a high-security facility by grappling rope; a dazzling motorcycle chase climax. Unlike the first film, which only seemed set around its two action set-pieces, John Woo keeps Mission: Impossible II constantly moving and the plot, despite improbable reliances upon the likes of incredibly lifelike facemasks, sufficiently holds the rest together. John Woo also makes ravishing photographic use of the Australian Outback and Sydney locations.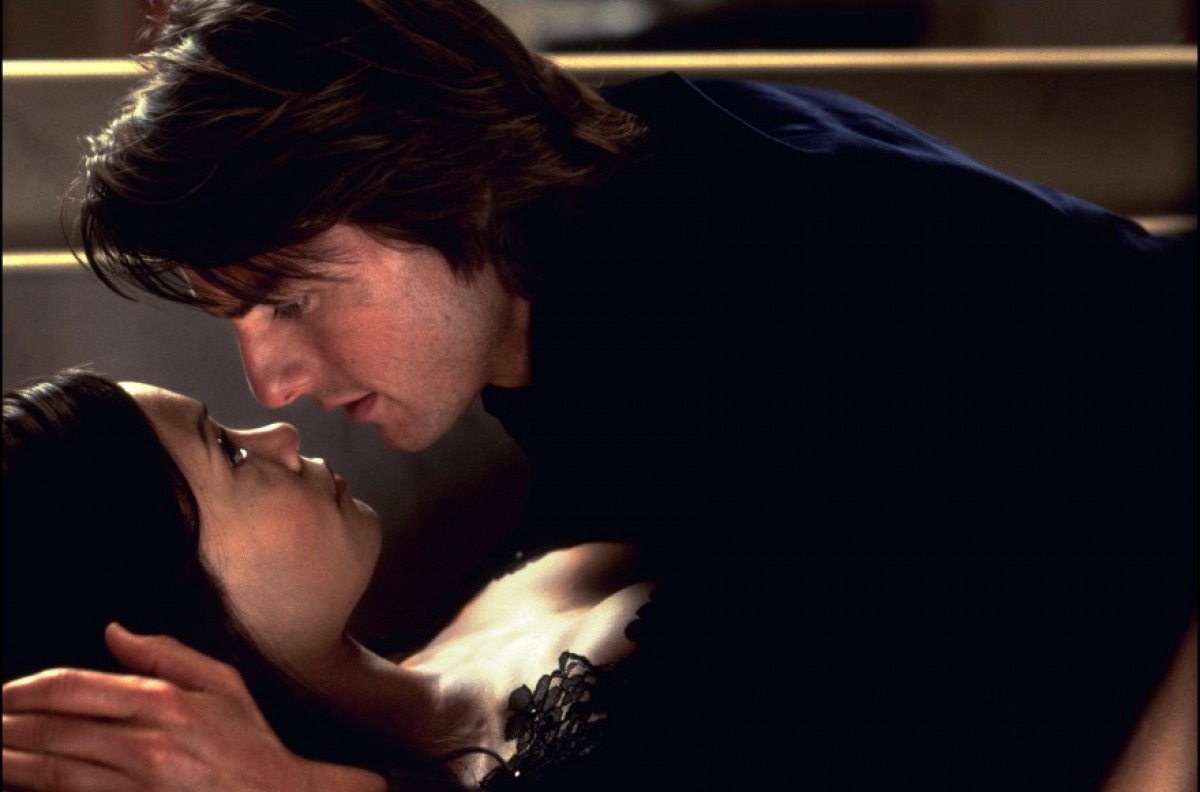 The one twist that Mission: Impossible II adds to its predecessor is to throw in a dash of spice by having Tom Cruise's character in love with a sexy thief – one critic wittily nicknamed the film The Thomas Cruise Affair. Indeed, Mission: Impossible II could be said to be the film where John Woo discovers sexuality. Woo is one of the few directors, along with Paul Thomas Anderson in Magnolia (1999), to overtly tap the raw sex appeal that makes Tom Cruise such a box-office name. Thandie Newton balances Cruise out by giving a pixieshly sexy performance. Woo certainly lets forth on the heat – he gives us the jewellery robbery as flirtation, the car chase as flirtation, and tunes his custom slow-motion posing towards a smoulderingly sensual scene where Tom Cruise and Thandie Newton first meet across a room foregrounded by flamenco dancers. The downside is that about halfway through the sensuality gets forgotten and superseded by action and Thandie Newton turned into a wallflower who merely becomes the pawn of various hostage schemes. Dougray Scott makes for a good villain, while an uncredited Anthony Hopkins adds customary effortless dignity as the new IMF secretary.
Tom Cruise followed this up with Mission: Impossible III (2006), Mission: Impossible – Ghost Protocol (2011), Mission: Impossible – Rogue Nation (2015) and Mission: Impossible – Fallout (2018).
In the late 00s, John Woo seemed to abandon Hollywood and returned to China. His other genre efforts include:- directing the tv pilot The Robinsons: Lost in Space (2004) and producing the Western Wu Xia film Bulletproof Monk (2003), the anime Appleseed Ex Machina (2007) and the Chinese-made Wu Xia Reign of Assassins (2010).
(Nominations for Best Director, Best Cinematography at this site's Best of 2000 Awards. No. 2 on the SF, Horror & Fantasy Box-Office Top 10 of 2000 list).
---
---