---
Crew
Director – Randal Kleiser, Screenplay – George McGrath & Paul Reubens, Producers – Paul Reubens & Debra Hill, Photography – Steven Poster, Music – Danny Elfman, Visual Effects – Richard Edlund, Special Effects Supervisor – Matt Sweeney, Makeup – Edouard F. Henriquez & Ve Neill, Dog-Faced Boy – Greg Cannom, Production Design – Stephen Marsh. Production Company – Paramount.
Cast
Pee-Wee Herman [Paul Reubens] (Himself), Valeria Golino (Gina Piccolopopola), Kris Kristofferson (Mace Montana), Penelope Ann Miller (Winnie Johnston), Susan Tyrrell (Midge Montana), Wayne White (Voice of Vance the Pig)
---
Plot
A storm deposits the Cabrini Circus in the farmyard of Pee-Wee Herman. Pee-Wee falls head over heels in love with trapeze artist Gina Piccolopopola, much to the displeasure of his fiancee Winnie. However, Gina leaves Pee-Wee when she finds he has a fiancee. Pee-Wee desperately wants to join the circus but all his attempts to do so fail badly. Ringmaster Mace Montana unveils a new circus concept based on Pee-Wee's farm. To do so, Pee-Wee must overcome the hostile prejudices of the locals who are determined to drive the circus out of town.
---
Big Top Pee-Wee was the second and so far last of the Pee-Wee Herman films. It was made following in the footsteps of Tim Burton's cultish Pee-Wee's Big Adventure (1985) and the children's tv show Pee-Wee's Playhouse (1986-91). Pee-Wee Herman (in actuality actor Paul Reubens) is almost a send-up of the 1950s All-American Boy Next Door but wound up so tight that it becomes a parody of super-normal weirdness. The way Reubens plays it, full of little twitches and dances, tight grimacing grins, inane little jokes in silly voice asides and hands protruding at least a foot beneath his coat sleeves, the character almost hails in from another planet. Pee-Wee is character who can polarise audiences between either extreme hate or a kind of kitsch adoration.
Pee-Wee's Big Adventure was Tim Burton's very first directorial outing. However, Burton bowed out of involvement with the sequel and instead the reins were inherited by Randal Kleiser. (See below for Kleiser's other films). The sequel lacks the zaniness of having Tim Burton at the helm this time but is not entirely a failure either.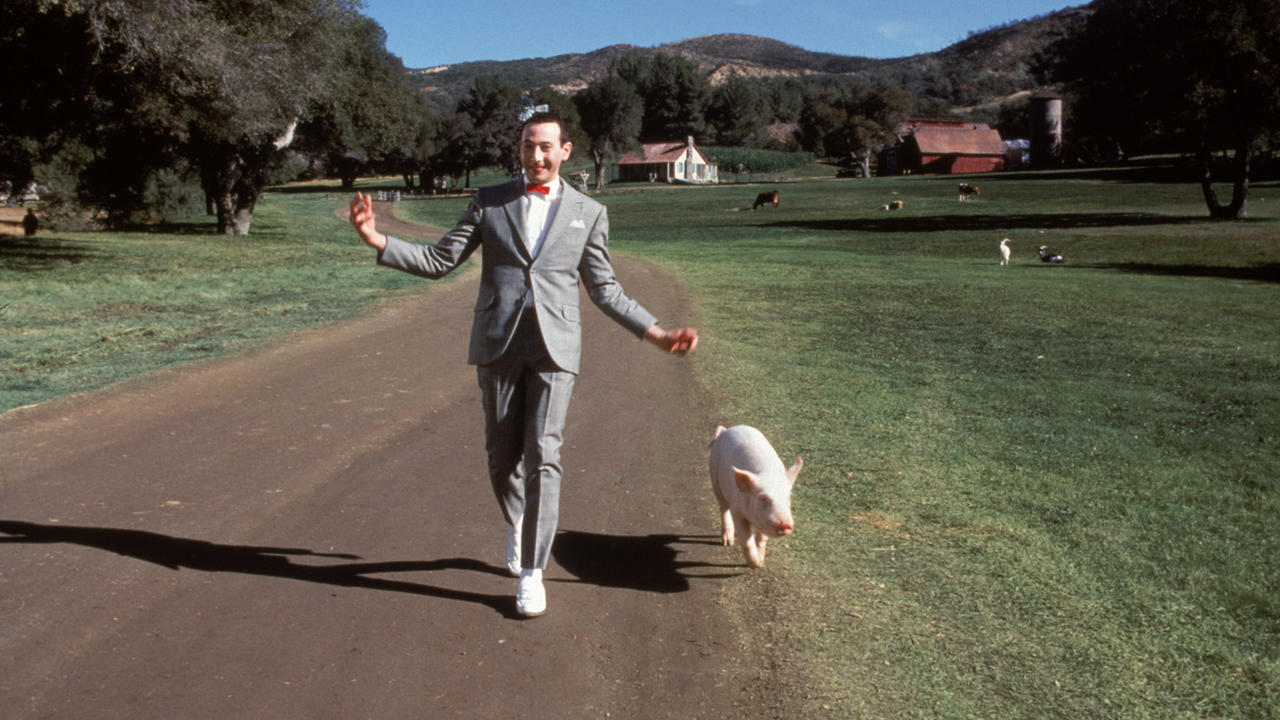 The opening dance around the farm – Pee-Wee serving up hay at a table and feeding birds from his mouth, tucking animals up in bed in the barn, and most delightfully milking a cow to get chocolate milk – is rather charming. Indeed, the romantic scenes with Valeria Golino, which are helped considerably by her fiery and passionate performance, actually manage to create what adds up to a flaky sincerity in Herman's nonsense world.
Twenty-eight years later, Pee-Wee was revived for another film with Pee Wee's Big Holiday (2016).
Director Randal Kleiser had previously come from the enormous hits of the musical Grease (1978) and the Brooke Shields film The Blue Lagoon (1980), although never had any major successes subsequently. His only other ventures into fantastic film were the Disney film Flight of the Navigator (1986), which also featured Paul Reubens as the voice of a spaceship computer, and Honey, I Blew Up the Kid (1992), also for Disney, plus an adaptation of Little Red Riding Hood (2006).
---
---