---
Crew
Director – Tim Burton, Screenplay – Phil Hartman, Pee-Wee Herman & Phil Varhol, Producers – Richard Gilbert Abramson & Robert Shapiro, Photography – Victor J. Kemper, Music – Danny Elfman, Special Effects – Chuck Gaspar, Stop Motion Animation – Rick Heinrichs, Makeup Effects – Charlie & Steven Chiodo, Production Design – David L. Synder. Production Company – Aspen Film Society/Robert Shapiro Productions.
Cast
Pee-Wee Herman [Paul Reubens] (Himself), Elizabeth Daily (Dottie), Diane Salinger (Simone), Judd Omen (Mickey), Mark Holton (Francis), Jon Harris (Andy), James Brolin (Film Pee-Wee), Morgan Fairchild (Film Dottie), Alice Nunn (Large Marge)
---
Plot
Pee-Wee Herman loves nothing in the world more than his bicycle. The spoilt rich kid Francis wants Pee-Wee's bicycle for his birthday but Pee-Wee refuses, saying he wouldn't sell it for a million zillion dollars. The bicycle is then stolen and Pee-Wee is shattered. He offers his wallet to a fake fortune-teller if she can tell him where it is and she quickly randomly says it is in the basement at The Alamo. And so Pee-Wee sets out on an cross-country quest. Along the way, he falls into adventures with escaped convicts, ghostly truck drivers, the Satan's Helpers biker gang and a chase across the Warner Brothers movie lot.
---
If the world, God help them, ever needs a successor to Jerry Lewis, then they probably need look no further than Pee-Wee Herman who seemed to raise arrested emotional development to an artistic form of sorts. Pee-Wee Herman (in reality actor Paul Reubens) is someone who polarises audiences to either love or extreme hate. Reubens created Pee-Wee Herman as part of a stand-up comedy troupe The Groundlings in the late 1970s. Pee-Wee was characterised by a grey suit several sizes too small that left Reubens's bony wrists and ankles protruding, a red bow tie, made-up lips and cheeks, a curled tuft of hair and Reubens's nasal high-pitched voice. Paul Reubens built Pee-Wee Herman into a successful solo stand-up act and then premiered on tv in a cable special The Pee-Wee Herman Show (1981).
Reubens then developed the script for Pee-Wee's Big Adventure and offered it to his good friend Tim Burton. Pee-Wee's Big Adventure was a surprise international success, which then led to a children's tv show, the bizarrely surreal Pee-Wee's Playhouse (1986-91). The show was killed off when Paul Reubens was arrested in Sarasota, Florida in 1991, caught masturbating in an X-rated movie theatre. When the ensuing scandal hit the media with screaming tabloid headlines and even though Reubens only received a minor fine, networks dropped the show like a hot potato and Reubens' career hit the skids. [Subsequently in 2002, just when Reubens' career was starting to recover there came charges of possessing child pornography, although the trial never went ahead].
Pee-Wee's Big Adventure was the feature-length directorial debut for Tim Burton. Burton subsequently went onto become one of the top genre directors in Hollywood. (See below for Tim Burton's others films). Prior to Pee-Wee's Big Adventure, Burton had been working as a storyboard artist and animator at Disney and then attained a name for himself with two short works – Vincent (1982), an elaborate stop-motion animated tribute to Vincent Price, and Frankenweenie (1985), a live-action children's homage to the classic Universal Frankenstein films, which was never released because it was deemed too scary for children by Disney.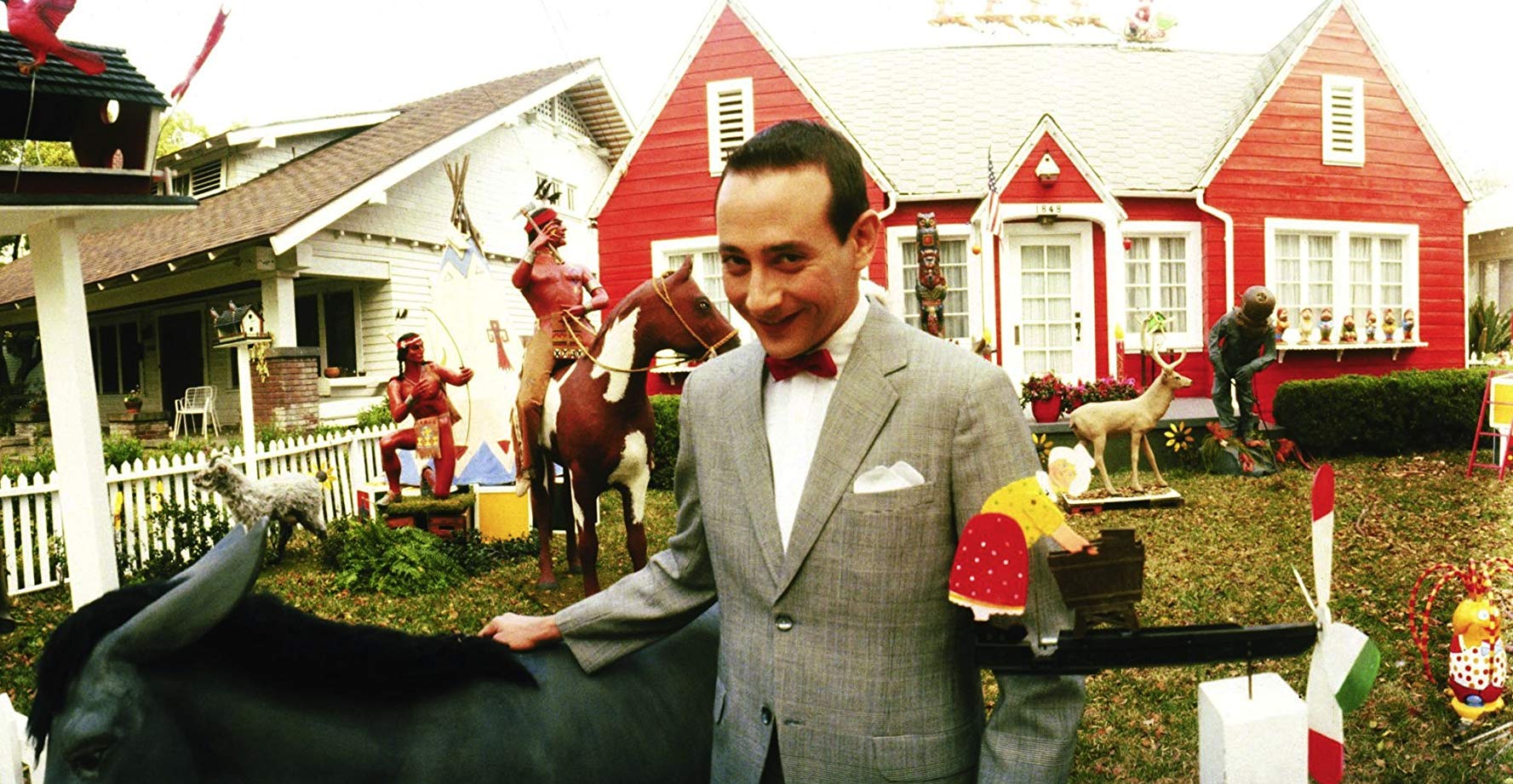 Pee-Wee's Big Adventure hops and skips along with a kitsch banality that finds an appeal. There is an enormous degree of visual invention and moments of characteristically oddball eccentricity upon Tim Burton's part – the parody of ghost story tall tales with the female trucker turning into a Beetlejuice-like pop-up stop-motion effect; and the climactic chase through the Warner Brothers movie lot and the sets of everything from Godzilla, Santa Claus and beach party movies all strung together, along with the wacky image of Paul Reubens doing a Tarzan vine-swing while riding his bicycle. The film even appealingly spoofs itself with a film within a film where we see James Brolin cast as a Hollywood he-man version of Pee-Wee. Behind it all, there is a sweetness in the film's appealing message that plain people should be able to do what they want.
The film takes place in a cartoonishly hyper-real world. The nutty design work is good, especially amusing being Pee-Wee's kitsch house that we see in the opening scene with its bold colour scheme, giant oversised cutlery, garden gnome lawn sprinklers, fire poles to get from the bedroom to the kitchen and Rube Goldberg breakfast-making contraptions.
Pee-Wee's Big Adventure was the first occasion upon which Tim Burton teamed with musician Danny Elfman, a relationship the two would continue through Burton's next five big-budget films and beyond. The film also features cameos from Milton Berle, crossdressing 80s heavy metallers Twisted Sister, Elvira herself Cassandra Peterson and Morgan Fairchild.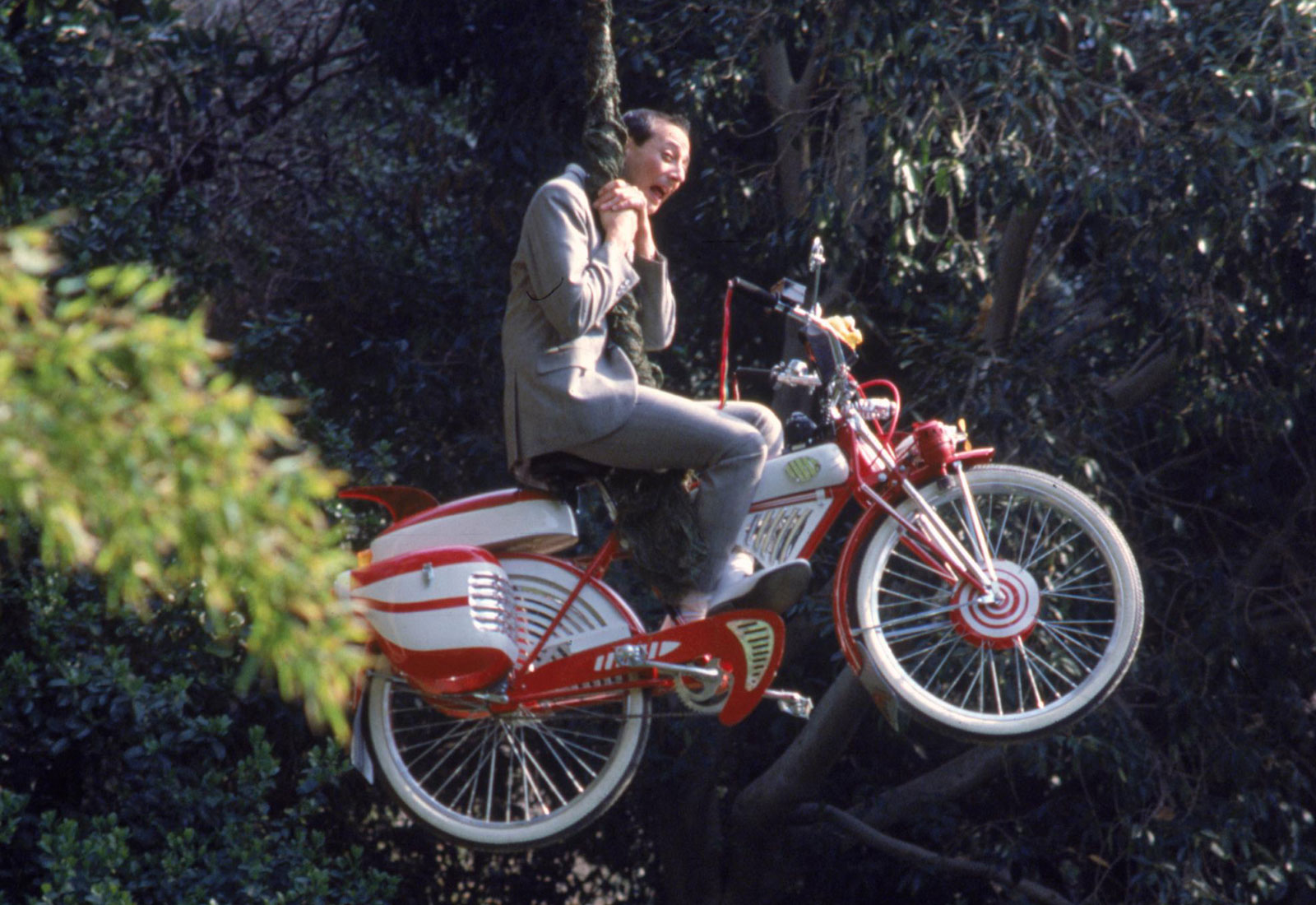 Paul Reubens essayed Pee-Wee Herman in one other film sans Tim Burton, the less well received Big Top Pee-Wee (1988). He announced several attempts to revive Pee-Wee with another movie in the 00s, which finally came about with Pee Wee's Big Holiday (2016). There was also a limited-run stage revival The Pee-Wee Herman Stage Show (2010) and a tv special that consisted of a filmed version of one of the live performances The Pee-Wee Herman Show on Broadway (2011). Since the arrest(s), Paul Reubens's career has been uneven. He has made appearances in several other Tim Burton films – as The Penguin's father in Batman Returns (1992) and voice work in The Nightmare Before Christmas (1993), and gone onto other roles in tv's Murphy Brown (1988-98), the original movie version of Buffy the Vampire Slayer (1992), as a superhero in Mystery Men (1999), as a drug dealer in Blow (2001), the ghost of a dead boyfriend in Life During Wartime (2009) and a number of animation voicing roles. Pee-Wee's Big Adventure was also spoofed in Kevin Smith's Jay and Silent Bob Strike Back (2001).
Tim Burton's subsequent genre films were:- the gonzo afterlife comedy Beetlejuice (1988), Batman (1989), the artificial boy fable Edward Scissorhands (1990), Batman Returns (1992), the "world's worst director" biopic Ed Wood (1994), the cornball alien invader film Mars Attacks! (1996), the ghost story Sleepy Hollow (1999), the Planet of the Apes remake (2001), Big Fish (2003) about an habitual teller of tall tales, Charlie and the Chocolate Factory (2005), the stop-motion animated Gothic fantasy Corpse Bride (2005), the horror musical Sweeney Todd: The Demon Barber of Fleet Street (2007); Alice in Wonderland (2010); the film remake of the tv series Dark Shadows (2012) the stop-motion animated Frankenweenie (2012); Miss Peregrine's Home for Peculiar Children (2016); and the live-action remake of Dumbo (2019). Burton has also produced Henry Selick's ghoulish Halloween-invades-Christmas puppet show The Nightmare Before Christmas (1993), the absurdist conte cruel Cabin Boy (1994), Batman Forever (1995), Selick's James and the Giant Peach (1996), the animated 9 (2009), Abraham Lincoln, Vampire Hunter (2012) and Alice Through the Looking Glass (2016). The Death of "Superman Lives": What Happened? (2015) is a fascinating documentary about Burton's failed Superman Lives project.
---
---