---
Crew
Director – Randal Kleiser, Screenplay – Michael Burton, Matt McManus, Lawrence Pooch & Douglas Day Stewart, Producers – Dimitri Villard & Robby Wald, Photography – James Glennon, Music – Alan Silvestri, Visual Effects Supervisor – Peter Donen, Computer Animation – Omni Computer Graphics, Mechanical Effects – Tony Urbano, Production Design – William J. Creber. Production Company – Disney/Producer Sales Organization.
Cast
Joey Cramer (David Freeman), Howard Hesseman (Dr Faraday), Sarah Jessica Parker (Carolyn McAdams), Matt Adler (16 year old Jeff), Cliff De Young (Bill Freeman), Veronica Cartwright (Helen Freeman), Albie Whitaker (8 year old Jeff), Paul Mall [Reubens] (Voice of Ship)
---
Plot
Fort Lauderdale, 1978. Twelve year-old David Freeman falls down a gully and is knocked unconscious. Coming around, he gets up and returns home only to find a different family living there. The police are called and are perplexed at finding that David, listed as missing in 1978 – eight years ago – is still a twelve-year-old. He is reunited with his parents and realises that while he was unconscious eight years has somehow passed but he has not aged. Under EEG examination, his brain traces start spewing binary data and the schematics for a crashed UFO that has just been found by NASA. He is taken for examination by NASA, where it is found he was kidnapped by a UFO in 1978 and taken to a star 560 light years away in a journey lasting only 2.2 hours but that the effects of relativity made this an eight year return trip in real-time. When he discovers that NASA are intending to keep him there, David escapes custody with the help of an orderly. He then commandeers the UFO, discovering that the special data that has been placed in his head makes him its 'Navigator'.
---
Flight of the Navigator was a modest attempt by Disney to make a children's sf film in the wake of E.T. – The Extra-Terrestrial (1982). Of all the banal boy-encounters-alien efforts that emerged after E.T., this is one of the most intelligent.
The surprise about Flight of the Navigator is the sophistication of the ideas it manages to swing – the central premise is a clever paradox built around alien abduction and Einsteinian relativity, which proves to be written with considerable intelligence. The culture shock theme is compellingly handled and there is a convincing performance from young Joey Cramer. It is a surprise to find all of this coming in the form of a children's film, especially in terms of what one expects from Disney. It was after all only a few years earlier that Disney jumped onto the science-fiction boom with the disastrously miscalculated The Black Hole (1979), which showed that not a single person in the organisation seemed to have the slightest clue about how to go about making a science-fiction film.
One of the best things about the film is the shape-shifting alien ship, which comes like a giant flying walnut built in seamless mirror metal. There has clearly been a concerted attempt to come up with a ship that looks different to anything that has been seen on screen before and there is considerable imagination to watching it zapping about, making impossible right-angle turns and coming to inertialess halts, and with its seats, doors and steps all seamlessly flowing out of the mirror metal. Director Randal Kleiser has fun during the second half, undercutting the ship's marvels with the routinely banal reactions of a kid – the image of the ship hovering in a field while Joey Cramer stops to pee, or freaking out a carload of teens as he stops to ask directions.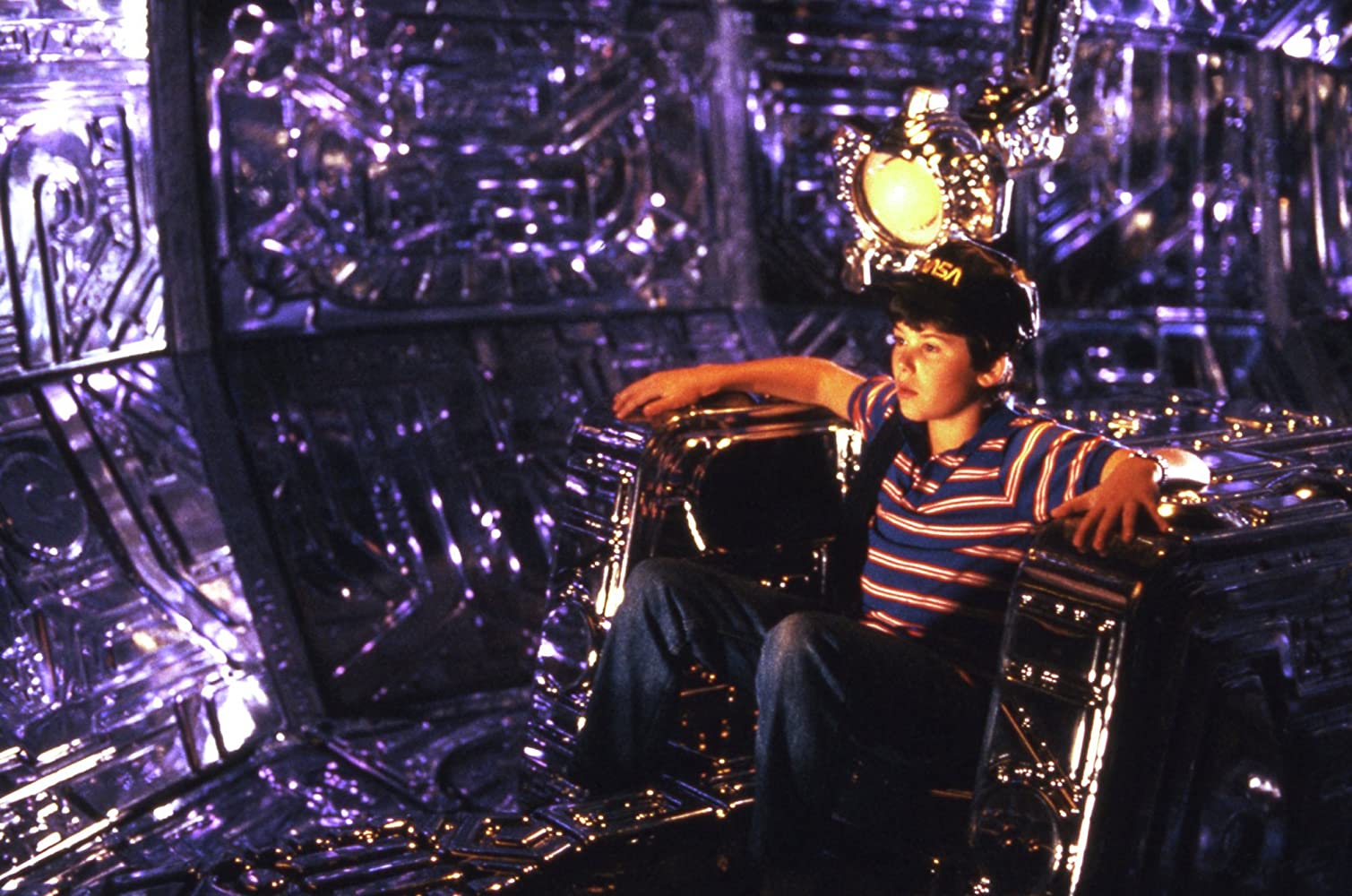 Unfortunately, the film degenerates into a routine chase thriller in its second half. It is as though Disney cannot handle the idea of a children's film that runs entirely on ideas and, having champed at the bit for most of the film, finally take control and spoil things considerably by adding the whiny jack-in-a-box dubbing of Paul Reubens, aka Pee Wee Herman, as the ship's computer. The film ends on a far too trite ending, which uses improbable plotting sleight of hand to return everything to the way it was. Other than the ending though, this is intelligent juvenalia.
Director Randal Kleiser had previously come from the enormous hits of the musical Grease (1978) and the Brooke Shields film The Blue Lagoon (1980). He never made any other films that were such runaway sensations subsequent to this. His only other ventures into fantastic film were Big Top Pee-Wee (1988), which also featured Paul Reubens, and Honey, I Blew Up the Kid (1992), also for Disney, plus an adaptation of Little Red Riding Hood (2006).
Joey Cramer made a couple of other films. In 2016, he was arrested in Canada and pled guilty on charges of bank robbery. His story and the making of the film is told in the documentary Life After The Navigator (2020). The other casting novelty the film features is a twenty-one year-old Sarah Jessica Parker, later of Sex and the City (1998-2004) fame, playing a NASA orderly with pink-dyed hair enthusing about a Twisted Sister concert.
---
---