---
Crew
Director – John Lee, Screenplay – Paul Reubens & Paul Rust, Producers – Judd Apatow & Paul Reubens, Photography – Tim Orr, Music – Mark Mothersbaugh, Visual Effects – Vitality VFX (Supervisors – Joel Sevilla & Leong Wongsavun), Special Effects Supervisor – Jonathan Kombrinck, Production Design – Dan Butts. Production Company – Pee-Wee Pictures
Cast
Pee-Wee Herman [Paul Reubens] (Himself), Joe Manganiello (Himself), Alia Shawkat (Bella/Pee-Wee), Jessica Pohly (Pepper), Stephanie Beatriz (Freckles), Hal Landon Jr. (Farmer Brown), Patrick Egan (Gordon the Travelling Salesman), Sonya Eddy (Wanda), Brad William Henke (Grizzly Bear Daniels), Leo Fitzpatrick (Abe), Richard Rehle (Dan), Christopher Heyerdahl (Ezekiel)
---
Plot
Pee-Wee Herman leads a happy life in the town of Fairville where he works as a cook in a diner. One day, while left in sole charge of the diner, he meets actor Joe Manganiello and the two become instant best friends after realising the number of things they have in common. Joe invites Pee-Wee to come to his birthday party in New York City in five days time but Pee-Wee has never been out of Fairville. Accepting Joe's challenge to enjoy life, Pee-Wee decides to set out. This places him on a cross-country adventure that involves encounters with girl bank robbers on the lam, travelling joke salesmen, hairdressers, eccentric heiresses in their flying cars, grizzly mountain men and Amish.
---
Pee-Wee Herman is the alter ego of comedian/actor Paul Reubens. Pee-Wee is a deliberately annoying man-child characterised by a grey suit several sizes too small that leaves Reubens's bony wrists and ankles protruding, a red bow tie, made-up lips and rouged cheeks, a curled tuft of hair and Reubens's nasal high-pitched voice. Reubens created Pee-Wee Herman in the late 1970s with the comedy troupe The Groundlings and then built a successful solo stand-up act. Reubens premiered Pee-Wee on tv in a cable special The Pee-Wee Herman Show (1981). Reubens then developed a film script and offered it to his good friend Tim Burton, who used it to make his directorial debut Pee-Wee's Big Adventure (1985). This was a surprise international success, which then led to a sequel Big Top Pee-Wee (1988) and a children's tv show, the bizarrely surreal Pee-Wee's Playhouse (1986-91).
The first film and in particular the tv show have developed cult reputations. Pee-Wee even received a star on the Hollywood Walk of Fame. The tv show was killed off when Reubens was arrested for masturbating in an X-rated movie theatre in Sarasota, Florida in 1991. When the scandal hit the media and even though Reubens only received a minor fine, networks dropped the show and Reubens' career nosedived. He has still been around however, making minor acting appearances.
Throughout the 2010s, Reubens has made occasional appearance as Pee-Wee, including a limited-run stage revival The Pee-Wee Herman Stage Show (2010) and a tv special that consisted of a filmed version of one of the live performances The Pee-Wee Herman Show on Broadway (2011). Reubens had been touting Pee-Wee's return to the big screen for over a decade before this and it finally happens here twenty-eight years after we last saw him on screens and twenty-five years since the end of the tv show. There has obviously been a call for it – enough that high-profile comedy director Judd Apatow has signed onto Pee-Wee's Big Holiday as producer. You have to admit that after quarter of century that Pee-Wee is holding up fairly well and has barely aged (although one learns later that the film was digitally touched up to make the 63 year-old Reubens look younger).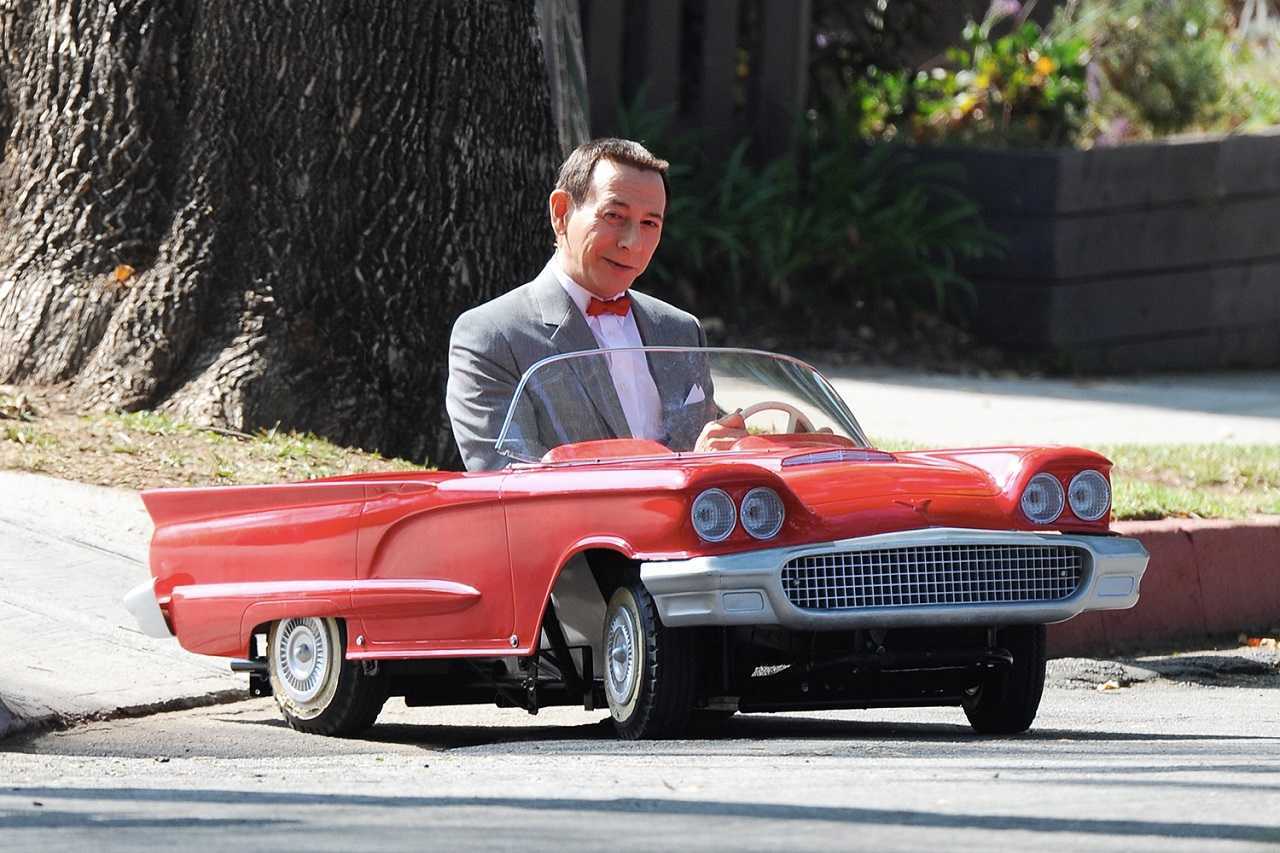 For Pee-Wee's Big Holiday, Reubens has clearly decided to go with the familiar. Even aside from the similarity of titles, the film's cross-country nonsense adventure mimics the picaresque structure of Pee-Wee's Big Adventure. The opening of this film also directly copies the opening of Pee-Wee's Big Adventure with its series of nonsensical Rube Goldberg contraptions, albeit replicated on an even bigger scale as we follow him from the point he gets up out of bed and to the door of his work. Here we have everything from a spring-loaded bed, an armchair with a hot-air balloon attached, skis mounted on the side of his roof, Pee-Wee driving a miniature car through the streets and right through people's houses, collecting breakfast along the way, and skateboarding with old ladies in his arms.
The film offers up an appealingly eccentric range of encounters – a gang of girl bank robbers seemingly stepped out of Faster, Pussycat! Kill Kill! (1965); Patrick Egan as a travelling gag salesman who leaves Pee-Wee with a disguise kit that later becomes of use, allowing him to make a getaway disguised in a cowboy suit that comes with an inflatable horse; Hal Landon Jr. as a farmer who decides to marry Pee-Wee off to one of his eight daughters at shotgun point; a quartet of hairdressers on their way to a convention whose set-piece is their own hair that fits together to form a map of the United States and who leave Pee-Wee with a hairpiece that is a remote-controlled miniature helicopter; an aging heiress who drives a prototype flying car; Brad William Henke as a grizzly mountain man who raps very badly; even an opening dream sequence involving an encounter with an E.T. The most amusing of these sequences is one where Pee-Wee is taken in by an Amish community and demonstrates to them the ability to make music using balloon farts.
---
---