---
USA. 1988.
Crew
Director – Tim Burton, Screenplay – Michael McDowall & Warren Skaaren, Story – Michael McDowall & Larry Wilson, Producers – Michael Bender, Richard Hashimoto & Larry Wilson, Photography – Thomas Ackerman, Music – Danny Elfman, Visual Effects Supervisor – Alan Munro, Visual Effects – VCE (Supervisor – Peter Kuran), Stop Motion Animation – Doug Beswick, Ted Lawrence & Ted Rae, Special Effects – Chuck Gaspar & Robert Short, Makeup – Steve La Porte & Ve Neill, Production Design – Bo Welch. Production Company – The Geffen Co.
Cast
Alec Baldwin (Adam Maitland), Geena Davis (Barbara Maitland), Michael Keaton (Betelgeuse), Winona Ryder (Lydia Deitz), Catherine O'Hara (Delia Deitz), Jeffrey Jones (Charles Deitz), Glen Shadix (Otho), Sylvia Sidney (Juno)
---
Plot
Adam and Barbara Maitland, a quiet and ordinary married couple, drive off a bridge in their car. They return home apparently unharmed, only to discover that they are now dead. Their beloved house is sold to the horrid Deitz family who start renovating it to Mrs Deitz's ghastly avant garde tastes. Appalled, Adam and Barbara attempt to scare them out but fail miserably in their attempts. In desperation, they call up the manic bio-exorcist Betelgeuse to exorcise the Dietz's from the house. Instead though, the Deitz's find Betelgeuse's antics entertaining. However, both the Maitland's and the Deitz's find that Betelgeuse, once let loose, is too much for anybody to handle.
---
Tim Burton had a cultish hit with the appealingly silly Pee-Wee's Big Adventure (1985) and was then handed the reins of this well-budgeted studio vehicle. It is always a surprise when one keeps slamming studio conservatism to remember that sometimes wacky off-the-wall films like this end up getting made. Nobody was sure what to make of Beetlejuice and to everybody's surprise it proved to be a big hit with audiences.
This was the film that drew attention to Tim Burton and his eccentric brand of offbeat humour and its success netted Burton the helm of the big-budget Batman (1989), which of course became an enormous hit. Batman consolidated Tim Burton as a box-office name. (See below for a full list of Tim Burton's films). Beetlejuice was also the film that first brought public attention to Winona Ryder, who gives what would become one of her stock waifish performances (but at the time when it was fresh rather than the only thing Ryder could do) as the Deitz's gloomy Goth daughter Lydia whom Betelgeuse becomes fixated on.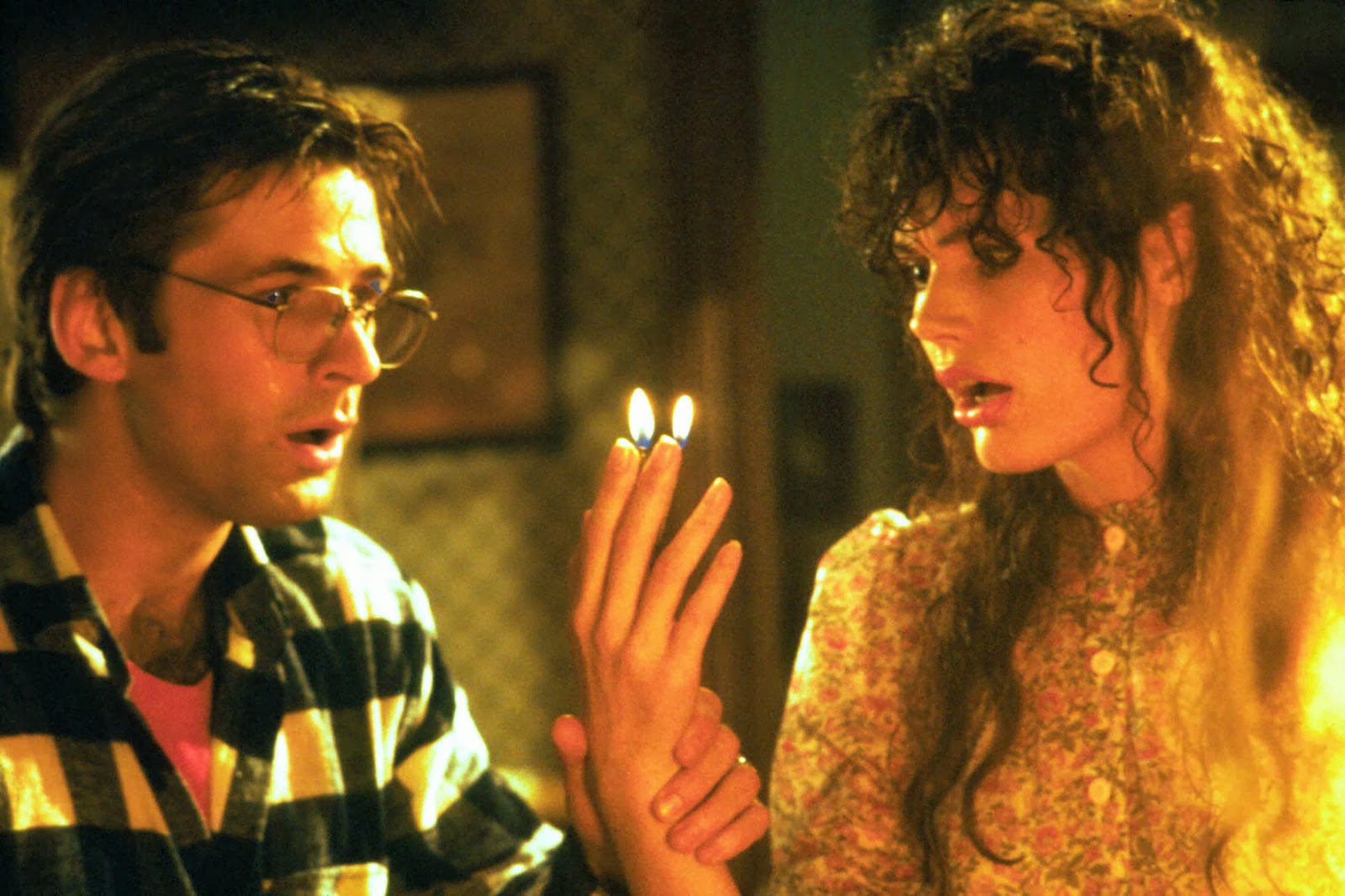 Beetlejuice is construed as an amusing twist on a standard ghost story. The expectations of any conventional ghost story are quickly turned on their head – here it is the ghosts who are trying to drive the living out of their house and employ a exorcist who specialises in doing so; while the living, instead of being scared, regard the haunting as dinnertable entertainment.
Tim Burton lets go at the eccentric script it with all the wildness in his head. There are scenes like the dinnertable sequence where the shrimp cocktails reach up to grab diners and possess them for a calypso rendition of the old soul number Day-O, or a visit to an afterlife social services agency that is filled with tyre-marked hit-and-run victims and desiccated smokers puffing on handfuls of cigarettes while insisting they are trying to cut down, that leave you wondering what planet it was that must have given birth to Burton's imagination.
Beetlejuice was celebrated as a sleeper hit in its year. One's own endorsement is a cautious one though. The film starts fine but by about halfway through any direction the plot had has splintered off into a legion of set-piece grotesqueries and pasty carnival special effects. Michael Keaton's live-wire performance, belting out dialogue at 45 rpm is fun, but nobody, not even Tim Burton, least of all scripters Michael McDowall and Warren Skaaren, seem to know what to do with him once they had wound him up and fed him his daily tab of acid. A fun film no doubting, and with a superb score, but the pace flags and it frequently becomes a schizophrenic jumble.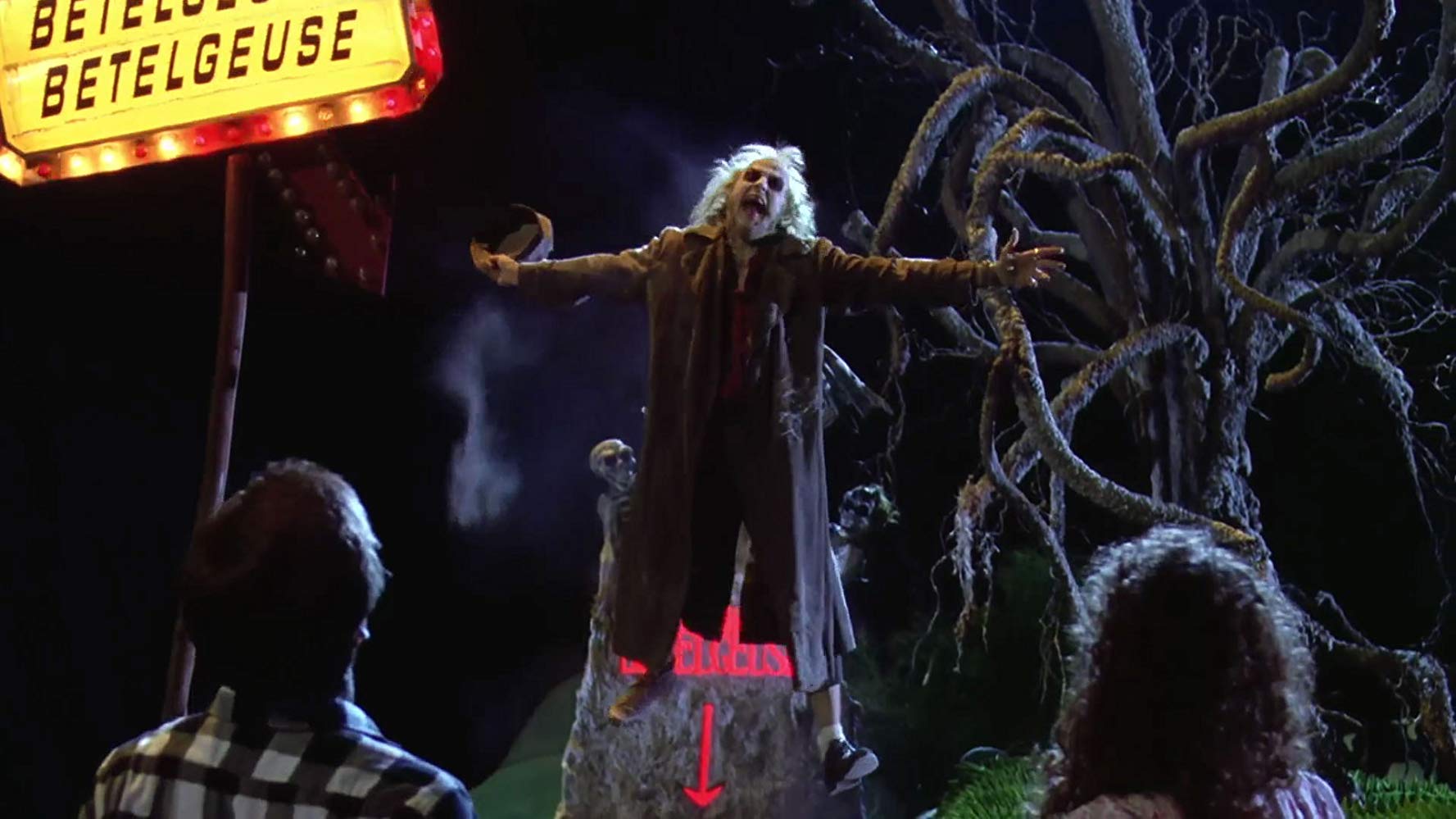 There have been attempts over the years to mount a sequel – Beetlejuice Goes to Hawaii was a mooted title – although this has never emerged. There was an animated series, Beetlejuice (1989-91), featuring the adventures of Beetlejuice and Lydia Deitz, which had a certain degree of bizarreness but inevitably made the title character into a cuddly figure. Beetlehuice also made a cameo in Steven Spielberg's Ready Player One (2018).
Tim Burton's other films of genre interest include the kitsch Pee-Wee's Big Adventure (1985); Batman (1989); the genteel artificial boy fairy-tale Edward Scissorhands (1990); Batman Returns (1992); Ed Wood (1994), a biopic of the world's worst director; the alien invasion comedy Mars Attacks! (1996); the ghost story Sleepy Hollow (1999); the remake of Planet of the Apes (2001); Big Fish (2003) about an habitual teller of tall tales; Charlie and the Chocolate Factory (2005); the stop-motion animated Gothic Corpse Bride (2005); the horror musical Sweeney Todd: The Demon Barber of Fleet Street (2007); Alice in Wonderland (2010); the film remake of the tv series Dark Shadows (2012) the stop-motion animated Frankenweenie (2012); Miss Peregrine's Home for Peculiar Children (2016); and the live-action remake of Dumbo (2019). Burton also produced Henry Selick's darkly brilliant stop-motion animated fantasies The Nightmare Before Christmas (1993) and James and the Giant Peach (1996); as well as the live-action conte cruel Cabin Boy (1994), Batman Forever (1995), the animated 9 (2009), Abraham Lincoln, Vampire Hunter (2012) and Alice Through the Looking Glass (2016). The Death of "Superman Lives": What Happened? (2015) is a fascinating documentary about Burton's failed Superman Lives project.
---
---