---
USA. 1959.
Crew
Director – Melvin Frank, Screenplay – Melvin Frank & Norman Panama, Based on their Musical of the Comic-Strip Created by Al Capp, Producer – Norman Panama, Photography – Daniel L. Fapp, Music/Lyrics – Gene De Paul & Johnny Mercer, Art Direction – J. McMillan Johnson & Hal Pereira. Production Company – Paramount.
Cast
Peter Palmer (Li'l Abner Yokum), Leslie Parrish (Daisy Mae), Bern Hoffman (Earthquake McGoon), Stubby Kaye (Marryin' Sam), Howard St John (General Bulmoose), Stella Stevens (Passionata Von Climax), Julie Newmar (Stupefying Jones), Billie Hayes (Mammy Yokum), Joe E. Marks (Pappy Yokum), Al Nesor (Evil Eye Fleagle), William Lanteau (Available Jones)
---
Plot
In the backwoods town of Dogpatch, USA, the annual Sadie Hawkins Day approaches, wherein women chase men in a footrace and marry whomever they manage to catch. The Army then announces they are going to use Dogpatch as an atomic test site, it being considered the most useless place in the whole country. The locals set out to find a way of proving their worth to the nation. However, the dirty wrestler Earthquake McGoon sees this as an opportunity – the cancellation of Sadie Hawkins Day will mean that he will by default be appointed the beautiful Daisy Mae, who desires the big and strapping but elusive Li'l Abner.
---
Al Capp's Li'l Abner was a much liked syndicated newspaper comic-strip that ran between 1934 and 1977. The bulk of the strip was centred around hero Li'l Abner Yokum and his constant efforts to avoid marrying Daisy Mae Scragg – when Capp finally did allow them to tie the knot in 1952, it became a major media event. The Li'l Abner strip is considered a classic because of Al Capp's memorably absurd and exaggerated characters and its sophisticatedly trenchant satiric wit. Al Capp's hillbillies embodied a series of absurdly satiric exaggerations that often lampooned political events of the day.
This was the second film adaptation of the strip, after a lesser known but not unlikeable version Li'l Abner (1940) from RKO. This version was based on a popular, long-running Broadway musical adaptation of the comic strip that premiered in 1956 (from which it imports a number of stars).
The film has a wide-eyed likeability that proves disarmingly affable. It is filled with some horrendously All-American patriotic nonsense – rather than the satiric lampoonery of Al Capp's strip, the film at times feels like a gonzo version of Oklahoma (1943). Although, everything is conducted with a panache that never exceeds the film's amazingly broad realms of amiability. Some of the musical and dance sequences, especially the central Sadie Hawkins Day race, are inspired pieces.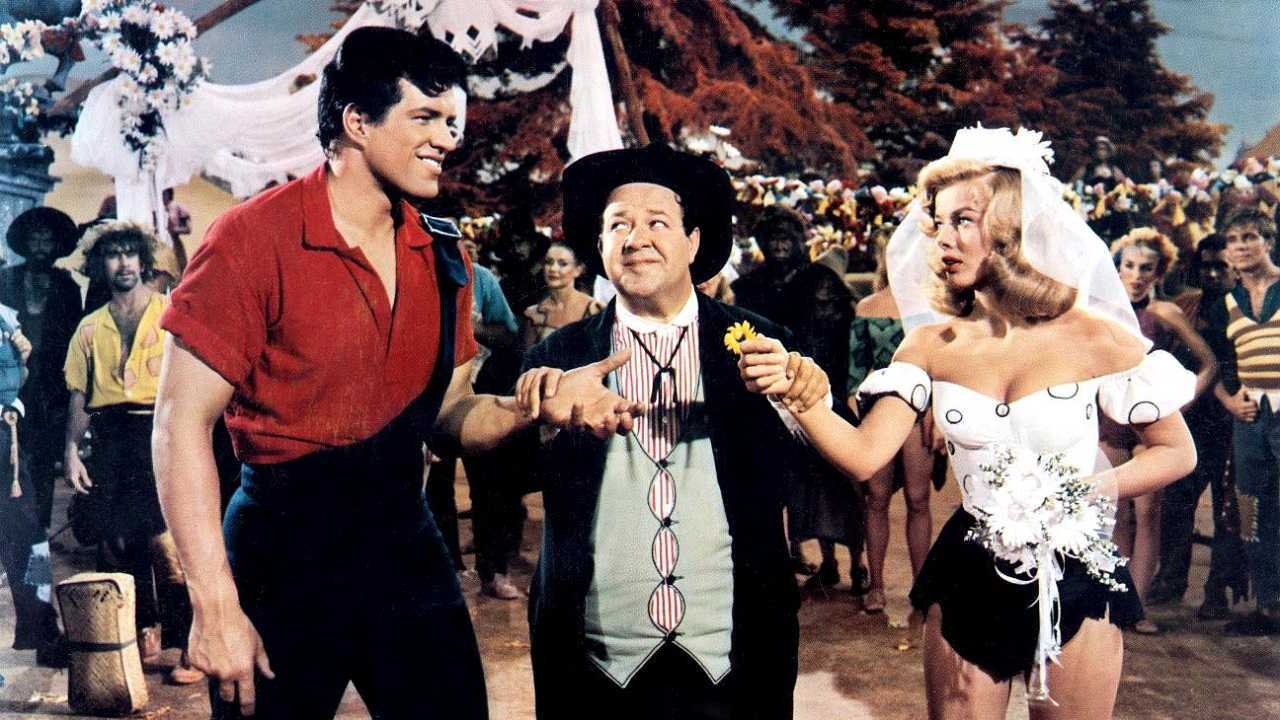 Overacting is fairly much the casting call of the day with Billie Hayes and Joe E. Marks as Abner's parents being the most guilty offenders. The women's roles are the best cast – Leslie Parrish of breathtakingly wonderful figure plays with the perfect degree of winsome innocence. The best casting is Stella Stevens, amusingly parodying Marilyn Monroe with a breathy allure that adds a considerable upfront sex appeal.
Stella Steven's character is amusingly named 'Passionata Von Climax'. Indeed, for its time, the film manages to get away with a surprising number of innuendoes – there is another character named 'Available Jones' and General Bulmoose and his 'Executive Secretary'. The double entendres and amazingly well stacked women is at least one part of the strip that the film accurately retains.
One bizarre element is the set design, full of weirdly distorted huts and painted backdrops. No attempt is made to play the interiors as exteriors or disguise the polished dance floor that forms the supposed mountain landscape of Dogpatch, USA – it looks as though someone has taken a camera into the theatre and filmed the musical direct. (The same designs seem to have served as the inspiration for Robert Altman's Popeye [1980]).
---
Trailer here
---