---
Crew
Director/Story – Jamil Dehlavi, Screenplay – Raficq Abdulla, Producers – Jamil Dehlavi & Therese Pickard, Photography – Bruce McGowan, Insect Photography – Alaistair McEwan, Music – Colin Towns, Recitation of Prayers – Fevzi Misir, Special Effects – Special Effects Universal Ltd, Makeup – Julia Loizou, Art Direction – Michael Porter. Production Company – Dehlavi Films/Channel Four
Cast
Peter Firth (Paul Bergson), Suzan Crowley (The Woman), Nabil Shaban (The Silent One), Stefan Kalipha (Bilal), Oh-Tee (The Master Musician)
---
Plot
As a female astronomer enters the recital of flautist Paul Bergson, he is troubled by visions and they both discover that they see identical things. Before she expires, Paul's mother whispers the name of the Master Musician, a man Paul's father went to to learn prolonged blowing techniques but returned from to never play again. Haunted by strange visions and precognitions, Paul and the woman astronomer travel to Turkey. There Paul realizes that he must engage the Master Musician in a musical duel and find the never-ending note that will make the Master Musician bow to the will of Allah and stop the Earth being consumed by fire.
---
Born of Fire can probably lay credence to being the world's first and only Islamic horror film – at least, up until Tobe Hooper's Djinn (2013). The note of caution that should be issued to the casual genre sampler is that director Jamil Dehlavi perceives the film as being of a more mystical nature than a horror film – it is, for instance, surely the only horror film where the credits have a listing for the singing of Muslim prayers.
The constant profusion of weird imagery – the sun being eclipsed by a skull; houris who leave smoking footprints; weird elliptical flappings over of time; rivers of blood – does make Born of Fire somewhat watchable, if wholly incomprehensible. Little is explained – the imagery is intended to be everything. Given a schlockier plot, Born of Fire could have been quite entertaining – but Jamil Dehlavi only intends the material as some type of mystical insight. Alas, one has no idea what any of this is meant to mean – and one doubts that being of Islamic persuasion would help much either.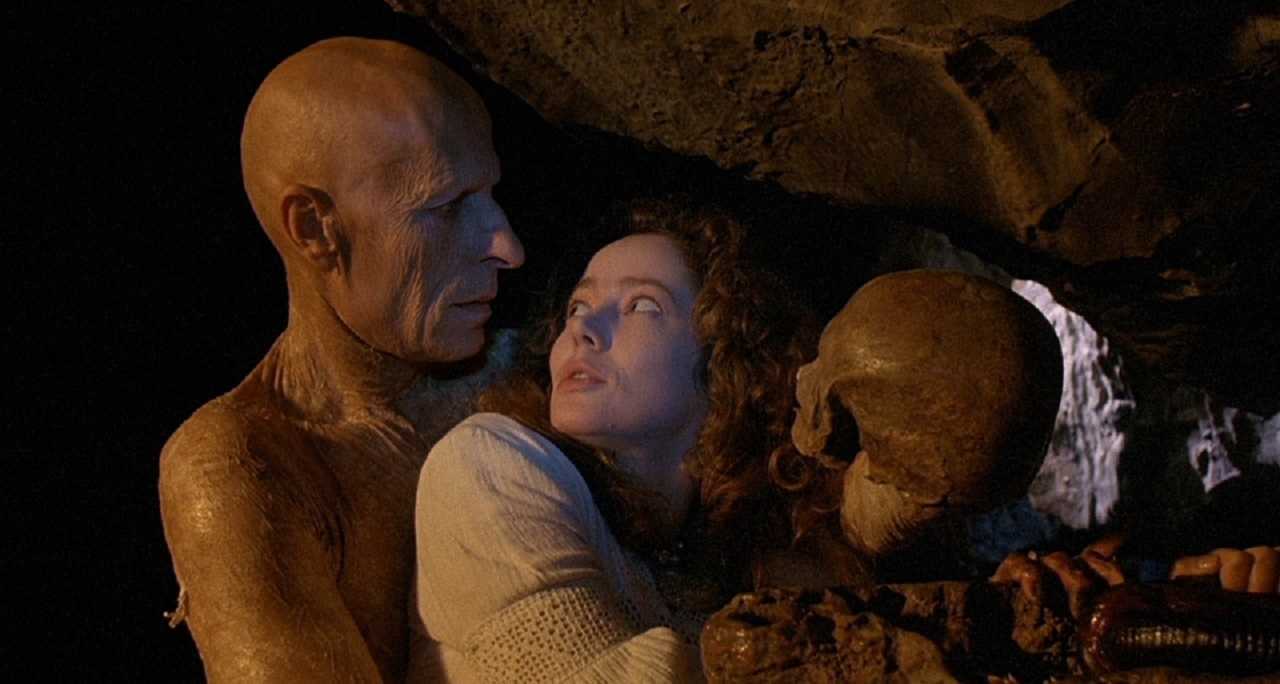 If Jamil Dehlavi was a director of less lofty pretensions, the horror genre would no doubt have a welcome place for him. All things considered, Born of Fire has an enormous silliness – like the scene where Suzan Crowley gets possessed, rapes Peter Firth, becomes pregnant in the space of an evening and gives birth to an insect while writhing and screaming on a bed. The result is like some Islamic equivalent of Zardoz (1974) – a film that has been swallowed by the most absurd of pretensions.
Pakistani-born director Jamil Dehlavi has since gone on to direct the slightly more comprehensible but equally pretentious Immaculate Conception (1992), Jinnah (1998) about the founding of the modern Pakistani nation, Infinite Justice (2006) about the kidnapping of an American journalist by Islamic militants and Godforsaken (2010) about a fallen angel.
---
---