---
Crew
Director – Kirk DeMicco, Co-Director – Brandon Jeffords, Screenplay – Quiara Alegria Hudes & Kirk DeMicco, Story – Peter Barsocchini & Quiara Alegria Hudes, Producers – Rich Moore, Lisa Stewart & Michelle L.M. Wong, Music – Alex Lacamoire, Songs – Lin-Manual Miranda, Animation – Sony Pictures Imageworks, Supervising Animators – Agustin Ross Beraldi, Robert Lehman, Paul Pammesberger, Mikaela Pfeifer, Daniel Pozo, Philip Rudolph, Ricardo Jost Resende, Rik Schutte & Jose Vassallo, Visual Effects Supervisor – Karl Edward Herbst, Production Design – Carlos Zaragoza. Production Company – Sony Pictures Animation/Laurence Mark Productions.
Voices
Lin-Manuel Miranda (Vivo), Ynairaly Simo (Gabriela 'Gabi' Hernandez), Zoe Saldana (Rosa Hernandez), Juan De Marcos (Andres Hernandez), Gloria Estefan (Marta Sandoval), Brian Tyree Henry (Dancarino), Michael Rooker (Lutador), Nicole Byer (Valentina), Katie Lowes (Becky), Olivia Trujillo (Eva), Lidya Jewett (Sarah), Gloria Calderon Kellett (Gloria the Stage Manager), Leslie David Baker (Bus Driver)
---
Plot
In Havana, the aging Andres Hernandez is a street musician, performing lively rumba numbers accompanied by Vivo, the kinkajou monkey he adopted. Andres now receives an invitation from Marta Sandoval, his performing partner from many years earlier who departed for Florida before he could tell her he loved her. There she became a big success and is now due to deliver her retirement performance and wants to reunite with Andres on stage in Miami. Andres' fans take a collection to raise funds for a plane ticket. He eagerly packs his suitcase and has even written a song expressing his love for her – only for Vivo to wake in the morning to find that Andres has passed away. In the country are Rosa Hernandez and her daughter Gabi, American relatives of Andres. After the funeral, Vivo sneaks into the bag of Andres's instruments that Gabi takes back with her to Key West. When Gabi discovers that Vivo has come to deliver Andres's song to Marta, she determines to help him get to Miami by that evening for the performance. This requires her sneaking out from home and them taking a peril-laden detour through the Everglades.
---
Sony Pictures Animation became a studio on the rise in the animation stakes in the 2000s with the likes of Monster House (2006), Open Season (2006), Surf's Up (2007), Cloudy With a Chance of Meatballs (2009), The Smurfs (2011), Hotel Transylvania (2012) and sequels, The Emoji Movie (2017), Peter Rabbit (2018), as well as their collaborations with Aardman Animation, Arthur Christmas (2011) and The Pirates! Band of Misfits (2012). Of recent, Sony's animated films have been released direct to Netflix, as Vivo also is, with the likes of The Mitchells vs the Machines (2021) and Wish Dragon (2021).
Vivo was the third directorial outing for Kirk DeMicco the director of Space Chimps (2008), co-director of The Croods (2013) and a writer on Quest for Camelot (1998), Racing Stripes (2005) and The Croods: A New Age (2020). The film was largely conceived by Lin-Manuel Miranda who writes the songs, voices the title role and also produces. Miranda, who comes from Puerto Rican parents but was born in New York City, came to fame as author of the musicals In the Heights (2005) and Hamilton (2015). These have been his springboard to success elsewhere, being employed by Disney to write the scores for Moana (2016) and the story and songs for Encanto (2021), which similarly places a focus on South American culture, while making an on-screen appearance in Mary Poppins Returns (2018). The script comes from Miranda's regular co-writer Quiara Alegria Hudes.
Vivo reminds of when Disney began a strategy to embrace different world cultures with films like Pocahontas (1995), Mulan (1998), Lilo & Stitch (2002), Moana, Raya and the Last Dragon (2021) and Encanto. The complaint one would have is that in most of these cases, the setting of the story in a different place does nothing more than reduce it to a series of cultural cliches. With Vivo, Kirk DeMicco takes on Cuba. The first 20 or so minutes of the film deliver a beautifully detailed and rendered depiction of Havana that comes with a great deal of vibrance and colour.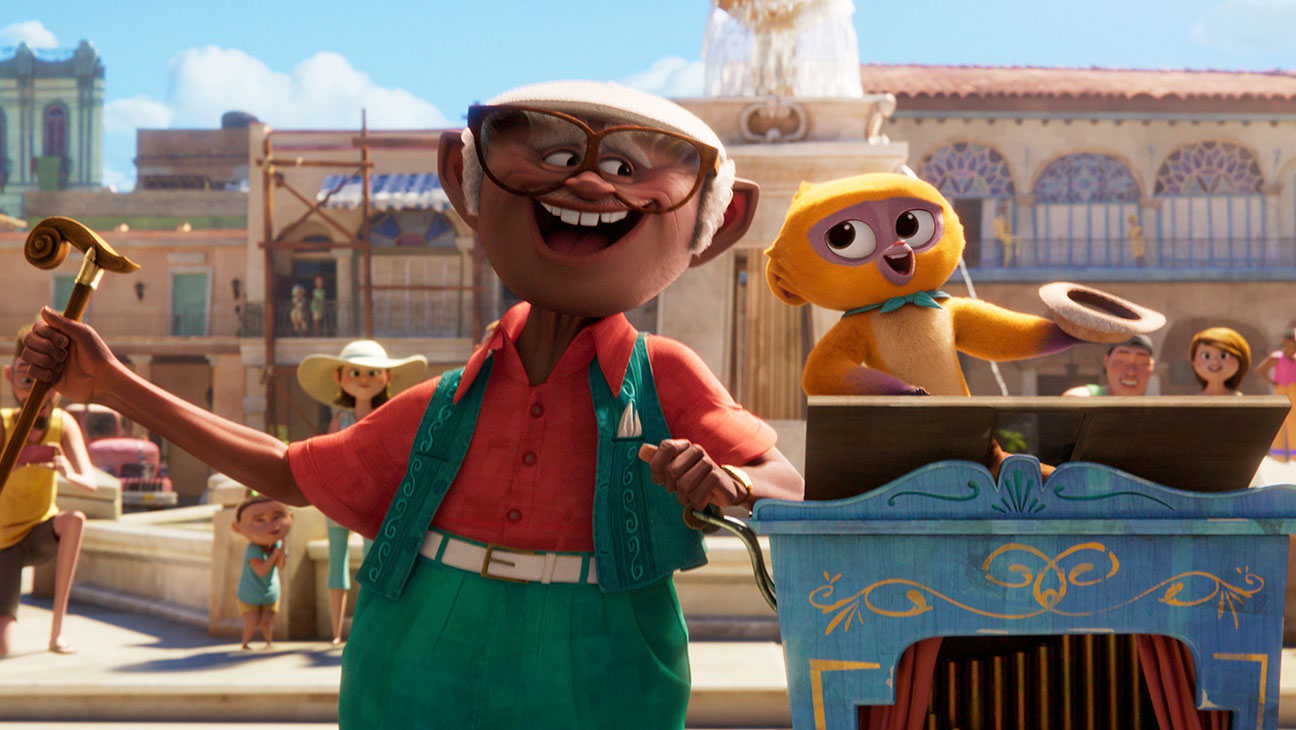 The complaint one would make about the film – and frequently some of the Disney ones – is that it is all about dragging the other culture depicted back to what is recognisable in multiplex America. Despite its ostensible Cuban focus, Vivo abandons Cuba after its first half-hour and the rest of the show is set in Florida, which is certainly colourfully presented but I would have much rather seen a film that stayed in Cuba.
Moreover, the reality of US-Cuban relations have been sanitised by the film. This is never more clearly demonstrated than when Rosa and Gabi fly to Havana (although never actually go to visit the grandfather they came to see, which seems an odd omission on the part of the script), while earlier people are seen taking up a collection for Andres to buy a plane ticket to Miami so that he can join Marta for the concert. The reality that has been entirely omitted by the film is that the United States has maintained an economic blockade against Cuba since the 1960s in protest against the Communist regime of Fidel Castro and one of the things that are banned is US citizens being able to travel to Cuba, not to mention Cuba nationals being barred from entering the US. Vivo could have been a powerful work that protests the unfairness of the situation where multiple UN sanctions have been passed against the US because of the severity of its economic effects on Cuba, but the filmmakers play it safe and erase all mention from the film.
The other thing that got me was Andres's love song to Marta – it seems kind of insulting that this too has been Americanised. Wouldn't somebody in Cuba be writing a song in his native language, which should be Spanish rather than English? For that matter this seems a depiction of Cuba that has been conceived and performed by people who are from other parts of South America than Cuba – Miranda, Hudes and Zoe Saldana are Puerto Rican but born in America, while Ynairaly Simo likewise comes from Dominican parents but is American-born. The only actual Cubans present are Juan De Marcos who voices Andres and Cuban expatriate Gloria Estefan who plays Marta.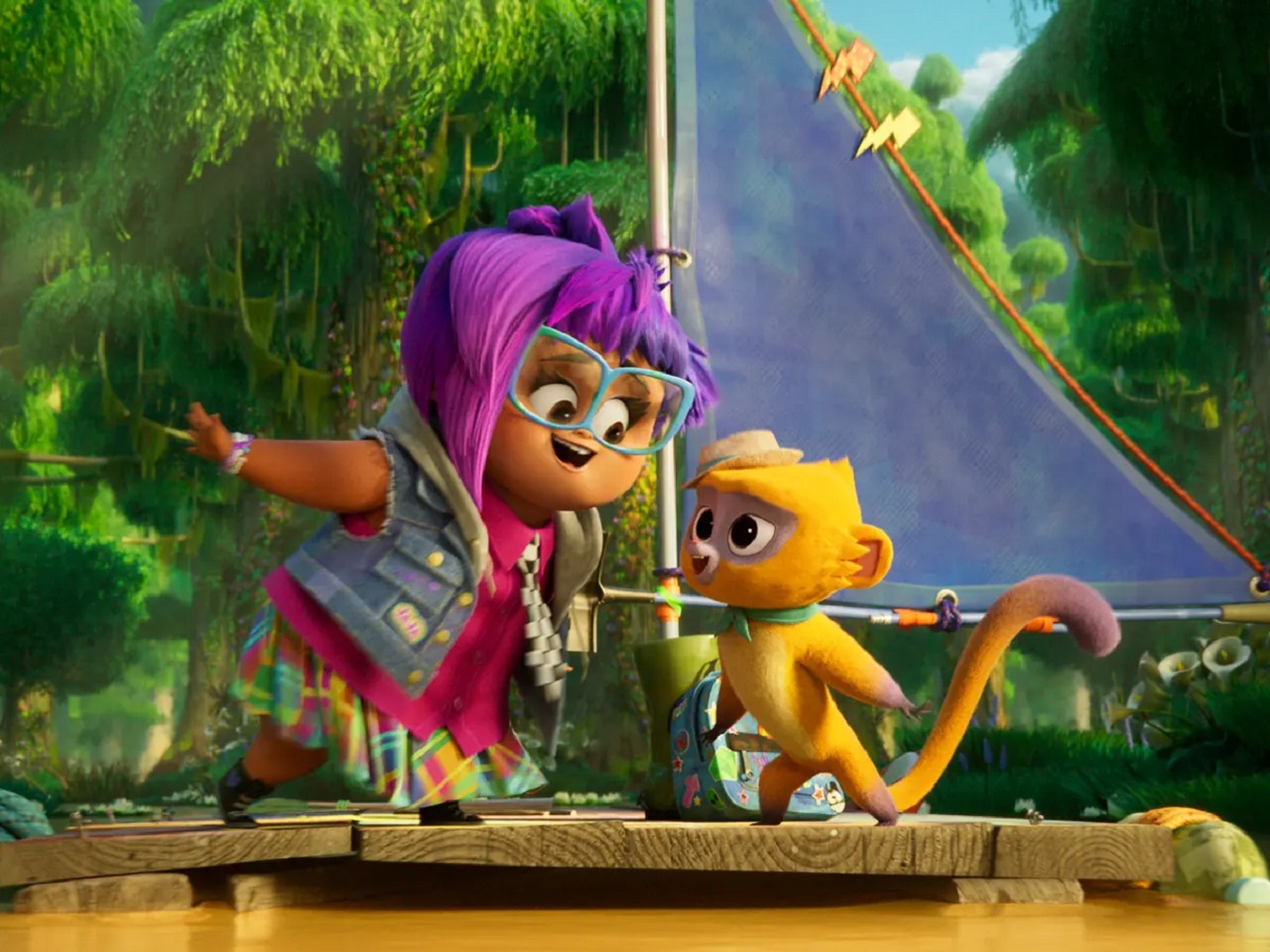 I really liked Vivo for the first 20 minutes. The relationship between Vivo and Andres was conducted with soft charms, a lively opening dance sequence, while the detail and colour that went into the background depictions of Havana was quite beautiful. And the scene where Vivo wakes to find the old man has passed away had me thinking of the sadness of the opening moments of Pixar's Up (2009). On the other hand, at about the 30-minute mark where 13-year old newcomer, Ynairaly Simo bursts into her own song and dance routine My Own Drum that seems like a madcap montage of wannabe MTV animation, this comes so WTF and unexpected that you are sitting there for the next five minutes asking "What the heck did I just watch?"
The rest of the film follows the easy formula of modern Animation. Vivo has the character arc of being given a quest to deliver a McGuffin (the song) and the journey becomes a picaresque as he and an oddball companion set out to complete this. We have seen variants on this type of plot in a host of other animated films – Aladdin (1992), Shrek (2001), Bolt (2008), The Princess and the Frog (2009). The journey has some occasional colour – cameos from Michael Rooker as a menacing snake and a duo of socially awkward spoonbills. The show is stolen in these scenes by a trio of Sand Dollars (who seem to be an equivalent of Girl Guides) who end up being pint-sized Karens on scooters, guilting people into environmental compliance and quoting regulations with fierce glares.
I thought Vivo did these scenes okay but felt never less than aware if was following formula. There is nothing that came close to comparing with the opening scenes set in Havana, which are the film's standout. The songs that Lin-Manuel Miranda delivers are singularly unmemorable – the sort you can easily forget the moment they are over. Not even the big climax the film builds towards where Gloria Estefan gets to deliver Andres's song end up being the showstopper you expect it to be.
---
Trailer here
---