---
Crew
Director – Walter Hill, Screenplay – John Fusco, Producer – Mark Carliner, Photography – John Bailey, Music – Ry Cooder, Production Design – Jack T. Collis. Production Company – Columbia-Delphi IV.
Cast
Ralph Macchio (Eugene Martone), Joe Seneca (Willie Brown), Jami Gertz (Frances), Robert Judd (Scratch), Dennis Lipscomb (Lloyd)
---
Plot
Eugene Martone, a teenager studying classical guitar at the Julliard School of Music and with a passionate love of blues music, tracks down aging blues legend Willie Brown in an old people's home. He has come in the hope that Willie can help him find the legendary Robert Johnson's never-recorded thirtieth song. Willie persuades Eugene to spring him from the home and they head for the Mississippi Delta to find the lost song. Along the way, Willie gives Eugene lessons in what it takes to be a blues man. It soon becomes apparent that Willie's real intention is going back to a place called The Crossroads where he once sold his soul to the Devil for success as a blues man, but which he now, having led an unhappy life, wants back.
---
Walter Hill is a director that frequently creates superbly crafted action films – with the likes of The Driver (1978), Southern Comfort (1981), 48 Hrs (1982) and Last Man Standing (1996). Hill is also a director whose work repeatedly aches with a quest to find modern storytelling myths. Many of Hill's films echo and retell classic myths – The Driver was an action movie that attempted to craft characters as archetypes known only as The Driver, The Detective, The Connection; Hill's street gang film The Warriors (1979) was a reworking of the Greek poet Xenophon's Anabasis (386-377 B.C.); the flop Streets of Fire (1984) was an attempt to create a rock'n'roll/action myth-fusion; while Last Man Standing is a reworking of Akira Kurosawa's Yojimbo (1961); and The Long Riders (1980), Geronimo: An American Legend (1993) and Wild Bill (1995) deal with real-life figures from myths of the American West.
Crossroads is one of Walter Hill's finest films. Again, it is a story where Hill is in search of modern mythologies. Partially, Crossroads is a blues version of the story of The Devil and Daniel Webster (1937) about a man who argues for his soul back after selling it to The Devil. The character of Willie Brown the blues magician who sold his soul to The Devil for success is based upon the true-life character of blues legend Robert Johnson (1911-38), which the film incorporates into the story. [The same legend also turns up in the Coen Brothers' O Brother, Where Art Thou? (2000)].
Crossroads is not so much a fantasy film as it is a contemplation and analysis of the blues itself. It has one of the most exceptionally formulated screenplays in years. At its simplest, Crossroads is a road movie, but one that Walter Hill allows to become a bittersweet journey into a deepening Mississippi heartland, to exorcise its Baptist demons of sorts. It is a haunting screenplay, filled with scenes where it can turn about on itself and deliver beautiful epithets that for a moment seem to hold true notes of human character in their hands – the moment where the bartender turns on Jami Gertz for lifting a man's wallet to tell her that he may have deserved it but he has a wife and kids to support too; or Willie's consolation of Ralph Macchio, heart-broken over Jami Gertz's leaving, "It's what the blues are made of … The blues ain't nothin' but good men feeling sad."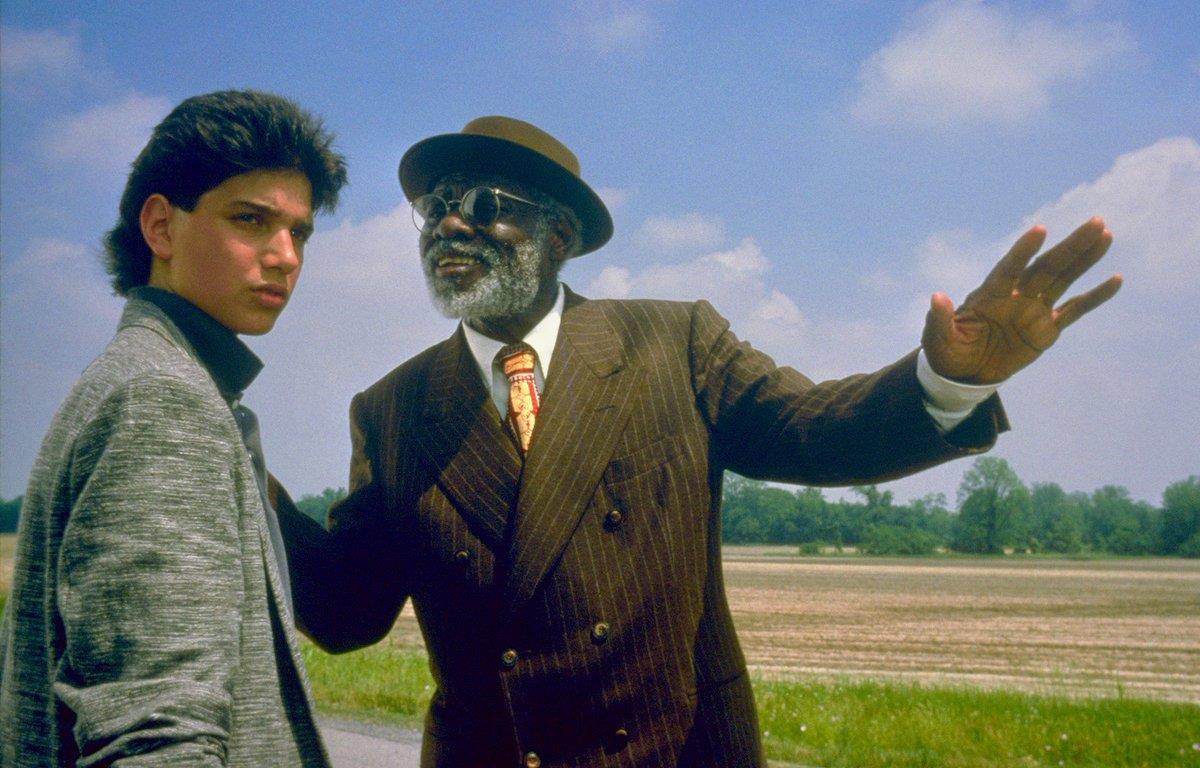 Joe Seneca, himself a singer with the soul group The Three Riffs, gives a wonderful performance as the crotchety, blithely optimistic but frightened Willie. It is the stuff that Oscar nominations should be made of. Joe Seneca earned minor attention here and played parts in several films, most notably The Blob (1988) and A Time to Kill (1996), up until his death in 1996. Ralph Macchio, fresh from The Karate Kid (1984) and still playing the eternally innocent teenager at the age of 25 and giving another of his wimpish wet-eared performances, is one of the few negative marks about the film.
The most stunning aspect is the stirringly moody blues score from Ry Cooder. The climactic guitar duel between Ralph Macchio and former Frank Zappa guitarist Steve Vai is a stunning set-piece.
Walter Hill's other forays into genre film-making are:– Southern Comfort (1981) about a troupe of soldiers being hunted in the bayous by Cajuns; the science-fiction film Supernova (2000); and The Assignment (2016) about a hitman seeking revenge after gender reassignment surgery was forced onto him. Hill was also to have been the original director of Alien (1979) before being replaced by Ridley Scott, with he retaining only producer credit on the film, plus all of the sequels. Hill was also executive producer on the Tales from the Crypt (1989-96) anthology tv series.
---
---