---
USA. 1994.
Crew
Director – Ted Nicolaou, Screenplay – Ted Nicolaou & Suzanne Glazener Naha, Story – Charles Band, Producer – Albert Band, Photography – Alan Trow, Music – Richard Band, Visual Effects – David Allen Productions (Supervisor – David Allen), Digital Animaton Supervisor – Randall William Cook, Creature Effects – Mark Rappaport, Dragon Design – Andrea Von Sholly, Special Effects – IST Effects (Supervisor – Alan Whibley), Production Design – Ian Watson. Production Company – Moonbeam Productions.
Cast
Sam McKenzie (John McGowan), Brittney Powell (Beth Armstrong), John Woodvine (Lester MacIntyre), John Calvin (Bob Armstrong), Andrew Keir (Angus McGowan), Courtland Mead (Young John McGowan), Lila Kaye (Maggie Cosgrove), Jim Dunk (Brownie McGee)
---
Plot
After the death of his parents, young John McGowan goes to stay at the castle of his uncle Angus, a Scottish laird. At a supposedly magical wishing tree, he wishes for a friend and is startled when a dragon appears. John befriends the dragon, naming it Yeller. Fifteen years later, American filmmaker Bob Armstrong arrives in the area to shoot an episode of a tv series. His daughter Beth and the now adult John become attracted to one another. Armstrong captures Yeller on tape while filming. He shows the film to local entrepreneur Lester MacIntyre who financially pressures the unworldwise John into signing a contract to allow him to display Yeller at an amusement park he calls Dragonworld. However, once John signs, MacIntyre manipulates the fine print and refuses to return Yeller.
---
During the 1980s and 90s, the father and son producing team of Albert and Charles Band made a stack of low-budget sf/'horror films at their various Empire and Full Moon production companies, including the Ghoulies, Puppetmaster, Trancers and Prehysteria! series among numerous others.
Excepting for Re-Animator (1985), Dragonworld is one of the best films to come out of the Band stables. Produced under their Moonbeam subsidiary children's label, it is made with uncommon care compared to the usual rushed Band production. For director Ted Nicolaou, who only a year earlier had been directing Full Moon's pedestrian Subspecies sequels, it displays a remarkable degree of improvement.
Ted Nicolaou captures a singular sense of childhood innocence. The film's story conducts a predictable arc without any surprises, nevertheless it works superbly. Nicolaou pays fine attention to the sense of Scottish heritage, where Andrew Keir gives a nicely genteel performance. Brittney Powell is incredibly lovely. She and Sam McKenzie are wonderfully paired – his unworldwise innocence and guileless eagerness are charming and the scenes of them coming together, learning to dance are very nice indeed.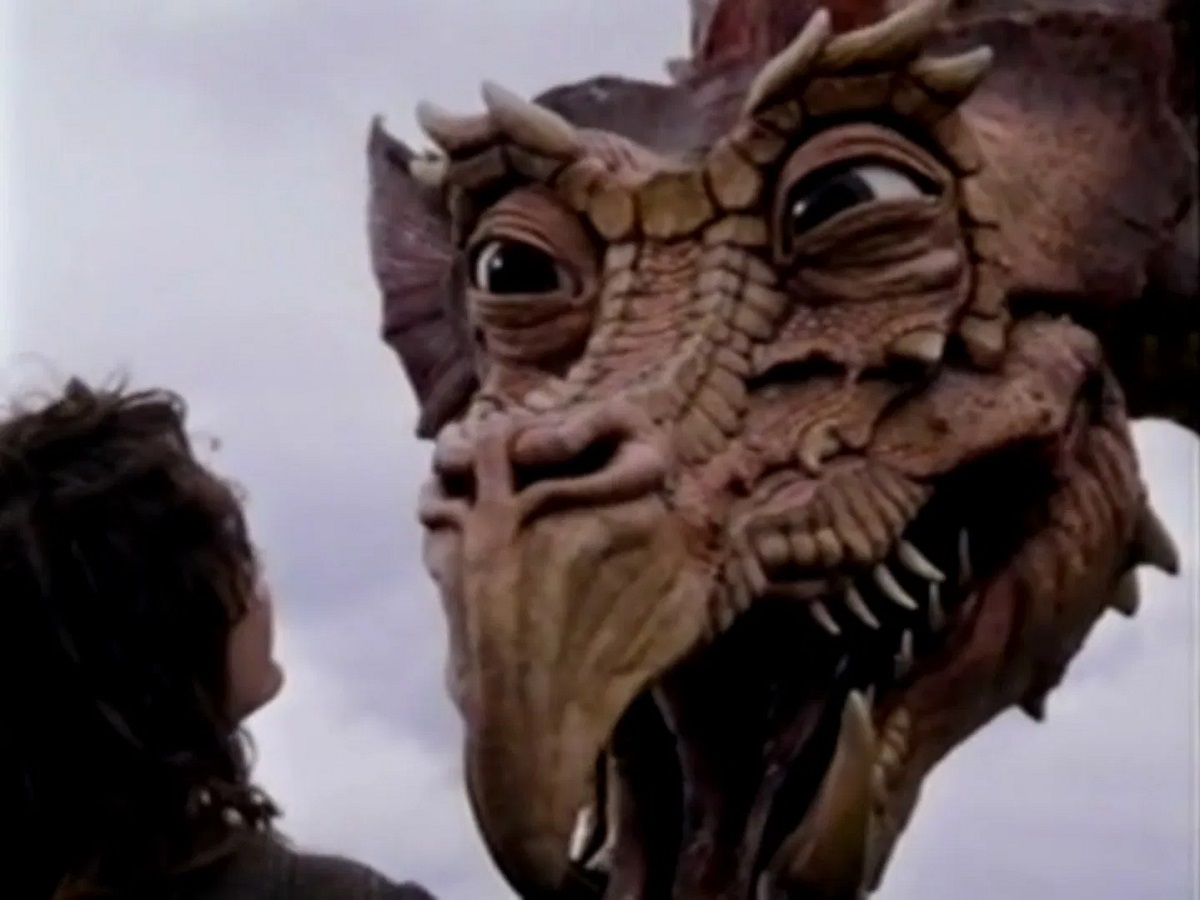 The dragon effects are somewhat variable, although it is clear that the Bands have put far more money into them than they usually do. There is nothing particularly wrong with them – the only complaint is that the dragon in the earlier scenes looks a little too cartoonish. Its eyes are too big and glassy and the jaw an obvious single hinge. However, David Allen conducts some excellent stop-motion shots of the dragon moving about the courtyard and these are flawlessly integrated in with the live-action.
Ted Nicolaou and the Bands made a sequel Dragonworld: The Legend Continues (1999).
Ted Nicolaou's other genre films as director include:- one of the segments of The Dungeonmaster (1984), TerrorVision (1986), Bad Channels (1992), Subspecies (1991), Bloodstone: Subspecies II (1993), Remote (1993), Bloodlust: Subspecies III (1994), Leapin' Leprechauns! (1995), Leapin' Leprechauns! 2/Spellbreaker: Secret of the Leprechauns (1996), Magic in the Mirror (1996), Magic in the Mirror: Fowl Play (1996), Vampire Journals (1997), The Shrunken City (1998), Subspecies 4: Bloodstorm (1998), Ragdoll (1999), The Horrible Dr Bones (2000), In the Shadow of the Cobra (2004), Puppetmaster vs Demonic Toys (2004), The Etruscan Mask (2007) and Don't Let Her In (2021).
---
Trailer here
Full film available online here:-
---