---
Crew
Director/Screenplay – Ted Nicolaou, Story – Charles Band, Producers – Oana Paunescu & Vlad Paunescu, Photography – Vlad Paunescu, Music – Richard Kosinski, Michael Portis & John Zeretzke, Visual Effects – David Allen Productions, Makeup Effects – AlchemyFX (Supervisors – Michael S. Deak & Wayne Toth), Production Design – Radu Corciova. Production Company – Full Moon Entertainment.
Cast
Denice Duff (Michelle Morgan), Anders Hove (Radu), Melanie Shatner (Rebecca Morgan), Michael Denish (Professor Nikolai Popescu), Kevin Blair (Mel Thompson), Pamela Gordon (Mummy), Ion Haiduc (Lieutenant Martin)
---
Plot
Michelle Morgan flees in confusion as she finds herself turning into a vampire and being driven to consume blood. After a panicked phone call from Michelle, her sister Rebecca arrives in Bucharest and finds the bloodstone. However, this is also wanted by Radu who has developed desire for Michelle.
---
Subspecies (1991), from producer Charles Band and director Ted Nicolaou, was Full Moon Productions' venture into vampire themes. It was an eminently routine effort. Nevertheless, it was clearly set up for a sequel, which the Band family characteristically follow through on here. Only Bloodstone: Subspecies II is not one but two sequels, being shot back-to-back with further sequel Bloodlust: Subspecies III (1994), as well as a subsequent Subspecies 4: Bloodstorm (1998).
The bad news is that the effort is hardly worth it and Bloodstone: Subspecies II is equally as forgettable as its predecessor. The plot is a routine trip through the vampire cliches – the girl struggling between not killing and her vampire nature, the vampire with eternal love designs on the heroine – and it is tediously drawn out by a subplot that necessitates that the heroine's sister has to go through and discover everything that we know has happened a second time over.
There are some promising makeup effects near the start – stakings, Radu's head being reattached and the hideously ancient Mummy – plus one or two imaginative shots of Radu's giant shadow stalking Denice Duff through the streets like something out of Nosferatu (1922). However, the lack of original plot and Ted Nicolaou's leisurely pace makes proceedings none too exciting. There are moments of silliness – at the start of the film, Radu does not stake Denice Duff because daylight is about to rise, she gets up but by the time she leaves the building only moments later, it is evening again.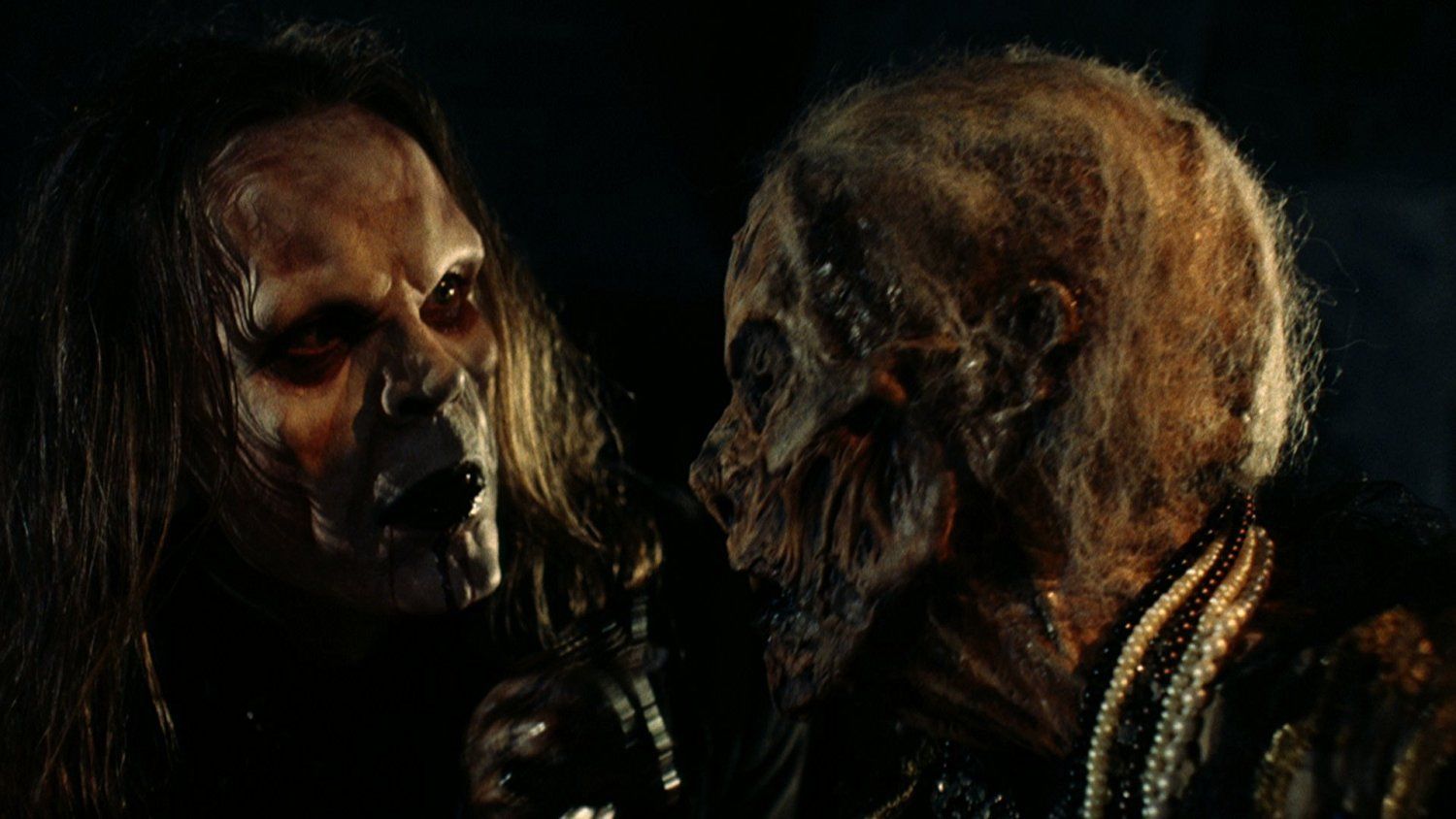 Most disappointing is the ending, which kills Radu off once again but then leaves us with the news that he is not dead. This seems an eminently daft move – a trilogy has opportunity to tell a far wider story than a single film does. Each episode of a trilogy should expand its action onto a wider stage. However, if each episode of the trilogy ends with the killing of the villain and the next one starts with his revival then the series is nothing more than a succession of strung-out sequels.
Denice Duff is a poor replacement for the original's Laura Tate – she seems far too internalised and afraid. There is a far better performance from Melanie Shatner – none other than the daughter of Star Trek (1966-9)'s William Shatner – who seems both alert and intelligent.
---
---