(Aya to Majo)
---
Crew
Director – Goro Miyazaki, Screenplay – Emi Gunji & Keiko Niwa, Based on the Novel by Diana Wynne Jones, Producer – Toshio Suzuki, Music – Satoshi Takebe, Animation Supervisor – Tan Se Ri, CG Supervisor – Yukinori Nakamura, Art Direction – Yuhki Takeuchi, Planning – Hayao Miyazaki. Production Company – NHK/NHK Enterprises/Studio Ghibli.
---
Plot
An infant is abandoned on the steps of St Morwald's orphanage accompanied by a note saying that the child's name is Earwig and that its mother is being pursued by witches. The matron takes the child in but decides that they cannot call her Earwig and renames her Erica Wigg. Ten years later, Earwig has grown up into a precocious young girl and can easily wind the matron and most others around her finger. One day, the orphanage is visited by a strange man and woman and Earwig is selected for adoption. In their home, Earwig discovers that the woman Bella Yaga is a witch and the man Mandrake is non-human and has tame demons. Earwig is informed that she has been adopted because Bella needs another pair of hands around the house. She extracts an agreement from Bella that she will teach her magic but soon finds that her lot consists of endless work and that Bella has no intention of fulfilling her end of the bargain. She finds a strange ally in Bella's familiar, the talking cat Thomas, who shows her how to read some of Bella's spells, including being able to secretly create a potion to ward off magic and defend against Bella's constant threat of punishment by infecting them with worms,
---
Goro Miyazaki is the son of the celebrated Hayao Miyazaki, director of films like My Neighbor Totoro (1988), Princess Mononoke (1997) and Spirted Away (2001), a legendary name in Anime. For many years, Goro had resisted take up the mantle of his father's profession, which was the cause of some tension between the two of them, He eventually did so and made his debut as director with the Studio Ghibli film Tales from Earthsea (2006). He followed this with From Up on Poppy Hill (2011) and the tv series Ronja the Robber's Daughter (2014). Earwig and the Witch was Goro's third film as director.
The film adapts an illustrated 2011 book by British fantasy writer Diana Wynne Jones (1934-2011). Wynne Jones is clearly popular with the Miyazaki family and another of her books formed the basis of Hayao Miyazaki's Howl's Moving Castle (2004). Elsewhere, she was also adapted as the British children's tv mini-series Archer's Goon (1992).
The jolt you get in watching Earwig and the Witch is that Studio Ghibli has for the first time employed computer animation in a film (although Goro Miyazaki had previously done so with Ronja the Robber's Daughter). Hayao Miyazaki has strongly come out against wishing to ever do so in the past. Gone are Ghibli's usual clearcut characters and ligne claire style. Instead we get computer-animated characters that come with a certain flat roundedness, especially in the opening scenes with the matron at the orphanage. Far more successful and distinctive is when the film introduces the characters of Bella and Mandrake. It is however a jolt to the system in watching a computer animated Studio Ghibli film.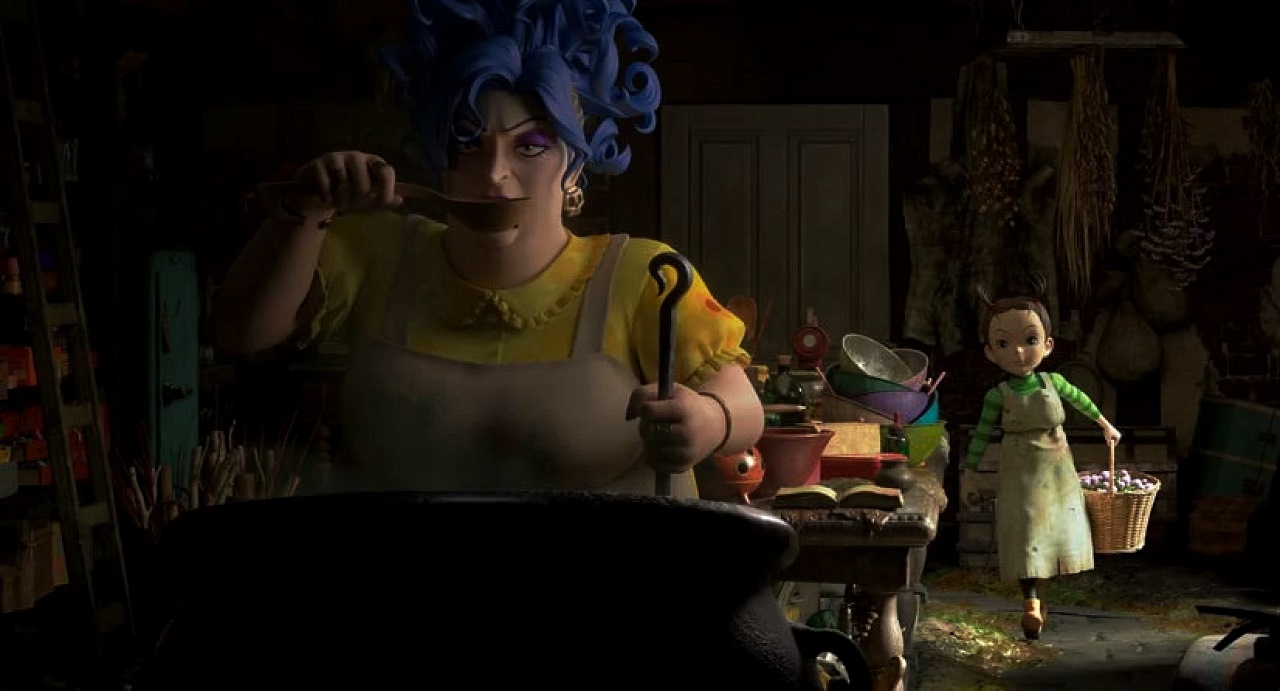 That said, Goro Miyazaki makes the film work with considerable charms. The character of Earwig quickly imprints itself on the film as we jump from the scenes where she is left at the orphanage on ten years to where she is organising parties in graveyards, spooking her friend Custard as they climb the bell tower and then doing the equivalent of looking cute and doe-eyed when she is pulled up in front of the matron, all the while giving Custard advice on how she can manipulate adults and avoid being selected for adoption.
In rapid course, Earwig is selected to be adopted by the eccentrically extravagant figure of Bella and her companion Mandrake who looks like the combination of a caricature of an evil bureaucrat and some dark lord from the abyss. Earwig's introduction to their ordinary suburban home and her place in it takes the film into an entirely different realm where it in essence becomes a Magician's Apprentice story – or perhaps more so, a wannabe Magician's Apprentice story, one where Earwig wants to learn the art but is instead forced into slavery where she is required to be no more than an extra set of arms with no intention of being taught anything but where she manages to subvert this anyway. Much of the show is won by its appealing characters – the feisty determined Earwig; the haughty demanding Bella; the strange and fearsome Mandrake who becomes a surprisingly tender and protective character; and the scene-stealing talking cat Thomas.
I eventually didn't have any issue with the computer animation. However, Earwig and the Witch doesn't work as well as other Studio Ghibli works because it offsets itself in the story department. It sets up an opening with Earwig's mother pursued by witches leaving the infant on the doorstep of the orphanage with a note that she will return. When Earwig is adopted, we expect that Bella and Mandrake are the witches that were pursuing the mother but this turns out not to be the case. Bella and Mandrake are initially portrayed as quite sinister figures but gradually throughout that start to mellow, especially Mandrake, and by the end of the film they all seem to have become a cosy domestic unit. The note from the mother and opening scene sets up a promise of something to play out later but it only does at the very end of the film in a way that feels like the film's story slams its brakes on very abruptly. It is this strange shifting of tone and uncertainty about what to make of the characters that leave the film in an odd place where you are not sure where you are.
---
Trailer here
---