(Sen to Chihiro No Kamikakushi)
---
Japan. 2001.
Crew
Director/Screenplay – Hayao Miyazaki, Producer – Toshio Suzuki, Music – Joe Hisaishi, Production Design – Norobu Yoshida. Production Company – Studio Ghibli/Dentsu/Mitsubishi Commercial Affairs/Tokuma Shoten.
---
Plot
Young Chihiro and her parents are driving to their new home when her father takes a shortcut through the woods. They come upon a deserted town that her father takes to be a theme park. Her parents sit down to eat the plentiful food there, while Chihiro wanders away to a giant bathhouse. She encounters a mysterious boy Haku who warns her to flee before nightfall. However, she is too late and sees her parents transformed into pigs. Haku tells Chihiro that she is now in the realm of the spirits and that her parents have eaten spirit food. Hunted because she is a human and does not belong in the spirit world, Chihiro's only hope is to approach the fearsome witch Yubaba who runs the bathhouse and demand a job. In return for giving her a job, Yubaba takes Chihiro's name from her and calls her Sen. Sen is put to work cleaning where she is given the most onerous tasks. She faces a stink spirit that is threatening to pollute the bathhouse and inadvertently lets in a lonely monster that starts trying to devour everybody and everything. After Haku is fatally wounded while in dragon form, Sen must undergo a difficult journey to save him by returning a seal stolen from Yubaba's twin sister Zeniba.
---
The films of Hayao Miyazaki are extraordinary films. Hayao Miyazaki is the only filmmaker out there whose fantasy worlds rival the written likes of J.R.R. Tolkien, Stephen Donaldson, Michael Moorcock or Ursula K. Le Guin for depth or sheer imaginative complexity.
Miyazaki emerged as an artist on various Japanese films and tv series of the 1960s and 70s, before impressing as a director with the likes of The Castle of Cagliostro (1980), Nausicaa in the Valley of the Wind/Warriors of the Wind (1984), Laputa: Castle in the Sky (1986), My Neighbor Totoro (1988), Kiki's Delivery Service (1989) and Porco Rosso (1992), all of which gained him a growing cult reputation. However, it was with the breathtaking Princess Mononoke (1997) that Hayao Miyazaki first gained major attention in the West.
Spirited Away surprised everybody by winning the second only award for Best Animated Feature at the 2002 Academy Awards, something that considerably boosted its profile and subsequently turned Hayao Miyazaki into a cult name and saw his back catalogue revived.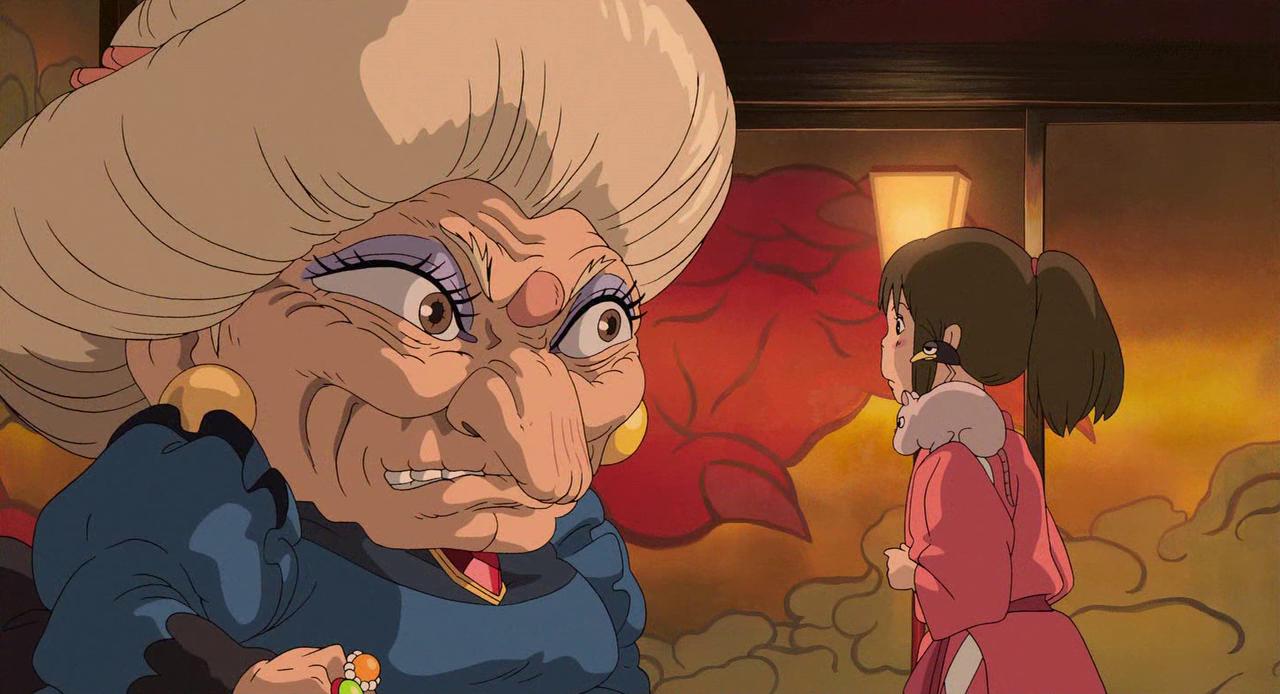 People rushed to call Spirited Away a Japanese Alice in Wonderland (1865). This is more a comparison born of not knowing what else to compare Spirited Away to – both stories are vaguely similar in featuring a young girl trying to find her way home through a surreal world of talking creatures. Where Alice in Wonderland has the rhythm of a nonsense rhyme, Spirited Away is more like an epic quest that draws upon traditional Japanese mythological elements.
If anything, Spirited Away seems like a combination of the geisha drama Sandakan No. 8 (1975) and Japanese animal spirit fantasies such as Demon Pond (1979) or the first two segments of Akira Kurosawa's Dreams (1990). What is certain is that Spirited Away is almost impossible to describe in richness of Hayao Miyazaki's imagination. It is set in a spirit world but rather than an ethereal afterlife this is like an almost-familiar reflection of the present that combines traditional Japanese rural architecture and oddly incongruous modern touches – this is an afterlife where there is electric lighting and telephone lines and trains run through the water-logged landscape.
Miyazaki populates the world with a mind-boggling menagerie of creatures – kimono-clad frogs; giant talking catfish and budgies; a hero who periodically turns into a water dragon and, at one point, is nearly killed by a flock of paper birds; a giant baby; the witch's retainers, which consist of three malevolent green severed heads; a wonderfully appealing one-legged hopping lantern; animated soot particles; and the scene-stealing duo of a fat mouse and a mini-flying thing companion.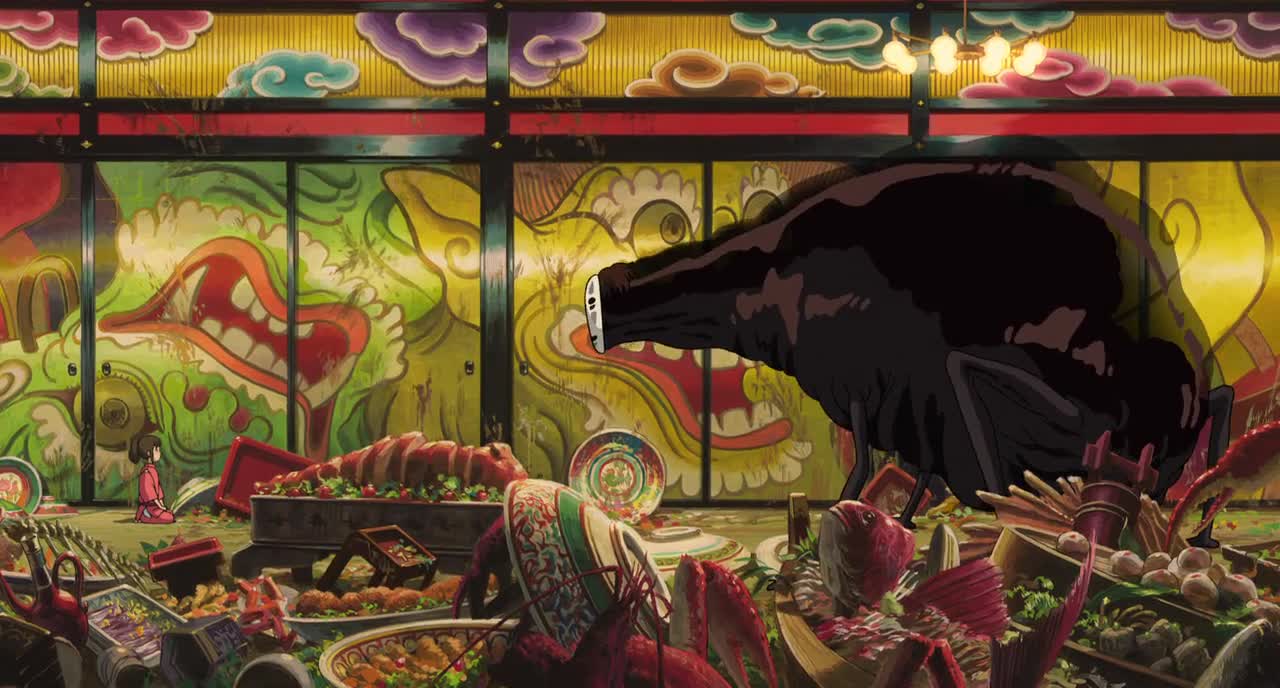 Spirited Away is a film filled with a genuine magic. Hayao Miyazaki is a master animator and Spirited Away has an epically expansive feel that makes animated contemporaries from the likes of Disney, Pixar and DreamWorks SKG seem like empty eye candy. In comparison to these, Miyazaki emphasises a contemplative quietude. His animation is plain but stunning in its painterly detail and his emphasis on quietness of character. The journey that Chihiro takes by train with her three companions – the simple images of them sitting in an empty carriage or of her face reflected against the window – has an extraordinary lonely loveliness.
As much for the big set-piece flourishes – the appearance of the stink monster, Chihiro's quieting of No Name's rampage – Miyazaki impresses with his small scenes – the initial tenderness of Chihiro's friendship with the mournfully lonely No Name, and especially the wonderfully bizarre dance of the soot creatures and their quaintly appealing deification of Chihiro and her shoes.
Spirited Away is an exquisite and extraordinary film from an animator who has no equal. There is a simplicity of story at the heart of it – one where Chihiro's child-like innocence and non-judgmentalness is seen as having a purity and truth up against everyone else who is blinded by greed or stupidity. The imagination of Hayao Miyazaki's world, the detail it comes rendered in and the quiet power of Spirited Away is stunning. Occasionally toward the end, the film seems a little hurried – Haku suddenly realises his true name, the twin sister who put a curse on him is quickly revealed to be a good witch and Chihiro's final test is passed with amazing ease – but Spirited Away has genuine beauty. It should be seen by everybody.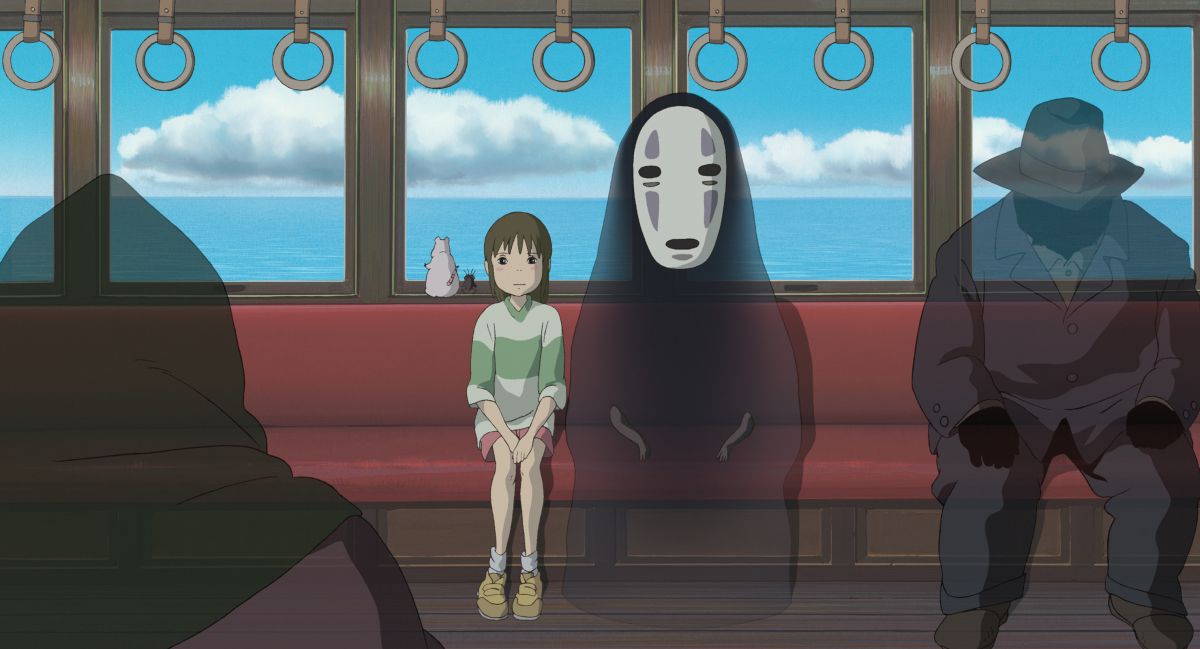 Hayao Miyazaki subsequently went onto make the epic fantasy Howl's Moving Castle (2004), Ponyo on a Cliff By the Sea (2008) and The Wind Rises (2013), as well as to write/plan Arrietty/The Secret World of Arrietty (2010) and From Up on Poppy Hill (2011). The Kingdom of Dreams and Madness (2013) is also a documentary about Miyazaki and Studio Ghibli.
(Winner in this site's Top 10 Films of 2001 list. Nominee for Best Director at this site's Best of 2001 Awards).
---
---