aka Ponyo
(Gake no Ue no Ponyo)
Japan. 2008.
Crew
Director/Screenplay – Hayao Miyazaki, Producer – Toshio Suzuki, Photography – Atsushi Okui, Music – Joe Hisaishi, Animation Director – Katsuya Kondo, Art Direction – Noboru Yoshida. Production Company – Studio Ghibli.
---
Plot
Brunnhilde lives on the ocean floor with a school of other fish. Her freedom is controlled by her father, the formerly human sorcerer Fujimoto. She manages to break free and swim to the surface. There she is found by five-year-old human boy Sosuke who thinks she is a goldfish and places her in a bucket, naming her Ponyo. Ponyo soon demonstrates the ability to heal Sosuke's cuts, a liking for ham and even the ability to talk. While Sosuke is on the shore, Fujimoto manifests a wave and snatches Ponyo back . However, due to the fact that she has tasted human blood, Ponyo is able to grow arm and legs and become human in size and form. She makes an escape but in so doing accidentally unleashes Fujimoto's magic formulas, which cause a typhoon to erupt. She appears to Sosuke out of the storm and is taken home by his mother Lisa. There Ponyo marvels at the human world. However, her having become human has caused a severe disruption to the forces of nature.
---
Hayao Miyazaki probably needs no introduction as one of the modern masters of anime who has no equal. Miyazaki rose to slow acclaim throughout the 80s and 90s with the likes of The Castle of Cagliostro (1980), Nausicaa and the Valley of the Wind (1984), Laputa: Castle in the Sky (1986), My Neighbor Totoro (1988), Kiki's Delivery Service (1989) and Porco Rosso (1992), before finding mainstream international attention with Princess Mononoke (1997) and the Academy Award winning Spirited Away (2001). Since his fame peaked in 2002, Miyazaki has announced his retirement several times and then, just like the aging boxer who keeps announcing his comeback match, continues to get back in the ring, having so far returned to make Howl's Moving Castle (2004). Ponyo on a Cliff By the Sea here and the subsequent The Wind Rises (2013), as well as to write/plan Arrietty/The Secret World of Arrietty (2010) and From Up on Poppy Hill (2011). The Kingdom of Dreams and Madness (2013) is also a documentary about Miyazaki and Studio Ghibli.
Choose any of the above titles and they are all anime masterpieces, classics in their own right. Of Ponyo on a Cliff By the Sea, one can perhaps say that it is Hayao Miyazaki's least great film to date. This is all relative – in any other animation director's hands, Ponyo on a Cliff By the Sea would be a standout classic. However, Ponyo is a film where Miyazaki's recurrent themes seem more perfunctory, the film lacking as much of the often beautiful contrasts of epic and fragile he specialises in. The story is even one that Miyazaki seems to have recycled from Disney's The Little Mermaid (1989) – princess of an underwater realm who is in thrall to an evil sorcerer falls in love with a human boy and sacrifices all at great cost to develop legs (plus arms here) so that she can be with him on the surface.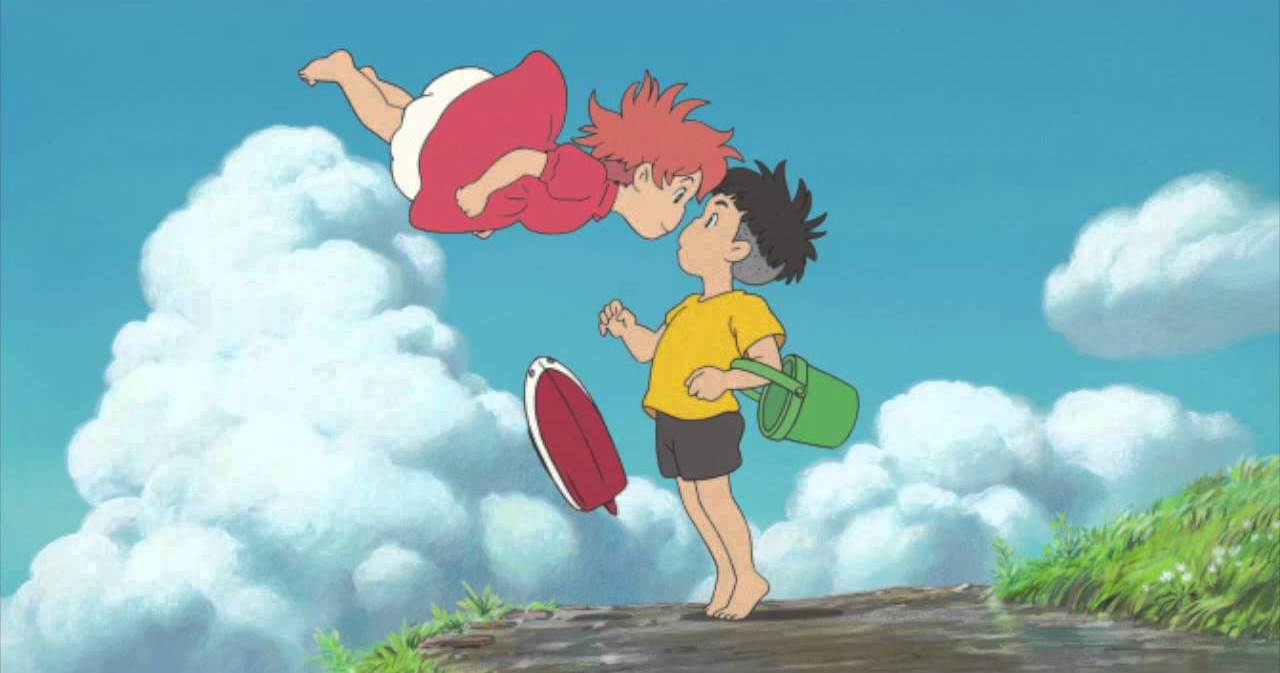 There are all the familiar themes of a Hayao Miyazaki film. There is the genteel respect for nature and the frequent sense of its pollution by the uncaring. One of the interesting pieces of subconscious symbolism is how when the film starts, the fish and sorcerer are surrounded by a constant profusion of detritus and human junk in the oceans, whereas when the typhoon overruns everything, the oceans are drawn with a plethora of marine life everywhere leaving the assumption that a balance between the two needs to be restored or overturned (as the typhoon symbolically does). The film even includes an oblique criticism of driftnet fishing (a commercial fishing method mainly practiced by Japan that is highly destructive to the marine environment and has been condemned internationally).
There is also Hayao Miyazaki's love of eccentric flying machines, although here this has been changed to eccentric marine vessels – the sorcerer driving about underwater in a boat that flaps its fins like a bird, while Sosuke and Ponyo putter about in a candle-powered toy boat that has magically been blown up to medium size.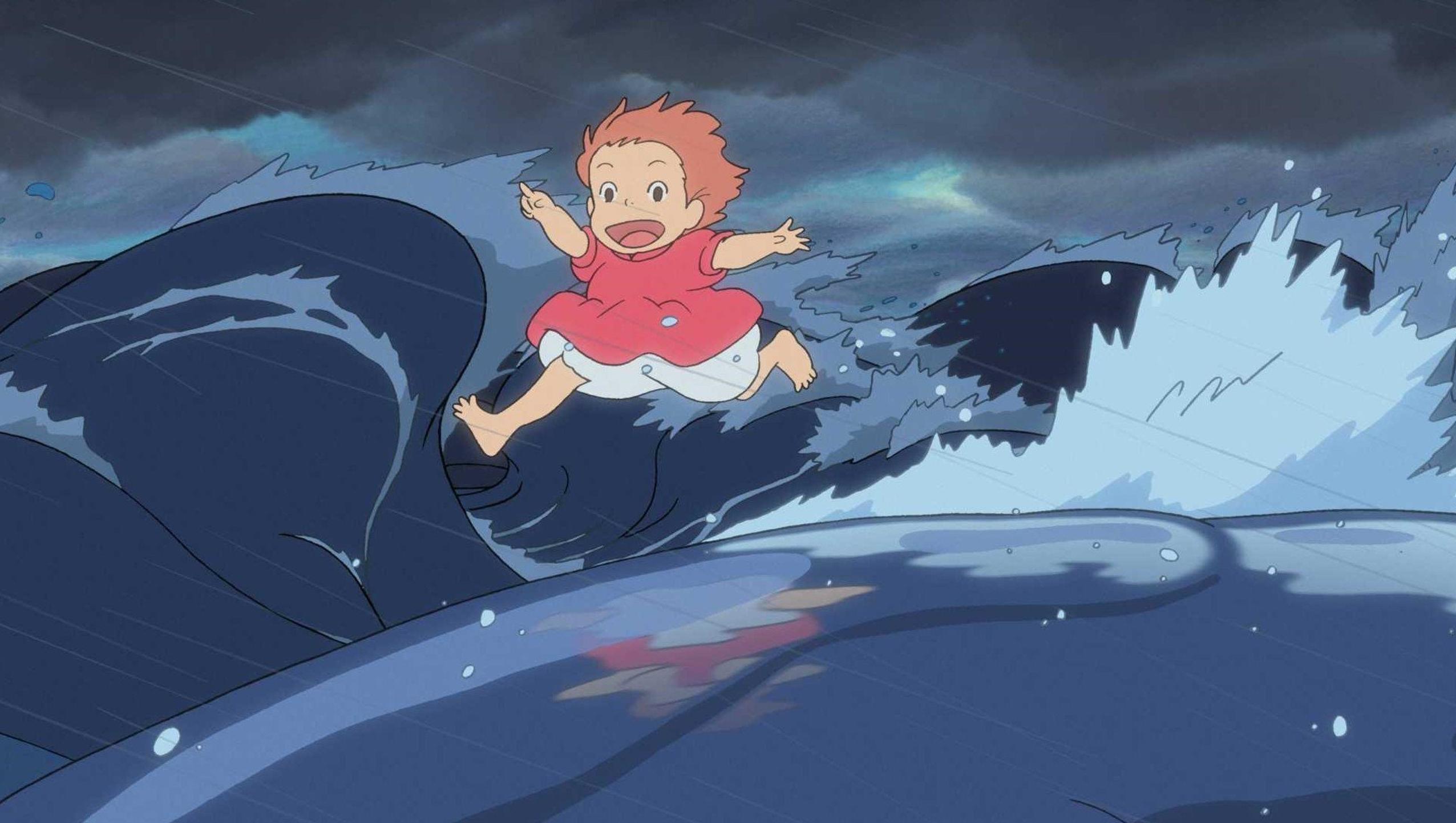 There are also the sweetly appealing child protagonists much beloved of Miyazaki – you can almost guarantee that no American mainstream animated film would emphasise the issues that Hayao Miyazaki does here – gentleness, kindness, respect for the elderly and a sense of community spirit. Everything is hand-drawn in the ligne claire style that Miyazaki borrowed from Hergé – indeed, in an era where animation has been overtaken by CGI, Hayao Miyazaki may be the one animator left out there still making his films by hand.
There are all the sweetly charming moments that make one go "aww" that you find in a Hayao Miyazaki film. There is an entirely delightful scene where Sosuke communicates with his father's passing ship by signal lamp, where the mother angrily spells out 'Baka Baka' (Idiot Idiot) because of his delayed return and the father responds by spelling his reply out with the whole ship lit up in lights like a Christmas tree. The scenes where Sosuke and Ponyo set out on the toy boat and come across a family afloat and then an entire flotilla, or the scenes with Ponyo trying to adjust to human life all have a tender beauty. On the other hand, Ponyo on a Cliff By the Sea is much quieter when it comes to these moments than all of Hayao Miyazaki's other films. There is what seems to promise to be an epic struggle against the sorcerer Fujimoto (who could easily be an evil twin brother of Howl in Howl's Moving Castle) but this dissipates and finds its resolution far too easily.
---
Trailer here
---