---
Crew
Director – Dan Scanlon, Screenplay – Keith Bunin, Jason Headley & Dan Scanlon, Producer – Kori Rae, Photography – Sharon Calahan & Adam Habib, Music – Jeff Danna & Mychael Danna, Animation Supervisors – Michael Stocker & Rob Duquette Thompson, Production Design – Noah Klocek. Production Company – Pixar Animation Studios.
Voices
Tom Holland (Ian Lightfoot), Chris Pratt (Barley Lightfoot), Julia Louis-Dreyfus (Laurel Lightfoot), Octavia Spencer (The Manticore), Mel Rodriguez (Colt Bronco), Kyle Bornheimer (Wilden Lightfoot), Lena Waithe (Officer Specter), Ali Wong (Officer Gore), Grey Giffin (Dewdrop)
---
Plot
Creatures like elves, centaurs, fauns and cyclopes have abandoned magic and embraced technology to create a civilisation very similar to our own. In New Mushroomton, the elf Ian Lightfoot lives with his mother and older brother Barley. The boys' father died before Ian was born. Ian pores over photos and a tape recording that are all he has of his father. It is the day of Ian's sixteenth birthday but Ian fails to pluck up the courage to invite some of his schoolmates to his party. His mother presents him and Barley with a gift left by their father, a wizarding staff. With it is a letter containing a spell that would be able to resurrect their father for one day only. Barley is unable to make the spell work but it does when Ian tries it. However, Barley accidentally breaks the spell, causing their father to partially rematerialise as only a pair of legs. To complete the spell and manifest the rest of their father, they need to find a new Phoenix Stone before the sun goes down. Barley, a role-playing fan, drags Ian and the pair of legs off on a half-baked quest to find another Phoenix Stone. Throughout this, Ian connects with Barley and his father, while discovering his abilities as a magician.
---
Onward was the 22nd animated film from Pixar. It follows the likes of Toy Story (1995), A Bug's Life (1998), Monsters, Inc. (2001), Finding Nemo (2003), The Incredibles (2004), Cars (2006), Ratatouille (2007), Wall-E (2008), Up (2009), Brave (2012), The Good Dinosaur (2015), Inside Out (2015), Coco (2017), Soul (2020), Luca (2021), Turning Red (2022) and Elemental (2023), along with assorted sequels to most of these. It is a solo directorial outing for Dan Scanlon who emerged from the Disney animated video sequel department in the 2000s to make direct Pixar shorts and then the full-length Monsters University (2013).
Onward ended up being the lowest grossing Pixar film released to date. A great deal of this can be put down to going into general release just over a week before most theatrical chains were closed due to the Coronavirus quarantine. Even before that though, Onward was getting a mixed reception. Part of the problem is that the Pixar name is no longer what it once was, having been diluted by a string of inferior sequels put out by the studio throughout the 2010s. The film also has a sophisticated concept that cannot be easily summed up in a one-sentence pitch. Furthermore, a good deal of the pre-publicity was eclipsed by the headline of "Pixar's First Gay Character". However, this turned out to be a no more than a single line reference so much so that I missed it on first viewing and had to read up on what was being referred to and then go back and find where it was.
Onward imagines a 'What If?' alternate reality where assorted magical creatures have developed into a civilisation that resembles our own. It is a not dissimilar world to the one in Bright (2017) – the only difference is that here the magical creatures do not co-exist alongside humans. There are some appealing throwaway images of how such creatures would adjust to the modern world – of centaur police officers, a dragon tamed as a household pet, of unicorns scrabbling for scraps in garbage cans, and in the most bizarre touch a gang of pixie bikers.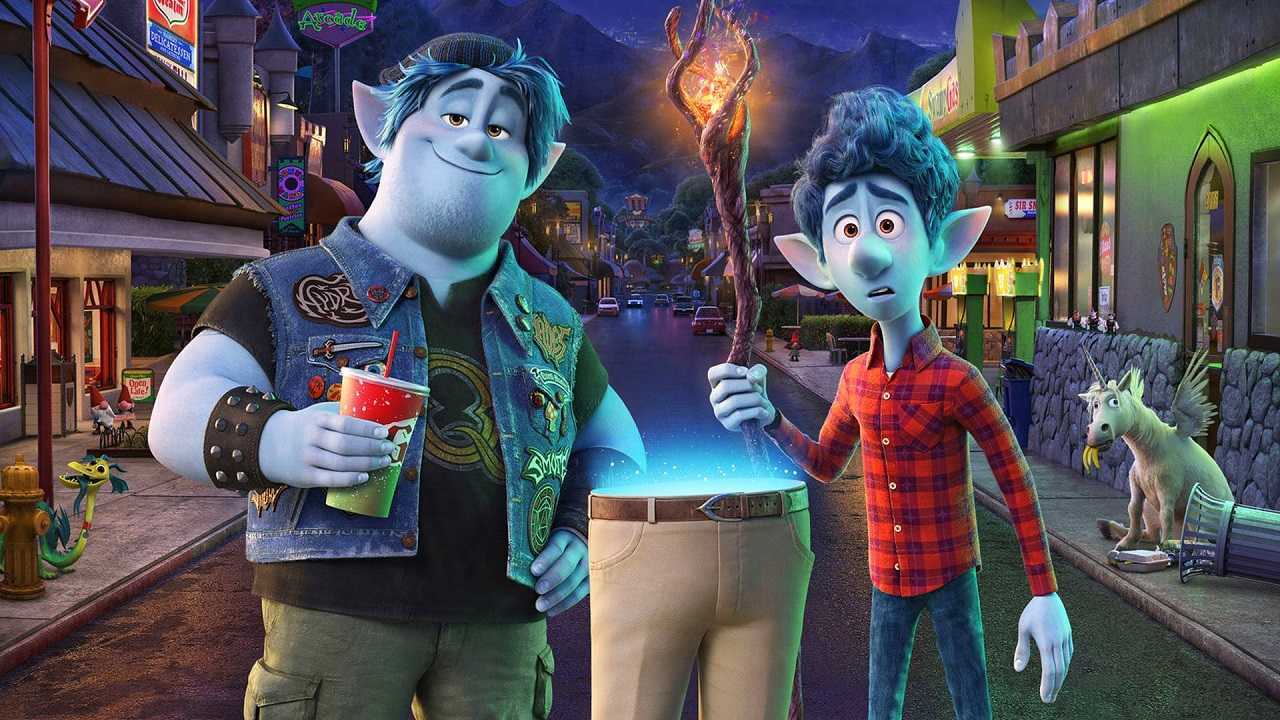 The film has a sophisticated premise. There's the amusing idea of having the creatures in such a world regarding games like Dungeons & Dragons (1974) and Magic: The Gathering (1993) as some sort of mythical history. This results in a number of witty puncturings of cliche. The brothers head to the standard tavern where almost any D&D game begins and expect to be given a quest only to find the tavern is now a family restaurant and the map so commonplace it has been turned into a mass-produced puzzle map to entertain the kids. The plot does a sort of conceptual sleight of hand that allows the characters to go on a pretend quest that turns out to be one for real. (If the maps are handed out as common children's puzzles, you keep wondering why nobody else has gone on a quest).
Elsewhere the film gets enjoyably demented – Dan Scanlon delivers some entertaining set-pieces with a madcap chase with the van being pursued down a highway by the biker pixies. Or a scene where Ian uses an illusion spell to appear as Officer Bronco but is forced to tell the truth whereupon the illusion starts falling apart when he fails to do so.
The surprise about the film is that it is carried by a strong emotional core – the most of any Pixar film since Up – about familial reconciliation with the two brothers questing to bring their father back to life before sunset and in the process Ian gaining his self-confidence and the two brothers connecting with one another. The only false note struck is Ian's decision to forego the opportunity to see his father at the end, which feels like a letdown on the big build-up that such an emotional drive that this is given earlier in the film. It helps also that the film comes with an endearing and likeable range of supporting characters.
---
---