---
USA. 1974.
Crew
Director – Robert Stevenson, Screenplay/Producer – Bill Walsh, Story – Gordon Burford, Photography – Frank Phillips, Music – George Bruns, Special Effects – Art Cruickshank, Danny Lee & Alan Maley, Makeup – Robert J. Schiffer, Art Direction – John B. Mansbridge & Walter Tyler. Production Company – Disney.
Cast
Ken Berry (Willoughby Whitfield), Helen Hayes (Mrs Steinmetz), Stefanie Powers (Nicole Harris), Keenan Wynn (Alonzo Hawk)
---
Plot
Ruthless entrepreneur Alonzo Hawk wants to erect a 130 story plaza but his plans are being held up by old Mrs Steinmetz who refuses to budge so that he can demolish from the former firehouse where she lives. Hawk sends his guileless nephew, wet-eared lawyer Willoughby Whitfield, to go and reason with Mrs Steinmetz. Willoughby soon encounters Mrs Steinmetz's car, the intelligent Volkswagen Herbie. Instead of persuading Mrs Steinmetz, Willoughby becomes attracted to her niece Nicole Harris. Willoughby is shocked to learn of his uncle's underhand tactics and joins Nicole and Mrs Steinmetz in standing up against Hawk. As Hawk mounts his big plan to get rid of Mrs Steinmetz, he has failed to consider Herbie.
---
The Love Bug (1969), the first of Disney's series of films featuring Herbie the intelligent Volkswagen, was a considerable success. It was followed by Herbie Rides Again here, which was the second and best of the Herbie films. (See below for the other entries in the series).
While the first film took itself with a relatively straight-faced seriousness and the last film and the tv series collapsed into a banal silliness, the series hits an inspired high with Herbie Rides Again. Director Robert Stevenson strikes just the right note of nonsensical absurdity with appealingly scatterbrained images of the Volkswagen chasing Keenan Wynn around a soapsud filled office and along ledges around the edge of skyscrapers, or nonchalantly driving through restaurants and pursuing runaway trams through the midst of string recitals.
The most inspiredly surreal is a dream sequence where the sheep Keenan Wynn count start turning into Volkswagens with teeth jumping over a fence and dancing around a bonfire wearing Indian headdresses, ending in a deliriously silly parody of King Kong (1933) with Volkswagens circling in mid-air as Wynn stands atop the Empire State Building.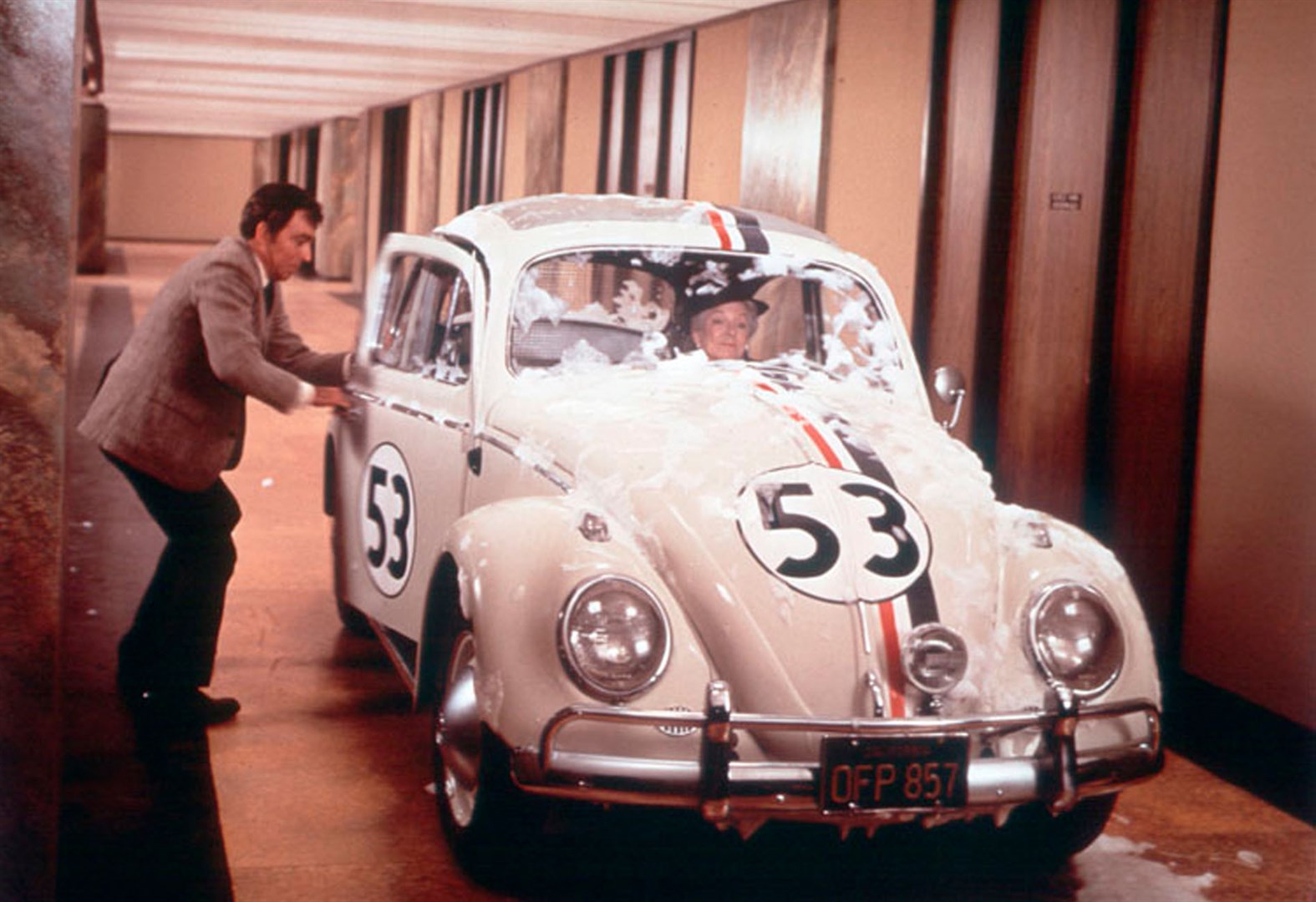 The nebbish romance between Ken Berry and Stefanie Powers is appropriately pushed to the background. Helen Hayes gives an amusingly dotty performance. Keenan Wynn has a good deal of fun playing to boisterous outrage, again cast in the role of Alonzo Hawk that he previously essayed in Disney's The Absent-Minded Professor (1961) and Son of Flubber (1963).
The subsequent Herbie films were Herbie Goes to Monte Carlo (1977) and Herbie Goes Bananas (1980). These were followed by the dreary, short-lived tv series Herbie, the Love Bug (1981). The Love Bug (1997) was a tv movie remake of the original. The film series was later revived with Herbie: Fully Loaded (2005).
British director Robert Stevenson made a number of other films for Disney that include Disney include Darby O'Gill and the Little People (1959), The Absent-Minded Professor (1961), In Search of the Castaways (1962), The Misadventures of Merlin Jones (1963), Son of Flubber (1963), Mary Poppins (1964), The Monkey's Uncle (1965), The Gnome-Mobile (1967), Blackbeard's Ghost (1968), The Love Bug (1969), Bedknobs and Broomsticks (1971), The Island at the Top of the World (1974) and The Shaggy D.A. (1976). Before moving to Hollywood, Stevenson also made the Boris Karloff mad scientist film The Man Who Changed His Mind (1936) and the sf film Non Stop New York (1937).
---
---