---
USA. 1964.
Crew
Director – Robert Stevenson, Screenplay – Don Da Gradi & Bill Walsh, Based on the Books by P.L. Travers, Photography – Edward Colman, Music/Lyrics – Richard M. Sherman & Robert B. Sherman, Music Supervisor – Irwin Kostal, Special Effects – Peter Ellenshaw, Eustace Lycett & Robert A. Mattey, Animation Director – Hamilton S. Luske, Art Direction – Carroll Clark & William H. Tuntke, Animation Art Direction – McLaren Stewart, Choreography – Marc Breaux & Dee Dee Wood. Production Company – Disney
Cast
Julie Andrews (Mary Poppins), Dick Van Dyke (Bert/Mr Dawes Sr), Karin Dotrice (Jane Banks), Matthew Garber (Michael Banks), David Tomlinson (George W. Banks), Glynis Johns (Winifred Banks)
---
Plot
Young Jane and Michael Banks find the perfect new nanny when prim and proper Mary Poppins arrives, riding in on a wind-blown umbrella. Mary Poppins soon has a transforming effect on them, the household and the far too serious people around them as she takes them for mid-air tea parties, journeys into chalk drawings and dances with chimney sweeps.
---
When Beauty and the Beast (1991) made waves and was called the first Disney film to be nominated for a Best Picture Academy Award, everyone seemed to have forgotten Mary Poppins, which makes Beauty and the Beast the second Disney feature film to have been nominated for Best Picture. (Beauty and the Beast, however, was the first Disney animated feature film to be nominated for a Best Picture Award). It was nominated for a total of thirteen awards altogether and won five, including one for Julie Andrews as Best Actress and others for Best Musical Score, Song and Visual Effects, missing out on Best Director and Best Film.
Mary Poppins is a convergence point that combines several different 1960s cycles – Disney's puritanical but often lively sermons on proper child-rearing from Pollyanna (1960) on through; the peculiar 1960s Hollywood musical fantasy on Victorian England as embodied by My Fair Lady (1964) where all the lower-classes have the most atrocious Cockney accents; and of course the anchoring point of the saintly angelic, slightly cross-eyed presence of Julie Andrews who went on to become a Family Values poster queen with this and The Sound of Music (1965).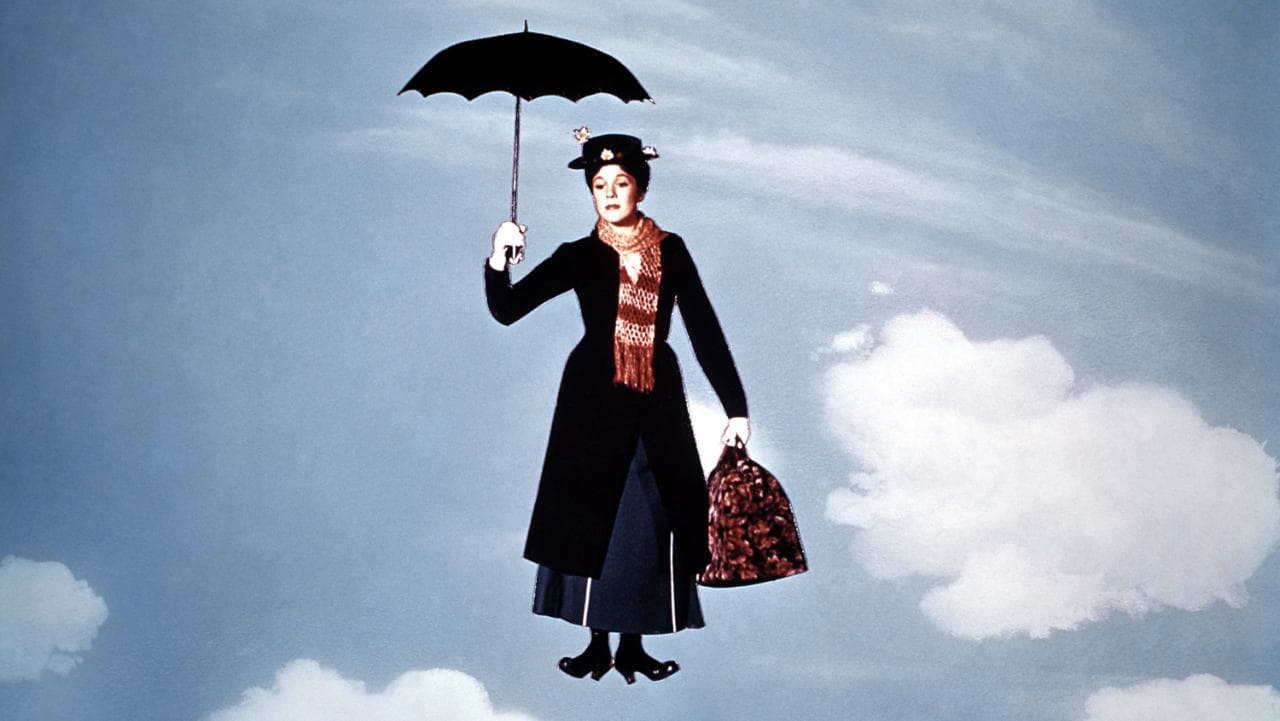 Mary Poppins is an appealing film. It has nothing that could be described as a plot, only a series of dance and effects sequences that have been strung together. This doesn't particularly matter, as it is conducted with a dizzily deadpan absurdism that hardly ever wears out its welcome. There are some extraordinary effects sequences – tea parties conducted up at ceiling level with flying participants; and the perhaps overlong sequence inside the chalk painting, with people dancing through animated landscapes, graceful races bobbing up and down on merry-go-round horses and a well-choreographed dance with a group of animated penguins.
With prim, unruffled certainty and a humourless deadpan twinkle, Julie Andrews is rather appealing, even quite sexy in the title role. Dick Van Dyke manages to compensate for an amazingly unconvincing Cockney accent with a good amount of cheer, bumbling his way through some good dance sequences with an exuberantly unflappability.
The songs – which are of a form that one does not particularly like – are catchy and memorable. Even if the saccharine content is not to one's liking then there is a considerable degree of downright bizarreness to Mary Poppins – images of nannies going bowling through the air in a windstorm; songs about the suffragette cause; a droll sense of humour – The Boston Tea Party is described as: "The Americans threw the tea overboard thus making the tea undrinkable – even for Americans"; and, after all, a decidedly anarchic message about adults learning how to be children and discovering the joys of kite-flying and dancing in one's chimney soot.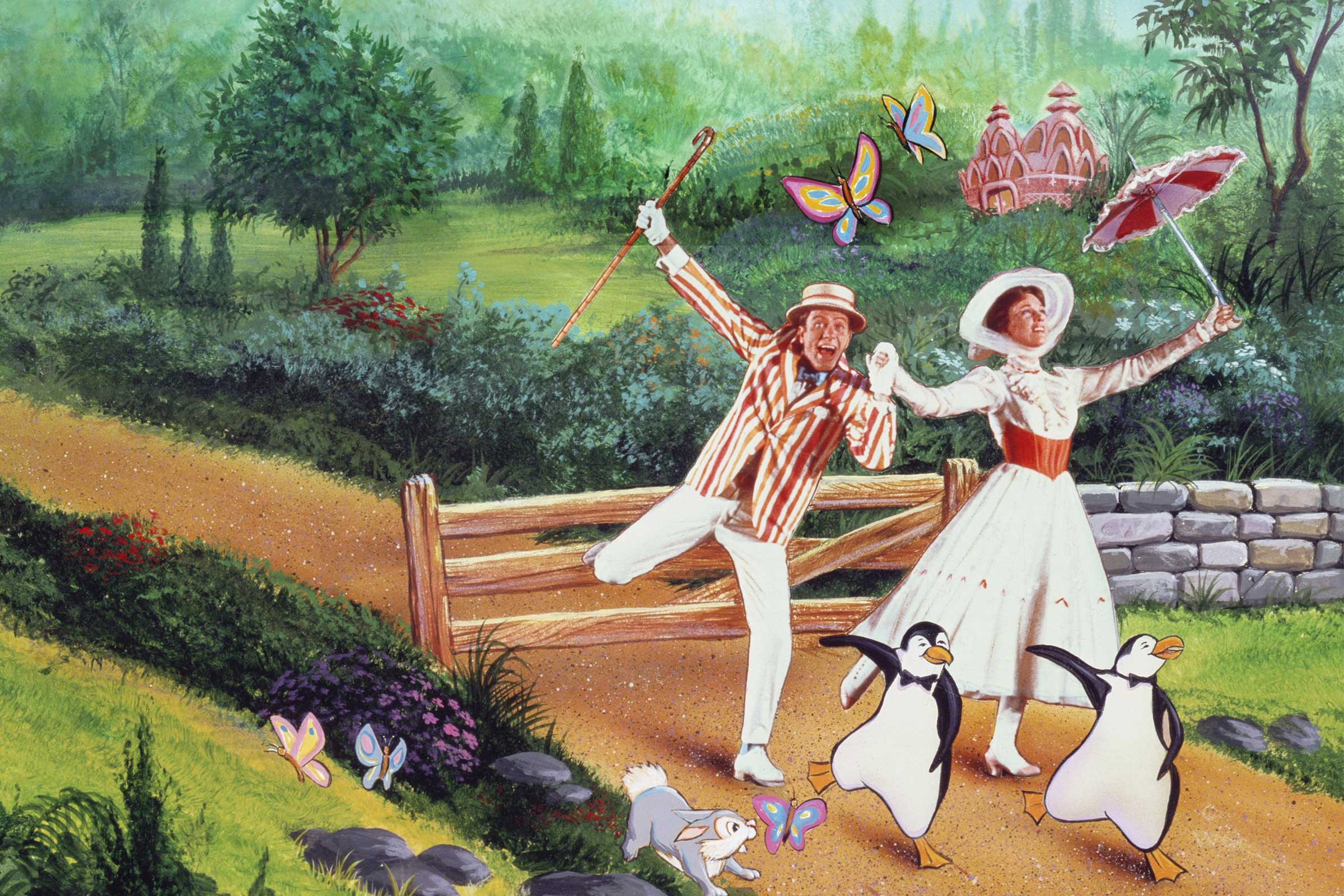 The film was based on series of children's books – eight of them published between 1934 and 1988 – by Australian-born writer P.L. Travers (1899-1996) who had a love-hate relationship with the finished film..It was a huge box-office success for its era.
Disney made a sequel with Mary Poppins Returns (2018) wherein Emily Blunt steps into Julie Andrews' shoes. Mary Poppins, Goodbye (1983) was a further version of the stories made in the Soviet Union. Also of related interest is the Australian documentary The Shadow of Mary Poppins (2002), which is a biography of P.L. Travers, the creator of the original Mary Poppins stories. This spends some time covering the filming of Mary Poppins and of the relationship between P.L. Travers and Walt Disney. The often prickly and difficult relationship between Disney and Travers and the making of the film was also dramatised in Saving Mr. Banks (2013).
British director Robert Stevenson made a number of other films for Disney that include Disney include Darby O'Gill and the Little People (1959), The Absent-Minded Professor (1961), In Search of the Castaways (1962), The Misadventures of Merlin Jones (1963), Son of Flubber (1963), The Monkey's Uncle (1965), The Gnome-Mobile (1967), Blackbeard's Ghost (1968), The Love Bug (1969), Bedknobs and Broomsticks (1971), Herbie Rides Again (1974), The Island at the Top of the World (1974) and The Shaggy D.A. (1976). Before moving to Hollywood, Stevenson also made the Boris Karloff mad scientist film The Man Who Changed His Mind (1936) and the sf film Non Stop New York (1937).
---
---