---
Crew
Director/Screenplay – Wes Anderson, Story – Wes Anderson, Roman Coppola, Kunichi Nomura & Jason Schwartzman, Producers – Wes Anderson, Jeremy Dawson, Steven Rales & Scott Rudin, Photography – Tristan Oliver, Music – Alexandre Desplat, Animation Director – Mark Waring, Animation Supervisor – Tobias Fouracre, Senior Visual Effects Supervisor – Tim Ledbury, Production Design – Paul Harrod & Adam Stockhausen. Production Company – Studio Babelsberg/Indian Paintbrush/American Empirical Pictures.
Voices
Bryan Cranston (Chief), Koyu Rankin (Atari Kobayashi), Edward Norton (Rex), Bob Balaban (King), Jeff Goldblum (Duke), Bill Murray (Boss), Kunichi Nomura (Mayor Kobayashi), Greta Gerwig (Tracey Walker), Liev Schreiber (Spots Kobayashi), Scarlett Johanssen (Nutmeg), Akira Takayama (Major-Domo), Frances McDormand (Interpreter Nelson), Harvey Keitel (Gendel), Akira Ito (Professor Watanabe), F. Murray Abraham (Jupiter), Yoko Ono (Assistant Scientist Yoko Ono), Tilda Swinton (Oracle), Ken Watanabe (Head Surgeon), Mari Natsuki (Auntie), Fisher Stevens (Scrap), Nijiro Murakami (Editor Hiroshi), Courtney B. Vance (The Narrator)
---
Plot
Japan in the near future. In Megasaki City, Mayor Kobayashi drums up fear over the flu that is sweeping the canine population. Following his urgings, all of the dogs are banished to Trash Island in the bay. Some time later. The dogs on the island are starving and malnourished, scrabbling for scraps to eat. They are interrupted as a plane crashes on the island. This is Atari, the mayor's adopted son, who has come searching for his beloved security dog Spots. The dogs nurse Atari back to health. They drive off a security detachment sent to retrieve Atari and aid him as he sets out across the island to find Spots. Meanwhile, back on the mainland, Mayor Kobayashi, believing Atari dead, launches a plan to kill off all the dogs. At the same time, Tracey Walker, an American exchange student, has exposed that Kobayashi created the flu, as well as eliminated the scientist who discovered a cure.
---
Director Wes Anderson has become a critical darling. He first appeared with Bottle Rocket (1996) and went on to make Rushmore (1998), The Royal Tenanbaums (2001), The Life Aquatic With Steve Zissou (2004), The Darjeeling Limited (2007), Moonrise Kingdom (2012), The Grand Budapest Hotel (2014), The French Despatch (2021) and Asteroid City (2023). All of these come with what might be called a mundane whimsy – well-known actors in offbeat roles, a fascination with the eccentric banality of everyday life and a unique production design scheme that is often colour coordinated, filled with bric-a-brac and where Anderson's camera drifts through in horizontal right and left moves.
Anderson previously ventured into Stop-Motion Animation with the Roald Dahl adaptation Fantastic Mr. Fox (2009), a film filled with considerable charms, as well as brief scenes with exotic sealife in Steve Zissou. Indeed, it is this author's opinion that Wes Anderson performs far better in stop-motion animation than he does in live-action where it seems that the benefit of translating his eccentricities to non-human characters gives them far more life.
Isle of Dogs (the title is a homonym pun that also plays out as 'I Love Dogs') could be any standard animated film about talking animals if you were to boil it down to a level of pure plot synopsis – comparisons come to Disney films like Lady and the Tramp (1955) and One Hundred and One Dalmatians (1961). On the other hand, the difference all comes in the tone. Isle of Dogs certainly has its share of tender and sentimental moments that abovementioned Disney films specialised in.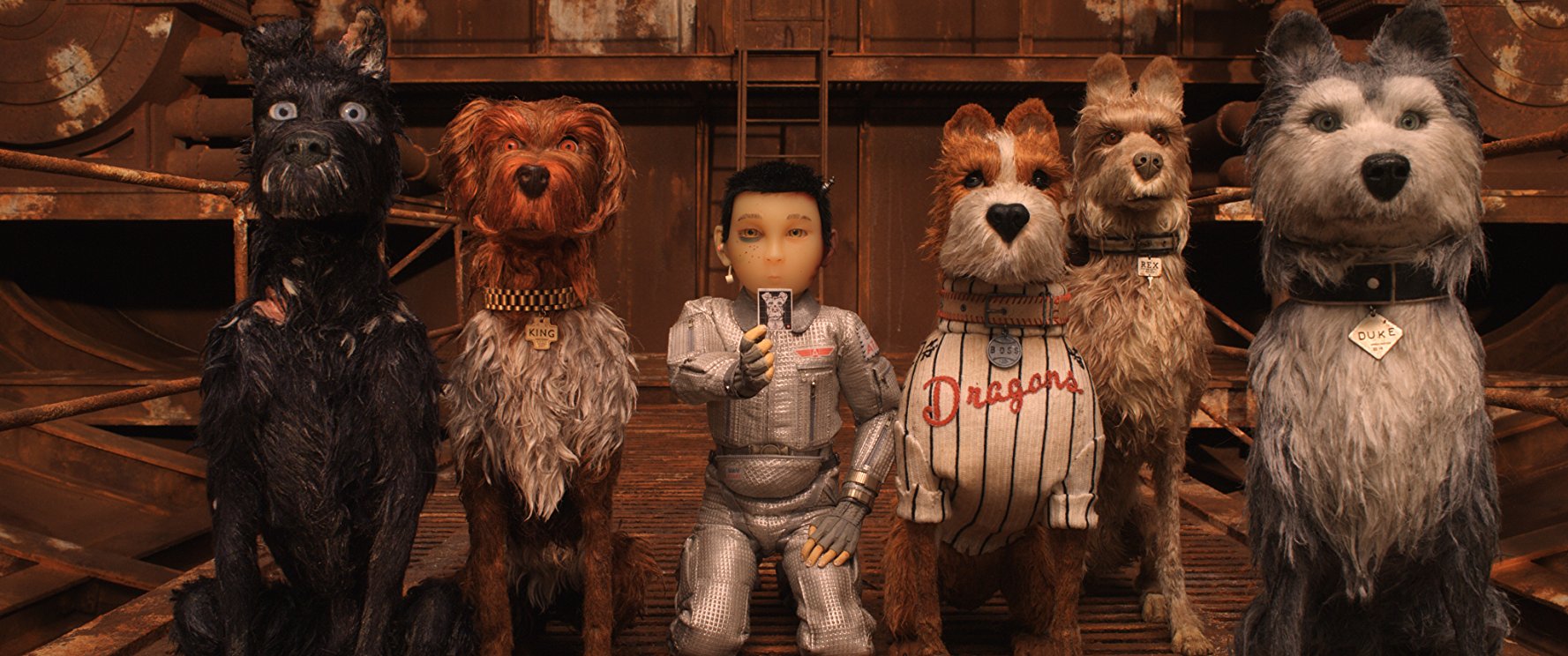 Everything here follows suit in these respects and the film reaches a really quite sweet ending – the most emotional resolution a Wes Anderson film has arrived at, one would go so far as to say. Where it differs is that Anderson also animates all of the ums, ahs, hesitations and colloquialisms that he seems fascinated with in his films. It's an animated film where the dogs talk like real people do (most of which are voiced by a large line-up of Hollywood talent that any live-action film would be green with envy at being able to bring together under the same roof).
What makes Isle of Dogs into visually the most extraordinary film of the year is Anderson's designs. The entire film takes place on a two-dimensional plane where action takes place from right to left but the characters and camera never seem to move in or out of depth to the fore- and backgrounds. The effect is not dissimilar to tv's South Park (1997– ), which does the same thing albeit in a more low-tech way.
Anderson also makes the film look like a Japanese magazine with kanji script running down the screen in columns and headlines breaking up the image. You often end up amazed at the amount of detail that has gone into small things in the background of scenes – Anderson even has stop-motion animated scenes that detail the making of sushi or a liver operation.
(Winner in this site's Top 10 Films of 2018 list. Winner for Best Production Design at this site's Best of 2018 Awards).

---
---