---
Crew
Director/Screenplay/Production Design – Henry Selick, Based on the Novel by Neil Gaiman, Producers – Claire Jennings, Bill Mechanic, Mary Sandell & Henry Selick, Photography (3D) – Pete Kozachik, Music – Bruno Coulais, Visual Effects Supervisor – Brian Van't Hul, Conceptual Artist – Tadahiro Uesugi. Production Company – Laika Entertainment/Pandemonium.
Voices
Dakota Fanning (Coraline Jones), Teri Hatcher (Mel Jones), John Hodgman (Charlie Jones), Robert Bailey Jr (Wybie Lovat), Jennifer Saunders (April Spink), Dawn French (Miriam Forcible), Keith David (The Cat), Ian McShane (Sergei Bobinsky)
---
Plot
Young Coraline Jones' parents have moved to a new home – an old house that has been divided up into four apartments, each inhabited by eccentric neighbours. Coraline is unhappy because both her parents are always busy as writers and have no time for her. She finds a mysterious door in the wall but is disappointed after getting the key to find that it is bricked over. However, as Coraline sleeps that night, the door opens. She crawls through a tunnel to find herself in a world that is almost identical to the one on the other side – except that everyone has buttons instead of eyes. Coraline finds that in this world her parents are perfect – full of amazing creativity, loving and always there for her. The neighbours in this world are equally amazing. Coraline then hears mystery voices that warn her about returning to this world. She is nevertheless drawn back by the perfect parents she has there – only to find that in order to stay, her other mother wants her to have buttons sewn over her eyes. Coraline flees back home in horror, only to find that the creature that is her other mother has abducted her real parents.
---
Stop-motion animator Henry Selick is one of the great and underappreciated names in genre cinema. Selick first appeared as director with the Tim Burton backed stop-motion fantasy The Nightmare Before Christmas (1993), a dark fable that celebrates all that is Halloween. The Nightmare Before Christmas was not a huge success initially but has since grown into the cult recognition it richly deserves. Selick next went onto the delightful Roald Dahl adaptation James and the Giant Peach (1996), also produced by Tim Burton. Selick went astray with his next film Monkeybone (2001) where he attempted to incorporate live-action with the stop-motion but turned out a slapstick film that was universally hated and ended up a big flop. It took Henry Selick several years to make a comeback after Monkeybone, during which time he was making ends meet by creating special effects for other films like The Life Aquatic with Steve Zissou (2004) and making short films. Even after the reasonable success of Coraline, Selick had his next project shut down on him by Disney in mid-2012.
Coraline is Henry Selick's return to feature-length stop-motion animation. The film is based on Coraline (2002), a novella by Neil Gaiman (which is published and sold as a standalone book). Gaiman emerged as a comic-book writer in the 1980s where he gained a cult reputation with the graphic novel The Sandman (1989-96) and then went onto publishing books with Good Omens (1990), Stardust (1998), American Gods (2001), Anansi Boys (2005), Interzone (2007), The Graveyard Book (2008), Odd and the Frost Giants (2008) and The Ocean at the End of the Lane (20130. Gaiman appeared on screen with an episode of tv's Babylon 5 (1993-8) and works like the fine tv mini-series Neverwhere (1996) set in a magical world that exists beneath the streets of London and the English-language screenplay for Princess Mononoke (1997), even two episodes of tv's Doctor Who (2005– ). The mid-00s have seen an upsurge in the popularity of Neil Gaiman's works on the big screen with original screenplays like MirrorMask (2005), the animated Beowulf (2007) and the adaptation of works like Stardust (2007), How to Talk to Girls at Parties (2017), the tv series American Gods (2017-21), the tv mini-series Good Omens (2019) and the tv series The Sandman (2022- ).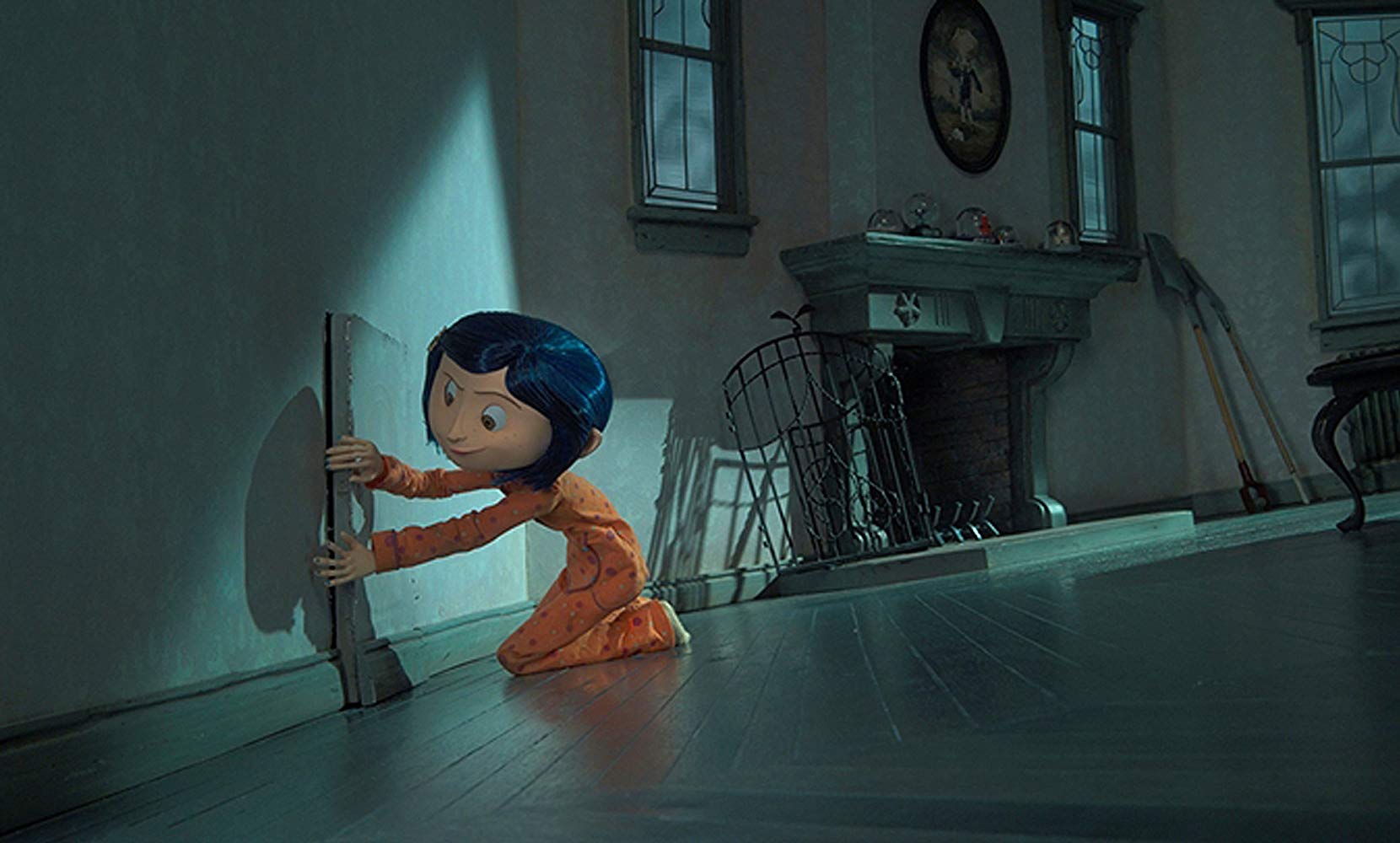 Henry Selick's sensibilities are very different from mainstream studios likes Disney, DreamWorks or even Pixar and Coraline is decidedly different to any other work cluttering up the box-office in the name of children's entertainment. Henry Selick banishes the cuteness, banal homilies and simplicities that these films operate under and especially rejects the notion that children's films must come with a lack of complexity or dark adult emotions. Indeed, Selick's darker works like The Nightmare Before Christmas and Coraline are in the odd position of being created as children's films that never found the family audience they were initially sold to but discovered an afterlife where they were enjoyed more by adults.
Rather than any animated adventure, Coraline resembles more the dark fantasies of works like Gaiman's MirrorMask and Pan's Labyrinth (2006) in which a portal opens the way into a darkly distorted mirror world that becomes a reflection of the real one and the heroine's journey through this is an allegorical bildungsroman. Coraline eventually opts for the comfortable fantasy standard moral lesson of "if something is too good to be true then it will be" and that sometimes it is best to appreciate the things that one has in front of them rather than want for more. Nevertheless, the journey there is an amazingly vibrant, eccentric and darkly threatening one.
Henry Selick's design for Coraline is a work of art in itself. He creates a world that exists like something akin to Willy Wonka's factory redesigned along the aesthetic of Emily the Strange. The film comes laced with all manner of visuals puns – the Other Father sits at what is a literal player piano that sprouts a pair of hands that play him; Coraline sits down to dinner where they are served by a literal gravy train.
And everywhere else the film is a marvel of oddball eccentricities. A visit to the Other Mr Bobinsky contains cannons that fire cotton candy sticks and a chicken that poops readymade popcorn while eating from a rotating cob, as well as a delirious sequence with a dancing mouse orchestra. The Other Father mows the lawns by riding a mechanical praying mantis and then Selick pulls back to show he has built an entire moonlight garden in the shape of Coraline's face. There is a marvellously creepy opening credits sequence with a set of animated metal needles stuffing and then sewing a doll together.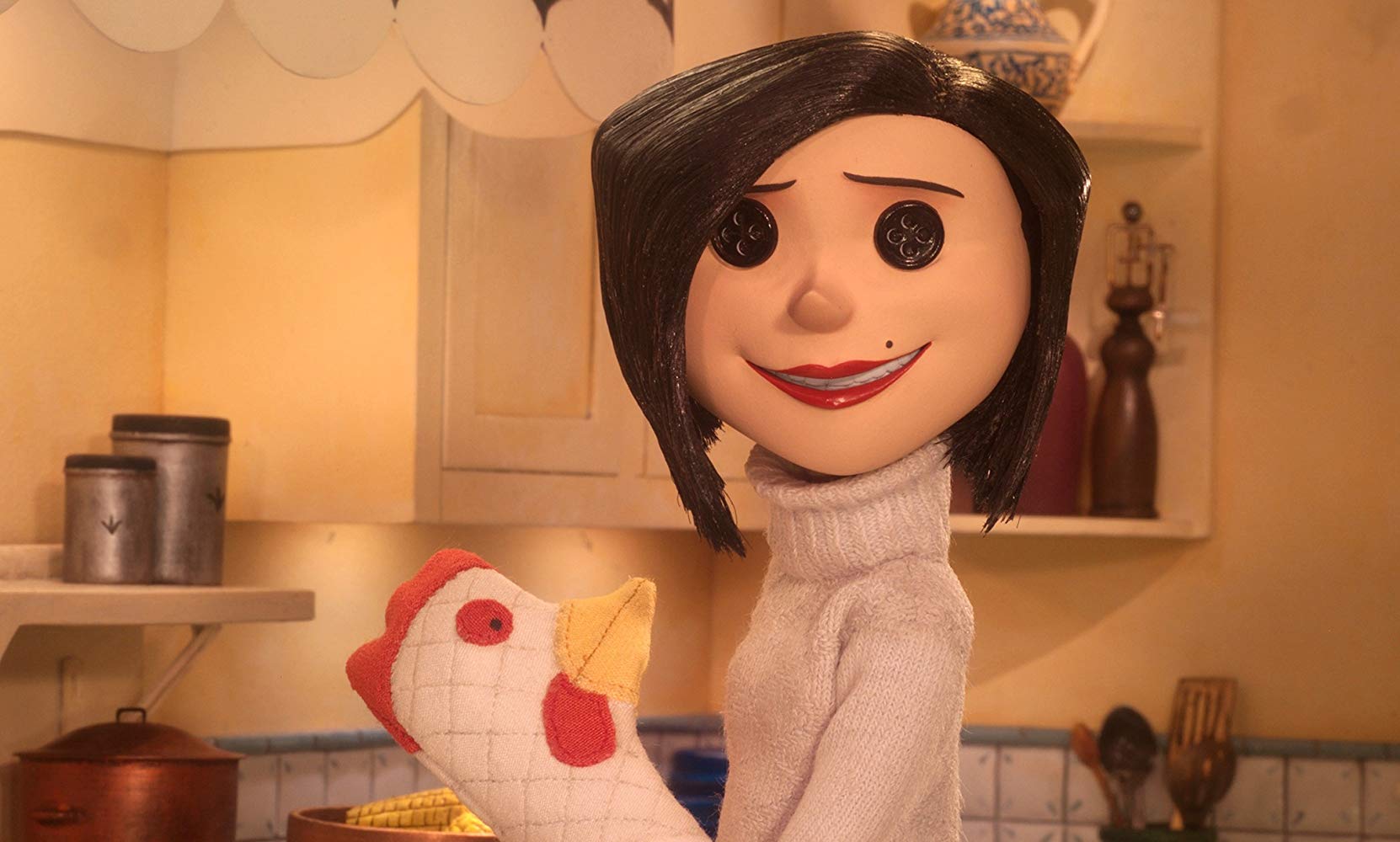 The marvel of Coraline is the detail of Henry Selick's animation. Coraline had a shooting schedule that lasted for nearly a year-and-a-half, involving the construction of some 40 miniature sets. The scene in the theatre where the Scottie dogs watch the performance featured 248 dogs, all of which were individually animated one frame at a time. The work throughout is flawless – indeed the highest compliment you could possibly pay Henry Selick is that did you not know otherwise, you could easily mistake Coraline for a work of computer animation.
The publicity machine makes much out of how Coraline was the first stop-motion animated feature to be made in 3D. Henry Selick avoids the pitfall of most 3D films that use the extra dimension as merely a gimmicky opportunity to throw things out into an audience's face. Instead, he uses it for the possibilities of dimensional animation, lighting up the appearance of the tunnel and especially the transformation of the moon garden into something wondrous.
Subsequent to this and without Henry Selick, Laika went on to build a reputation as a stop-motion company with the likes of ParaNorman (2012), The BoxTrolls (2014), Kubo and the Two Strings (2016) andMissing Link (2019).
(Winner in this site's Top 10 Films of 2009 list. Winner for Best Production Design at this site's Best of 2009 Awards).
---
---