---
Crew
Director – Henry Selick, Screenplay – Steve Bloom, Karey Kirkpatrick & Jonathan Roberts, Based on the Book by Roald Dahl, Producers – Tim Burton & Denise Di Novi, Photography – Hiro Narita, Animation Photography – Pete Kozachik, Music – Randy Newman, Visual Effects Supervisor – Scott E. Anderson, Visual Effects – Buena Vista Visual Effects & Sony Pictures Imageworks, Production Design – Harley Jessup. Production Company – Skellington Productions/Disney.
Cast
Paul Terry (James Henry Trotter), Miriam Margolyes (Aunt Sponge), Joanna Lumley (Aunt Spiker), Pete Postlethwaite (Old Man), Mike Starr (Cop)
Voices
Richard Dreyfuss (Centipede), Susan Sarandon (Spider), Simon Callow (Grasshopper), Jane Leeves (Ladybug), David Thewlis (Earthworm), Miriam Margolyes (Glowworm)
---
Plot
After his parents are killed in a storm, young James Henry Trotter goes to live with his cruel aunts Spiker and Sponge. A strange old man gives him a bag of glowing green 'crocodile tongues'. James accidentally drops these, whereupon they cause a tree to sprout a giant-size peach. This is quickly exploited by the two aunts who turn the giant peach into a tourist attraction. James eats the last crocodile tongue and is transformed so that he can enter the peach. There he meets a bewildering array of talking insects. The peach rolls down the hill and out to sea with them all inside. James then has the idea of harnessing a passing of flock of seagulls to tow the peach and together they embark on a fantastical journey.
---
Director Henry Selick first burst onto the scene, taking everybody's attention with the remarkable The Nightmare Before Christmas (1993), a delightful revival of the near lost art of stop-motion animation. James and the Giant Peach was Henry Selick's second venture into feature-length stop-motion animation and is in its own way as remarkable a film as The Nightmare Before Christmas. (Like The Nightmare Before Christmas, James and the Giant Peach was not a huge financial success).
James and the Giant Peach was also part of a mini-vogue of Roald Dahl adaptations that seemed to be happening around that time. It is based upon Roald Dahl's first ever children's book, published in 1961. Unlike Danny De Vito's miscalculated Matilda (1996), which came out around the same time, Henry Selick gets the essence of a Roald Dahl children's story just right and understands that Dahl is always about catching a perfect balance between gleeful nastiness and transcendent sweetness.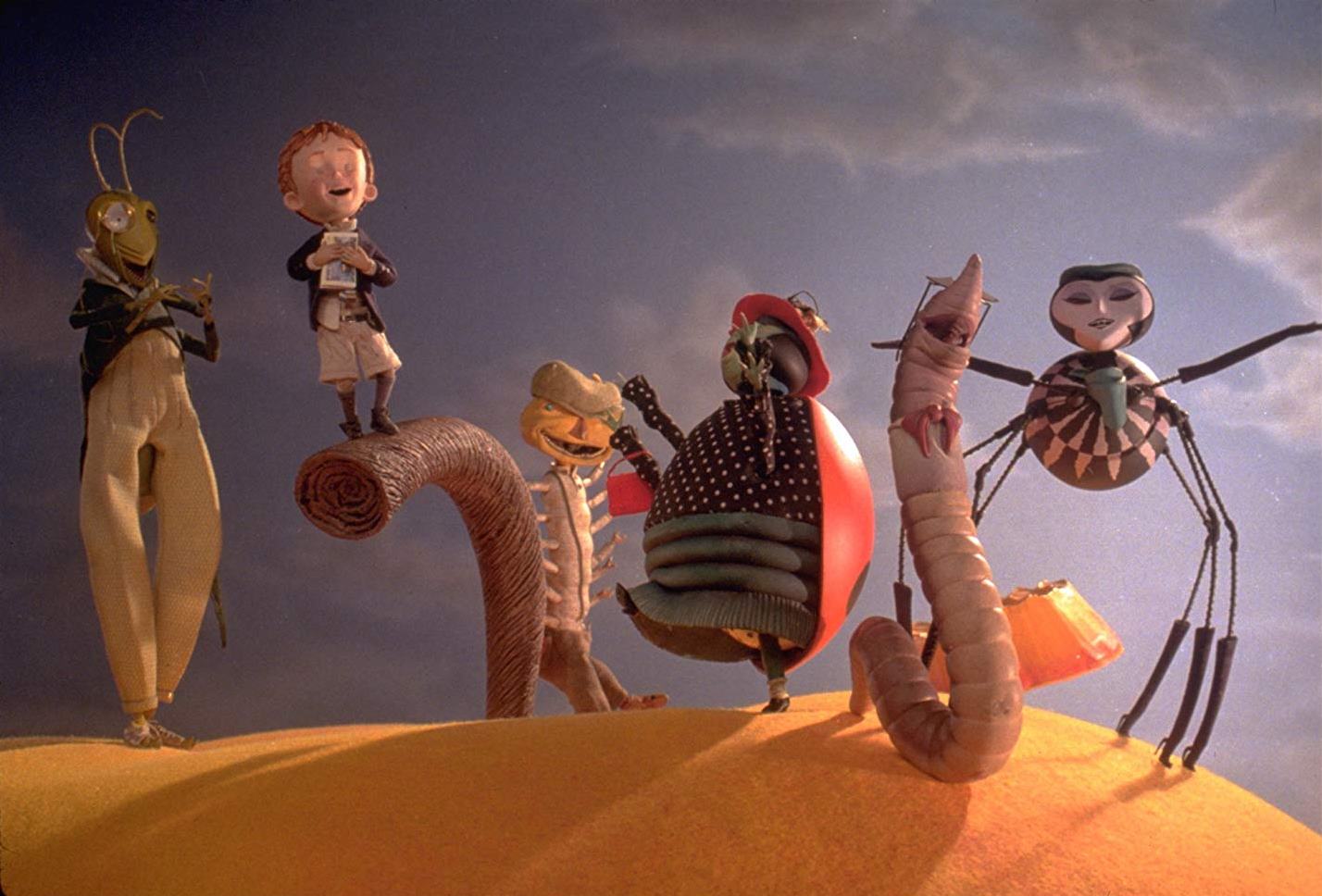 The sheer inventiveness of Henry Selick's animation is breathtaking. This is animation that is a quantum leap above the creature effects of Ray Harryhausen in the same way the visual effects of Industrial Light and Magic are over the simple stop-camera effects and double-exposures of Georges Melies. The scene with the attack of the shark – depicted as a giant Victorian submarine with rings of rotating teeth and grappling hooks – with each of the insects coming to the aid is absolutely joyous. The moment when the seagulls are finally shackled and the peach gracefully rises into the air is sublime.
The film has so much visual invention packed into it it is difficult to encompass – there is the appealingly sweet song number where the sky behind is filled with comets, airplanes, balloons and men flying bicycles. Henry Selick also includes a cameo appearance from The Nightmare Before Christmas's Jack Skellington, which leads to an outrageous pun – Centipede, upon finding a ship full of bones, "It's a Skellington." Selick does seem slightly less sure of himself when it comes to directing the live-action scenes but otherwise the film is a delight.
Henry Selick next went on to ply his stop-motion talents on Monkeybone (2001), which ended up being a widely pilloried, although not entirely unenjoyable, flop. It took Selick some years to recover but he eventually returned with Coraline (2009).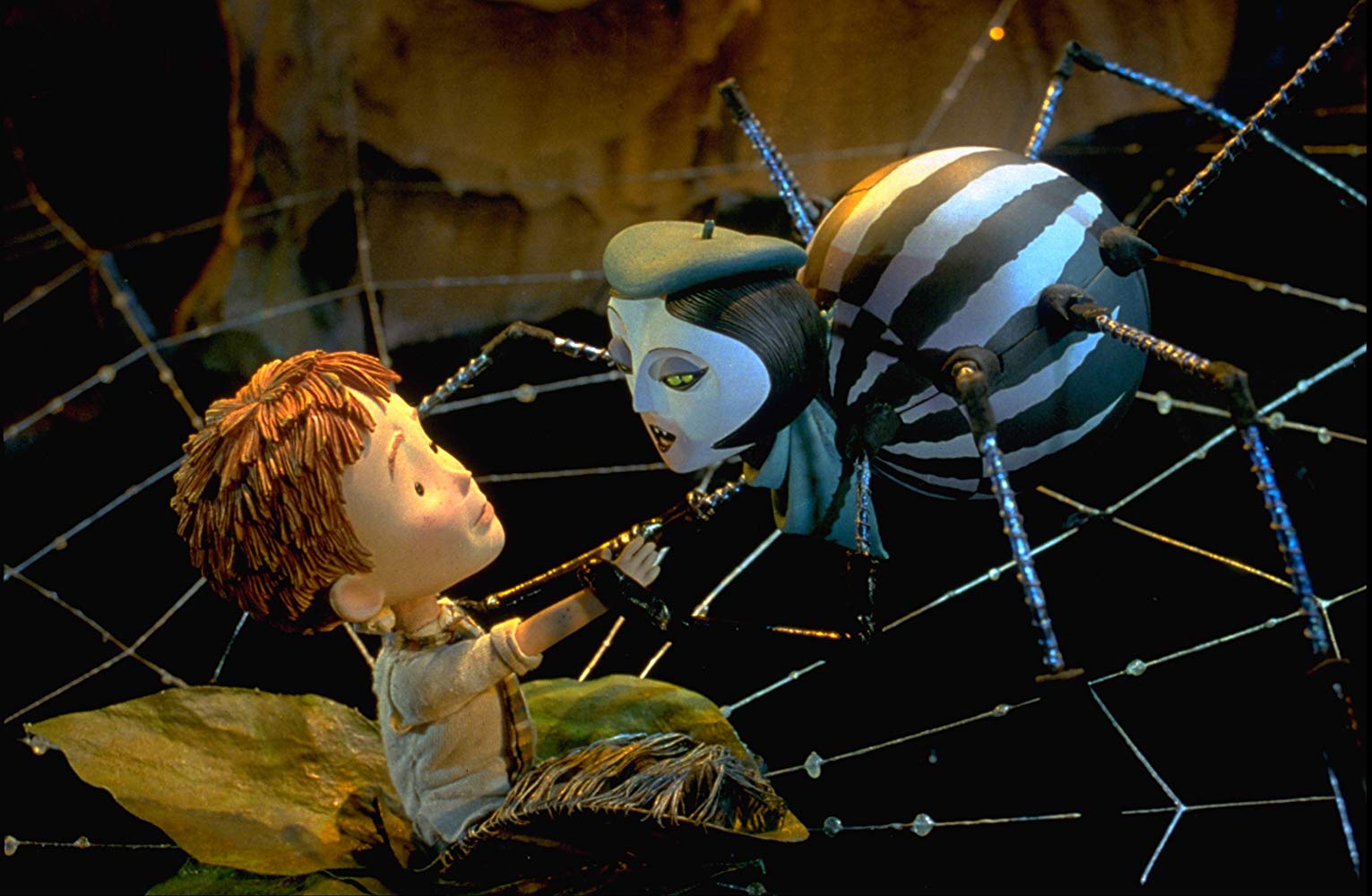 Other Roald Dahl screen works are his screenplays for the James Bond film You Only Live Twice (1967) and Chitty Chitty Bang Bang (1968); the children's classic Willy Wonka and the Chocolate Factory (1971); the psycho-thriller film The Night Digger (1971); the tv series Tales of the Unexpected (1979-81), an anthology series adapting Dahl's macabre tales; and the adaptations of The BFG (1989), The Witches (1990), Matilda (1996), Charlie and the Chocolate Factory (2005), Fantastic Mr. Fox (2009, The BFG (2016) and The Witches (2020).
(Winner in this site's Top 10 Films of 1996 list. Winner for Best Production Design, Nominee for Best Director (Henry Selick) and Best Music at this site's Best of 1996 Awards).
---
---