---
Crew
Director – Hollingsworth Morse, Screenplay – John Fenton Murray & Si Rose, Producer – Si Rose, Photography – Kenneth Peach, Music/Songs – Charles Fox, Lyrics – Norman Gimbel, Makeup – Bud Westmore, Puppet Creation – Troy Barrell, Evenda Leeper & Rolf Roediger, Art Direction – Alexander Golitzen & Walter Scott Kerndon. Production Company – Sid and Marty Krofft Productions.
Cast
Jack Wild (Jimmy), Billy Hayes (Wilhelmina W. Witchiepoo), Roberto Gamonet (H.R. Pufnstuf), Billy Barty (Googie), Johnny Silver (Dr Blinkey), Angelo Rossitto (Orson), Martha Raye (Boss Witch)
Voices
Walker Edmiston, Joan Gerber, Al Melvin, Don Messick
---
Plot
Young Jimmy is expelled from school for turning up late for band practice. While walking home, Jimmy's flute, which he calls Freddie, suddenly comes to life, turning into a beautiful bejewelled instrument that starts talking to him. They climb aboard a boat, which sets off for Living Island. They are spotted by the wicked witch Wilhelmina W. Witchiepoo who desires to have Freddie for herself. Witchiepoo contrives all effort to snatch Freddie from Jimmy's clutches and eventually manages to do so. Helped by the island's mayor, the dragon H.R. Pufnstuf, and various other colourful inhabitants, Jimmy sets out to get Freddie back as Witchiepoo plans to host the witch's convention with Freddie as prize exhibit and Pufnstuf as the main course.
---
H.R. Pufnstuf (1969-73) was one of the most mind-spinning experiences in the usual bland creative wasteland of children's television in the early 1970s. It was produced by Quebec-born brothers Sid and Marty Krofft. The Krofft brothers were also responsible for a host of other children's shows like The Bugaloos (1970-2), Sigmund and the Sea Monsters (1973-5), Land of the Lost (1974-7) and most probably famously as the creators of Donnie and Marie (1976-9).
H.R. Pufnstuf is a show that frequently attracts accusations either of the creators having inhaled a little too much of the free drugs of the Love Generation or where youthful viewers wonder years later whether or not they themselves were Under the Influence at the time. Each episode centred around young Jimmy – played by Jack Wild who had just come to fame in Oliver (1968) – trying to get his magical flute back from the clutches of Witchiepoo. The series aired between 1969 and 1973, although only a total of seventeen episodes were ever made. This film spinoff carries over the principal characters and the same actors playing them with a story that essentially elaborates and retells the first episode of the series where Jimmy arrives on Living Island.
Pufnstuf the film is a mind-bending affair that altogether staggers the imagination. It is like a cut-price schlock version of The Wizard of Oz (1939) on acid (and about every other hallucinatory substance imaginable, for that matter). It comes in a mind-boggling array of colours that seem to be trying to be as psychedelic as possible – Witch Hazel's polka dot bathtub has to be seen to be believed. Witchiepoo flies around on a rocket-powered broomstick that comes replete with a steering wheel.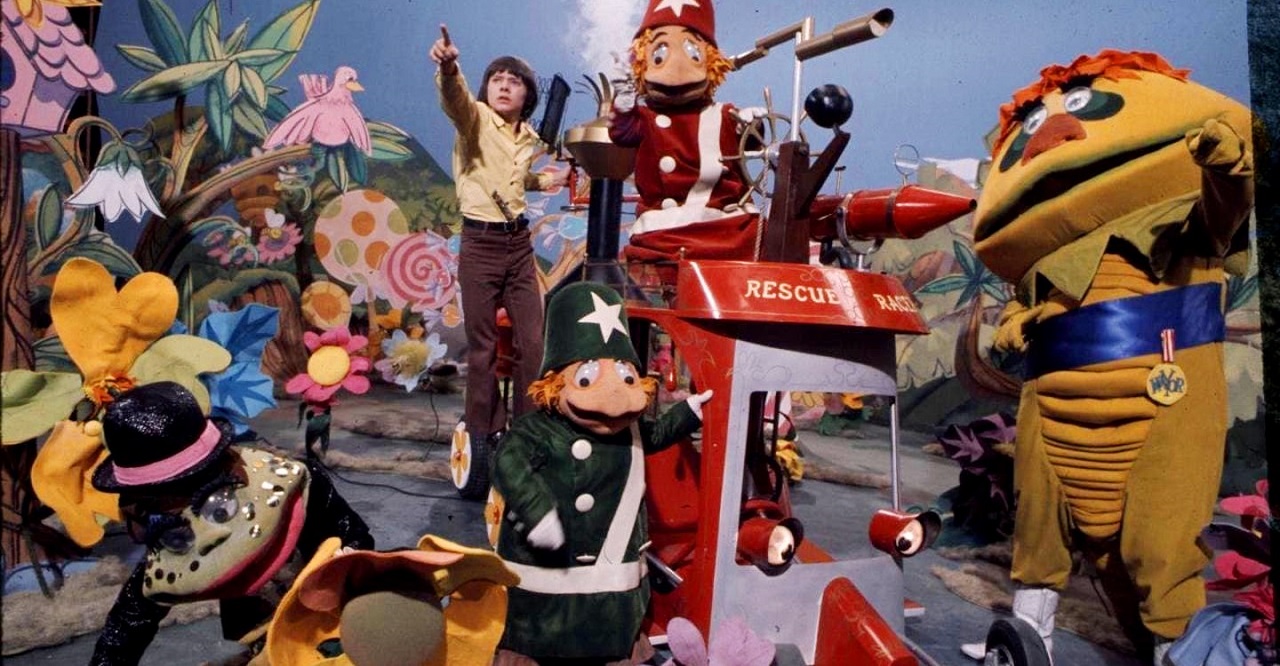 There is an outlandish menagerie of ambulatory pink alarm-clocks; cigar-puffing talking chimneys; a bat with a pot-belly that is always flying into walls; a pelican postman that at one point tries to smuggle the young hero into Witchiepoo's castle by hiding him in its beak; walking trees – one is a hippy, while another has an upper-class English accent and proudly traces its lineage to the wood that made up the Mayflower; a witch's familiar that is a Nazi rat. And then there is Pufnstuf, the Texan-accented dragon, who at one point is put on Witchiepoo's spit with a giant-sized red apple in his mouth to be served up as a Blue Plate special.
The script bubbles with positively hilarious one-liners – "How do you like my ring? [which is literally] Three carrots," or the witch's curse, "Go to Heaven." The shoddiness of the production values – Jimmy Wild's acrobatic dance where the wires twirling him around are clearly visible, shoes that can be seen on the evil trees, obvious painted backdrops and props – only add to the dementia. As Witchiepoo, Billy Hayes, screaming and cackling like a mad person, and at various points rolling around on the bed and floor and kicking her legs up in the air, seems to be having the time of her life.
---
---