---
Crew
Director/Screenplay – Taika Waititi, Based on the Novel Caging Skies by Christine Leunens, Producers – Carthew Neal, Taika Waititi & Chelsea Winstanley, Photography – Mihai Malaimare Jr., Music – Michael Giacchino, Visual Effects Supervisor – Jason Chen, Visual Effects – Luma (Supervisor – Brendan Seals), Special Effects Supervisor – Martin Kuhlanek, Production Design – Ra Vincent. Production Company – Defender/Piki Productions.
Cast
Roman Griffin Davis (Johannes 'Jojo' Betzler), Thomasin McKenzie (Elsa Korr), Scarlett Johansson (Rosie Betzler), Taika Waititi (Adolf Hitler), Sam Rockwell (Captain Martin Klenzendorf), Rebel Wilson (Fraulein Rahm), Archie Yates (Yorki), Stephen Merchant (Deertz), Alfie Allen (Finkel)
---
Plot
Germany, the 1940s. Ten year-old Johannes or Jojo Betzler is placed in the Hitler Youth by his mother. Jojo has imaginary conversations with Adolf Hitler and wants only to be a good Nazi like his father who is away fighting. That is until he injures himself on the training ground with a hand grenade. With his face scarred and leg wounded, Jojo is left at home on bed rest. While there, he begins to hear noises in the attic and discovers young teenage Jewish girl Elsa Korr who has hidden inside the wallspace by his mother. Jojo befriends Elsa, determined to write down the truth about the monstrous Jew that he has been taught. Throughout this and the wider events of the war that play out around them, a friendship grows between Jojo and Elsa.
---
Taika Waititi is a director whose name has been on the rise in the last few years. A New Zealand-born Maori who claims Jewish ancestry through his grandmother's side, Waititi started out as a stand-up comic. Waititi made his directorial debut with the short film Two Cars, One Night (2004), which was nominated for an Academy Award. This led to Waititi's feature film debut with Eagle vs Shark (2007), which was followed by Boy (2010) and Hunt for the Wilderpeople (2016), all of which enjoyed considerable acclaim. Waititi's previous genre entry was What We Do in the Shadows (2014), co-directed with Jermaine Clement, an hilarious mockumentary in which Waititi and Clement play vampires flatting together in the modern world, which later became the basis of the popular tv series. Waititi burst out onto the international stage with Thor: Ragnarok (2017) and the subsequent Thor: Love and Thunder (2022). He also makes acting appearances in all of his own films.
There was an enormous amount of goodwill towards Taika Waititi at the time that Jojo Rabbit came out. Jojo Rabbit was nominated for a host of awards and ended up winning that year's Academy Award for Best Adapted Screenplay, plus receiving a nomination for Best Film. That doesn't include a host of other nominations at the BAFTAS, Golden Globes, Critic's Choice Awards and its receiving the People's Choice Award at TIFF.
None of which explains why Jojo Rabbit is such a head-scratcher in trying to watch it. It may just be one of those films where one is out of critical goosestep with popular opinion and the rest of the world. It may simply be that the film's very timely message of overcoming racial prejudice carried it a whole lot of the way over its bizarre inconsistencies. Based on the advance word, I was expecting to be amazed, awed, charmed – a whole bunch of possible reactions. Instead, the film left my brain hurting from trying to process the abrupt shifts of tone between farce and serious drama. It may simply be that Taikia Waititi and the film attracted such a degree of buzz at the right time that it allowed him to get away with things that you suspect would have had the film lionised had almost any other director made it.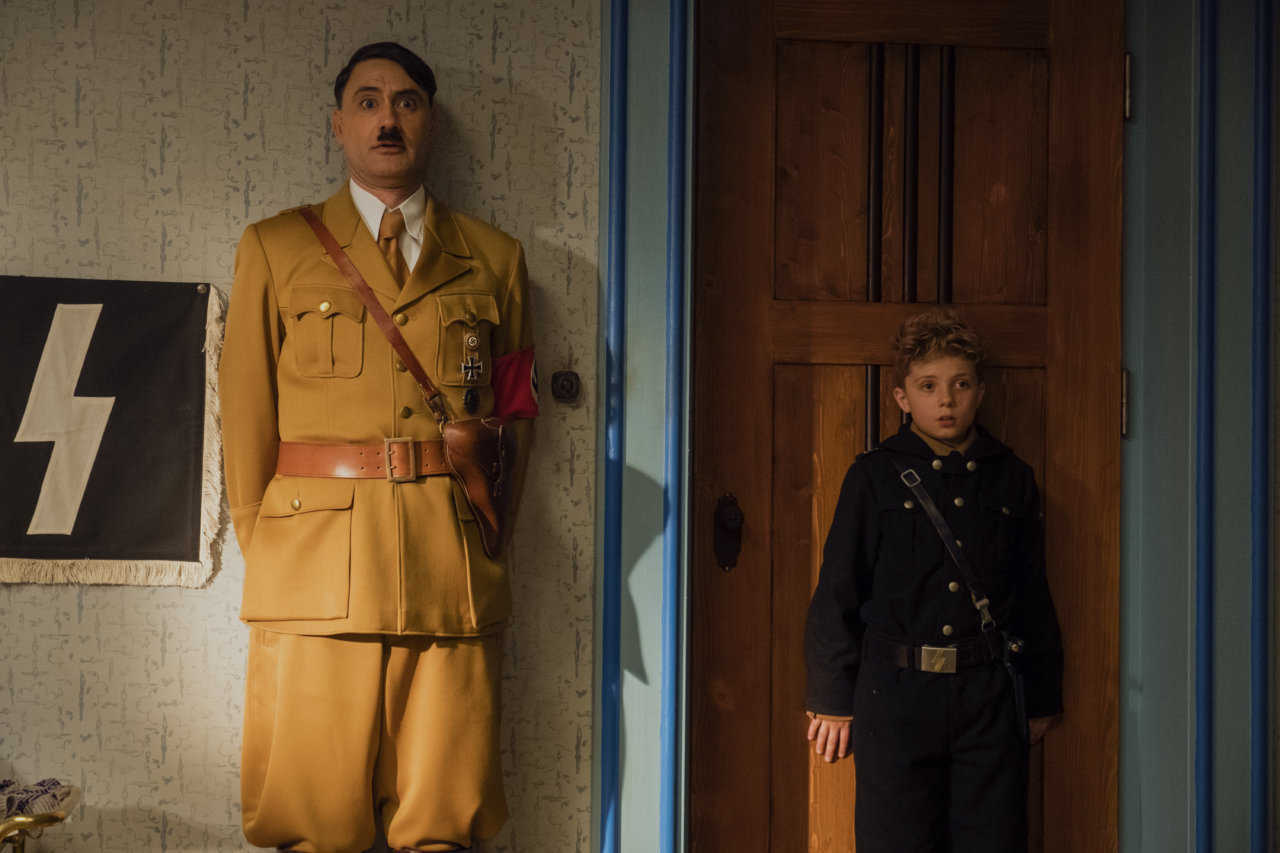 Your mind ends up reeling during the opening Hitler Youth scenes, which are pitched in a tone of strident farce, turning the Nazis and their lackeys into slapstick comic figures and making fun of the racial caricatures of the Jews. Most of all there is Taika Waititi casting himself as a comic version of an imaginary Adolf Hitler who turns up to have conversations with young Roman Griffin Davis. This comes with such a level of madcap "what the feck is going on here?" lunacy that one's head spins. At the same time, the film seems to want us to take it seriously as it engages us in a story of young Jojo and how he befriends a Jewish girl that his mother hides in the wainscoting of the house.
There was the very similar The Twilight Zone episode He's Alive (1963) in which Hitler becomes an invisible companion advising Neo-Nazi Dennis Hopper. However, there feels no ready analogy for the way the film's tone shifts between farce and serious. I could draw some kind of analogy between when Steven Spielberg went from the slapstick Nazis of Indiana Jones and the Last Crusade (1989) to the grim depiction of the realities of the Holocaust in Schindler's List (1993). The equivalent might be if Spielberg had not only depicted the Nazis running Auschwitz as slapstick caricatures but cast himself in the role of Amon Goth and played it with the puffed-up comic caricature of something out of Hogan's Heroes (1965-71).
Actually, there is a far better analogy – Uwe Boll. Boll made Blubberella (2011), a film that readily dived into bad taste jokes about Nazis and The Holocaust. It also featured Boll, the film's director, turning up playing a comic caricature of Adolf Hitler. Blubberella is seen as one of Boll's worst films where his venture into bad taste come with a great deal of offensiveness. Jojo Rabbit does fairly much the same and by bizarrely opposite token ended up winning an Academy Award for Best Adapted Screenplay. Jojo Rabbit is certainly a better made film in technical regards but I feel confused about how two films can take exactly the same approach and end up with such diametrically opposed response.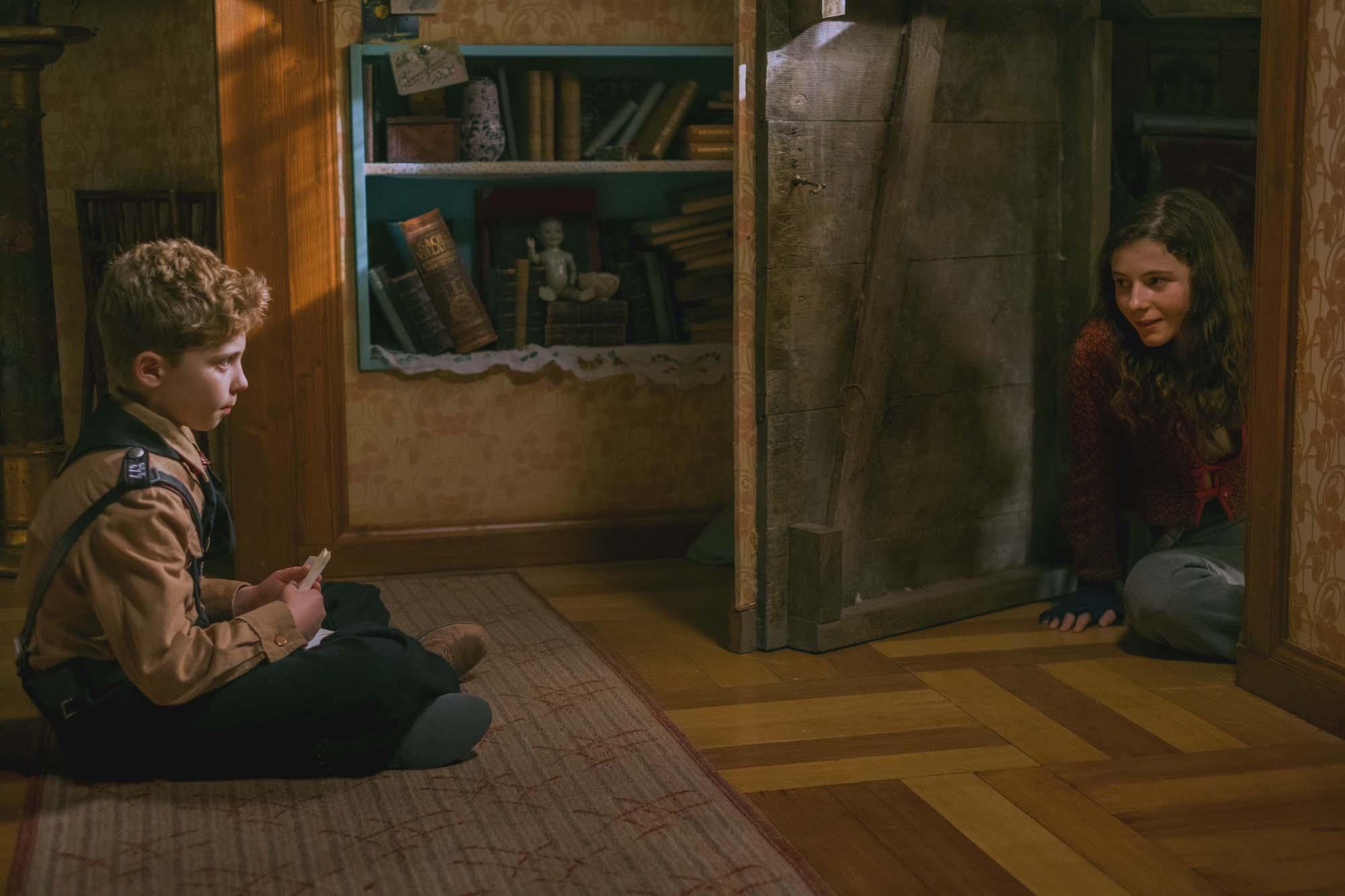 In the midst of these exaggerated pantomimic effects, Taika Waititi wants to tell a serious, tender story about racism and broaching the divide. By the end of the film, this is something that the relationship he sets up between the two characters manages to do quite well and in often sweetly tender ways. On the other hands, the film's abrupt shifts of tone keep getting in the way. Sometimes this comes with undeniable effect – like where we can go from a farcical scene with Stephen Merchant and his S.S. officers entering the house and a gag about everyone having to Seig Heil one another other to the abrupt tragedy a couple of scenes later with Roman Griffin Davis finding his mother's body. It still felt to me like a film where I couldn't decide whether I should regard it with the ridiculously unserious effect of something like the dinosaur-riding lizard person Hitler in Iron Sky: The Coming Race (2018) or the tender tragedy of a human drama.
The shame about Jojo Rabbit is that you feel it had somewhere in it the potential to be a really good film. In the likes of Boy and Hunt for the Wilderpeople, Taika Waititi is a director capable of making beautiful, enlivening works about children growing up in often abusive and neglectful environments and the ways they bond with adults. You cannot help but feel that if Jojo Rabbit had stripped its farce away and simply made a small, intimate work about the way a boy deals with tragedy in his life and overcomes ingrained racism it could have been a terrific film. Somehow though that got wound up into everybody making a pantomime version of Hogan's Heroes.
---
---