---
Crew
Director/Screenplay – James D. Parriott, Producer – Steve Tisch, Photography – Arthur Allen, Music – Patrick Leonard, Special Effects – Court Wizard Special Effects (Supervisor – John Eggett), Makeup Effects – Michele Burke, Production Design – John Muto. Production Company – New Line Cinema.
Cast
Bob Hoskins (Sergeant Jack Moony), Denzel Washington (Napoleon Stone), Chloe Webb (Crystal Gerrity), Ray Baker (Harry Zara), Roger E. Mosley (Captain Warren Wendt), Jeffrey Meek (Graham)
---
Plot
Jack Moony, a racist slob of a police officer, harasses suave Black lawyer Napoleon Stone whom he is certain is a pimp. Although the real reason behind this is that Moony's former girlfriend, hooker Crystal Gerrity, is now involved with Stone. Moony is suspended but then collapses from a heart-attack. The only available donor is Stone, who is brought in dead. Upon leaving hospital, Moony quickly returns to his old lifestyle but the ghost of Stone then appears to protect his heart from Moony's abuse. Despite Moony's dislike of Blacks, he grudgingly teams up with Stone so that Stone can find his murderer. At the same time, Stone helps Moony present himself better so that he can get back together with Crystal.
---
What we have with Heart Condition is, in most respects, a not particularly noteworthy variation on a familiar theme – that of the invisible companion. This is a theme that has a long history in light fantasy going back to at least Topper (1937) and sequels, although the classic work on the subject with Harvey (1950) with James Stewart and his invisible rabbit companion.
The film does little with the material. The lead character's transformation from racist to warm and cuddly is spelt out from the start. The plot is an often contrived one. There is, for example, a confusing ambiguity painted concerning Denzel Washington's character – he is at first made to seem a suave but shady underworld figure and a pimp (something that is later confirmed) but such ambiguities are then swept aside and ignored for the rest of the story and the character placed solidly on the side of good throughout.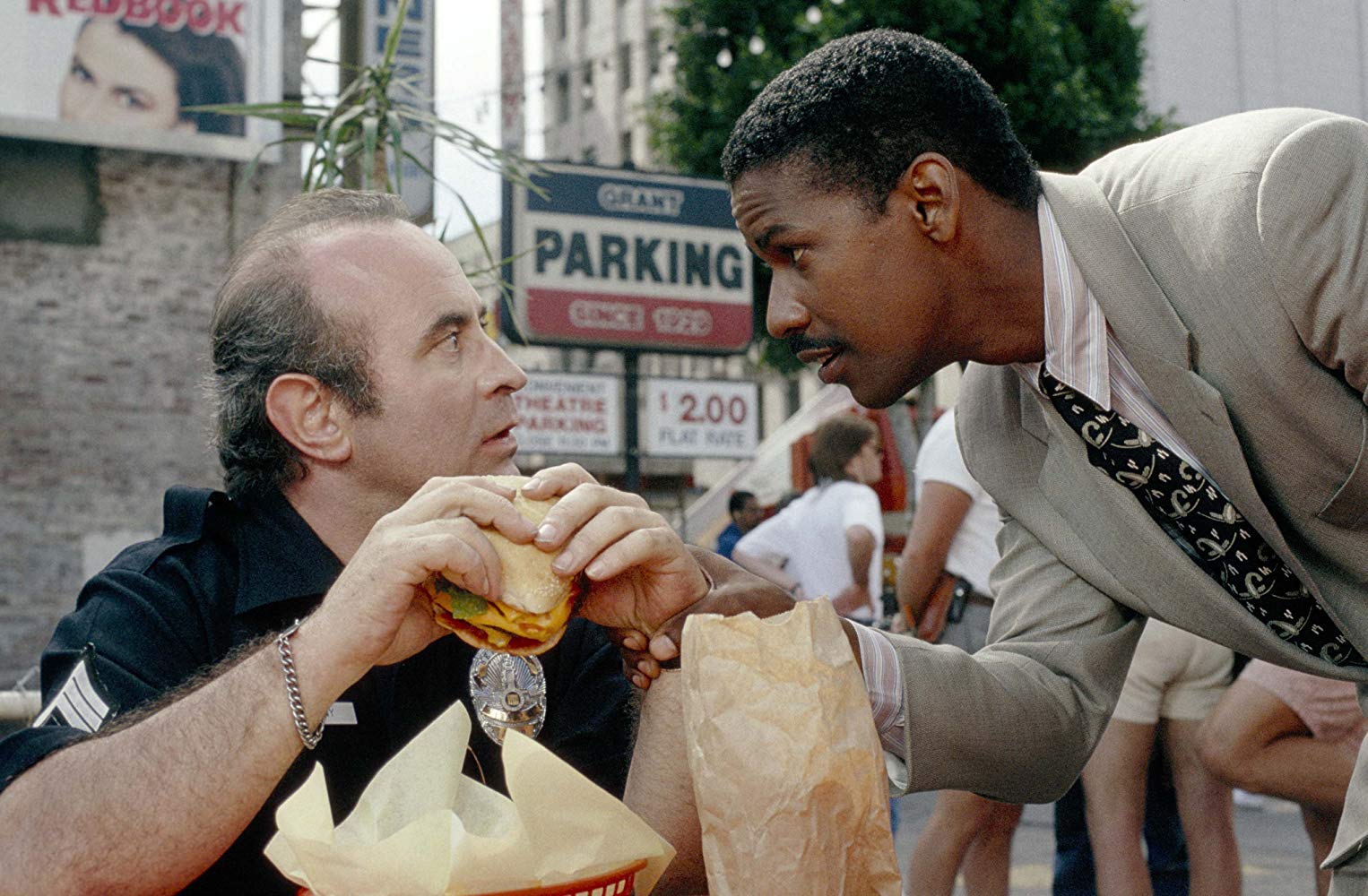 Heart Condition does however rise considerably above itself thanks to the top drawer casting. Bob Hoskins' remarkably bigoted and hate-filled performance quite takes one aback at the outset. Hoskins has the immensely difficult task of making the character become likeable, which he does achieve. Denzel Washington is very good too – the scenes of him persuading Bob Hoskins why he lost Chloe Webb and of the two of them working together as an invisible partnership are fine. There is also a good performance from Chloe Webb who presents an appealing vulnerability and innocence. It is the three of these that transform Heart Condition into something more than its lumpy unevenness and cliched rehashes would otherwise make it into.
This was only one of two films directed by James D. Parriott. He has however worked as a producer and writer on an amazing number of classic tv shows including The Bionic Woman (1976-8), The Incredible Hulk (1977-82), Voyagers! (1982-3), Misfits of Science (1985-6), Forever Knight (1992-6), Dark Skies (1996-7), Grey's Anatomy (2005– ), Ugly Betty (2006-10) and Sons of Anarchy (2008-14).
---
---