---
Crew
Directors/Screenplay – Jemaine Clement & Taika Waititi, Producers – Emanuel Michael, Taika Waititi & Chelsea Winstanley, Photography – Richard Bluck & D.J. Stipsen, Music – Plan 9 (David Donaldson, Steve Roche & Janet Roddick), Visual Effects Supervisor – Stan Alley, Special Effects Supervisors – Doug Falconer & Steve Ingram, Makeup Effects – Main Reactor Limited (Designer – Roger Murry), Makeup Effects/Prosthetics – Don Brooker, Werewolf Effects – Steve Boyle & Samantha Lyttle, Production Design – Ra Vincent. Production Company – Defender Films/Two Canoes Pictures/The New Zealand Documentary Board.
Cast
Taika Waititi (Viago), Jemaine Clement (Vladislav), Jonathan Brugh (Deacon), Cori Gonzalez-Macuer (Nick), Stu Rutherford (Stu), Jackie Van Beek (Jackie), Rhys Darby (Anton), Ben Fransham (Petyr), Elana Stejko (The Beast), Jason Hoyte (Julian), Karen O'Leary (Policewoman), Mike Minogue (Policeman), Chelsie Preston-Crayford (Josephine), Ian Harcourt (Zombie)
---
Plot
In the time leading up to the annual Unholy Masquerade, a documentary crew profiles a group of vampires flatting together in Wellington, New Zealand. These include Vladislav, Viago, Deacon and the ages-old Petyr. We see how the group deals with ordinary domestic issues around the household and the difficulty in leading a secretive night-time lifestyle while going out to find victims to prey upon. Deacon's familiar Jackie brings two virgins for them to feast on but this goes wrong and one of them, Nick, is accidentally turned into a vampire. As a new vampire, Nick struggles to adjust. He also manages to introduce the others to various 21st Century marvels, including texting and the internet, and brings over his best friend Stu, whom all the others enjoy and promise not to eat.
---
What We Do in the Shadows is a directorial collaboration between Taika Waititi and Jemaine Clement. Waititi had worked as a stand-up comic and actor – even playing Tom Kalamaku in Green Lantern (2011) – for a number of years before making the short film Two Cars, One Night (2004). Two Cars gained him a high-profile due to it being nominated for an Academy Award and led to the feature film Eagle vs Shark (2007), his first on-screen collaboration with Jemaine Clement who was the film's lead actor, followed by Boy (2010). Waititi and Clement had met while at Wellington's Victoria University in the 1990s and performed in comedy acts together before Clement went onto form Flight of the Conchords with Bret McKenzie. With the tv series Flight of the Conchords (2007-9), on which Taika Waititi was brought in to direct four episodes, Clement's name went stellar and he was subsequently employed in various Hollywood works such as Gentleman Broncos (2009), Men in Black 3 (2012), Muppets Most Wanted (2014), The BFG (2016), and voice work in Despicable Me (2010), Rio (2011), Moana (2016) and episodes of The Simpsons (1989– ).
There have been vampire comedies before – most notably Roman Polanski's The Fearless Vampire Killers (1967) and Love at First Bite (1979) – while the 1980s gave way to a host of not very funny efforts with the likes of Mama Dracula (1980), Once Bitten (1985), My Best Friend is a Vampire (1987), I Brought a Vampire Motorcycle (1990) and Dracula: Dead and Loving It (1995). I would have to say that What We Do in the Shadows enters the game head and shoulders way above all of these.

What We Do in the Shadows hilariously skewers both the Found Footage film and the vampire genre from the very first scene where we see Taika Waititi rise from his coffin vertically – just like Max Schreck in Nosferatu (1922) – as the alarm goes off for sundown. He introduces himself to the camera, before taking us on a tour of the house – waking Jonathan Brugh where he hangs upside down in the closet and visiting the Max Schreck-like Ben Fransham in his coffin in the basement, tut-tutting him for leaving spinal columns littering the floor. This segues into the side-splitting scenes where the group call a flat meeting and we have the incongruity of vampires debating about who hasn't done the dishes or is responsible for letting blood spill all over the living room furniture.
The cast all have down the deadpan banality of people giving reality tv soundbite interviews – Jemaine Clement shaking his head and solemnly intoning: "I would torture people when I was in a very bad place." Or where we see Taika Waititi bringing a girl home, wooing her and then putting towels down on the floor before biting into her neck and afterwards reflecting on it: "That didn't go so well. I think I hit the main artery. I made a real mess in there. On the up side, I think she had a really good time." During a fight scene, the vampires are wont to come out with lines like "Get up and stand on the ceiling like a man." And then there is the visit to the masquerade – the on-screen credit announces it as 'Cathedral of Despair', while more banally the sign on the building tells us it is the Victoria Bowling Club – and inside the MC announces "We're raffling a live meat pack this year," as the camera cuts to a victim waiting in a cage.
The film is packed with hilariously deadpan throwaway gags in just about every frame – the vampires prowling down Courtney Place (the main entertainment strip in Wellington) and unable to get into any of the nightclubs to claim victims because the bouncers won't invite them in; or flying up to the window of the flat just like the vampires in Salem's Lot (1979) but new vampire Cori Gonzalez-Macuer then struggling to get his legs through the frame. Or of Taika Waititi forlornly lurking outside the window of a geriatric home longing for his lost love – and at the end settling down with her, telling us he is unconcerned over accusations of cradle-snatching with he being several hundred years old settling down with a mere octogenarian.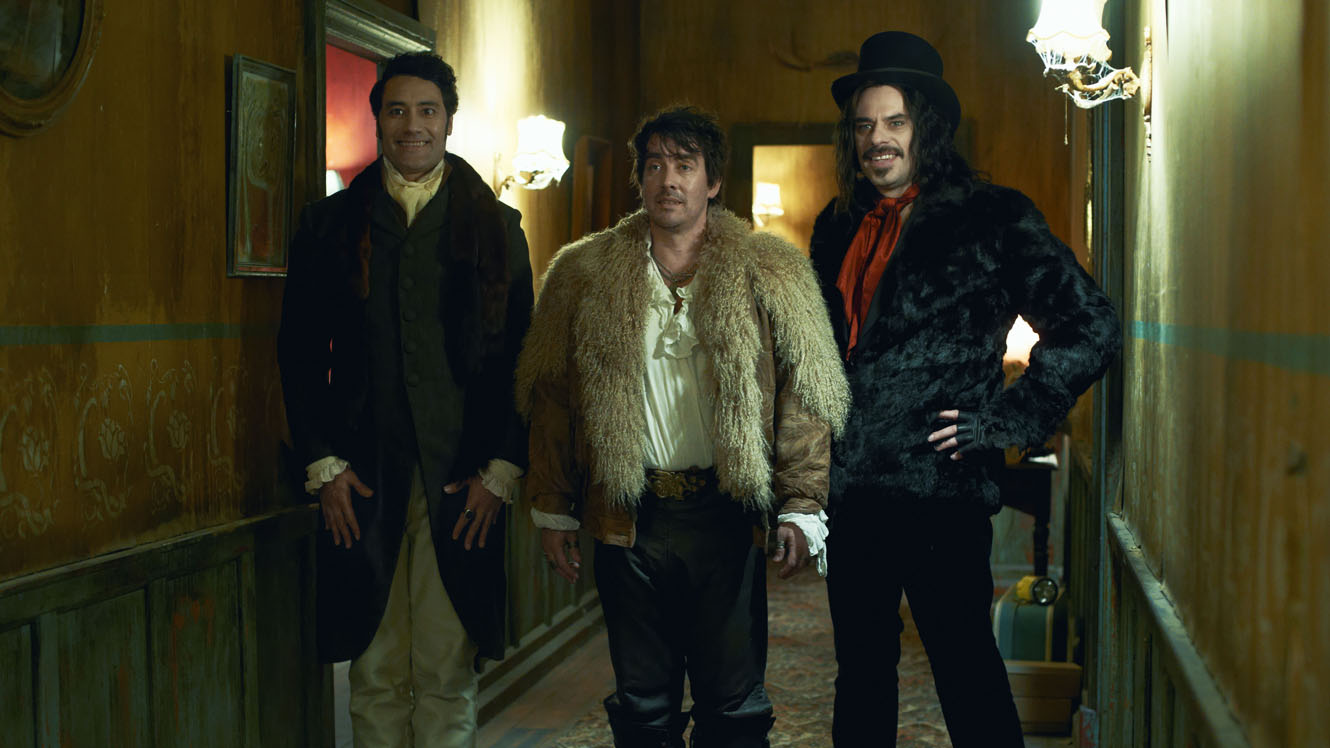 The deadpan nature of the performances is side-splitting, especially when all of the vampire characters have chosen to play with fake East European accents. Of these, Taika Waiaiti gets the lion's share of screen time and proves the world's most cuddly and adorable vampire. Rhys Darby, another Flight of the Conchords alumni, turns up as the leader of a werewolf pack, trying to keep his team under control: "Just remember we're werewolves, not swearwolves." This is an incredibly creative and witty film.
Taika Waititi and Jemaine Clement spun the premise out as a tv series What We Do in the Shadows (2019- ). The two subsequently went on to spin the same deadpan comedic supernatural/Found Footage approach out with the tv series Wellington Paranormal (2018– ).
Taika Waititi next went on to make Hunt for the Wilderpeople (2016) and the Marvel Comics films Thor: Ragnarok (2017) and Thor: Love and Thunder (2022), and Jojo Rabbit (2019) about a young Nazi boy who has an imaginary companion in Adolf Hitler, which won Waititi an Academy Award for Best Adapted Screenplay.
---
---