---
Crew
Director – Rob Zombie, Additional Directors – Tom Klein & Mr. Lawrence, Screenplay – Tom Papa & Rob Zombie, Additional Screenplay Material – Mr. Lawrence, Based on the Comic Book Created by Rob Zombie, Producers – Andy Gould, Rob Klein & Rob Zombie, Music – Tyler Bates, Songs – Hard 'n Phirm, Animation – Big Star Animation (Supervising Director – Chanki Yoon), Carbunkle Cartoons Inc (Animation Director – Bob Jacques) & Film Roman, Art Direction – James Hegedus. Production Company – Film Roman/Monsterland Pictures Corp
Voices
Tom Papa (El Superbeasto), Sheri Moon Zombie (Suzi X), Paul Giamatti (Dr Satan/Steve Wachowski), Rosario Dawson (Velvet Von Black), Tom Kenny (Otto/Rover/Old Man/Herbie), Brian Posehn (Murray), Danny Trejo (Boss Rico), Ken Foree (Luke St Luke)
---
Plot
Movie director, actor and luchadore superstar El Superbeasto is relaxing in a downtown stripper bar when he is overcome with lust for the stripper Velvet Von Black. Meanwhile, the mad scientist Dr Satan has been searching the world for the woman that has the Devil's Mark tattooed on her ass so that he can marry her at midnight and gain vast powers. He finds that Velvet has the tattoo and sends his talking, mentally-enhanced ape Otto to abduct her. El Superbeasto arrives to give Velvet flowers and is witness as Otto snatches her. Obtaining the help of his companion, the ass-kicking Suzi X, El Superbeasto sets out, battling off hordes of Nazi zombies along the way, to rescue Velvet before Dr Satan completes the wedding ceremony at midnight.
---
The Haunted World of El Superbeasto is an animated film from Rob Zombie. Zombie was best known as a heavy metal performing artist first with the band White Zombie and subsequently as a solo artist. Zombie's appearance on the genre scene came with his directorial debut House of 1000 Corpses (2003), wherein Zombie crafted his own nihilistic homage to 1970s Backwoods Brutality cinema. This was followed by a sequel The Devil's Rejects (2005) and Zombie continued on in genre material with the remake of Halloween (2007), its sequel Halloween II (2009), The Lords of Salem (2012), 31 (2016), 3 from Hell (2019) and The Munsters (2022). The Haunted World of El Superbeasto is based on a comic-strip created by Zombie that appeared in several issues of the comic-book anthology Rob Zombie's Spookshow International (2004).
The Haunted World of Superbeasto feels like it has been served up as a combination of all the madcap shit that runs around deep within Rob Zombie's subconscious. It is surely a film made by someone who has spent an unhealthy amount of time fixated on horror/exploitation cinema and stripper bars. It could be an episode of The Ren and Stimpy Show (1991-8) designed as a madcap collision of exploitation movie elements – Mexican masked wrestling superheroes, mad scientists, scantily-clad kickass action babes, Nazi zombies on motorcycles, strippers with 666 tattooed on their ass, talking ape lab assistants, and all played with a healthy dose of raucous and sarcastically vulgar humour. Even Hitler's head turns up in a jar, naturally getting to lasciviously waggle its tongue between the heroine's legs as it is abducted.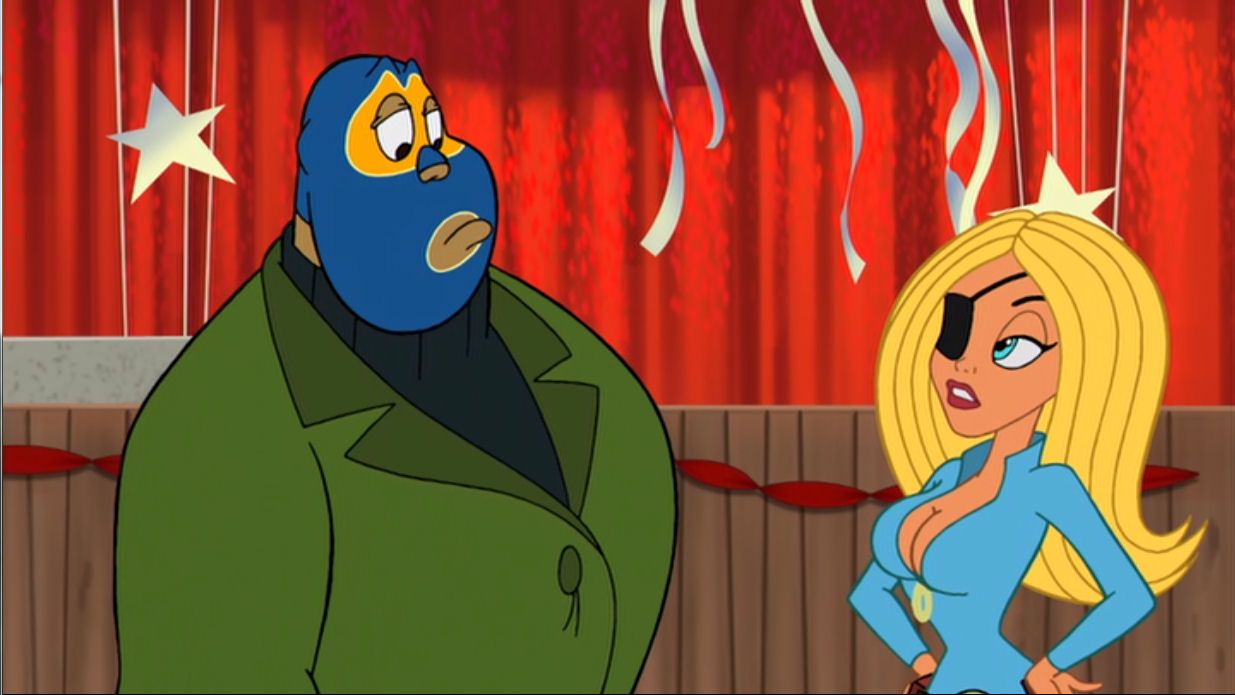 Rob Zombie is a fanatical horror fan – even to the extent that he purportedly has horror figures tattooed all over his body. Actors from classic horror films make frequent cameo appearances in his films. Not too surprisingly, The Haunted World of El Superbeasto is stock filled with cameos from horror characters and actors. El Superbeasto runs Michael Myers down in his convertible; the background of the club features appearances from Leatherface, The Fly (1958), the Alien (1979) chestburster, Captain Spaulding and Otis Driftwood from House of 1000 Corpses and The Devil's Rejects, El Superbeasto comes onto the Bride of Frankenstein (1935), while Edward Scissorhands, Nosferatu and Jason Voorhees stand in the line-up outside.
There are jokes about The Shining (1980) and George Lazenby's James Bond; while the Metalunan Mutant from This Island Earth (1955) presides over the wedding ceremony. Velvet Von Black's abduction across the rooftops by the ape is modelled after Murders in the Rue Morgue (1932), while she gets to quote Charlton Heston's immortal line from Planet of the Apes (1968) "Take your stinking paws off me, you damn dirty ape." There is a long homage to Carrie (1976) with the wedding turning into a restaging of the prom climax and even featuring a song about it.
There are also numerous voice cameos from actors with genre associations, including Ken Foree of Dawn of the Dead (1978) as El Superbeasto's cat; Tura Santana, Dee Wallace and Cassandra Peterson (aka Elvira) as strippers; Clint Howard as the bartender; and Daniel Roebuck as a talkshow host.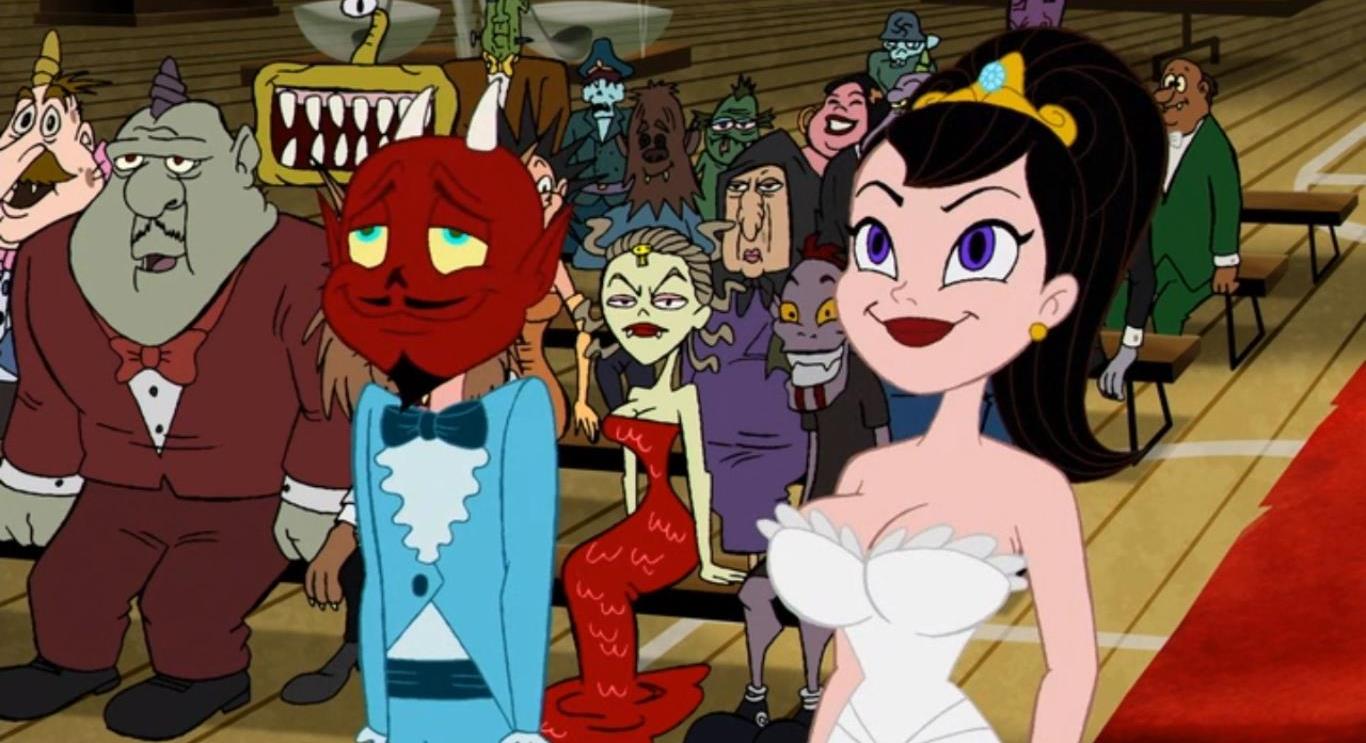 The main problem with The Haunted World of El Superbeasto is that there is not much to the film outside of the horror homages. As Jason Friedberg and Aaron Seltzer of Epic Movie (2007), Disaster Movie (2008), Meet the Spartans (2008) and Vampires Suck (2010) notoriety more than clearly demonstrate, acknowledging that you have watched a host of other films does not in itself constitute a film. Moreover, everything is raucously vulgar and usually comes with a crude and directly to-the-point punchline – I would put Rob Zombie's approach as only a couple of steps up the rung from the Wayans Brothers in Scary Movie (2000) in overall sophistication. You arrive at the end of the film feeling that you should have rolled about in laughter or as though your mind has been bent as you do after watching Ren and Stimpy but the feeling is more an overall "meh".
While the humour is largely hit or miss, one of the funniest aspects of the film are the song lyrics from Hard'n Phirm. Like the intro song for Velvet Von Black: "She's the girl you see in girly magazines/When you have your wiener in your hand/She's more addictive than crack." Or lines like "It's alright to jerk off to cartoons/The Japanese do it every day/Cos masturbation is good for your prostate/It lowers blood pressure and before you sleep." There is even the theme song to the Carrie homage: "Why'd you have to ripoff Carrie?/Since the movie started this part is the most retarded/Did you ask De Palma or Stephen King if you could ripoff Carrie?" Here at least The Haunted World of El Superbeasto hits in with some of the cleverness you feel that it should have had.
---
---